The perfect sweet bite for a healthy dessert.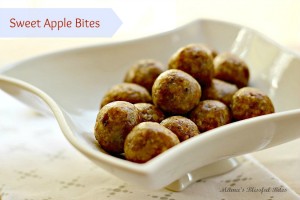 I don't know if I told you, but I made myself a promise.
Not to gain any holiday weight.
Yup, there…now it's for-real.
Every winter I put on some extra hibernating weight but not this year, nope. I'm not going to do it.
Even before Halloween, I made a commitment to eat healthy  – no added sugar, gluten free, whole foods. This can be tricky because even though I'm going gluten free, doesn't mean I'm protected from the extra weight. Ya feel me? And my sweet tooth, oh, more like sweet teeth have a hard time resisting things like apple pie, but I'm going to do it, because I know I can.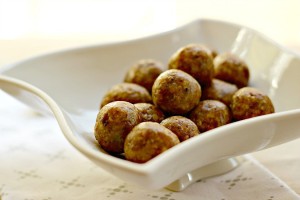 Our family is big on eating balls, I mean bites. Whatever you want to call them, they are always darn good. This holiday season I'm foregoing our traditional pies and bringing something healthier to the table, sweet apple bites.
Filled with heart healthy walnuts, cinnamon apples and sweet dates, this is perfect for a sweet craving.
Walnuts are filled with powerful antioxidants and can also help control weight. According to The American Journal of Clinical Nutrition, a study found that "Compared with control diets, diets enriched with nuts did not increase body weight, body mass index, or waist circumference in controlled clinical trials."
So don't weight (teheh) grab a healthy bite to eat instead of adding on the pounds this year.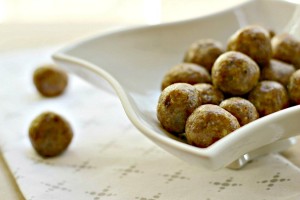 These bites will totally satisfy your sweet tooth craving and are beyond delicious. The hardest part is saving them until dessert time. Once my kids find out I made more bites, they are gone well…within bites!
Want to lighten up the holiday's even more? Try these guilt-free recipes from our #SundaySupper team!
Drinks
Appetizer or starter
Main Dishes
Side Dishes
Desserts
//

Place walnuts, dried apples and dates in a food processor. Blend until forms crumbles.

While motor is running, drizzle maple syrup down the shoot until mixture combines and forms big "ball"

Scoop out enough to make 1" balls or use a scooper

Enjoy now or place in fridge. Consume within three days.
Note*: If you don't have dried cinnamon apples, you can use dried apples and add 1 tsp of ground cinnamon
Note**: I did not have medjool dates on hand which has a more sticky consistency than bagged chopped dates (that's what I used). You may want to use less maple syrup since the mixture will combine easier, of course it all depends upon how sweet your want your sweet apple bites to be!