This soup is not your ordinary chicken noodle soup. Nope. It has one special ingredient missing in your traditional soup, an added healing property. As I am preparing myself to become a Health Coach next year and am welcoming this journey with whole foods and healing foods, I made this soup to heal myself. Usually, chicken noodle soup is recommended when a person is sick and not in prevention but I believe you should eat this soup all the time. It's wholesome, delicious and good for you!!!!
Added to the broth is a well-known healing food, ginger. Fresh ginger is an essential in my house at all times. It helps the following:
nauseous
airsick
gas – yes I said it
menstruation
sore throat
anti-inflammatory for joints
I really enjoy using it in my tea mixed with lemon. YUMMS! Great way to end the winter evening.
By placing ginger in the broth, it adds a little zip to the soup. An extra depth that is fabulously great. Please make the broth. Once you do, you'll find boxed broth oh so boring!!!! It's worth the extra time. It's worth making your food whole foods to help your body!
For the broth:
two organic bone-in split chicken breasts
10 cups of water (or more if necessary)
1 onion: chopped
3 stalks of celery: chopped
2 carrots: chopped
1 parsnip: chopped
3-inch fresh ginger: chopped
1 tbs dried rosemary
1 tbs dried thyme
5 cloves of garlic
2 bay leaves
black peppercorn
For the broth:
Step 1: Chop and prepare all ingredients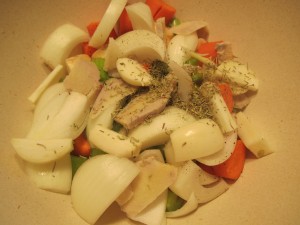 Step 2: Place in a large stock pot and add chicken on top. Sprinkle with peppercorn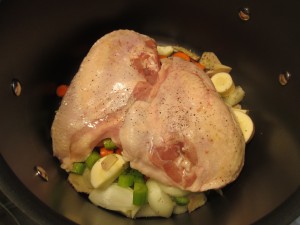 Step 3:  Add water and bring to boil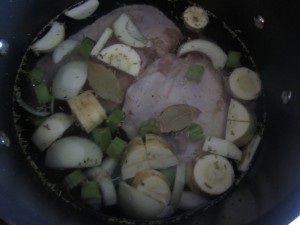 Step 4: Cover and simmer for 2 hours
Step 5: Take out chicken let cool. When cooled to the touch, shred and remove bones.
Step 6: Strain vegetables from broth and discard.
Step 7: Return broth to stock pot.
Ingredients for the Soup:
parsnip: chopped
onion: quartered
carrot: chopped
2 stalks of celery: chopped
3/4 cup frozen organic peas
1 cup medium egg noodles
Step 8: Return shredded chicken and add vegetables to stock pot over medium-high heat. Cook for 10 minutes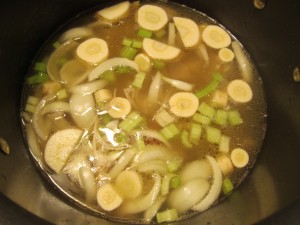 Step 9: Add peas and noodles and cook for 10 more minutes until vegetables are tender and noodles are done to your taste.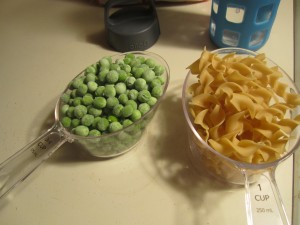 Ladle and enjoy the benefits of wholesome, hearty, healthy chicken noodle soup with ginger!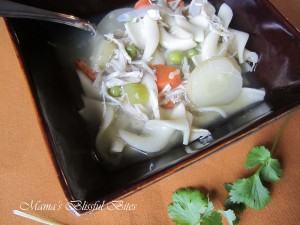 If you want to freeze it, divide into an extra pot and cook with noodles. The noodles become soggy so you may want to add them and simmer when you are ready to eat!
Happy Holidays and Happy Health!