Some of my favorite comfort foods are usually carb packed – you know, mac n cheese, pizza, vegetable pot pies! Oh yes. But as the cold weather sets in, my comfort turns to soup and lots of soup. Broccoli and cheese (one of my favorites), chicken noodle soup, any kind of stew, yes,…soup and I become best friends. I like them hearty and I like them creamy. I like them spicy hot or cucumber cool, I like everything in between. Did I mention potato yet? I do like a creamy potato soup. Soup should have been my middle name but that would just be weird.
This #SundaySupper, Isabel at Family Foodie, is our host around the table! Wahoo and she's bringing a very special guest. You want to know who? Okay, since you all are family at my table, I'll tell ya… Lee Woodruff! What?! What! Please join  Lee and our Sunday Supper Team during our chat on Sunday at 7pm Eastern Time.  Be sure to use hashtag #SundaySupper
I'm happy to bring you the first soup of the cold season – or aka Fall. And by the way, we did have our first frost this morning, so believe me, it is getting cold out there. (Fingers crossed ya'll, I want to shovel some snow this year!)
Let me warm your toes and ears with some Spicy Black Bean Soup!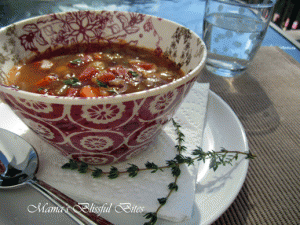 Ingredients:
1 red onion: chopped
2 cloves of garlic: minced
2 (15 oz) cans black beans, drained
1/2 tsp red pepper flakes
1 tsp ground cumin
2 carrots: sliced
1 celery: sliced
29 oz vegetable broth
1 can (14.5 oz) canned tomatoes
1 can (4 oz) green chillies
1 cup frozen corn
1/4 tsp celery seed
salt and pepper
Recipe as follows:
Step 1: Coat bottom of large saucepan with cooking spray. Add onion and garlic and cook for 3-5 minutes over medium-low. Stir often not to burn.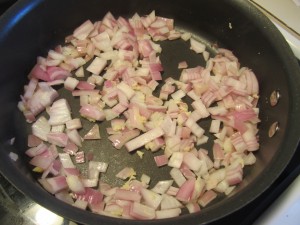 Step 2: Meanwhile, in a blender, combine 1 can beans with red pepper and cumin. Blend or use your fork to mash and combine together.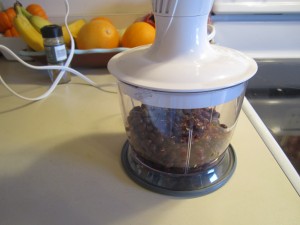 Note: You can absolutely use your fork, it does the same thing but I like to blend to make sure its well combined. The mixture should look like this: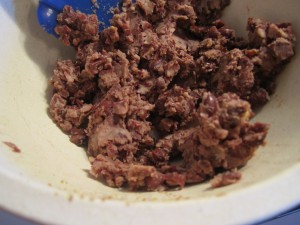 Step 3: Add carrots and celery to onion mixture and cook over low heat, 5-7 minutes. I like my vegetables to be nice and soft. If you like a "bite" to yours, cook for less time.
Step 4: Add bean mixture and stir
Step 5: Add second can of beans, broth, tomatoes, green chillies, corn and celery seeds. Bring to a boil.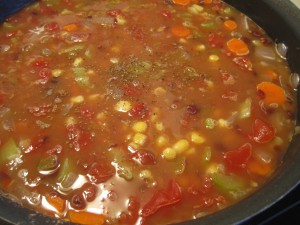 Step 6: Lower heat to medium – low and simmer for 25 minutes. Add pepper (and if using salt).
Step 7: Ladle and serve!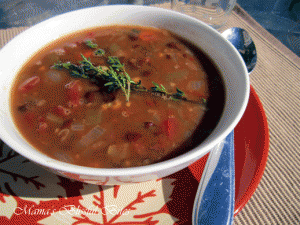 Let's keeping feasting and comforting, shall we? Okay, I'm gamed! Here are some more comforting recipes from an amazing group, our #SundaySupper team!
This Week's Sunday Supper Recipes:
#SundaySupper Comfort Food |Soups
#SundaySupper Comfort Food  | Main Dish
#SundaySupper Comfort Food | Desserts
Pairing Wine with Sunday Supper Comfort Food Favorites! by ENOFYLZ Wine Blog
We would be honored to have you join us on Twitter throughout the day during #SundaySupper and have you share your favorite Comfort Food Recipes.  We'll be meeting up at 7:00 pm(Eastern) for our weekly #SundaySupper  live chat where we'll talk about our favorite Comfort Food Recipes. All you have to do is follow the #SundaySupper hashtag or you can follow us through TweetChat. We'd also love to feature your easy go to recipes on our #SundaySupper Pinterest board and share them