Touchdown, touchdown, touchdown, boys.
You make the touchdowns, we make the noise.
A boom, boom…
Hey, a boom, boom
Hey, a boom boom
Can you feel it?
A boom, boom Hey!
Let's cheer on the crowd!
Touchdown!
As I was taking down my crock pot off the shelf, it reminded me of the Fall season soon to come. I can remember standing outside with a short skirt and pom poms, cheering on my local football team. The rules were not to put on any pants, no matter how cold you were. It was freezing. People were in the stands bundled up with blankets, wearing ear muffs, gloves and sipping on hot cocoa. We couldn't have any of these luxuries as a cheerleader, but I didn't care. I was cheering on my team, proud and happy. I did look forward to half-time when I knew one of my teammates mothers would be bringing a big pot of chili. Nothing says delicious and comforting like a bowl of chili. Ever. I love to dip my bread in the juices or place it on a roll for a sandwich. Eat it plain or with extra cheese and sour cream. Anyway it's cooked I like it. Hot or mild. Creamy or thick.
Now that I'm not a cheerleader anymore, I still am in my heart. I love cheering on my Baltimore team. There's nothing like grabbing a beer, relaxing, singing and chatting it up with good friends, only this time, I have moved on to tailgating baby! We converse and get rowdy over the Baltimore Ravens and eat lots of food. I mean lots. Chips, dips, BBQ chicken, peanuts, beans, hot dogs, anything fried…if you can bring it, we want to eat it. That's more of an unsaid rule than anything else.
I used to be asked a lot to bring my Jalapeno Crock Pot Chili, but now it's never asked, only assumed I will. Oh, and I do deliver. It's from my long ago cheerleading memories. I have tried to recreate it to the best I can remember. I have made LOTS of chili variations but this one is a creamy favorite of mine and my friends. There's no meat but of course you can add it if you prefer. I used to make it with turkey years ago. You can even turn up the hot factor by leaving the jalapeno seeds in or turn down by taking them out. I personally don't care for heat any more, so I take them out. For an extra wow factor, add hot sauce. (You must be daring or maybe that's crazy. Hey, that's cool. Be sure to take a picture and send it to me so I can see your HOT face!)
This season, I'm tailgating with my good friends from #SundaySupper. They will have enough meals to complete the whole season and that puts a big smile on this girls face! Be sure to read on for some more great recipes!
Ingredients:
2 tbsp vegetable oil
1 red onion: chopped
6 cloves of garlic: minced
1 tbsp ground cumin
1 tbs dried oregano
1 tsp salt
1 tsp cracked black peppercorns
1 can cannelloni beans: rinsed and drained
1 can black beans: rinsed and drained
2 cups organic vegetable stock
1 can (28 oz): organic whole tomatoes
1 to 2 jalapeno peppers, minced
1 green bell pepper: diced
2 cups sharp cheese (I used mexican because that's what I had on hand, still terrific!)
1 can chipped mild green chilies
Sour cream (optional)
Cilantro for garnish
Recipe:
Step 1. In a skillet, heat oil over medium heat. Add onions and cook. Stir for three minutes until softened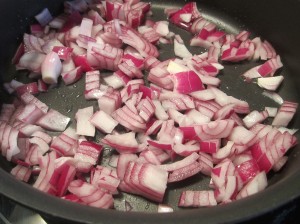 Step 2: Add garlic and stir for one minute.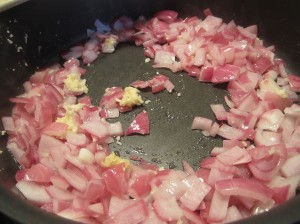 Step 3. Add cumin, oregano, salt, peppercorns. Stir for one minute.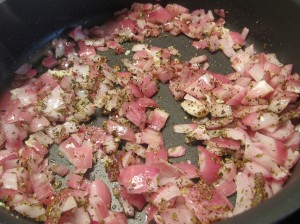 Step 4. Add tomatoes and stock.
I cut up my tomatoes prior to placing in pan. I just like it better that way. If you have diced tomatoes, they do just fine as well but the whole the whole tomatoes give it a hearty flavor.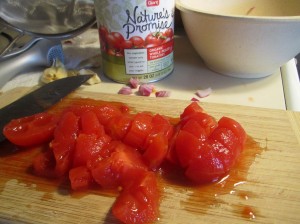 Step 5: Bring to a boil. Let simmer for 5-7 minutes.
Your house should be smelling fabulous now! I know mine did!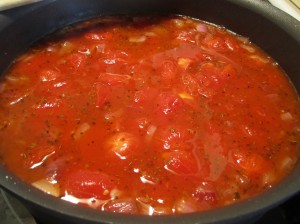 Step 6: Add beans to stoneware.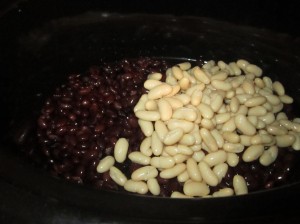 Step 7: Add tomato mixture on top and mix well.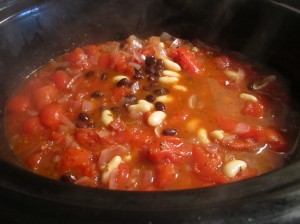 Step 8. Wait. Cook on low for 7-8 hours.
I know this is hard to do. I wanted to eat it just like that. This dish was made 7am on a Saturday morning. My husband said it smelled so good that it woke him up and he came down stairs to see what was going on. Nope, I couldn't blame him. It's the first chili dish of the season! It's game day. It's time to get this tailgating party started. But first, we wait. A long 7 hours.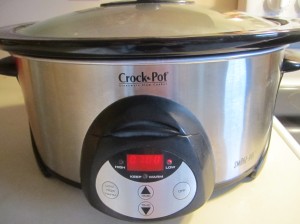 How can we possible wait seven hours? That was easy. We went shopping, ate some lunch, did the emission testing then walked back in the door to an exiting aroma. My family became a cheerleading squad as we cheered on dinner. I used to be anti-crock pot. Can you believe that? When I worked for a corporate office, I dreaded getting out of bed and cooking. I barely wanted to get out of bed. But the benefit of having a delicious meal waiting in your kitchen as you walk through the door after a long day is priceless.
To make Step 8 easier for you, cut the rest of the vegetables prior to leaving. Then when you walk in, it's badabing, badaboom! Have them prepped! A real time saver.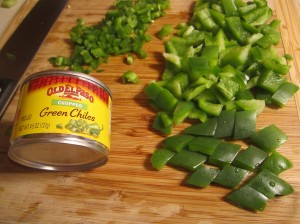 Step 8: Add pepper, jalapeno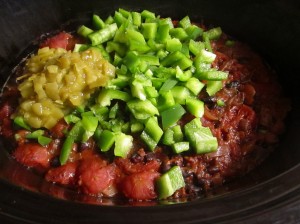 Step 9: Be crazy, pile on the cheese and mix.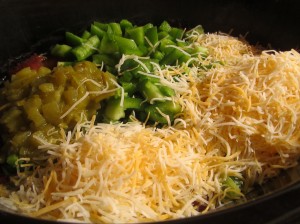 This next step gives you some more time to get the kids ready to be shipped out to the sitters while you are getting ready for your big Friday night tailgating party. You're young. You still party, right?
Step 10: Cook on High for 30 minutes.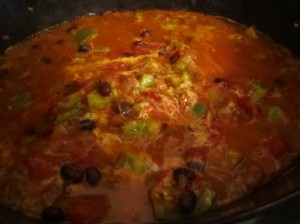 Then pile up and serve. Or do what I do and place in an insulated container and take along to your tailgating party! Serve with sour cream and cilantro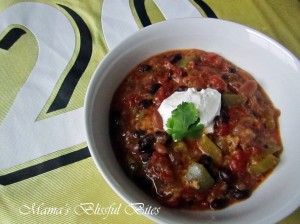 Go head, I want to hear you CHEER! Have fun, eat and enjoy. Put on a potato bun, serve in a bowl, the choice is yours. Either way, be sure to serve this at your next tailgating party.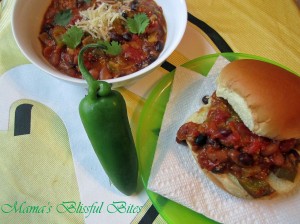 Now this is good…..make sure you read what the rest of our #SundaySupper is bringing!
The Lineup
Pre Game Warm-ups:
On the Sidelines:
Main Events:
Overtime:
From the Cooler:
Wine Pairings by Wine Everyday