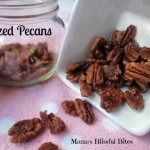 April showers bring May flowers. That's how the old saying goes, right? Spring is a time for new beginnings, new babies, new brides and new flowers! In celebration of all our glorious new beginnings, our #SundaySupper group is throwing a virtual shower for you! If you are having a bridal shower, baby shower, or just a regular rain shower, join us and our host, Home Cooking Memories, for our party!
♥♥♥
Finger foods are such a big hit at gatherings. Have you ever noticed that? All of a sudden, the fork isn't proper and there are tiny bite sized spread of food on tables everywhere. Little slider hamburgers at baby showers because their "bun is in the oven," or deviled eggs because…do we really need an explanation? (insert questionable face here) Finger foods have taken over popularity at large functions. Perhaps a slice of carrot will do? I enjoy these finger foods tremendously. I over indulge all the time at functions – it's easy, just one bite at a time. I mean seriously, you have some really cute food in front of you and it looks like you didn't really eat that much, right? Just a bite.
After a while, I figured something out. I'll bring my own food to keep me from going nuts over all the other finger foods. It's a win-win situation. I'm bringing one of my favorite snacks and the host thinks I'm such a big help. I like that. My snack of choice are nuts. They help make the belly feel  full so I eat less. Yup, guess my host didn't know my real M.O! Let's keep it between us.
I've made glazed pecans a whole bunch of different ways: with sunflower oil, with egg whites, with brown sugar, with regular sugar, but this recipe is my favorite. It's the kind that will make you sit on your tush and eat the whole 1 cup pecans without missing a crumb.
You can see how owie and gooey the glaze is after being baked: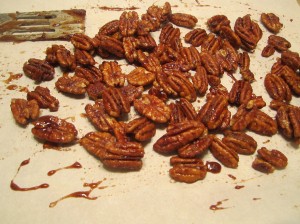 After they cool down and harden, you are left with a beautiful sweet and delicious crunch.
BE WARNED!!!!! They are addicting!
Glazed Pecans #SundaySupper
Ingredients
1 cup pecans
1 1/2 tablespoon melted coconut oil
2 tablespoon brown sugar
1 teaspoon cinnamon
1 tablespoon orange juice
Instructions
Preheat oven to 250 degrees
Line a baking sheet with parchment paper (please note, I use stoneware)
In a bowl, stir all ingredients together
Bake for 30 minutes, flipping over after 15
Let cool down and store in air-tight container
http://www.mamasblissfulbites.com/2013/04/21/glazed-pecans-sundaysupper/
To make a larger batch, just double the quantity. These little treats also make perfect gift-giving presents. Place in a jar, add a ribbon and you're done. Homemade from the heart.
 What are you having at your shower? I want to know!
Join our #SundaySupper Chat!
One of the best parts of #SundaySupper is our weekly Twitter chat. If you love food, you definitely want to join us! Just follow the hashtag #SundaySupper on Twitter this Sunday, April 21st at 7pm EST, and we'll be chatting about food and fun for baby showers, bridal showers, and parties!
Be sure to check out more fabulous shower recipes! That's right, we know how to bring a party!
Starters, Appetizers & Snacks
Soups, Salads & Sandwiches
Main Dishes
Cakes
Cookies, Brownies & Dessert Bars
Sweet Treats
Drink Recipes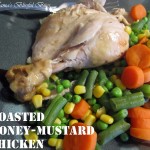 This week, Lane from Supper for a Steal is hosting an amazing #SundaySupper theme – Meals on a Budget! And believe me, Lane is the girl to go to. She has all kinds of tips and tricks for you!
I think every family should learn how to budget in general. Having a budget helps save money as well as have money for spending! Are you with me? We budget as well. There is a $50 window of opportunity as I call it. Where if we have a special event or meal, it's okay to spend the money, if we don't spend it, the extra money goes into savings. Kind of like how banks round the sales price to the nearest dollar, then throw the change in your savings.
First, I was going to make tuna casserole then salmon cakes then I landed on one of my favorites, honey mustard chicken. What I love about this recipe is that it's not only EASY (you need to have zero skill for this) but it's affordable AND I make two dishes out of it.
Did you see that? I make two dishes out of this! Which, saves me money in that budget

First, I serve it just as is, plain Jane. Why? Because it's soft, moist and filled with honey mustard flavoring and delicious juices. Why would I need anything else? I pair it up with some frozen veggies and there ya go kids, dinner is serve.
Later in the week, I either throw it on a bun for a delicious sandwich or I shred it for soup or sometimes I even put it in a wrap or a salad.  Two meals, one easy day of cooking.
Ingredients:
1 organic whole chicken
1 – 1 1/2 cup honey mustard marinade
salt and pepper
1 onion (optional)
3 celery stalks: chopped (optional)
2 carrots: chopped (optional)
See, too easy, too easy. I don't have a roasting pan so I used my Deep Covered Baker but in my good old teenage apartment days, I threw that bad boy in a casserole dish and covered with aluminum foil. Works like a charm. wink. wink.
Recipe:
Step 1:  Preheat oven to 425 degrees. (I used a 4 lb chicken).
Step 2: Sometimes I go for the fresh veggie approach as I did for this dish – sometimes I just throw in a bag of frozen veggies, entirely up to you. This step is optional.
Cut up your vegetables and place on bottom of pan.
Step 3: Take out giblets from chicken and discard. Rinse and pat dry the chicken. Place on top of vegetables. Sprinkle salt and pepper on top.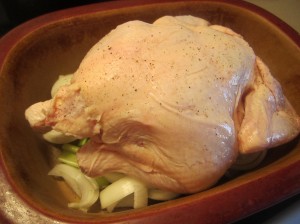 Step 4: Pour marinade on top of chicken. You don't want so much that your veggies are drowning just enough to coat the chicken.
Step 5: Place lid on top and place in oven for 1 to 1 1/2 hours. No matter the time, check to make sure the juices run clear and the internal temperature reaches 165. I rather be safe than sorry.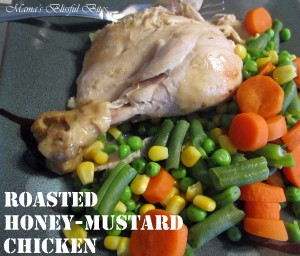 You want to know my budget for this meal?
1 organic whole chicken: 8.99 + 1 bottle of marinade: 1.99 = $10.98 Plus tax but hey, no shipping


Vegetables are .99 so we're looking at $12.00 for a family of four = $3.00 per person. To go further, I use a whole chicken for two meals, meaning two meals…so I'm saving even more as leftovers!
Want to know some more budget friendly meals? Our #SundaySupper crew is on it!
Starters, Soups, and Salads
Main
Sides
Drinks and Desserts
Join the #SundaySupper conversation on Twitter Sunday! We'll tweet throughout the day and share recipes from all over the world. Our weekly chat starts at 7:00 pm EST. Follow the #SundaySupper hashtag, and remember to include it in your tweets to join in the chat. Check out our #SundaySupper Pinterest boardfor more delicious recipes and food photos.
Coming to Orlando July 19-21, the first annual Food and Wine Conference sponsored by #SundaySupper. Visit the website to learn more and join in on the fun.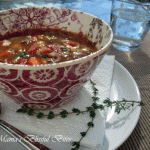 Some of my favorite comfort foods are usually carb packed – you know, mac n cheese, pizza, vegetable pot pies! Oh yes. But as the cold weather sets in, my comfort turns to soup and lots of soup. Broccoli and cheese (one of my favorites), chicken noodle soup, any kind of stew, yes,…soup and I become best friends. I like them hearty and I like them creamy. I like them spicy hot or cucumber cool, I like everything in between. Did I mention potato yet? I do like a creamy potato soup. Soup should have been my middle name but that would just be weird.
This #SundaySupper, Isabel at Family Foodie, is our host around the table! Wahoo and she's bringing a very special guest. You want to know who? Okay, since you all are family at my table, I'll tell ya… Lee Woodruff! What?! What! Please join  Lee and our Sunday Supper Team during our chat on Sunday at 7pm Eastern Time.  Be sure to use hashtag #SundaySupper
I'm happy to bring you the first soup of the cold season – or aka Fall. And by the way, we did have our first frost this morning, so believe me, it is getting cold out there. (Fingers crossed ya'll, I want to shovel some snow this year!)
Let me warm your toes and ears with some Spicy Black Bean Soup!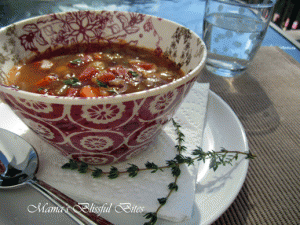 Ingredients:
1 red onion: chopped
2 cloves of garlic: minced
2 (15 oz) cans black beans, drained
1/2 tsp red pepper flakes
1 tsp ground cumin
2 carrots: sliced
1 celery: sliced
29 oz vegetable broth
1 can (14.5 oz) canned tomatoes
1 can (4 oz) green chillies
1 cup frozen corn
1/4 tsp celery seed
salt and pepper
Recipe as follows:
Step 1: Coat bottom of large saucepan with cooking spray. Add onion and garlic and cook for 3-5 minutes over medium-low. Stir often not to burn.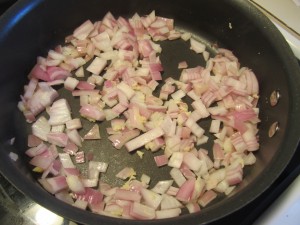 Step 2: Meanwhile, in a blender, combine 1 can beans with red pepper and cumin. Blend or use your fork to mash and combine together.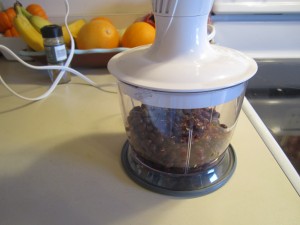 Note: You can absolutely use your fork, it does the same thing but I like to blend to make sure its well combined. The mixture should look like this: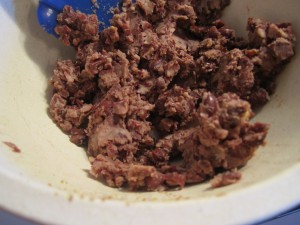 Step 3: Add carrots and celery to onion mixture and cook over low heat, 5-7 minutes. I like my vegetables to be nice and soft. If you like a "bite" to yours, cook for less time.
Step 4: Add bean mixture and stir
Step 5: Add second can of beans, broth, tomatoes, green chillies, corn and celery seeds. Bring to a boil.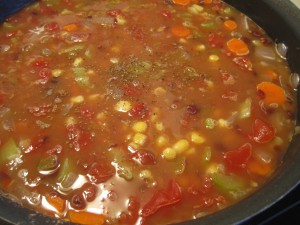 Step 6: Lower heat to medium – low and simmer for 25 minutes. Add pepper (and if using salt).
Step 7: Ladle and serve!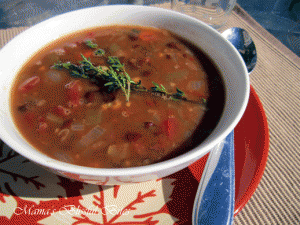 Let's keeping feasting and comforting, shall we? Okay, I'm gamed! Here are some more comforting recipes from an amazing group, our #SundaySupper team!
This Week's Sunday Supper Recipes:
#SundaySupper Comfort Food |Soups
#SundaySupper Comfort Food  | Main Dish
#SundaySupper Comfort Food | Desserts
Pairing Wine with Sunday Supper Comfort Food Favorites! by ENOFYLZ Wine Blog
We would be honored to have you join us on Twitter throughout the day during #SundaySupper and have you share your favorite Comfort Food Recipes.  We'll be meeting up at 7:00 pm(Eastern) for our weekly #SundaySupper  live chat where we'll talk about our favorite Comfort Food Recipes. All you have to do is follow the #SundaySupper hashtag or you can follow us through TweetChat. We'd also love to feature your easy go to recipes on our #SundaySupper Pinterest board and share them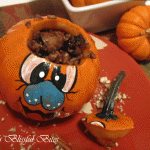 I'm so excited to say, "FALL IS HERE!" And believe me, I love it! Jumping in the leaves, pumpkin picking, colors of the trees, making comfort food and finally being outside to play! This weeks #SundaySupper theme is "All Things Orange," don't you just love that sound? I hear orange I think Fall! Fall! Fall! I have to give a big THANK YOU shout out to The Meltaways for hosting such a great event!
So far this year we picked apples,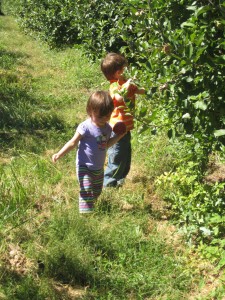 went on a hayride,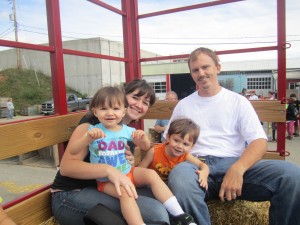 ,
and picked pumpkins!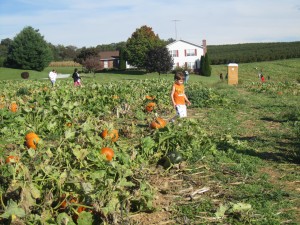 Also in celebration of Fall, I have made a lot of  comforting dishes already! Wahoo! This week I present to you Rice and Fig in Mini Pumpkins. So…you don't have to be too observant to notice that I didn't use a mini pumpkin. You can use small pumpkins too! It's a bowl of deliciousness or you can eat the fig mixture by itself. I promise, it still taste good!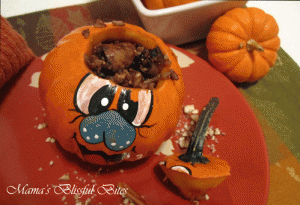 Ingredients:
 1 cup cooked brown rice
6 oz figs
1/4 cup balsamic vinegar
1/4 cup apple juice
2 teaspoons agave (more to taste)
1 teaspoon vanilla extract
2 teaspoons toasted chopped pecans
1 pumpkin (under 1/2 pounds) or 2  mini pumpkins
Recipe:
Step 1: Combine figs, vinegar, juice, agave and vanilla extract in a sauce pan over high heat. Bring to boil then simmer over low heat for 12-15 minutes until sauce becomes thick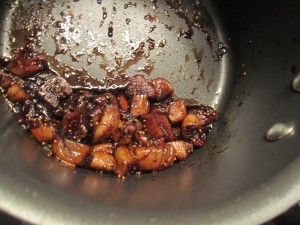 Step 2: Add rice and pecans and stir to combine.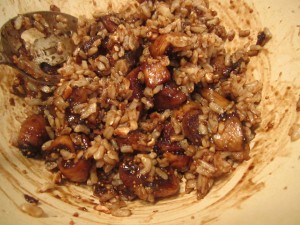 This mixture alone is perfect for a side dish or it can also stand alone! The flavors give it a sweet yet balanced flavor. Or you can always jazzy her up and give her a spooky treat! You know, put the mixture in a pumpkin!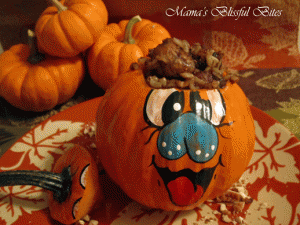 Here's the following steps:
Step 1: Cut the top off and clean out the inside of the pumpkin leaving nothing behind.
Step 2: In a steamer, place a piece of parchment paper and cut some holes. You need the steam to run through. Place the pumpkin in the steamer and cover. Steam for 40 minutes until the pumpkin is soft.
Step 3: Fill it with rice mixture and serve!
Enjoy the rest of your Orange filled days with some more fabulous #SundaySupper recipes! Oh YES!
Sunrise  (Breakfast and Brunch)
Paula from Vintage Kitchen Notes is bringing her Orange Ricotta Pancakes
Kris from In The Kitchen with Audrey and Maureen  is making her Sweet Potato Pancakes
Erin from Dinners Dishes and Desserts is baking up some Pumpkin Chocolate Chip Muffins
Heather from Girlichef is bringing Pumpkin Doughnuts with Spiced Buttermilk Glaze
Nicole from Daily Dish Recipes is making Pumpkin Donut Puffs
Patti from Comfy Cuisine is bringing Classic Orange Marmalade
Claire from The Realistic Nutritionist is baking up some Spiced Low-Fat Pumpkin Biscuits
Sunithi from Sue's Nutrition Buzz is making Spice Pumpkin Ricotta Muffins with Craisins and Walnuts
Wendy from The Weekend Gourmet is cooking up some Pumpkin Maple Oatmeal
Jamie from Mama Mommy Mom is bringing Butternut Squash Butter
Chelsea from Chelsea's Culinary Indulgence is bringing Pumpkin Spiced Donuts with Chai Icing
High Noon (Soups, Salads and Sandwiches)
Renee from Magnolia Days is serving up some Butternut Squash Soup
Beate from Galactopdx is bringing her Carrot Ginger Soup
Jen from Juanita's Cocina is making some Sweet Potato Salad
Megan from I Run For Wine is making Roasted Butternut Squash and Italian Sausage Soup With Adult Grilled Cheese
Sarah from What Smells So Good is filling our bowls with some Spicy Sweet Potato and Coconut Soup
Alice from Hip Foodie Mom is coming with her Roasted Carrot and Quinoa Salad
Susan from The Wimpy Vegetarian is making Spiced Sweet Potato Cider Soup
Tora from Tora's Real Food is bringing Butternut Squash and Tomato Soup
Melanie from From Fast Food to Fresh Food is making Monty's Pumpkin Soup
Lyn from The Lovely Pantry is bringing Pumpkin Coconut Soup
Kim from Cravings of a Lunatic is whipping up some Mandarin Chicken Salad
Sunset (Dinner and Main Dishes)
Amber from Mama's Blissful Bites  is bringing Rice and Fig Stuffed Mini Pumpkins
Sarah from Crispy Bits & Burnt Ends is offering up some Pumpkin Ravioli in Sage Butter Sauce
Pam from The Meltaways is making some Spooky Stuffed Peppers
Shelia from Pippis In The Kitchen Again is serving her Roasted Squash and Ricotta with Honey
Patsy from Famfriendsfood is bringing her Carrot Souffle
Elizabeth from The Hand That Rocks The Ladle is making Baked Sweet Potatoes with Maple Pecan Shallot Butter
Laura from Small Wallet Big Appetite is bringing Chicken and Sweet Potato Fritters
Mehereen from Chattering Kitchen is making Sichuan Orange Glazed Chicken with Toasted Sesame Seeds
Tammi from Momma's Meals is making Hearty Pork Stew
Kristin from Kwistin's Favorites is making Orange Chicken
Soni from Soni's Food For Thought is cooking up some Rigatoni with Pumpkin Ricotta Sauce
Shelby from Diabetic Foodie is cooking up some Moroccan Vegetable Stew
Dara from Generation Y Foodie is bringing Butternut Squash Mac and Cheese
Brandie from Home Cooking Memories is sharing a DIY Baked Sweet Potato Bar
By The Bonfire (Sweets, Snacks and Sips)
Carla from Chocolate Moosey is making Pumpkin Tiramisu with Pumpkin Butter Caramel Sauce
Heather from Hezzi D's Books and Cooks is offering up some Pumpkin Cake Truffles
Shelia from Cooking Underwriter is bringing Sweet Potato Bacon Beet Salsa
Anne from Webicurean  is making some Drunken Pumpkin Bread
Karen from In The Kitchen With KP is making Oven Baked Sweet Potato Chips
Leslie La Cocina De Leslie is making Sweet Potato Atole
Seet Fei from My Trials in The Kitchen is bringing Sweet Potatoes Mini Balls
Bree from Bree's Bites is bringing Peanut Butter Pumpkin Bites
Tara from Noshing With The Nolands is bringing Oranges En Suprise
Susan from The Girl in The Red Kitchen is making Pumpkin Chocolate Chip Scone with Pumpkin Glaze
Conni from Mrs. Mama Hen is making Orange Glazed Poundcake
Isabel from Family Foodie is baking up Moist Pumpkin Bread Reisipe
Cindy from Cindy's Recipes and Writings is baking up a Vegan Pumpkin Orange Cake
Brenda from Meal Planning Magic is whipping up some Pumpkin Cream Cheese Fruit Dip
Laura from Family Spice is making some Gluten Free and Unprocessed Pumpkin Bread
Kathya from Basic and Delicious is baking up Butternut Squash and Carrot Bread
Liz from That Skinny Chick Can Bake is serving up Pumpkin Roll with Cream Cheese Filling
Stephanie from The Cookie A Day Challenge is whipping up some Pumpkin Ice Cream Sandwiches
Katie from She Like Ruffles, He Likes Truffles is bringing Pumpkin Harvest Cookies
Nancy from Gotta Get Baked is baking up some Orange Macadamia Dark Chocolate Cookies
Angie from Big Bear's Wife is bringing Orange Soda Pumpkin Patch Cupcakes
Katy from Happy Baking Days is bringing Carrot Cake with Orange Glaze
Sandra from Midlife Road Trip is bringing Orange ya glad it's fall! Hungarian Apricot/Walnut pastries
We'll be meeting up at 7:00 pm(Eastern) for our weekly #SundaySupper  live chat where we'll talk about our favorite recipes featuring our favorite fall color.
All you have to do is follow the #SundaySupper hashtag, or you can follow us through TweetChat.
We'd also love to feature your easy go to recipes on our #SundaySupper Pinterest board and share them with all of our followers, too.
Come hungry!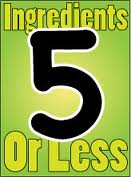 Starving, you open your cupboard in search of a meal. You realize you only have five ingredients: pineapples, peanuts, bananas, applesauce and yogurt. You need to come up with a dish, you're hungry right? What can you make? Ask the girl raising her hand in the back, yes, you… "How about a fruit salad with a side of applesauce?" Hey, sure why not?!
This week, our amazing #SundaySupper group is contributing recipes featuring Dishes in 5 Ingredients or Less! For those days when you don't feel like making a complex recipe or maybe you're on a budget or maybe you really only have five ingredients left!
Join us, September 30th, 2012 as we share our delicious, mouth-watering recipes! Here's a sneak peak at what everyone is bringing to our #SundaySupper table. Be sure to stay after dinner at 7pm EST as we share our recipes during our #SundaySupper live chat!
Breakfast, Starters, Butters and Jams:
Main Dishes:
Desserts:
Beverages:
Please be sure you join us on Twitter throughout the day during #SundaySupper. We'll be meeting up at 7:00 pm (Eastern) for our weekly #SundaySupper  live chat where we'll talk about our favorite 5 Ingredient Recipes! All you have to do is follow the #SundaySupper hashtag, or you can follow us through TweetChat!  We'd also love to feature your apple recipes on our #SundaySupper Pinterest board and share them with all of our followers!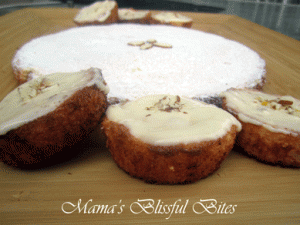 I can recall growing up, turning on the tube and watching cheerful, Julia Child. There was always something magical about her presentation that lured me into the TV, saying "You can do it! You can do it!" Her passion, wisdom and positive outlook on food, made me want to cook just like her. Little did I know, it was the French way!
Years later, we are now here celebrating Julia's 100th birthday – and what a celebration that is! I went to grab one of Julia's cookbooks, Mastering the Art of French Cooking, to find out, it was "checked out" of every library near me. I was floored! (But really should I be, after all this is Julia Child we are talking about!) After driving across the beltway (which wasn't a little drive) I finally had her book in my hands. As soon as I walked in the door, I opened up the pages and started to gather and learn. It is the best "school-book" I have ever read. Beautifully detailed in every degree imaginable, illustrations to help guide the mind and delicious recipes made me want to jump in the kitchen right away! I wanted to learn how to cook the French way. I also ask myself, why haven't I read this book earlier?! HELLO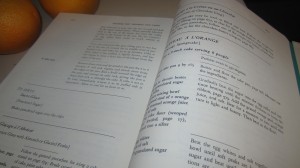 My first recipe to make is called Gateau A L'Orange or Orange Spongecake. I was so thrilled to make this recipe, it felt as if I was baking with her. I added in my spin on Julia's recipe and made Spongecake Cupcakes, as if I could ever impress her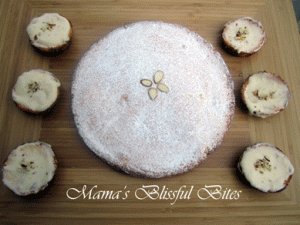 Ingredients:
A round cake pan 9 by 1 1/2 inches
A whip or electric beater
2/3 cup granulated sugar
4 egg yolks
A 3-quart mixing bowl
The grated rind of 1 orange
1/3 cup strained orange juice
Pinch of Salt
3/4 cup cake flour (scooped and leveled) turned into a sifter
4 egg whites
Pinch of Salt
1 Tb granulated sugar
Recipe:
1. Preheat oven to 350 degrees
2. Butter and flour the cake pan. Measure out the ingredients.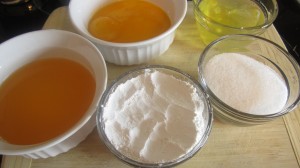 3. Gradually beat the sugar into the egg yolks and continue beating until the mixture thickens to form the ribbon. Add the grated orange peel, orange juice, and salt. Beat for a moment or two until mixture is light and foamy, then beat in the flour.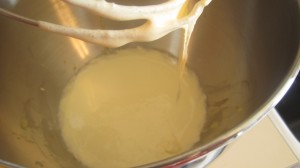 4. Beat the egg whites and salt together in a separate bowl until soft peaks are formed. Sprinkle on the sugar and beat until stiff peaks are formed. Stir one forth of the egg whites into the batter, delicately fold in the rest.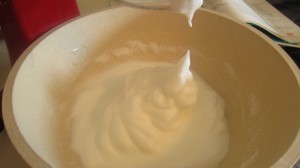 FOR CAKE THE JULIA CHILD WAY:
5. Immediately turn into prepared cake pan and run the batter up to the rim all around. Bake in the middle position of preheated oven for 30 to 35 minutes. Cake is done when it has puffed and browned, and shows a faint line of shrinkage from the edge of the mold.
6. Let cool for 6 to 8 minutes. Run a knife around the edge of the pan and reverse cake on a rack. If not to be iced, immediately reverse again, puffed side up. Allow to cool for an hour or two. When cake is cold, sprinkle it with powdered sugar, or fill and ice the cake according to one of the following recipes:….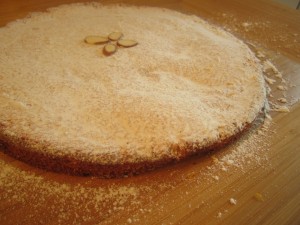 One of her recipes suggests placing crushed almonds around the outside after icing. Sounds yummy! Another suggested going the powdered sugar way and that's the way I went, with an addition of almonds.
Mama's Blissful Bites Cupcake Way!
Now, I also did a cupcake version because my kids don't like cake. I don't like cake very much myself but I think it's because of the size. To tackle this problem, I just created cupcakes which were neat because spongecake is spongy! RIGHT?! It bounces right back and it's not dense. With a nice sweet icing on top, it was yum yum good!
5. Pour batter into prepared cupcake pan. (cooking spray)
6. Bake for 20-25 minutes until the rim of the cupcakes turn brown and they start to shrink in size.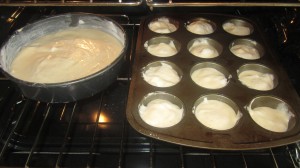 7. Pull out and cool down for 10 minutes. Take a knife around the edge and lift them out.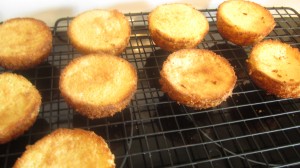 Orange-Almond Icing:
4 oz cream cheese, softened
1/4 cup freshly squeezed orange juice
1 teaspoon grated orange rind
2 Tbs unsalted butter
1/2 teaspoon vanilla extract
1 teaspoon almond: finely chopped
1 cup powdered sugar
Recipe:
1. Mix cheese, juice, rind, butter, extract in a bowl until well incorporated.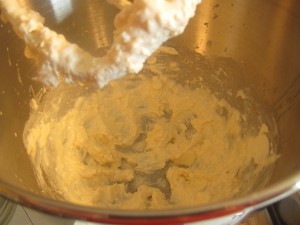 2. Slowly add in powdered sugar until combined.
3. Fold in almonds
4. Spread on cupcakes and enjoy!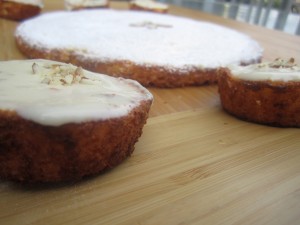 As always, our amazing #SundaySupper group has won my heart again with a great theme, Julia Child recipes! We are all celebrating Julia's 100th birthday together! So be sure to read all the recipes you can, then get yourself in that kitchen and bake your heart out. It is worth it.
Happy Birthday Julia! Thank you for all you have taught the world.
#CookForJulia Breakfast
Râpée Morvandelle by Cindy's Recipes and Writings
Croissants by Cookistry
Cheese and Bacon Quiche by Tora's Real Food
#CookForJulia Lunch
Tuna Salad Nicoise by Magnolia Days
Blood Orange, Walnut, and Rocket Salad by Granny's Down Home Southern Cooking
Croque Monsieur by Webicurean
Spinach and Cream Cheese Pancakes by Happy Baking Days
Julia's Chicken Salad by My Trials in the Kitchen
Pissaladière Niçoise (Onion Tart with Anchovies and Black Olives) by The Wimpy Vegetarian
Provencal Tomato Quiche by Are you hungry?
Quiche Lorraine Spoon and Saucer
#CookForJulia Dinner
Bouillabaisse by The Girl in the Little Red Kitchen
Boeuf Bourguignon by Chelsea's Culinary Indulgence
Orecchiette Con Broccoli Di Rape and Sausages by Doggie at the Dinner Table
Boeuf Bourguignon by Hezzi D's Books and Cooks
Veal Stew with Onions and Mushrooms with Baked Cucumbers and Boiled Potatoes (Blanquette de veau a l'ancienne with concombres au buerre) by Kimchi Mom
Salmon en Papillote by Girlichef
Poached salmon with cucumber sauce by Katherine Martinelli

Lobster Souffle and Deviled Chicken- Crispy Bits & Burnt Ends
Roasted Chicken with Julia's Mustard Marinade by The Meltaways
Wild Mushroom and Herb Stuffed Chicken- Mama Mommy Mom
Puree of White Beans with Garlic and Herbs (Brandade á la Soissonaise) Avocado Pesto
Poulet au Porto by Family Foodie
#CookForJulia Sides
Hollondaise over Blanched Asparagus by The Little Ferraro Kitchen
Scalloped Potatoes with Milk, Cheese, and Garlic (Gratin Dauphinois) by Home Cooking Memories
Ratatouille by Basic N Delicious
French-style country pate by There and Back Again
White Bean Dip with Homemade Tortilla Chips Momma's Meals
Oeufs à la Diable by What Smells So Good?
Soubise by The Weekend Gourmet
Ratatouille by Cupcakes and Kale Chips
#CookForJulia Desserts
Cream Cheese and Lemon Flan by Juanita's Cocina
Strawberry Sherbert in Cooky Cups by Cravings of a Lunatic
Creme Brulee by Wine Everyday
Mousseline Au Chocolat by Small Wallet Big Appetite
Peach Tarte Tatin by That Skinny Chick Can Bake
Cinnamon Toast Flan by Vintage Kitchen Notes
Dark Chocolate Crepes by Family Spice
Crepes Fines Sucrees by Mangoes and Chutney
Pommes Rosemarie:Apples Rosie The Daily Dish Recipes
Espresso Soufflé by Chocolate Moosey
Best Ever Brownies by In the Kitchen with Audrey
Orange-Almond Jelly Roll Cake by Mrs. Mama Hen
Orange Spongecake Cupcakes by Mama's Blissful Bites
Orange Mousse with Greek Yogurt by Sue's Nutrition Buzz
Wine Pairings: Relishing Food and Wine; Thanks to Julia Child! by ENOFYLZ
The fun starts every week at 3:00pm ET by showcasing fabulous recipes. At 7:00 pm ET, we will start our live chat. Join us on twitter by using hashtag #Sundaysupper or using Tweetchat. We love to feature your recipes on our #sundaysupper pinterest board and share them with all of our followers. See you there!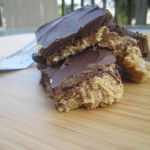 Child: Mom! Guess what I forgot to tell you?! Jake's having a birthday party tomorrow and his mom asked you to bring dessert!
Mom:  TOMORROW? (Did he just say tomorrow??)
Child: Yeah, sorry….I forgot! It's at their house! 2pm!
Normally, at this point mom would rush to the pantry in a panic opening doors, scrambling through shelves, but not THIS mom. Nope, she's calm. Irritated that she didn't have advance notice but hey, she has something that will keep her from having heart palpitations, her secret weapon: The Mom 100 Cookbook by Katie Workman!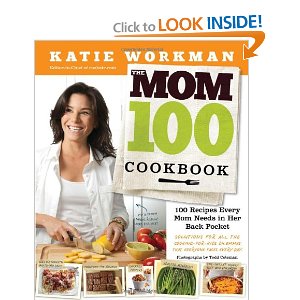 Mom: (sighs with relief that she has a plan and shakes her head at the million of things her child forgets to mention….) She thinks of how much fun it is to be with friends and creating good times together. The only problem mom has is narrowing down the recipe! Mom already has a kid-approved cookbook, so the choice is up to mom. Which recipe does she want to eat?
Now I'm sure I have told you that our #SundaySupper group is amazing and if you didn't hear me correctly I did say out-of-this-world amazing and I soooo mean it. This week, our group is featuring Katie Workman's new book, The Mom 100 Cookbook. It's every mom's MUST HAVE cookbook! I'm not saying that because I absolutely love it, have it, made six recipes out of it and its only been less than a week, NOPE! I'm saying it because I truly think EVERY MOM SHOULD HAVE THIS BOOK! (Yes, I did say six!) Lucky me, I have been selected to giveaway some cookbooks! That's why, I'm giving one to you – my lucky friend. Just keep reading….
Besides the fact that Katie has "solutions for all the cooking-for-kids dilemmas that everyone faces every day" – they are EASY to make, EASY to read, photos everywhere, AND kids will WANT TO EAT! Need I say more about Katie Workman's book? NO!
Mom chooses a deliciously rich recipe. A sure winner in everyone's book! It's simple to make in no time and quickly makes 36 servings. A big party smarty – she has this one in her back pocket!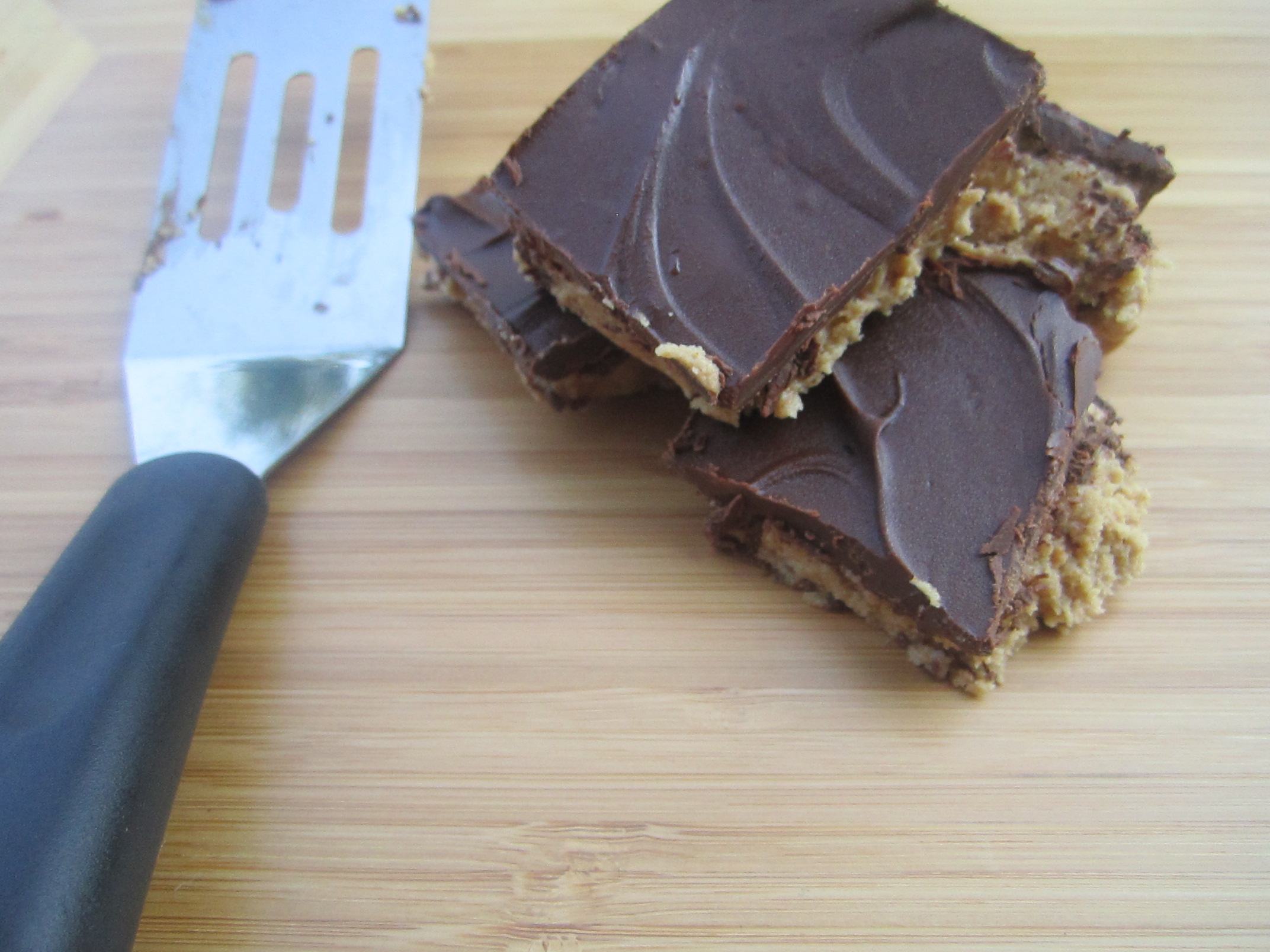 Ingredients:
6 tablespoons (3/4 stick) unsalted butter, at room temperature, plus butter for greasing the baking pan (optional)
Nonstick cooking spray (optional)
1/4 cup firmly packed dark brown sugar
1 1/4 cups confectioners' sugar
3/4 cup creamy peanut butter
1/4 cup graham cracker crumbs (see note)
2 cups (12 ounces) semisweet or milk chocolate chips, or a combination of the two
Recipe to deliciousness:
1. Lightly butter a 9-inch-square baking pan or spray it with nonstick cooking spray (or a nonstick pan).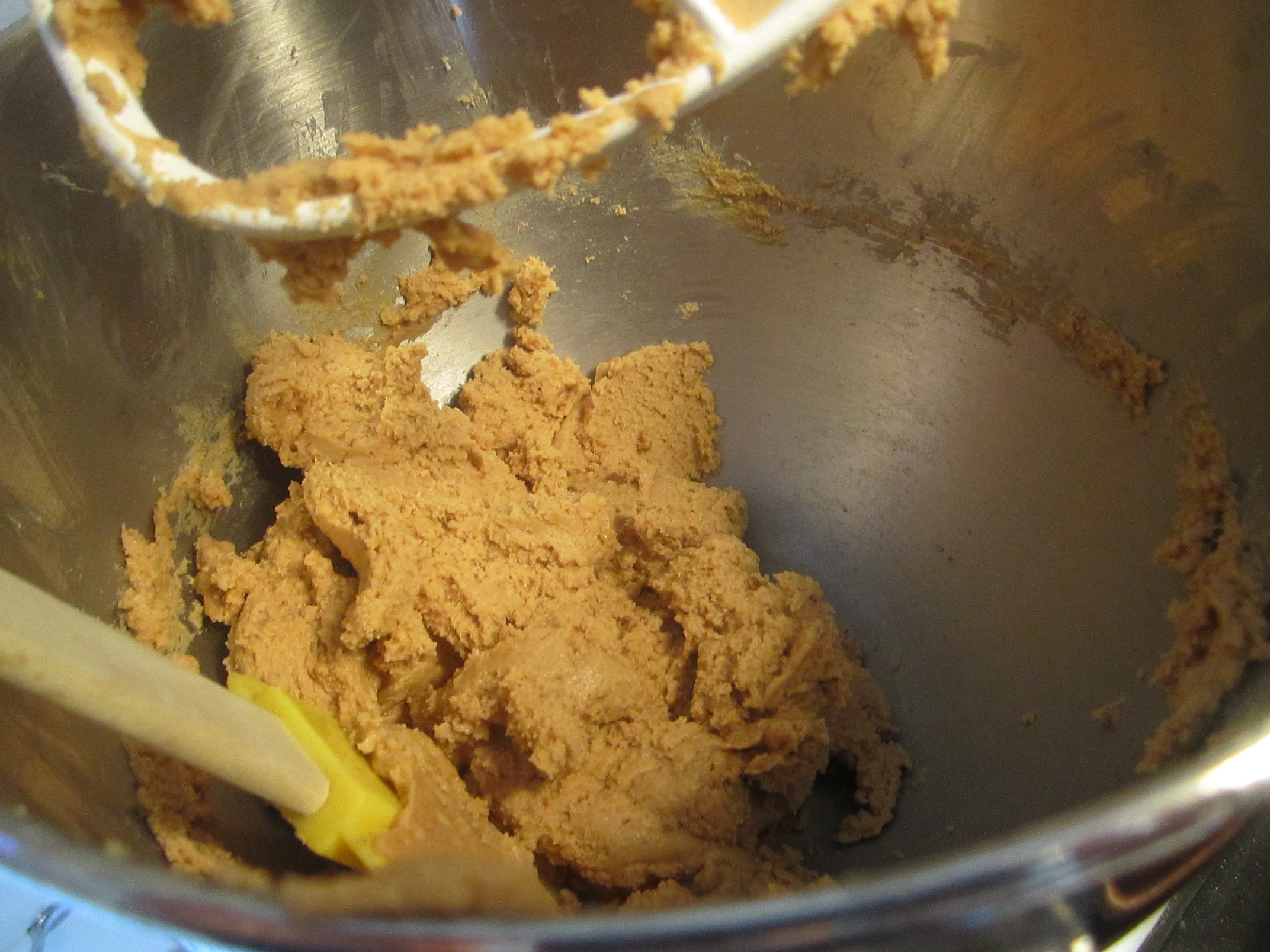 2. Place the brown sugar, confectioners' sugar, peanut butter, graham cracker crumbs, and 5 tablespoons of the butter in a medium-sized bowl and beat with an electric mixer until well combined but still a bit crumbly, about 1 minute (it won't get totally smooth; that's okay). Press the peanut butter mixture evenly into the prepared baking pan in a thin layer, about 1/4 inch thick.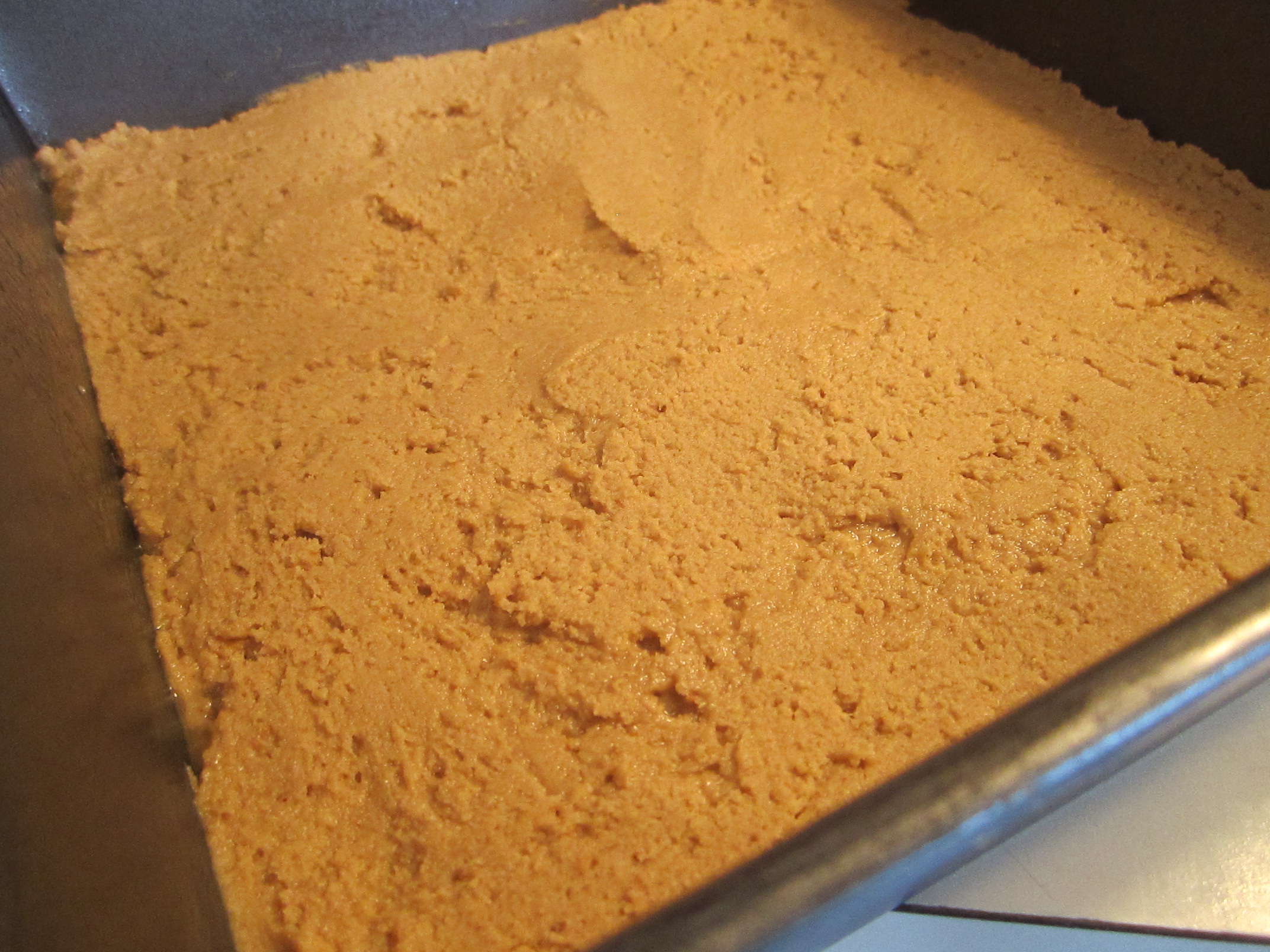 3. Place the chocolate and the remaining 1 tablespoon of butter in a small saucepan over very low heat and melt, stirring frequently until smooth, about 7 minutes. You can also do this in the microwave, stirring every 20 seconds or so, until smooth, 2 to 3 minutes in all. Let the chocolate mixture cook briefly, then while still hot, using a rubber spatula, gently spread it over the peanut butter layer. Refrigerate, covered with plastic wrap, until the chocolate has firmed up, about 1 hour. Cut into 36 small (roughly 1 1/2 inch) squares.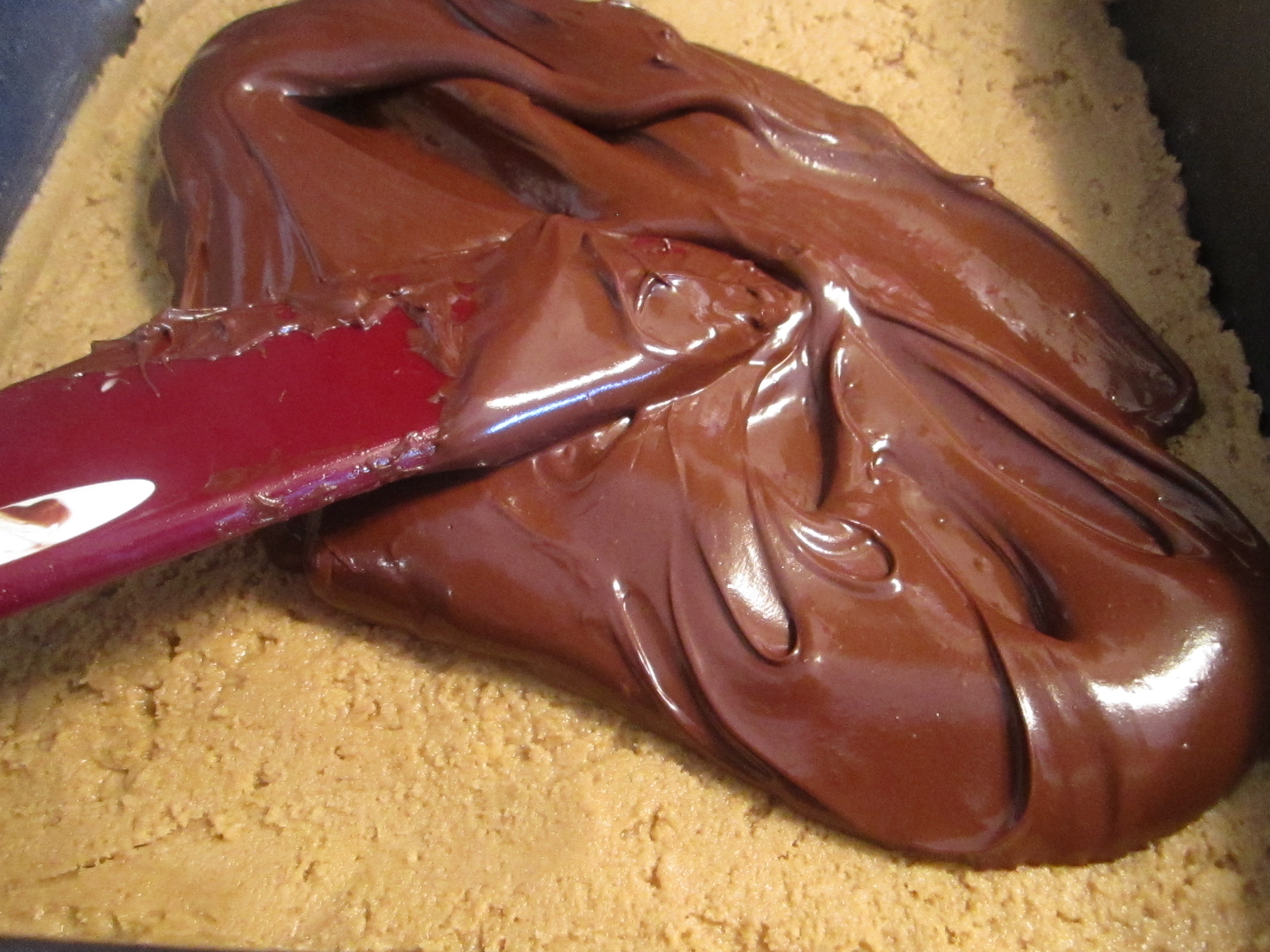 NOTE: You can either buy graham cracker crumbs or make your own by putting graham crackers into a zipper-top bag and pounding it gently with a rolling pin or the bottom of a pan or a can of beans or anything sturdy with some weight to it. Four graham cracker squares make about 1/4 cup of crumbs.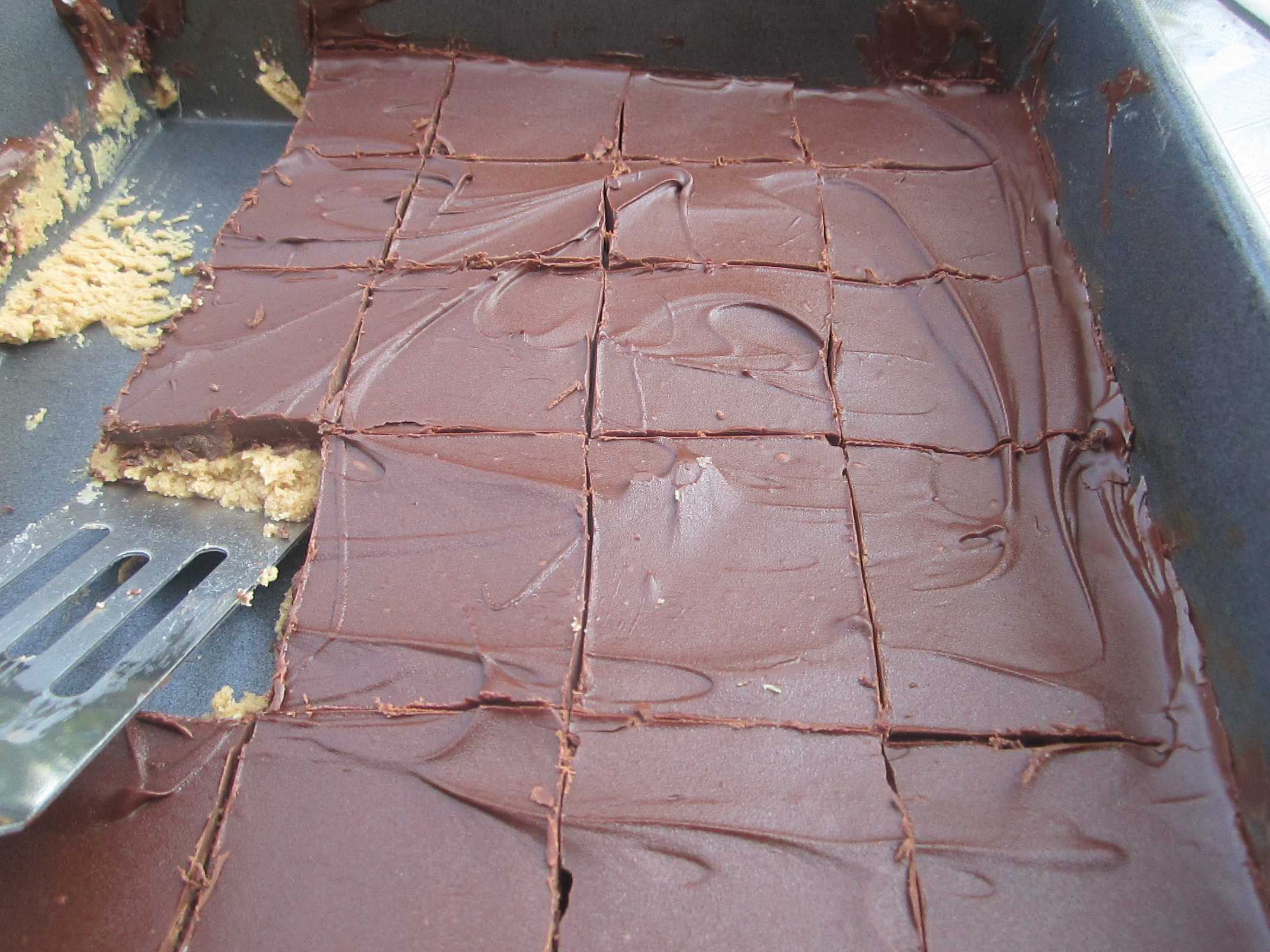 Mom: Cool as she can be knowing she's serving enough to feed a crowd! This rich, delectable dessert is a sure winner in my book!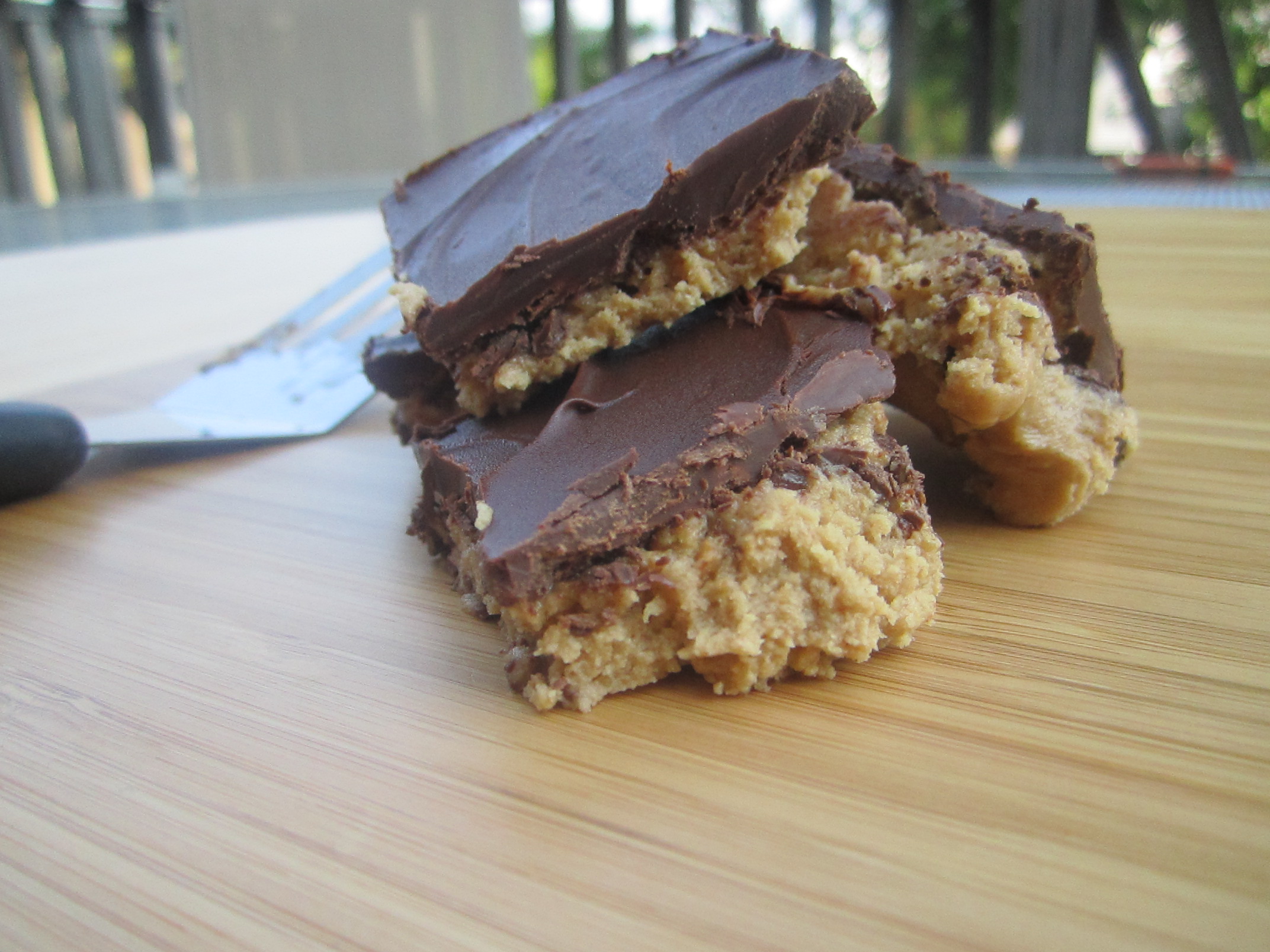 Leave a comment below about what your favorite no fuss Mom recipe is to enter for The Mom 100 Cookbook by Katie Workman! One winner will be notified by email to receive this fantastically informative mom cookbook! Want more chances?
Additional Entries:
If you already follow Mama's Blissful Bites on Facebook, Twitter, Pinterest please note that in your comments.
Please leave a comment for each entry!
US residents only – no P.O boxes
****That's four ways to enter for The Mom 100 cookbook by Katie Workman! Have more chances by following #SundaySupper on TWITTER! See below!****
Katie Workman will be joining us to answer questions, give tips and inspire at 5:30 pm EST on Twitter!!!!!  You don't want to miss this week's #SundaySupper and these fabulous recipes! All you have to do is follow our hashtag #SundaySupper and you're in! We will be giving MORE cookbooks so be sure to be there for this hour of fun!
Wine Pairing to complement our recipes ~ ENOFYLZ
Connect with Katie Workman, Author of The Mom 100 Cookbook: