Breakfast has never tasted so good with these sweet, wholesome muffins!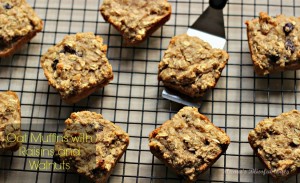 Here's the golden rule at our house: When making muffins, make three batches.
Too bad I never follow my own rules, I really should! These muffins are a quick seller for breakfast or for a snack. The first time I made them, my husband took them to work. He said they were so yummy that he shared some with his coworkers. When they liked them, he realized his mistake and hide them for himself! Quick seller.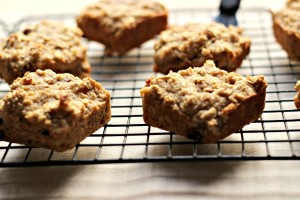 The best part, they are gluten free, wholesome and healthy! Did I mention easy to make? I'm not a baker by any means…really, I'm not. If it doesn't involve two bowls mixing dry and wet ingredients together, I'm pretty much at a loss. I rarely take out my Kitchen Aid mixer. What a bummer, but I appreciate the simplicity of things.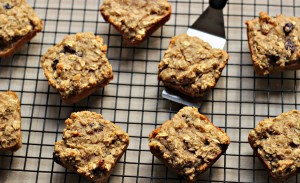 My family doesn't mind that my baked goods aren't made from a mixer. They just know the muffins are their favorite and make a delicious breakfast. I love having little clean up and how easy these are to put together. It's a win-win!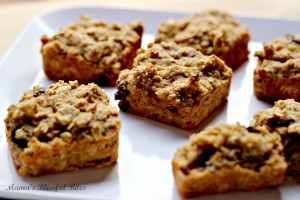 I used almond flour because its high in protein and low in carbohydrates and low in sugars. Mixed in gluten free oats for texture and added raisins for sweetness and the brain power of walnuts. For even more sweetness, maple syrup was added and held together by the incredible, edible egg.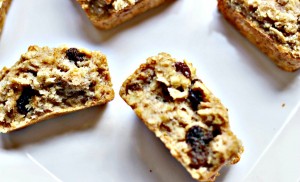 Absolutely tasty and of course, you have already been warned – make two batches. 🙂
Let's chat!
Join Mama's Blissful Bites on Facebook.
Tweet with her  on Twitter.
Sign up to enjoy wholesome recipes delivered to your mailbox!
//

Preheat oven to 350 degrees and spray muffin tin with cooking spray or use coconut oil

In a large bowl, combine flour, oats, cinnamon, salt, baking soda and powder.

In a smaller bowl, combine banana, applesauce, maple syrup and egg.

Pour wet ingredients into dry and mix. Fold in raisins and walnuts.

Scoop into muffin tin and bake for 18-20 minutes until done. Let cool.
Note: You may have noticed that my muffins are square. I actually don't own a round muffin tin (gasp!) so I could make 9 muffins. You may be able to make more using a smaller, rounded muffin tin.