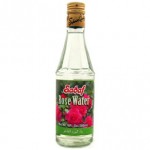 I was in the supermarket the other day and saw a bottle of rose water and grabbed it. I can't believe I have forgotten one of my favorite skin treatments! I first fell in love with rose water years ago from a "natural" company who provides clean cosmetics.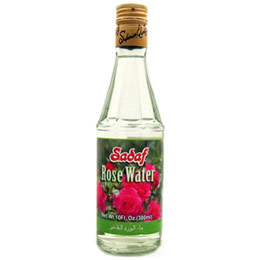 According to Wikipeia, Rose water is the hydrosol portion of the distillate of rose petals. Rose water, itself a by-product of the production of rose oil for use in perfume, is used to flavour food, as a component in some cosmetic and medical preparations, and for religious purposes throughout Europe and Asia.
Here are some many uses for rose water:
1. You can cook with it. It pairs very well with seafood, oranges and strawberries.
2. I use it for beauty!!! Use it for make-up remover. Just put a little bit on a cotton ball.
3. My favorite: Use on dry skin. During the winter time, my face becomes dried out – especially if I have a cold and blow my nose constantly. I just place some on a cotton ball and it clears it up pretty quickly. It's a fabulous toner!
4. Because rose water makes your skin very soft, place 1/2 – 1 cup in a nice warm bath – Yes, you will thank me for this one. Your skin will feel VERY soft and leaves a rose scent behind.
5. Taste fabulous in sorbets!
It's very affordable – I bought my bottle for $2.20. It can be found in the Asian section of grocery stores or you can spend more and purchase some for "cosmetic" purposes in the cosmetic aisle.
You can also MAKE YOUR OWN! Place real rose petals in a bowl and pour hot (almost boiling) water over top. Allow to cool down. Place lid on container and put in fridge for 24 hours. Strain and discard petals. Place back in fridge. Keep for 1 week.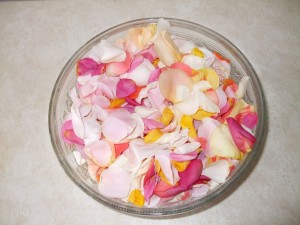 Have you ever thought that there is something bigger than what you are doing now? A purpose to follow. A calling if you will. How do you determine what that is? Do you look at what you are passionate about? Or perhaps your skills that you have obtained? Maybe its determined based solely on your instincts? I know some people who know what they want to do or who they want to become before they are in grade school. An interest in fire trucks and ladders have made them into firefighters or teaching stuffed animals fundamental lessons has brought them to their destiny of becoming an educator. What about the people who still stride to figure out what their purpose is? Have you ever had a burning desire to be something greater than what you have achieved? Or is this only me?
In school, I have been taught lessons of mathematics, English, science so on and so forth but what about a broader spectrum? Now-a-days, it's great that schools are offering programs to further passions. For example, my high school provided cosmetology, building and even cooking. I know cooking right? I should have flown into that program but I was held back with the perception that business is the way to go. Now, I absolutely don't underestimate the value in learning business skills. Without the vigorous class, I wouldn't have received my Microsoft Word Certificate, or know how to type 70+ words per minute or how important it is to be on time. I hated getting a late mark! Those are skills that I will never forget and use quite often to this day. But what about classes to fill the desire that lies within our hearts? How do you figure out what path is for you?
Look at your past. I had to look back at my jobs and figure out what I love and who I am. I love to socialize. Not because I love to hear me, but because I really enjoy making connection with people. People to me are very fascinating. Connections are fascinating. Networking for a greater good is fantastic. One of my favorite jobs was working at a bingo hall. I did it for four years. Hearing other people's stories of where they came from and how they got here today or just lending an ear gave me a sense of belonging. We are all connected, we just need to listen. Another job that I still currently have is being a consultant for Pampered Chef. From this, I realized that I love to be a speaker. Of course, I get nervous all the time when I start but I do get comfortable and find my flow. Getting up in front of a crowd used to bother me, but now I come to quite enjoy it. My first job was a cashier at Best Buy. Again, socializing with the public gives me satisfaction and I enjoyed having customers wait in my line just to talk to me. My past says, I need to be socializing! Furthermore, I love to blog. Since I have been in introduced to the blogging world, I have heard many goals and desires to this "business." Which could very well be a business. It's been close to two months that I have officially promoted Mama's Blissful Bites. Writing is also something that I find works well with my soul.
Goals. Let's be honest, if you want to get somewhere in life you need to have a plan and make steps aka goals to get there! Mary Ann works as a floor clerk at Baby Bucky's on 5th street. (I don't know, I made that up!) She shows up for work sometimes on time, sometimes not, sometimes in dress code, sometimes not, sometimes a little hung over. She makes ends meet and does her job. Now Mary Ann could show her potential and shine like the star she was meant to be if she had some guidance or some goals. Mary Ann wants to be a fashion designer at Baby Bucky's and not a floor clerk. There's not currently a position for a fashion designer but she presents the idea to her supervisor and not only does what is required of her but goes beyond. She dresses properly, shows up early and puts in all the effort she can for her position plus more. She starts chatting with the customers of how she can put together outfits for them and the customers have positive feedback. Her supervisor notices the amount of happy returning customers and offers Mary Ann a test run. Months later, it's official, Mary Ann is the new and very first fashion designer for that company. Have goals. Have dreams. Be positive in the direction you want to take them to. Take baby steps to get you there.
Your skills. I truly believe that everything you and I have ever done has prepared us for where we are going to be in life. What are your skills? What have you learned? Find out what they are. Praise yourself for the skills you have. Don't think that anything is too little to leave out. Skills can be obtained and never taken away. Develop those skills to the best of your ability. I worked in a corporate office for four years as an Executive Assistant and one of my tasks was taking phone calls. Many phone calls. I didn't just answer the phone and say, "HOLD PLEASE!" Heck no. I developed a relationship with the caller and took my job very seriously. Eventually I was promoted to assisting not only the President and VP, but a Manager as well since I built a relationship with the clients. I could pin point what their needs were and cut down some "wasted" time for the sales team. I built a rapport by doing my job well. So what do you do well and can bring to the table? Remember, these are your skills and not Mary Ann's!
Dream BIG. There is absolutely nothing wrong with dreaming but you are holding yourself back if you don't dream BIG enough. As I started my blog last year, I was fascinated by taking pictures of my food. They weren't and still aren't great photos but its something I enjoy doing. I started getting serious about blogging two months ago. I have made lots of blogging friends along the way and I'm always curious to people's goals. I kept hearing the same thing, "I want to make it big." "Well, what is big?" I replied. "I want to make it where everyone knows my name and I have advertisers paying for me to blog! I love to blog!" The more I thought of this the more it sounded good. I started to check my number of "views" like crazy. Uh-oh, why didn't anyone read my last post? Don't they know how amazing my food is! What view number am I at now? I had to really gather my thoughts. This is not my goal, this is someone else's big dream. For me, recognition and advertising is not my ultimate goal. To be honest, I hate looking at my view stats because it makes me judge myself. How well did I do? What does the world think of me? No. I can't take that pressure. Although it is a great boost of self-esteem, although it makes me feel good to know someone is reading what I wrote, its just not my goal. I want something bigger. My dream would be to create connections and use this as a tool. If you want me to dream even BIGGER, I want to be on television doing a great good for someone or changing something. I want to travel across the country as a speaker. That would be my personal bigger dream. What is yours?
Vision Boards. A vision board is an amazing tool which helps you visualize your wants. My mom, who is also my guidance for a lot of things in life, creates a lot of boards. She even has vision board parties. You heard me right! A vision board is a collection of pictures, example: magazines, cut out and pasted on a board. You visualize that island you want to own or some words that inspire you. Hang it on your wall and remind yourself what you're working towards daily. They even have electronic vision board on the internet too! A vision board party is where you call your friends and do it all together. You inspire each other!
Passion. Are you passionate about something in life? I know a girl who is an activist. I admire her for standing up in what she believes in. She is so passionate about showing awareness for a cause that it has not only influenced her life but became a part of who she is. People believe in her because she is so involved with the community and strong about her beliefs. My passion is to help people. In any way I can. I don't know what it is but I know its right. Just as I'm writing this to you, my passion is to help. Perhaps this will get your wheels turning, perhaps you will make that vision board, perhaps you will try having goals. If I can make a difference in moving you towards a positive direction, it does ten fold to me.
We have this amazing opportunity to be what we can become and do what we can to do, shouldn't we make the most out of it for ourselves? So many statuses on Facebook complain of hating their jobs. What do you love to do? Why not do something you are passionate about and make money from it? On paper, this looks pretty easy. (Or computer whatever.) The hardest part, at least to me, is finding that niche. I know it wasn't taught in school but the skills I have are getting me to where I need to be. What are your dreams?
Here's the thing, you planned your vacation, you really want to go but the task of packing and even un-packing can be quite daunting! Especially now. You're not just packing for you, you are packing for your little ones and maybe even spouse too! It can take just as long to pack as it does to drive the trip, believe me, I know!
My husband and I used to travel for the first 8 years of knowing each other. I mean, get up and go kind of weekends or sometimes, we would do a spur of the moment week off. It's one of the things I love about him. I would get the traveling bug funk and we would just pack and go. Trips to North Carolina, Virginia, Delaware, Ocean City, Atlantic City, New York City, Las Vegas…you get the point. Ahh, the days prior to kids….But anyways, this is the new me, the mom me. Now when we travel, it's usually planned out well in advance. I can't skip that step anymore. I started to notice that when I planned our vacations, I had a much easier and productive response. I was able to:
Book early, get a better deal
Use the "Vacation Packing List" so I already knew what was expected of me, saving on time
Remember every item I wanted to take, is that not huge?!
Be the prepared mom when events arose! Isn't that amazing?
Over this past weekend, we took a trip to Ocean City, Maryland. Ocean City is a wonderful beach with lots of businesses, boardwalk, attractions and family fun for all ages. This means, it's a packed place and although I have been there every year of my life, I should still follow through with the Packing List – it never lets me down and I never take it for granted!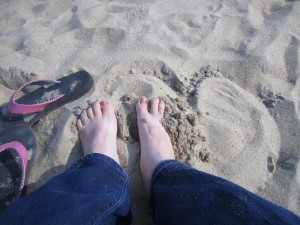 Some information that I gather isn't actually from newspapers or books on the location I'm traveling to. For example, I listen to facebook. I hear what other people are telling me. Through general friend statuses, I found out 1. School is not back in which means its going to be crowded 2. Lots of people said, "Going to the beach." 3. I found out the "DEW TOUR" was there 4. I subscribed to OC's facebook page, here, so that I don't miss anything. 5. I checked the weather, easy one. More knowledge, means better prepared.
Through these media outlets I have learned the following: I am now prepared for the crowds, I know the events going on in case I wanted to attend and I made plans to meet up with some friends. Done.
Next the fun and dreaded part, packing! Here are some tips to help you along with your vacation:
Write out a list. When you prepare a list and cross off the items, you will know what you already have.
Pack for every event. For example: in the car, at a restaurant, driving in traffic, horrible bathroom experience, your ultimate destination. So you think I'm crazy yet? Yeah, me too. Sometimes I can't believe I process all this stuff!
Bring lots of bags. Bags of all sizes. Here's what happens, you pack and think you are prepared but then you realize you need to organize more items on the return home (example dirty laundry would have its own bag, or the "poopy" diaper you don't want to leave around, or snack bags for extra snacks or pacifiers etc.) You all ready have your items packed but when you need to take them out to a place or need a spot to put something, you have an extra "carrier." Remember the cups, forks, knives, spoons, plates too!
Here are some more specific tips.
CAR RIDE:
Ain't it the truth? Going for a car ride can be hair pulling or at least it is for me when I hit the 2 hour mark for me! I get antsy just as my kids do. But when you make a ride fun, it seems to go by faster. Here are some ideas to help with the long rides:
Bring CD's of kids music – we use toddler songs and my son always says, "Again?!" Oh, but here's the thing. You can't just play the song…..no, no. You have to actually play with the song. These kids like when mommy is the entertainment a lot more! An example would be: On Top of Spaghetti song, (my favorite), ….when somebody sneezed…. during this part, we all sneeze. I don't go on until all participating singers get a sneeze out of their mouths, then we continue. …..and then my poor meatball was nothing but mush!….during this part, we clap our hands. Kind of like the song If You're Happy And You Know It… you get the point right?
Bring snacks. Sometimes you're not always going to be ready for a meal but please always have snacks on hand. Snacking is enjoyable and can be entertaining to them! Let's keep them busy on this trip. I pack a bag by itself and put it in the car up front so I have easy access to the goodies inside.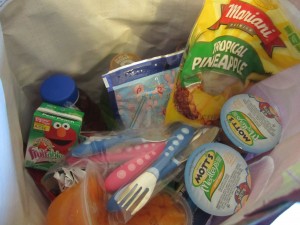 Bring books. Do your children love to read? Mine do. I stop at the library prior to the trip and pick up lots of books that the children have never read before. The newness makes it more exciting!
Point out objects. We take for granted that our kids know everything because they show us that they think they do. I get this. My three year old can act like he's going on old man…point clearly made. But I always say, "Hey, do you guys know what that is…" And point at something. We make the sounds of the object and tell each other the function, purpose, who works on it, etc.
Toys! Of course bring toys! If your child has something that will keep them occupied in their seats for some waiting time, then bring it! We use push trains and they switch back and forth.
Also be prepared for their nap time as well. Being in a car can be a tiring experience, bring whatever their sleep object is. We use blankets, pacifiers, Minnie Mouse etc.
AT THE BEACH:
I truly believe that I should be called officially/unofficially the Bag Lady. I carry them everywhere. I have a bag for everything. I like to just get it and go. It seems to make my life more organized and manageable. Besides a snack bag, I also have a beach bag ready to go as well. This actually came in handy because we didn't go to our settling location and unpacked. Nope, we went right in the city and started to play. I was prepared, they were fed and ready to go. What's in your beach bag?
Towels for each member of family
Sunblock
Sunglasses
Bathing suits
Toys
Swim Diapers
Camera
Bug Spray
You really don't need much for a short visit unless you are going for the whole day. We just got out of the truck and wanted to play after a long trip. It was really easy to grab a bag and go play!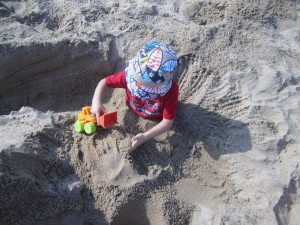 Oh and not to mention,  our snack bag was ready to go incase we needed a drink or got a little hungry. Bada-bing-bada-boom!
SUITCASE PACKING
I personally like to have two suitcases. One for my husband and I, one for my children. As they get bigger, I'm sure they will have their own suitcase but for now, I like to save room. This has our every day belongings such as:
Clothes – for any type of weather. You never know what you're going to get. If you get a bad sunburn, you might just want a long sleeve shirt and pants. Sometimes there are horrible bugs. So come prepared! Pack long sleeve and short, pants and shorts. Two different kinds of shoes in case one gets wet or you lose one. Maybe sandals and tennis shoes. Remember those socks!
Any bathroom item for the traveling case. toothbrushes, toothpaste, Q-tips, Shampoo, Conditioner, Soap etc.
Extra bags for dirty clothes.
Extra blankets for the kids.
Diapers, wipes
THE ACTIVITY BAG/RESTAURANT BAG
When you get stuck in the moment when the kids are "bored" you may want to bring out the activity bag. I pack this bag pretty lightly because on our vacation, I plan on keeping them busy until their energy runs out and they want to go to sleep! That's in a perfect world, right? Sometimes the sun just doesn't understand and the rain come out and so does that activity bag! Think of your childs favorite toys and even toys you know they love but don't get to play with. I usually bring out the Activity Bag when we go out to eat and are waiting for some food. Inside are:
Coloring books with crayons
Reading books
Little cars, matchbox etc. (We build roads using paper and crayons for the vehicles to drive on. Stop signs, red lights etc.)
Playing cards
It doesn't have to be a lot, just to get their attention and pass the time until the next activity can begin! We also look for fun places to eat, such as this outside beach restaurant. Playing in the sand occupied them until their food arrived!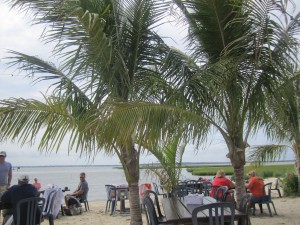 THE EMERGENCY BAG
This bag is the back-up plan and believe me I have used it so many times. Actually just this past weekend. After a nice beach break and lunch break, we went to our house destination. There, I was chatting it up with some family and eating and when I moved my daughter from my lap, I realized she peed through her diaper. Hey, it happens. Thankfully, I didn't have to break out all the luggage to find what I needed.
Extra clothes – not just for kids but adults too!
Extra diapers
Extra wipes
Medical Kit (You never know if you would need to use one!)
Bottled water (Where we stayed had well water so we were happy to have bottled on hand)
I quickly got dressed and went on my way without a big hustle and bustle.
Every time we go on a trip I try to figure out how I can make it less stressful, how the packing process can be easier, how I can get all of us out of the door faster. The more I have a routine down, the faster I become. I even packed up everyone while my husband was at work. Yes, sometimes the process can be a long one but if you create plan of action, you can see the progress faster. Cross off the list if it helps! Bring the list to remember what you packed in the first place when you're re-packing to go home. Have the dirty clothes ready to throw in when you walk through the door, put away the clean clothes and be interactive with your children during the long car ride!
Another big rule I have is to always leave the house clean. That may sound absurd because I know how much of a mess can be created by packing, but when you walk back into a clean house, it feels even better to be home. I make sure to run any dirty dishes, clean up odds and ends of laundry so I can throw the load in, have the trash out for Sunday pick-up, put the toys back etc. It may take a little extra effort but its worth it. Be prepared and most importantly, HAVE FUN!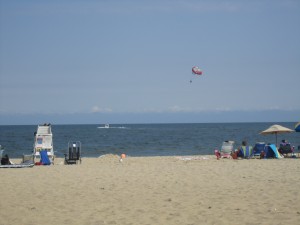 PS. You wouldn't believe this, but we packed all of this for one night. I know! At least we got everyone covered!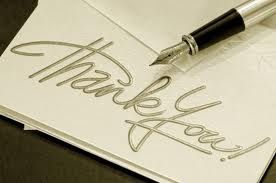 As being a mom to a three-year old and a 20 month old, things can be a little hectic in the home. Especially when it's just me for a period of time. Being able to stay home, some sacrifices are made to which my husband works odd hours from time to time. Sometimes we don't see him for a week straight. This being said, everyone in the household feels the stress. The dynamics change. The kids are tired of being with mommy all the time and miss their daddy. They miss their normal goodnight routine. They miss the family dinners, the four of us. Being so young, they don't understand what is going on, just that daddy's not home.
As a result of this, my patience can run a little bit more thin than normal, my happy cheerful self feels very run down. How do I cope with such stress? Can you imagine, being tied to your children 24 hours a day for a week straight with NO relief. Sometimes it happens. I can remember long ago when my husband started this on call rotation, I felt like it was the end of me. I did not have one ounce to go on. I took care of the kids, I fed them, played with them and did everything I should, but I was crumbling inside. I was becoming numb. The truth is, sometimes we can't change our circumstances however we can shift our mind frame.
I looked at life as "why is this happening to me? why is everyday like this?" And I have to admit, I didn't want to go through life thinking it was just another day passing. There had to be a purpose. No more pity parties, I refuse. I have received many emails from moms regarding stress. How to handle it, anxiety and so forth. And the best question of all, how do I fill my soul.
When I am at my stressed point or I know it's coming, I have to shift my mind thought. One of the best relievers can be hard to start doing at first but after you truly believe what you are saying, you (or I) feel a lot better. My secret…. I feel thankful. Yup, it's as easy as that! No special tricks, no special invested objects, just being thankful! Start being thankful for everything. I am thankful my husband has a job that supports our family. I'm thankful I can stay home and take care of my children. I am thankful to have dinner on the table every night. I am thankful to have my home, etc. The situation leaves me feeling "blah" but when I start to realize the bigger picture, that there is so much to be thankful for, I don't feel as stressed. At first, I resented my statements. I was so miserable that being thankful was not in my vocabulary. I would just say it because my mentors have told me to. But the more you say it, the more you believe it, the more you understand that the Universe is working with and even for you, the more thankful you will truly become.
Three years ago, I wanted to go back to work. I did not want to be a stay-at-home mom because I thought "it's 2008, I'm supposed to be representing a hard-working woman, not a SAHM that would take care of the laundry, cook, clean…nope, we've moved on as society and I'm not doing it!" When circumstances came to push and shove and I had to stay home, I didn't know what to do! I hate to clean! Isn't that the rules? You stay home that means dishes, laundry, food, etc? I just didn't want to do the household chores! (Yes, I'm laughing as I write this). As I learned to be thankful for the situation I am in, I realized staying home is awesome! 1. I'm taking care of my children which I wouldn't want any other way but 2. There's so much I can do and become from staying home! I started to write a list of everything I wanted to do that a 9-5 job wouldn't allow me the time for and then guess what, I do it! Look at what a fabulous opportunity I have! Although I perceived staying home as a daunting task, it surely is anything but! I needed to shift my mind frame. When I started realizing the benefits and being thankful for what I do have, more opportunities opened up.
Be thankful. Write a list of things you are thankful for and truly be just that, blessed. Write little post-its on your mirrors to remind you everyday. Keep a list in your pocket or purse. I find it funny because when these hard weeks hit, sometimes I call my husband just to thank him. Thank him for working as hard as he does to be such a wonderful provider for us. The funny part is, he thanks me. He will work 70+ hours in a week and I can hear the exhaustion in his voice, yet he still thanks me for my role as well. Now that is a lot of thankfulness! And if you share that you are thankful for someone being in your life, sharing something with you, just saying the words, "thank you for…I'm grateful for….I'm blessed because you…" could just very well shift their mind frame as well. It doesn't matter your circumstances or how overwhelmed you may feel at the present time. It doesn't matter if you're a SAHM or a working mom or a future mom or not a mom at all! What matters is the feeling of enlightenment you share when you have a gratitude attitude!
 I'm living in my shoes, so I only know what I have been through and although many people have said, "well if you walked a mile in their shoes…" well guess what, I haven't. I walk in mine and mine alone. Be proud. Be who you are but be blessed at the life you have amongst you.
Our words are more than just words, they throw energy into the world around us. First, we have to have a thought prior to the words coming out of our mouths. When we think, we validate the information we thought. For example, on some days I noticed I had a negative attitude where "nothing is going right," "why is this happening to me?" or the dreadful one…. "what else can go wrong?" When we throw these thoughts and ideas out of our heads into the world, the world gives back what we ask. Think about it, "what else can go wrong?" Well, a lot of things. Therefore, we pick out the negative events that are happening to us. There could be a million small good things that have happened or made our situation easier but we only notice the negative events. Why is that? Could it be because we all of a sudden are looking for the negative situation to occur? A golden rule is to project a vision, thought, idea of something you want to happen and give it positive energy behind it.
If you always look for the positive outcome then you will receive a positive response. A mathematical equation would be: positive + positive =

Okay, don't follow that, I didn't do too well in math! But if you always fill your mind with positive thoughts then you will be surrounded by more positive energy thus making you have a better day.
Not in all situations can we keep a positive attitude, it takes practice, discipline and time. The more you notice your thoughts, the easier it will become. When we let go of the anger, depression, and sadness we can make room for more kindness in our heart. The best part of positive energy is that its contagious! I don't know about you, but its the one thing that I want to catch!
HOMEWORK: Observe your thoughts for 24 hours noticing what kind of energy you're giving off. How many positive thoughts do you have a day? Notice the situation. You are now an observer. Pull yourself from a situation that may have your anger level rising and look at it objectively. I am feeling this because….What can I do to make this a positive situation for me? For the others involved?  Take note if anything made you feel better by changing the circumstances. If you always react a certain way and this time you react a different way, what was the outcome? Was it good? How did you feel? I hope you feel my positive energy coming to you through my words!
Special NOTE: I am in no way, shape or form have a high education in the mind and what it does. I do know from my personal experience, spiritual beliefs  and meditation some tips that help me with my day and this is just extra info. Do what you want with it

I just hope its positive!