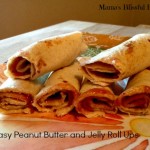 You remember the other day when I mentioned I hate mud?
Well…that didn't last long. My son, who cannot read this, felt the need to prove me WRONG.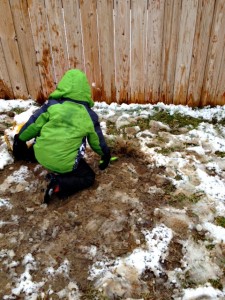 At first, I was completely disgusted. I have to be honest. Mud is not  my thing…but then Mr 4 smacked me in the face with a slab of ewieness, it was game on!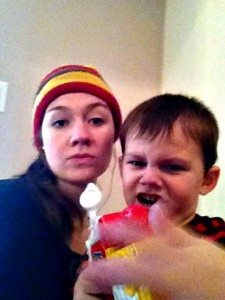 We played (I freaked out) until it all looked like a big bowl of soup…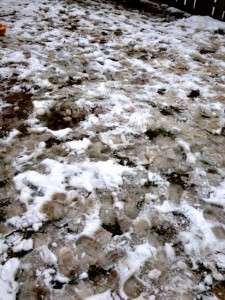 All is well. We went inside for some exercise.
As if we didn't get enough all ready, I turned on my favorite Comcast channel, Sports and Fitness on Demand! I did another mile and the kids got their groove on too. On another note, I wanted to share our favorite SNACK OF THE DAY!
Have you ever had warm PB&J sandwiches? They rock. You know the combo things that go together …
Milk and Cookies
Kim Kardashian and Kanye West
Okay, that's questionable… and of course…
PB&J!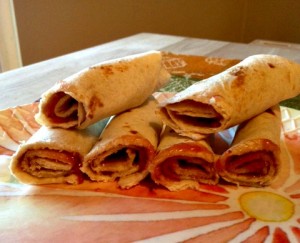 These are a favorite, warm, ooey-gooey peanut butter with the sweetness of jelly. Perfect snack for the kids, perfect snack for me. Ingredients:
Tortillas (We use 8″)
1 Tbs creamy peanut butter
1/2 Tbs favorite jelly
Warm tortillas on the stove for twenty seconds each side. Add peanut butter and jelly, roll and enjoy! Not only are these filling (making a perfect snack) but you can switch it up to whole wheat tortillas instead of flour. They are quick and a nice change up from the old sandwich routine. I hope you enjoy them as much as we do!
Question: What is your favorite healthy snack?
This is a paid-sponsored post brought to you by…
David Hobbs Honda Dealership – Dealer For The People
Located in Glendale, WI, David Hobbs Honda Dealership has new and pre-owned vehicles. This isn't just a dealership, check out their values!
Performance, Honesty, Empathy, Reputation, Fairness, Generosity, Community.
Rapport; relationships, especially one of mutual trust or emotional affinity
Stay connected for the latest updates:
You can find them at: 6100 N Green Bay Avenue, Glendale, WI 53209
(888) 216-8479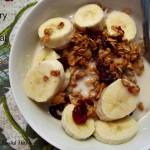 Welcome August! I'm a little behind…but I'm with ya!
Here's my IN CASE YOU MISSED IT (and were vacationing having a few cups of of wine…excuse me) month of July highlights!
REVIEW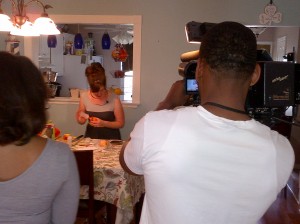 I was over the moon excited to have a product review on TV!
Be sure to check out my "skills" on reviewing the The Pop Chef.
MBB REVIEW
My first "runners" giveaway. I loved this one! A big thank you to BIC Bands for providing my bands plus bands for MBB giveaway! You rock!
LOCAL REVIEW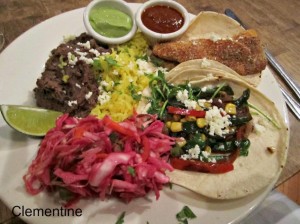 By far one of my favorite places to visit with my girls is Clementine's in Baltimore.
RUN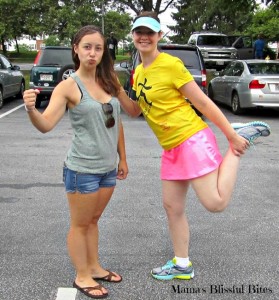 A birthday run with my favorite sister is always priceless that's why I ran Miles that Matters.
Good Eats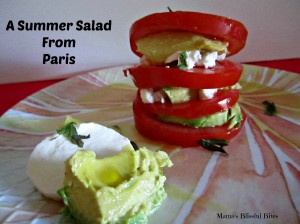 Although also a review, I think I ended up devouring this dish for almost a month straight. Thank you Sara Moulton!
Best Achievement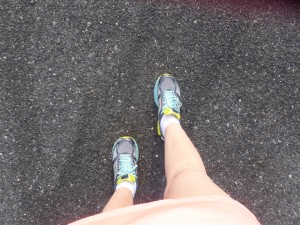 Running four miles! What?! What?!
After returning from vacation, our weather has been really nice, beautiful and cool! I did say cool in August (yes, it's super sweet) so I have been in the kitchen making meals for Autumn. I know, I'm not really a summer geek but more of a cooler weather one. I'm just getting ready, ya know? Trying to be prepared like I am for August???? Right?
If you are a long time MBB reader, you will know that I love granola …. I revamp the recipes constantly.
Check out: Raisin and Almond, Cherry Oat and Cashew, and one of my favorite desserts… Sweet and Naughty Dessert Granola!
Ingredients
2 cups old-fashion oats
3/4 cups walnuts: chopped
1/3 cup maple syrup
1/2 tbs canola oil
1 teaspoon vanilla extract
1 teaspoon cinnamon
1/2 cup cherries
1 banana
milk of choice
Instructions
Preheat oven to 300 degrees
Prepare a baking sheet with cooking spray or I used aluminum on stoneware (because I don't like to wash dishes, sigh...)
Mix in a large bowl first 6 ingredients
Spread on pan and bake, tossing every ten minutes for thirty minutes
Let cool
Place in a bowl with bananas and milk on top
http://www.mamasblissfulbites.com/2013/08/05/cherry-oat-cereal-granola-and-in-case-you-missed-it/
This recipe is one of my favs and has been adapted from Ellie Krieger's Small Changes, BIG Results cookbook.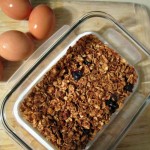 You may think this is strange…but I LOVE to prepare my snacks for the week. Love, love, love. Actually, I think of it as self love. This concept, I don't think is too strange but perhaps just having fun prepping my food is! It's super easy to open up a packaged box and eat whatever is inside. It takes time to prep. I understand why the packaged route is convenient but feeding the body goodness straight from the Earth is self love.
While I was coaching a hard-working older couple at the grocery store, she mentioned to me that she simply does not have the time to eat whole foods. I absolutely understand this. In this day and age, everyone is working and working hard. Sometimes endless hours. She viewed her life as only having time to work and nothing else. There is no time for exercise and definitely no time to eat healthier. Even though many studies have provided the information that diseases are connected to our packaged foods with additives and chemicals, even though many studies have concluded that a healthy diet is key to a healthy lifestyle, even though studies have shown that exercising (even for 15-25 minutes) daily has shown to help lower the chance for disease, she didn't have time. What I heard is that she really doesn't have time for herself. It is up to each one of us to decide what is important for us in our lives. Evaluating and examining our choices are a really good way to start the process.
I prep my snacks to make sure I am giving myself a great start to a healthy week. My snacks are ready just as the boxes are ready sitting on the shelves. I put on one of my favorite cd's and prep! Of course finding the time for me can be a challenge as well. I have two kids, ages 4 and 2 who I am caring for plus everyday odds and ends BUT I make it happen. Sometimes, I do it 10pm at night. This may not be ideal for you however the quiet time works well for me.
Here is what I prep for the week: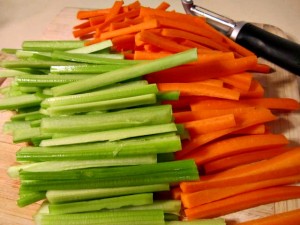 The traditional carrots and celery sticks. WHY? Because they are GREAT for the body! I cut them into match size sticks for easy nibbling. During our 10:30 am snack time, I serve them to the kids. I also package some for my husband, who works in a van, and he places them in his cooler. Sometimes we eat them plain and sometimes we add peanut butter.
Next on the prep list are peppers! I love peppers. I also make or purchase a package of hummus. We love making hummus at our home and we make lots of different varieties!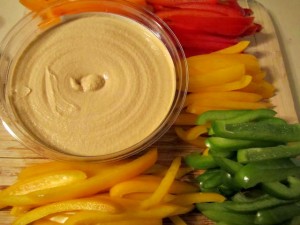 For lunches, I take a wrap and place the hummus on it with tomatoes and mozzarella cheese. Or we dip our carrots, celery and peppers in it for snack.
I also make a weekly stir fry which includes carrots and peppers. Since the vegetables are already prepped, it's easy to throw in for an even quicker side dish or dinner!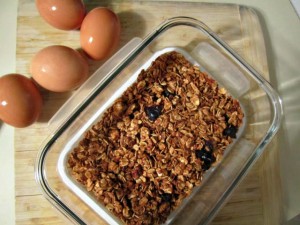 Lastly, I make hard boiled eggs and make homemade granola.
I love hard boiled eggs in salads or as a quick snack so we always have them on hand.
Granola is my favorite breakfast choice. Served with almond milk, it turns into a cereal. Around 3pm, our snack time, I give the kids some in a snack bowl.  Sometimes I make bars instead of granola, it depends on my mood.
Other snacks that we eat that does not require prepping are:
avocados
bananas
apples
peaches
I do change my snack food prep weekly to give us varieties. If you like this post and want more ideas, just let me know! It is worth finding the time to set yourself up for healthy food choices. Give yourself the self love you deserve! Eat healthy. Eat delicious!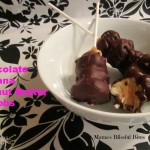 I was craving and I do mean craving some sweet chocolate. Whenever I get in those moods, I make sure to give myself a sweet treat! I usually make these as bites and use toothpicks but I didn't have any so this is how the chocolate banana peanut butter dessert kabob was created! (Say that ten times fast!) Sometimes a girl has to do what a girl has to do!
Chocolate Banana Peanut Butter Kabobs #Cleaneating
Ingredients
2 bananas: sliced
2-3 Tbs peanut butter* (See Note)
70% bakers chocolate
*lollipop sticks or toothpicks
Instructions
Place parchment paper on a baking sheet
Slice bananas and place on baking sheet
Top with peanut butter and freeze for 30 minutes
Take lollipop sticks and push three on a stick
Melt chocolate in a glass container in the microwave
Spoon over kabob and place in a paper cup
Place in freezer for 20 minutes
http://www.mamasblissfulbites.com/2013/05/14/chocolate-banana-peanut-butter-kabobs-cleaneating/
Note: I used homemade peanut butter. To make, I used 2 cups roasted peanuts in a food processor and processed for 5 – 7 minutes until it turned into peanut butter. I still have lots left. Placed in glass container in fridge.
If you don't have lollipop sticks use toothpicks and place one on each stick for a bite size snack.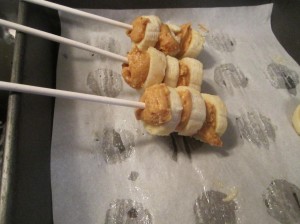 This is how they look prior to having chocolate drizzle all over them. You don't have to freeze them for thirty minutes. To be honest, they thaw very quickly. I like to freeze them to have the peanut butter and banana adhere to each other better but it's really no biggy. Skip that step if you want

You will be very satisfied either way with this sweet, delicious treat!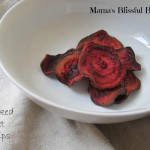 On my facebook page, I decided to announce my new name. I am unofficially, officially calling myself the snack queen. I am completely 100% satisfied with this, officially. I feel I can accomplish making healthy breakfasts, lunches and dinners but I'm constantly looking for healthy snack options. I don't want snacks in a box! (Remember, they are processed and who knows what's really in them? Eeek!) Since summer is on its way, it's easier to find fresh fruits and veggies, also making snack options easier. On a regular basis, we eat honey walnut apple sandwiches and raw banana pecan-raisin bites, (which are kid approved according to my four and two year old!) and really easy and quick to make.  I've tried all kinds of chips as well, potato, sweet potato, apple and to add to my fun snack list, baked beet chips.
Why beets?
Beets are low in calories with zero trans fat and zero saturated fat!
Great energy source! They are high in carbohydrates
They are inexpensive
Used as an aphrodisiac – love that, right?
Helps purify the blood and prevent some cancers such as colon
Filled with vitamins, iron, magnesium
Baked Beet Chips #Cleaneating
Ingredients
3 beets: peeled and sliced (I used a mandolin)
1 tsp olive oil
sea salt
Instructions
Preheat oven to 350 degrees
Prepare two baking pans (metal by itself or stoneware with parchment paper)
After peeling and slicing beets, place in a bowl
Add olive oil and combine
Place on baking sheet and add a touch of sea salt
Bake for twenty minutes
Rotate both baking sheets
Bake another twenty minutes until dried out
http://www.mamasblissfulbites.com/2013/05/11/baked-beet-chips-cleaneating/
Mama's Thoughts:
I made these on a regular baking sheet and a stoneware bar pan with parchment paper. My test was to see which made the best beet chip. I was looking for a chip that was nicely crunchy on the ends and dried out in the middle without being over burnt. I had one very large beet and two small beets. I placed the large beet on the baking sheet so it cooked evenly. You want them closely to the same size and thickness for even cooking.  My other stoneware pan had parchment paper and two smaller beets. My findings: The metal baking sheet by its self made chips that were flat. No curling edges at all. The problem, I burnt them. I know, can you believe I make kitchen mistakes too? Although they were my thickest and largest beet, they dried out the fastest. The stoneware pan needed just a few minutes longer to bake. The edges curled up real nice and made them look like an authentic chip. It was easier for me to control the baking in the stoneware. The baking sheet pan turned to black real fast and I didn't catch it in time

If you are carefully keeping an eye on your metal baking sheet, I think you could have real nice chips that are flat, crunchy and delicious, BUT if you are like me and running around doing a million things, use your stoneware pan!
I did enjoy eating the beet chips. They were yummy and a bit on the "oily" side like a regular potato chip. I have to admit, my house had a delicious scent too.
Please note, I am not a physician/doctor or have any type of medical background. I do have the knowledge of lots of research, dedication and commitment to deliver you with the most current facts that I can find. Please see a physician before switching to any dietary plan. I am simply a mother striving to make my family (and yours) healthier one step at a time.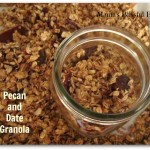 This is by far my favorite granola, period. Period. Period. I love the combination of sweet dates and pecans. It's a symphony of packed flavors begging to be devoured. Yup, I love it that much. Granola is perfect for the morning or a mid-day snack. I prefer my granola and dates over a bowl of yogurt topped with blueberries but placed in a bowl with almond milk is always a sure winner as well. In the afternoon, I pick at it as a delicious, nutritional snack. Let's just say this Clean Eating, Date and Pecan Granola is the way to go!
Pecans are amazing by themselves or in a granola. Actually, they are my favorite nut. (Perhaps there's a reason why this is my favorite granola, no?) They are a good source of energy and contain nutrients, minerals, antioxidants for a good, clear mind. Research has shown that eating a hand full of pecans daily has improved the mind and also lowers LDL "bad cholesterol" and increase HDL or "good cholesterol."
This recipe includes 2Tbs of peanut butter. Be sure to use Clean Eating peanut butter. I used homemade peanut butter with coconut oil. (You can get the recipe by clicking, here.) Ultimately, you can make your own homemade peanut butter by using just peanuts in a food processor but I like mine with a hint of coconut oil. It adds some pizazz of flavor.
#CleanEating Date and Pecan Granola
Ingredients
3 cups rolled oats (not instant!!!)
1/2 cup pecans: chopped
1/2 tsp salt
1 tsp cinnamon
1/2 cup maple syrup
2 tbs peanut butter (I made my own homemade PB with coconut oil)
1/2 cup dates: in tiny bite sized pieces
Instructions
Preheat the oven to 300 degrees
Place parchment paper on a baking sheet (I used stoneware)
Combine the first 4 ingredients in a bowl
In a small bowl, combine maple syrup and peanut butter
Pour syrup bowl into oats bowl and stir to combine
Place on baking sheet and bake for 20 minutes
After twenty minutes, take out and stir
Add dates and bake for 20 more minutes
Let cool and serve
http://www.mamasblissfulbites.com/2013/05/09/cleaneating-date-and-pecan-granola/
Mama's Thoughts:
I have to admit, I was so happy with my recipe that I packed up some granola in little mason jars and delivered them to family members. Yup, it was that good. If you want to add any additional fruit to this, I would do it at the end and stir it in.
PS If you need a Mother's Day spa get-a-way, be sure to check back tomorrow for a special surprise!
Please note, I am not a physician/doctor or have any type of medical background. I do have the knowledge of lots of research, dedication and commitment to deliver you with the most current facts that I can find. Please see a physician before switching to any dietary plan. I am simply a mother striving to make my family (and yours) healthier one step at a time.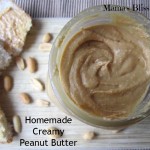 Let's be honest, peanut butter is plain out yummy and very versatile. You can add it to your fruit, vegetables, stir-fry, morning rice bowl, smoothies, ice cream, bread and whatever else your heart desires. Then there's the texture. Are you a crunchy or creamy kid? Do you mix your peanut butter with chocolate? How about different kinds of nuts? Or do you just dip your finger in the container and go to town? Hey, who am I to judge?
Why should you kick out the grocery store jar of peanut butter?
For starters, homemade peanut butter taste AMAZINGLY better. But secondly, there's a questionable ingredient in those jars. Have you ever read the ingredients before? To make peanut butter, you only need roasted peanuts. Easy right? Roast them in the oven and bake, place in a food processor and your done. It's that simple. But to stay in our stores and on the shelves, the famous companies include something called mono and diglycerides. Never skip over anything you don't understand.
Here's the 411: Mono and diglycerides are food additives used to combine ingredients that don't normally combine. If you purchase a natural peanut butter, you will notice that you have to stir it to combine the oils. When it sits in the fridge, the oil rises to the top. It's because your natural peanut does not contain mono and diglycerides. There are also no-stir natural peanut butters that will include an oil that can be a semi-solid as well as a liquid at different temperatures such as palm and coconut oil. Why are mono and diglycerides bad? For starters, in 2006 the United States Food and Drug Administration started requiring all manufacturing companies to list the foods' trans fat on the label. This included lipids and triglycerides but not mono and diglycerides! This means they could be trans fat and we have yet to know! Studies have not been calculated on the potential harm of this additive or on our health either. Do you want to take a questionable additive? I sure don't!  Plus, homemade peanut butter taste MUCH BETTER and is super simple!
Homemade Peanut Butter with Coconut Oil
Ingredients
16 oz peanuts (I choose lightly salted dry roasted peanuts, choose whatever kind you want. Just make sure they are roasted)
1 tbs coconut oil
1 teaspoon honey (optional)
Instructions
Place all ingredients in a food processor.
Turn it on :)
It should take between 5-10 minutes but it will get there and make your very own peanut butter
http://www.mamasblissfulbites.com/2013/04/30/homemade-peanut-butter-with-coconut-oil/
The peanuts will go through many stages in the food processor. It will look like crumbles, then form a big ball and finally fall apart in ooey gooeiness. Just be patient. I prefer to use the food processor over the blender because I don't like cleaning out the blades and big container help make clean up easier.
I also put my peanut butter in the fridge. I have been told that if you use no oil or a semi-solid oil, that it doesn't have to be refrigerated. I must admit, I have never tested the waters out on this. I just place it in the fridge. After a day, the peanut butter becomes more of a solid but still very smooth and easy to spread. Be aware that coconut oil has a very distinct flavor. You can taste a pinch of it in the recipe. If you like less, make it with less. It's entirely up to you!
If you want crunch peanut butter, save some peanuts and process until smooth. Pulse them in the last few minutes.
Once you have homemade peanut butter, it's very unlikely that you'll go back to the processed IDK what's in the jar. Yup, it's that delicious. I place mine in mason jars with a bow and give out as gifts to my family. You know, the just because I want you to have peanut butter jars

Always great to have in your back hand! Be sure to make different flavors too. Play around and have fun!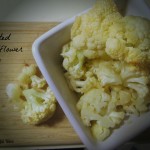 I could not wait to get my hands on one big, yummy cauliflower! My family dislikes cauliflower (sigh) I truly I wish I could say they loved it as much as I do, but that would be a lie. So I made my favorite, Roasted Cauliflower Bites! It's late in the week and I normally go shopping on Sunday's, which also means we are low on food options. Well, this isn't entirely true. I'm the shopper, organizer and meal planner so I know what's available, if it doesn't come in a box the rest of the family feels as if they are lost. I have been secretly plotting against my family, they have no clue it's coming, none.  Slowly, I have been eliminating the boxed snacks from our cabinets. Slow is key. Sometimes I wonder if my husband notices, but then again, I think he is catching on. I'd like to say that we are a processed-free house but it isn't so. I call it a work in progress, wink wink. I think he may be on to something when he asks to go shopping with me…oh yes, he loves to shop with me.
So Lately, we have been shopping all together. I have my prepared list and give him part of it. With one child in his hands and one in mine, we are off shopping and we "race" to the finish. I give him a small list, maybe five or six items, for a few reasons: 1. It's a big store, I don't want him to get lost 2. I try to keep him focused 3. I want to get out too! What I have noticed is that we now take two carts, which means we go home with even more food. If we stuck to the list, we would be probably stick to the budget, unfortunately we end up spending an additional $50-75 in food! What could be the cause? His cart is full of boxed snacks. (Yes, I'm slapping my forehead!) Sometimes it's hard when the paths are not meeting!
Back to my cauliflower. We are low on snack foods and I felt the 3pm snack wave hit me hard. We usually eat dinner between 4:30-5pm so I started to prepare my plan, I mean meal early. Roasting cauliflower is quite easy, the difficult level is very low and the outcome is quite delicious. The trick is not to soak your cauliflower with oil. If you use too much oil it gets soggy. Think popcorn oozing with butter and only the taste of butter, no crunch or texture. You don't want that right? I used 1 teaspoon and to be honest, I feel like I should have used less. You can also spice up this recipe with red pepper flakes, garlic powder, garlic salt, cinnamon, Parmesan cheese, really any spices you have! Be creative and let it go! I enjoy a simple salt so I can taste the beauty of just the cauliflower. You're looking for a slight brown in color, perhaps a little darker if you like a crunch. After fifteen minutes, I stirred those babies up. There's nothing worst than burnt cauliflower, yuck!
Roasted Cauliflower Bites
Ingredients
1 Cauliflower
1 tsp olive oil
salt
Instructions
Preheat the oven to 425 degrees
Prepare a baking sheet with parchment paper
Cut the "trees" off the cauliflower and place in a bowl
Add oil and salt
Toss to combine
Pour on baking sheet
Bake for 20-25 minutes
http://www.mamasblissfulbites.com/2013/04/13/roasted-cauliflower-bites/
So by now you may be a little confused of all my jibberish and honestly I don't blame you, let's put the pieces together. My body was craving cauliflower, maybe for its good source of Vitamin C or the amazing Vitamin B(s) that I always seem to lack, either way, I wanted it badly. To say the least, I was very satisfied, my family not so much. Experts say to try a new food at least ten times, so this is try number one. For some reason I thought the white colored foods were more appealing to children but they have some how rejected my mashed potatoes and now my cauliflower…sigh. My goal is by the end of this summer, to have my children and my husband eating more wholesome foods and less processed foods. This is our secret and my challenge. Do you have an eating challenge in your family? Please share! For now, I'll just keep purchasing more cauliflower and sneaking it in their foods.

Blessings,
Mama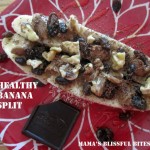 Being a Mama, I'm always looking for fast, healthy recipes that are easy to create! I prefer to stay away from boxed items as much as possible (the list of why is too long to go into!) so I'm left with the real deal, you know real foods. It's more of the different ways to prepare food than anything else. My Banana Bites almost have the same ingredients as my Healthy Banana Split but different textures and preparation is what really makes this snack come to life. Instead of placing toppings on banana slices, I sliced it more like a banana split – giving it a whole new style of taste and enjoyment! Foods don't have to be "boring" but exciting and fun! By changing up how the banana is prepared, this snack becomes a dessert. My little ones want to enjoy a variety of foods and this is one way of how I keep them interested. There's so much more than grabbing some nuts from a bag, or slicing an apple – whole foods can be FUN! Sometimes you just need to use your imagination and get creative.

Ingredients:
1-2 tbs almond butter
raisins
pecans: chopped
drizzle of agave or honey
chocolate: shavings for garnish
This snack is a sweet treat and can definitely be served as dessert! But I like it for a mid-afternoon snack personally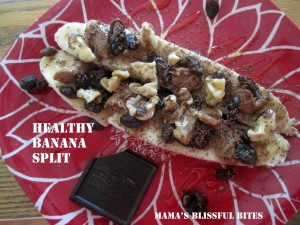 Step 1: Split your banana in half lengthwise
Step 2: Add nut butter, followed by all your favorite toppings!
Step 3: Drizzle agave on top and finish off with chocolate shavings!
Think of how much better this is than a regular ice cream sundae. No ice cream for one and instead replaced with all goodness!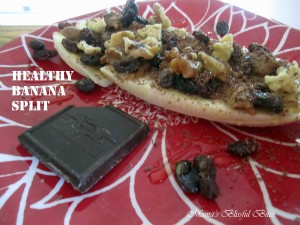 Go ahead and feel good about treating yourself! It's always awesome to divert the cravings and still achieve the sweet taste you're looking for. Try it, you will be happy that you did!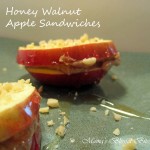 Sometimes I feel like pleasing a three and two year old is far more challenging than pleasing someone in the public eye. You know like someone big – maybe Oprah or the President or even Ellen or maybe easier than pleasing Chef Ramsay (lol or maybe not!) My point is that usually even if someone dislikes a dish, they go through the courtesy of still eating it and pretending they enjoyed it! Or possibly not saying anything at all and politely feeding it to the dog while the host isn't looking. But preschoolers are a challenge! They will tell you how it is and refuse to eat whatever looks "foreign" on their plates! The same old song and dance came up on the plate – apples. Now to a person who loves eating fruits and vegetables, I will take them as they are, but to my little ones, they looked at the cut apples and declined.
Welcome jazzed-up apples. If you are familiar with my banana pecan-raisin bites, you will know that I like to dress up my fruit and give it a little pa-jazz to the plate. This dish is no different and the flavors blend perfectly. I mean magical music time.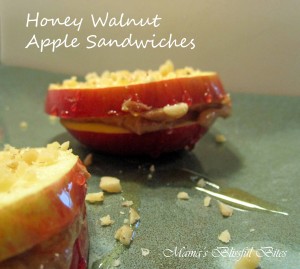 Ingredients:
one apple: any kind
almond butter or any kind of nut butter
2 teaspoon walnuts: finely chopped
drizzle of honey (or you can subsitute agave)
Step 1: Core the apple.
Step 2: Slice the apple making sure to have even amounts of apple disks!
Step 3: Spread your favorite nut butter (on all or one side of the apples)
Step 4: Combine two sides to make a sandwich
Step 5: Sprinkle with walnuts and drizzle honey on top.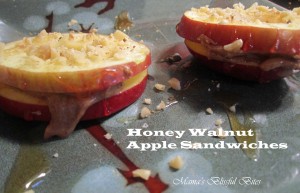 I made them each an apple and they both handed me the plates back asking for more. I have to be honest, I didn't mind, I wanted another one myself! This snack is a sure winner and will stay in our house. No more regular apples only dressed up ones. From a "mom's point-of-view" you would have thought I won the lottery. Nothing thrills me more than to see my children eat healthy! Wahoo!!
Do you have challenges feeding your children healthy snacks? What kind of snacks do you feed them? I think we need to have a parent 101 intervention and start collaborating healthy snack ideas! Please feel free to share some of your "winning" snacks!