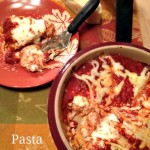 When I was little, I can recall my mom in the kitchen making homemade lasagna. There were noodles laid out in paper towels all throughout the kitchen counters and all the cheeses were huddle together on the table waiting to be used. To be honest, it looked like a lot of work and it was. She did it though, because it was my step-fathers favorite meal.  And really, who would blame him? I even love a good slice of lasagna. One day, she substituted those daunting noodles for spaghetti and baked it in a pie dish. We "ooed" and "ahhed" over the baked pasta pie and couldn't wait to try it.
Fast forward years later, my husband loves baked pasta. I can serve him baked ziti or lasagna and he is one happy man. Last night, I gave him a big helping of baked pasta pie and he said, "Even after 11 years, you still surprise me with new dishes." I kind of chuckled. I couldn't believe I never made it for him before! Well, here it is and here it will stay. I am bookmarking my own recipe and remembering to add it to our rotations. It's now one of our family favorites too.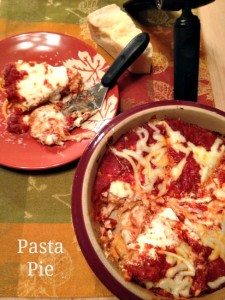 Ingredients:
1/2 pound of pasta. I love using linguini because it's thicker but use spaghetti if you'd prefer!
2 Tbs butter
2 eggs, beaten
1tsp Italian seasoning
3/4 cup Parmesan cheese
1 cup ricotta cheese
1 cup pasta sauce
1/4 cup shredded Mozzarella cheese
Directions:
Preheat oven to 350 degrees F
Cook pasta according to package, al dente. Drain pasta and return to pot.
Add butter and mix
Add eggs, Parmesan cheese and Italian seasoning and mix to combine.
Pour pasta mixture into a greased 10-inch pie plate.
Spoon ricotta cheese on top. Next spread pasta sauce
Bake for 25-30 minutes, uncovered
Pull out of oven and add Mozzarella cheese, bake 5 minutes more. Uncovered.
Let cool for 10 minutes prior to cutting your first piece.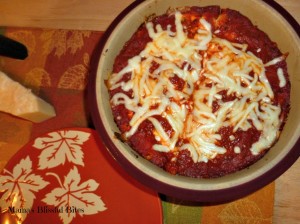 Here's an extra tip: Make two. Freeze one for later. (Throw in the whole box of pasta instead of just half!) This way, you'll have an easy meal to pop into the oven during the busy week. Remember to thaw out first!
This is a paid post. All views and/or opinions are of the bloggers.
The staff at Reedman Toll Auto World strives to achieve excellence in all departments: from sales to finance to service to parts. Our well-stocked new and pre-owned inventories of Chrysler, Dodge and Jeep vehicles are constantly being updated; your perfect car could be just around the corner!
Connect with Reedman Toll Auto World by connecting with them! You can:
Leave a comment on Facebook, or watch their latest videos on Youtube! 
If you are in the Philadelphia, PA area, be sure to check them out!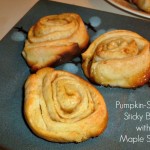 I hope ya'll had a great Thanksgiving Day! I know we sure did. We decided to skip out on all families this year (can you imagine?) and stay home for our own Thanksgiving fun!  Although we usually do visit different families every year, we still have our own Thanksgiving traditions that we make sure to include in the day as well!
One tradition is visiting The Symphony of Lights after dinner. It gets us all pumped up for the holiday season!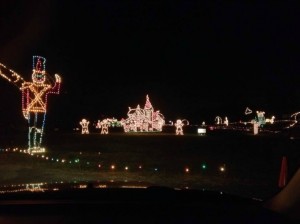 It's a mile of drive-thru Christmas light creations!  It takes about 20-30 minutes to go through it all and see the beautiful sites. Well worth our time, so we make sure to do it every year.
You see, our Thanksgiving changes every year. We never know whose house we are going to be at or even how many houses at that. So this year it was nice to stay home in our PJ's and have a very relaxing day.
Another tradition is breakfast. I always make hubby one of his favorites, pumpkin-spiced sticky buns with maple syrup! Okay, so these babies aren't homemade, but they are still delicious.
To be perfectly honest, I don't make dough. I'm not a detailed and precise person, so it's hard for me to even bake and dough just isn't my forte. To make up for my imperfections, I just purchase pizza dough at the store. Yes, I totally cheat. Nobody knows but me and you.

Pumpkin Spiced Sticky Buns with Maple Syrup
Ingredients
1 refrigerated pizza dough (I use thin crust)
2-3 tbs butter: softened
1/4 cup brown sugar
dash of favorite spice: cinnamon, pumpkin spice or even apple spice is nice
1/4 cup maple syrup
Instructions
Preheat oven to 400 degrees
Generously butter bottom of baking sheet (This gives you the sticky effect)
Spread out dough on a floured surface
Spread butter covering the top of the dough. Make sure to get close to ends
Sprinkle brown sugar
Add spice of choice
Roll up starting at one side and cut in sections
Place in baking sheet
Add a dash of butter to each top
Bake for 15-18 minutes
Heat maple syrup in microwave and then spread over sticky buns
Enjoy!
http://www.mamasblissfulbites.com/2013/11/29/thanksgiving-traditions-pumpkin-spiced-sticky-buns-maple-syrup/
Finally, the last tradition is to put up our Christmas tree. Some families go out to a tree farm, I go to our basement and pull out our pre-lit tree. It's my favorite!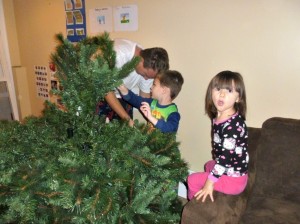 The next day, we decorate it. We decorate our tree differently every year. I went out last night (not on purpose actually) and bought new decorations. I'm excited to see what the tree looks like! It reminds me of buying a new holiday dress…it becomes another tradition.
Share with me!
Do you and your family have traditions? What do you do?
This is a paid post sponsored by:
If you live in Philadelphia, PA and are looking for a new vehicle, Reedman Toll Chevy has a wide-variety to select from!
Check out their new specials, pre-owned specials and vehicles under 10k!
You can connect with Reedman Toll Chevy by leaving a comment on their Facebook page
Reedman Toll Chevrolet

1700 E Lincoln Highway

Langhorne, PA 19047

Sales:  877-702-7807

Service:

877-702-7808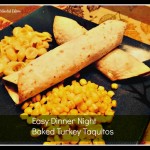 I'm sure you noticed (and if you haven't, that's cool too) but I have been cooking up some really easy and simple meals for dinner. (I usually post them on Facebook or Instagram in case you want to see what's going on in the kitchen.)
When the kids were a little bit younger, I could pull off meals that had a bit of work, but lately, I can't really find the time. My latest kick is throwing something in the crock pot (four times a week) and finding something easy for the remainder of the week. This is one of those dishes that I call a "brainless" recipe. It takes twenty minutes of prepare/cook time with half of that baking time. What to do while it's baking? We popped in steamed corn…in a bag, 5 minutes. I know, this mama has really changed. I'm just going with the flow

Here's the other thing, sometimes I use chili powder in this recipe 1-2 tbs. (I like flavor), other times I use a taco packet and tonight, I used red curry powder with cumin. It's the last of what I have and it was still good. Use whatever you have on hand that you think goes well!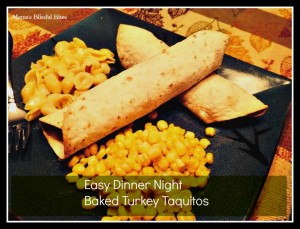 Ingredients:
1 lb ground turkey
1 tbs olive oil
16 oz favorite salsa
1-2 tbs favorite chili powder
1 cup shredded taco cheese
10 flour tortillas or substitute corn tortillas
vegetable oil to coat
Directions:
Preheat oven to 400 degrees, prepare a baking sheet with foil
In a large skillet, add olive oil over medium heat
Add turkey and seasoning of choice, and cook turning 7-8 minutes or until no longer pink
Mix in salsa for thirty seconds. Turn off heat
Throw tortillas in microwave for 30-40 seconds until soft
Add meat mixture in the middle of a tortilla and sprinkle with cheese
Wrap and place seam-side down on prepared baking sheet
Lightly brush vegetable oil on top of each tortilla and bake 10-12 minutes
Now, time for my apologies….
I realize that my taquitos are not up to par with the folding format of a regular/normal taquito. They over overstuffed and not tightly wrapped, so please know I am admitting this before any emails come through

Like I mentioned, I am struggling on time to perfect the folding process … I just want to serve dinner and you a recipe!
Secondly, most taquitos are made with chicken or beef not turkey. I love ground turkey so that's what we use. Use what your family likes. We eat ground turkey once a week, we just like it that way.
When I was in Puerta Vallarta, we had freshly made tortillas and the taquitos were fried. The best ones I have ever had. Ever. This is my baked version.

This is a paid sponsored post by:
The All New Hoffman Automotive located in Hagerstown, Maryland.
Opened since 1925, Hoffman Automotive still strives to bring customers 100% satisfaction. They offer: new, pre-owned and certified pre-owned vehicles. Be sure to check out their new inventory specials too!
Connect with them for the latest specials on their site at: http://www.hoffmanchryslerjeepdodge.com/index.htm
Be sure to visit them on Facebook or send them a tweet on Twitter!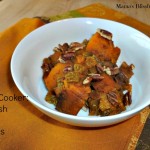 It's here! You know, only one of the greatest seasons ever, winter! hahahaha!
Yeah, okay, I know not everyone loves winter, but I do! Bring on the cold snowy weather, that's what I say. I love to snuggle up and watch the snow fall down out the window, or sit in the lounge and watch people ski. (Love winter and I hate to ski, not sure why that is! But I find it's a good excuse to have a drink and get a few laughs in while I'm there. Oh snap, is that so wrong of me to say?)
Besides the cold weather, there are a few winter staples I enjoy as well. Beans, meat and squash. Not particularly in that order either. My slow cooker has made it's way to the kitchen counter where it will stay all season long and then hibernate during the warmer months.
Truth be told, my family doesn't actually enjoy squash as much as I do but I can serve them my Squash and Apples recipe and they dig in. Okay…I haven't told them it's squash. I said it was sweet potatoes and left it at that. Shhh!
Big shout out to GirliChef for hosting this squashin' good Sunday Supper!
Be completely warned: Your house will smell as if someone is baking a pie. The room will be filled with cinnamon and warm spices. Don't be surprised if someone checks the oven instead of the crock pot.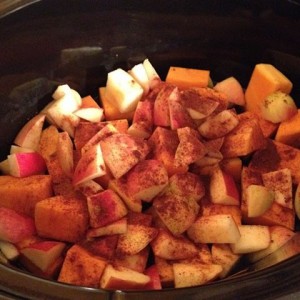 Can you see all those spices? Delicious!
Slow Cooker Squash and Apples #SundaySupper
Ingredients
1 Butternut squash
3 apples: Chopped (I used Pinklady and left the skin on for fiber)
1/2 tsp ground cinnamon
1/4 tsp nutmeg
1/8 tsp allspice
1/4 cup apple juice
1/4 cup golden raisins
pecans: chopped (optional)
Instructions
To prepare butternut squash: Cut off top and bottom of squash, using a sharp knife. Using a peeler, peel the outer layer. Then, cut squash into 1" pieces
1. Place squash and apples on bottom of crock pot
2. Add spices
3. Add apple juice and cook on low for 4 hours
4. During the last thirty minutes, add raisins
5. Serve warm or add pecans for a crunch
http://www.mamasblissfulbites.com/2013/11/17/slow-cooker-squash-apples-sundaysupper/
Want more squash recipes? Our Sunday Supper team has an excellent menu for you! Be sure to visit! We will keep you stuffed all winter long!
Breakfasts and Breads
Appetizers, Starters, and Condiments
Soups, Sandwiches, and Salads
Main Dishes
Side Dishes
Desserts
Wine Pairing Recommendations for Squashin' Winter #SundaySupper from Enofylz Wine Blog
Join the #SundaySupper conversation on twitter on Sunday! We tweet throughout the day and share recipes from all over the world. Our weekly chat starts at 7:00 pm ET.  Follow the #SundaySupper hashtag and remember to include it in your tweets to join in the chat. Check out our #SundaySupper Pinterest board for more fabulous recipes and food photos.
Would you like to join the Sunday Supper Movement? It's easy. You can sign up by clicking here: Sunday Supper Movement. – See more at: http://www.girlichef.com/2013/11/SquashinWinter-SundaySupperPREVIEW.html#sthash.mKDVKG6G.dpuf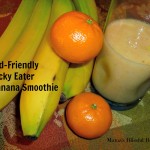 Mr 4 and I were going over our fruits and vegetables last week. What is this and what is that… but then I asked him what he liked. Our conversation went something like this:
Mom: Do you like bananas?
Mr. 4: Yes!
Mom: Do you like apples?
Mr 4: Meh…
Mom: Do you like oranges?
Mr 4: YUCK!
Mom: Do you like pears?
Mr 4: YUCK!
Mom: Do you like plums?
Mr 4: No!
Mom: Do you like pineapple?
Mr 4: Ew!
Mom: Do you like blueberries?
Mr 4: Nope!
Mom: What do you like?
Mr 4: Bananas!
Yes, I have what people consider a picky eater. Miss 2, on the other hand, will eat a salad for breakfast every day if she could.
Everyone told me when I was pregnant that no two kids are alike, and this is definitely true for my children as well. I have to sneak vegetables in sauces, shred zucchini in muffins, make carrot pancakes and think of creative ways to get my child to eat (unknowingly) fruits and vegetables.
Since Mr 4 loves bananas so much, I decided to make him a banana smoothie. You see, he would normally reject anything else. Anything that's not appealing in color (like a green smoothie) or sound (like Spa Smoothie.) I have to make it extremely simple for him, so I do…banana smoothie.
This smoothie actually has other ingredients besides bananas as well and if Mr 4 knew, he wouldn't drink it!
Truth be told, he didn't down the first banana smoothie I made for him either. He would take a few sips and then shout, "I'm done!" and throw it in the trash. I made this smoothie every day for a week. And to my surprise, every day, he would drink a little bit more and more. Now, he loves the banana smoothie.
Ingredients:
2 bananas: peeled
1 can pineapple chunks: drained (we have used both 14.5 and 20 oz. Both are good!)
2-3 tangerines: peeled
1 cup ice cubes
Throw all ingredients into a blender and blend until desired thickness!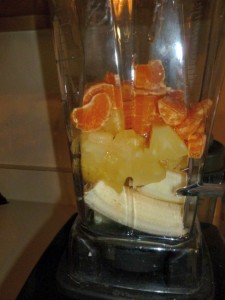 I know it's simple, but it's really delicious!
Do you have a picky eater?
Please share your tips and meals on how you get them to try new foods!
This post is a sponsored post by:
If you are in the market for a new vehicle, be sure to stop by Porsche of Towson, a family owned and operated dealership. Being a family owned business, Porsche of Towson places a tremendous focus on providing the community with exceptional customer service. After all, they have an outstanding reputation to uphold!
You can browse their new or pre-owned Porsches with a click of a button. But why stop there? You can connect with them anytime!
Find them on facebook, chat with them on twitter, keep them in your google + circle, watch their videos on youtube, or get connected on LinkedIn!
I'm connected to the latest deals and information, are you?
This post was a paid post. All opinions and views of that of the blogger.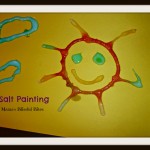 Today is a very special day. Not only is it Friday (Whoop! Whoop!) but MBB is being featured on one of my favorite sites, Mommas Meals! I met Tammi through our Sunday Supper group, and once we started chatting, there was no turning back. On a personal level, Tammi is really down to earth, honest and nice. She's one of the Mama's that I can really relate to. On a blogger level, she will bring you the best and nitty-gritty of the motherhood world. She doesn't hold back and she's amazing. Every week she will feature a new blog! Please be sure to visit her and read what she said about this Mama on her Featured Friday's!
And since today is such an awesome day, (every day is really) I wanted to throw in a fun art project as well! I found this one all over the internet so I wanted to try it too! It's called Painting with Salt. Who would have thought? Painting with salt!
Supplies needed:
Paper for painting (we used construction)
Salt
Glue
Food coloring
Water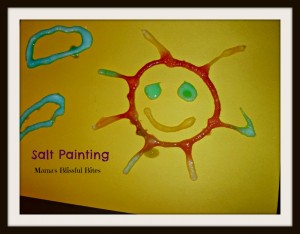 First, have your child draw everywhere with the glue. My daughter loved to watch the glue come out of the bottle.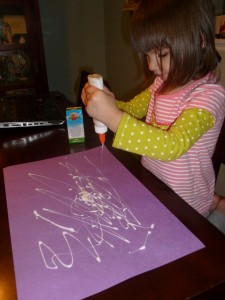 There's something magical about the squeeze.
When the glue work is complete, throw salt on top. Don't go skimpy like I did in this photo, cake that baby on!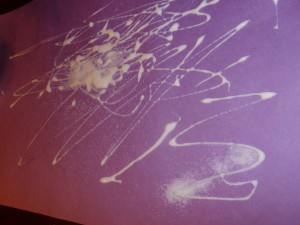 Then shake it off. (I folded up the sides and dumped it into the trash.)
You will notice how everything looks raised.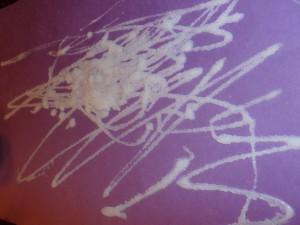 I filled up cups with a little bit of water and a few squirts of food coloring. Gave her a dropper and let her create.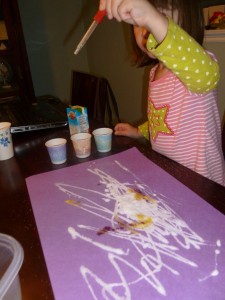 With each drop, the color would spread throughout the salt. It was actually quiet neat to see.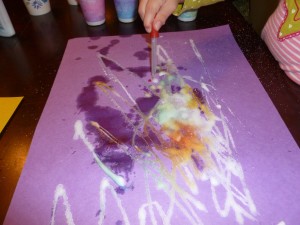 To be honest, my photo is the sun. I just had to get in on the fun as well…but here's her completed artwork!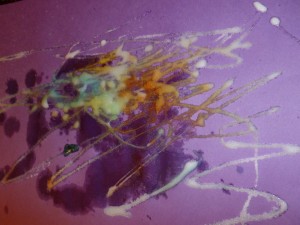 In case you don't have a dropper, I also read that you can use a paint brush.
If you don't feel comfortable with food coloring and water, I also read that water color paints work too! Please let me know how it goes!
If you have a create way to paint, leave me a comment below and in the meantime, be sure to visit Tammi!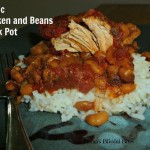 We all love an easy dinner right? Sometimes dinner is the last thing on your mind because you still can't forget about the issues at work! I completely remember those days. I would work ten hours, two stuck in traffic, walk through the door and wonder what my husband was making me. Okay, fat chance of that happening…I always walked through the door first. (Yes, lucky me!)
I am most grateful for my slow cooker. Since I have dusted it off the shelf,, I questioned why I hadn't done so sooner. Although I can lounge around in my pj's if I wanted to, drink whiskey at noon and throw darts, I don't. I am a very busy stay-at-home mom whose little ones need my attention. As dinner time approaches, even I sometimes think, "What am I to make!"
Well, those days are a lot easier now for two reasons:
I pre-plan my meals a week ahead of time (I will share with you my weekly menu next week!)
I found my crock pot and am using it (almost daily)
Please, bring yours out too!
I know I have avoided the crock pot for many reasons but now I don't shun it at all. My mom gave me two crock pot cookbooks when I moved out of her house, at the age of 17. Both of them required cooking the meat prior to placing it in the crock pot. These recipes, I don't understand. If I was to get up early for work, why would I cook a meal and then let it "warm" for the whole day? So if the recipe calls for ground meat, well, I make it on the stove top that night. If it requires a nice brown searing, then it depends on my day. I try to go easy, breezy the best why I know how… Dump and go!
Rustic Chicken with Beans and Rice
Ingredients
1 lb boneless chicken breasts (3 big ones or a package of thinly sliced)
15 oz can of diced tomatoes (I used a flavored can with basil, onion and oregano)
15 oz can of northern beans: drained and rinsed
1-2 tsp poultry seasoning
Rice ( I used a bag of 10-minute rice)
Instructions
Place chicken on bottom of crock pot
Add seasoning on top of chicken
Pour beans and tomatoes
Cook on LOW for 8-9 hours
Meanwhile, when meal is almost finished, make rice according to package
http://www.mamasblissfulbites.com/2013/10/08/rustic-chicken-beans-crock-pot-style-tastytuesday/
I know, I did say it was a dump and go recipe. I like this one because there's no prep involved, just takes a few minutes to place in crock pot and move on with your day.
Warning: If you stay home, you will be forced to smell this delicious pot cooking all day long. You will drool, you will complain, your belly with grumble but at last, it will be worth the wait.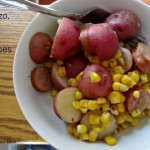 I have once again, noticed a change in my life. Life is always changing but at this stage, it has become very busy. Busy with the kids running back and forth, busy with planning homeschooling activities, gymnastics, Sunday school, taking care of family and friends, cleaning house and whatever else may be thrown at me for the day. The one thing that I have not been busy on is cooking. I don't seem to have the hour like I did a few months ago, to make homemade meals from scratch. It's just not in the cards right now.
So when Amy from Kimchi Mom said she was hosting this weeks One-Pot #SundaySupper meals, well I was in. Now, I'm going to share with you my most simplest recipe that I can. I made this last winter and fell in love. During the winter season, I bring out my favorite food items: potatoes, any kind of meat, beans and frozen vegetables. This recipe has three of the four so I make it often during the cold weather.
I also like this recipe because it doesn't use a crock pot. Not everyone has a crock pot but surely everyone has a pot right?  It's also quite tasty and healthy. Yes, I said healthy. It's a very easy meat and potatoes kind of recipe.
Chorizo, Corn and Potatoes
Ingredients
1/4 to 1/2 Old Bay Seasoning
2-3 cups full of redskin potatoes
pre-cooked meat (I use a package of spiced chorizo)
16 oz frozen veggy (I used corn)
Instructions
Bring a large pot of water with Old Bay Seasoning to a boil
Add potatoes and simmer for 8 minutes
Add precooked meat and vegetables and cook for 8 more
Drain
Serve
http://www.mamasblissfulbites.com/2013/10/06/chorizo-corn-potatoes-sundaysupper/
This is truly, your no frills easy meal. But the meat and potatoes make it quite comforting.
To be very honest (it might be the wine talking now…just kidding!) I made this dish last year and can't recall if I used chorizo or really what kind of meat is in that picture. (shhhh!!!) I would think it's the pre-cooked chorizo but it could also be Italian sausage too. Yup, any kind will do! But that's our little secret.
Please sit back and relax while our #SundaySupper team makes the rest of your dinners a one-pot breeze:
"Take the chill off" Chilis, Soups, and Starters
"Put meat on your bones" Stews
"Make room for seconds" Main Dishes
"Can't say no" Desserts
Join the #SundaySupper conversation on twitter on Sunday! We tweet throughout the day and share recipes from all over the world. Our weekly chat starts at 7:00 pm ET. Follow the #SundaySupper hashtag and remember to include it in your tweets to join in the chat. Check out our #SundaySupper Pinterest board for more fabulous recipes and food photos.
Would you like to join the Sunday Supper Movement? It's easy. You can sign up by clicking here ? Sunday Supper Movement.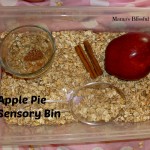 My two year old (almost three soon) LOVES sensory bins.
I mean really…what is there not to love? Placing hands in a box, exploring, discovering, lifting, spilling, filling…oh, it's the best!
Besides being an awesome tool for learning, I use them when I need extra quiet time. Either I'm working with my son (who is 4 and on a different learning level) or cooking, laundry etc. They are SO MUCH BETTER than turning on the TV for that needed time!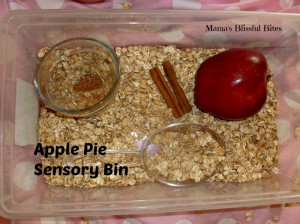 Supplies:
Big tub of oatmeal (any kind!)
Cinnamon sticks
Measuring cup
Bowl
Apple
Cinnamon, Nutmeg, All Spice (any Fall scented spices will work!)
This is one of my favorites so far. Since we are learning about apples this week, I wanted to create something using them. Not only did she have fun, but the scent of cinnamon and nutmeg reminded me to bake an apple pie too! (So I bought one. Reminder: I don't bake!)
At first, she could not wait for me to pull out the ingredients to the bin, so I gave it to her as I was preparing!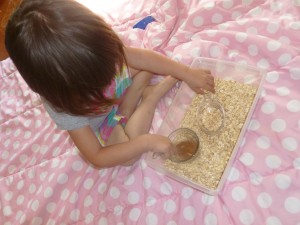 She loved the scent of all the spices and kept asking for more…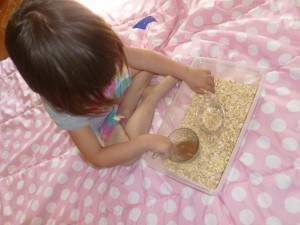 She mixed…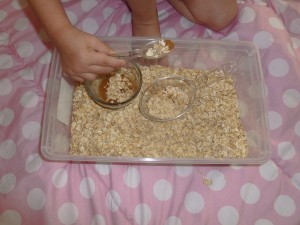 She scooped…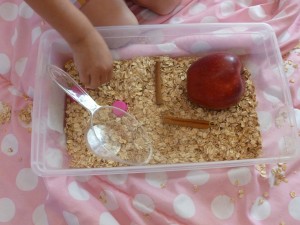 And explored some more.
She went around the house and gathered items to place in her bin too. Like play-doh toys (the little pink scooper in there).
She would look up at me and ask, "Can I touch it? Can I smell it? Can I TASTE it?!"
On a mama note:
I did this project inside and placed a blanket underneath. It was quiet easy to shake off and vacuum for those Mama's who worry about getting dirty. Please don't be, these sensory bins are fantastic learning tools!
What's your childs' favorite sensory bin?
Sometimes, I don't want to cook.
Sometimes, I wish there was a magical dinner that I could throw in the microwave like The Jetsons tv show.
And sometimes, I just need a budget-friendly recipe so I can enjoy other things with my money.

When I feel like having it easy, saving money or I only have 4 ingredients on hand, I always go to this recipe.
It's one of those, pantry staple recipes for our family.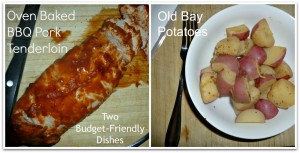 INGREDIENTS:
Pork Tenderloin (2 lbs)
8-10 oz. favorite BBQ sauce
potatoes of choice
1/4 – 1/5 cup old bay seasoning
Yes, it's super easy and anyone you really can't mess it up.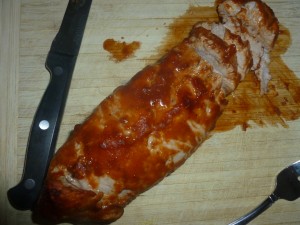 For Oven Baked Pork Tenderloin:
Preheat oven to 400 degrees.
In a roaster (I use Deep Covered Baker, stoneware) place tenderloin
Cover in BBQ Sauce and pop lid on
Place in oven for 30-40 minutes. Check temperature to make sure it reaches 165 degrees
And done…
In a deep sauce pan, add as many potatoes as you want.
Add water to cover potatoes and old bay. If you really want to season it, add up to 1/2 cup.
Cook until a fork can break through the potato. (If using a lot, up to 15 minutes)
BONUS: Throw in your vegetable with the potatoes and cook both at the same time! I like using green beans myself.
There you have it, an easy, budget-friendly meal!