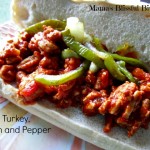 I was very happy last week to finally see my father! We just don't see each other as much as we should.
Like always, he was in the kitchen cooking up a mean meal…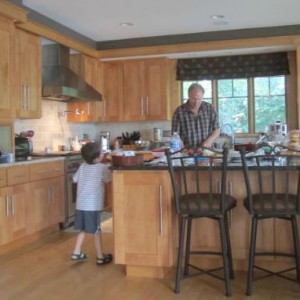 To be honest, I don't remember Dad cooking so well when I was a child. Actually, I remember my step-mom cooking all the meals. :/ But as I got older, I started noticing him in the kitchen more and more. He always talks about opening up his own sub shop, which in all honesty, I wish he would. He grills year round and everything I have had in my adulthood that he has made has been spot on amazing.
Last week, he made us subs using kielbasa with caramelized onions and peppers. It was down right good. So I did what any normal child would do and text him my onions and pepper photo with the caption: Thinking of you. Time to get our show down on!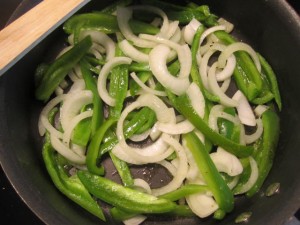 We tease about having a Daddy-Daughter "Bobby Flay" Show DOWN! I know it's going to happen one day, so I have to keep up to speed with the man.

Dad, when you read this, I'm still calling you out on the show down!

I made this Spicy Turkey and Onion, Pepper Sub last night in honor of my dad. It just reminds me of him. Well, any sub does…that's strange.
Spicy Turkey and Onion, Pepper Sub #tastytuesday
Ingredients
Olive Oil
1 package of ground turkey
Taco Seasoning pack
2 peppers: cut into strips
1 onion: cut into strips
salt and pepper
1/2 cup water
1 cup salsa (I used Newman's Own Pineapple Salsa)
Sub rolls
Instructions
Over medium-high heat, add 1-2 tbs olive oil to a saute pan
When oil starts to simmer, not smoke, add onions and pepper
Add generous amount of pepper and a pinch of salt
Turn heat to medium-low and cook, stirring often for 15-20 minutes (You want the onions and peppers to be nice and caramelized. Soft and sweet)
Meanwhile, add 1 tbs olive oil to another frying pan
Add turkey and cook until there's no more pink
Add taco spice packet and water and bring to a boil for 3 minutes
Add salsa and turn off heat
To construct: Take a sub and place generous amount of turkey mixture on bottom then topped with pepper and onion mixture. Delicious.
http://www.mamasblissfulbites.com/2013/08/27/spicy-turkey-and-onion-pepper-sub-tastytuesday/
That's right Dad, it's on! Are you scared?

I am a patty fanatic. I love them. Bean patties, rice and cashew, couscous and mint, salmon cakes and my favorite pecan and sweet potato. There is something pleasant about a simple patty that is designed just for you. It's not a casserole, you don't have to dividend it up into servings, it serves perfectly the person its intending to, you. To make the patty even more special, you can add it on top of a bed of greens, on a sandwich roll or even add it to a mixture of rice or vegetables and place that baby right in the center as if it's the king of the plate! And by the way, it should be. It's your own kingdom. Sound ridiculous? Of course it does. I give my food top-notch royal status!
I did feel kind of bad when my husband came in the door and I proudly took off a bite and shoved it in his mouth. "Look at it! It's amazing!" He didn't even walk but two feet in the door. "Is it a crab cake?" His eyes lit up. Yeah…not quite, but still good! One day, this Maryland girl will make a crab cake again, next summer. Right now I'm ready for some good comfort food. I want to get all plump again so I have to worry about working it off for next year. Isn't that one of the great things about Fall and Winter? Clothes actually cover more! That's a great big YES in my book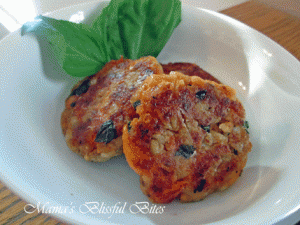 Ingredients:
2 sweet potatoes
3 Tbs pecans: finely chopped
1/2 cup fresh basil: chopped
3/4 cup plain bread crumbs
1 Tbs Italian Seasoning
2 Tbs Olive oil
Flour for dusting
It doesn't take much for this fantastic patty! The flavors combine nicely and it's delicious!
Recipe:
1. Preheat oven to 350 and bake potatoes until nice and soft, 45 minutes to 60 minutes.
2. Dig out the flesh of the potatoes in a bowl.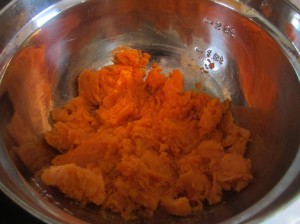 3. Add basil, Italian seasoning, pecans, breadcrumbs. Stir to combine.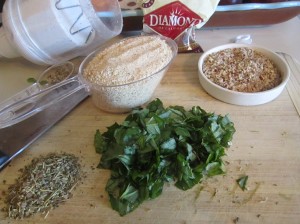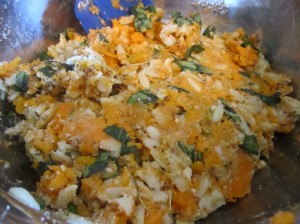 Notice, there are no eggs added to hold together the patties. The warm potatoes do a great job of keeping things together!
4. Shape into patties.
5. Meanwhile in a shallow pan, add oil over medium-medium high heat.
6. Lightly flour the patties.
7. Drop the patties in the pan, being sure not to overcrowd, and cook on each side 4-5 minutes until nicely golden brown.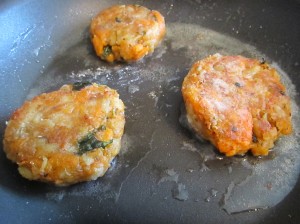 8. Serve plain or over a bed of green leaves.
If you've never had a sweet potato patty, let me see if I can help you out. They are a bit crunchy on the outside and soft on the inside. They are sweet yet the basil gives a fresh taste boost. Think of a regular baked sweet potato with pecans on top – now shape that thought into patties. Yup, it's just like that.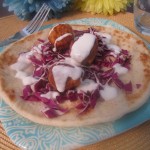 Let me just start off by saying, I do not know how to make Indian food nor do I claim to … BUT I am in love with the spices, bread and anything in the form of Indian food. It's delicious!!!!!!!!!!!!! And I also love chickpeas. See prior chickpea recipes, oh yea! Love! So, I couldn't resist when I saw Chickpea flour in the grocery store. It's my first time seeing this beautiful bag and I swear, it took all its little power and jumped up and down in my face and said, "Get me! Get me!" Well, how could I really say no to a begging bag? Absolutely not! As I got the bag of flour home, my head is running with lots of ideas – but I really have no clue what I'm doing, so I just open my pantry and go. Sometimes it works and sometimes it doesn't, but hey, I won this time!
I've noticed when I'm in grocery stores, the naan bread is becoming more and more popular. When I go to my favorite Indian restaurant, Bombay Nights, I eat all the naan bread and always hope (with fingers, toes and eyes crossed) that they will bring by more, more and more! I'm thrilled that I can go in a "regular" grocery store and find it now. Instead of the traditional white bread at dinner, I sometimes serve naan instead. On a complete side note, I've tried to make roti bread before but can't quite get it down. Anyways, back to naan. If you find it, even if its at your grocery store and not a restaurant, get it. Its gooooood. (It has a chewy good texture!)
So, back to the recipe and off my Indian food tangent – so with chickpea flour and naan in my hand, I was off to the kitchen to create something new. Something delicious something filling. I decided on chickpea dumplings with yogurt sauce over a bed of red cabbage on naan bread. Let us begin!
Yogurt Sauce:
1/2 cup french vanilla yogurt (this is all I had on hand so I used it. I'm sure plain would be just fine)
1 tsp tarragon: chopped
Instructions:
Mix and refrigerate
Recipe:
2 cups chickpea flour
1 tsp baking soda
1/2 tsp coriander
1/4 tsp cinnamon
1/2 tsp parsley
3/4 cup cold water
Handful red cabbage
Naan bread
1/2 cup vegetable oil
3 Tbs. butter, softened
Instructions:
1. Stir to combine flour, baking soda, coriander, cinnamon and parsley in a bowl.
2. Add butter.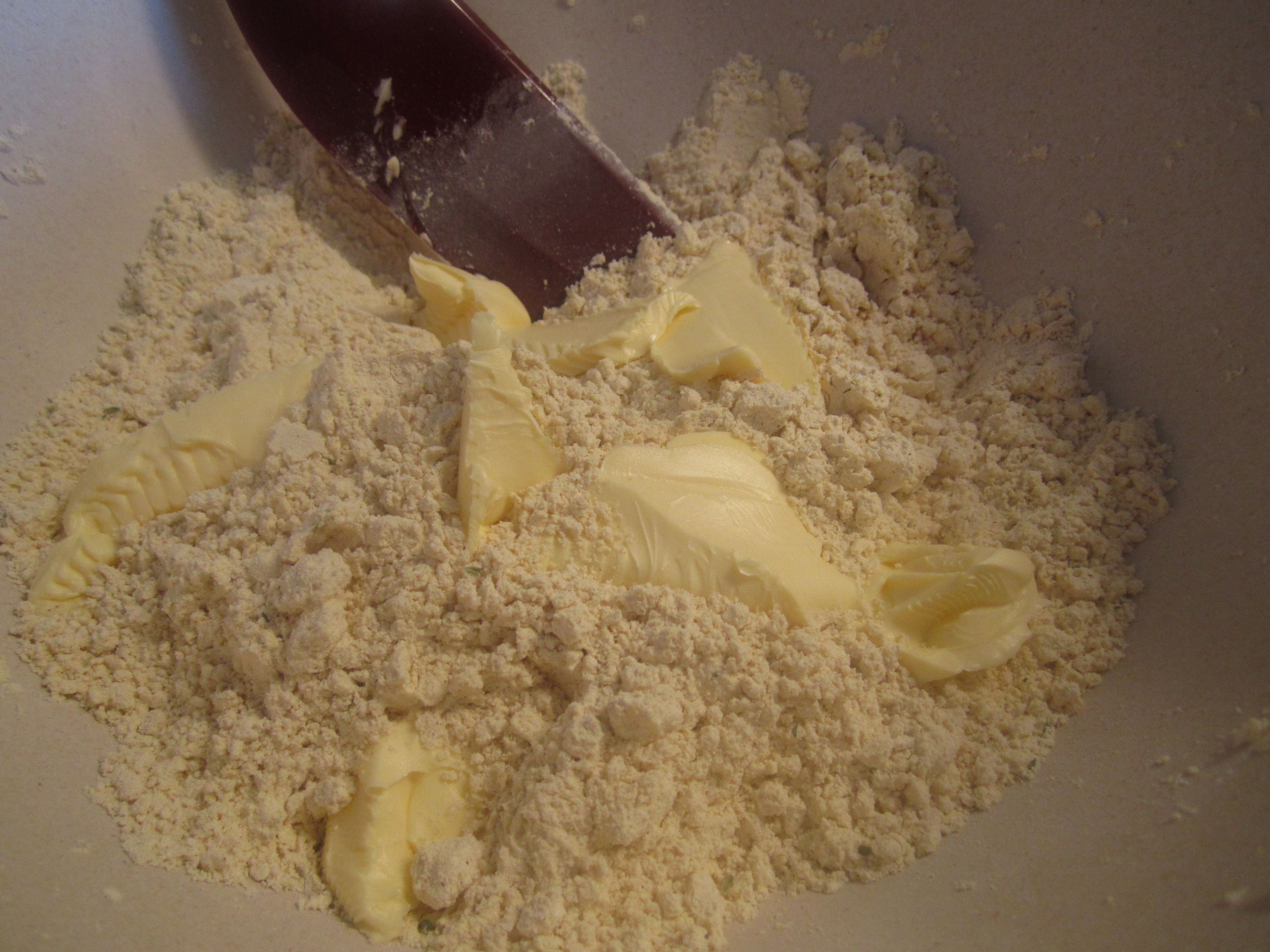 3. Slowly stir in the water and mix again.
4. Scoop with two spoons into little rounds.
5. Over medium heat, add vegetable in a saucepan. When oil starts to shimmer, your oil should be ready to fry.
6. Add flour balls to the pan and begin to fry for one minute.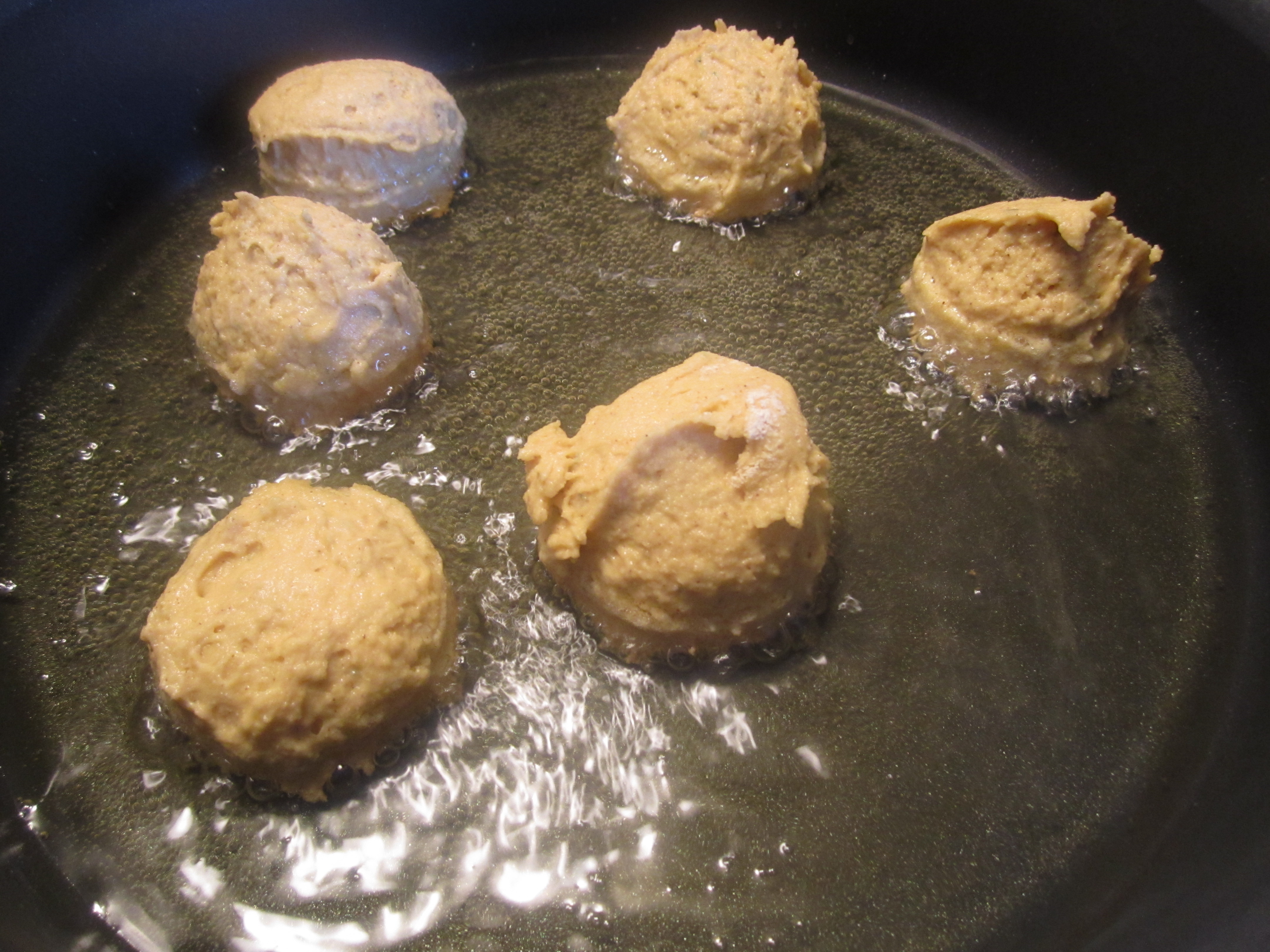 7. When the color is a brown flip over for another minute.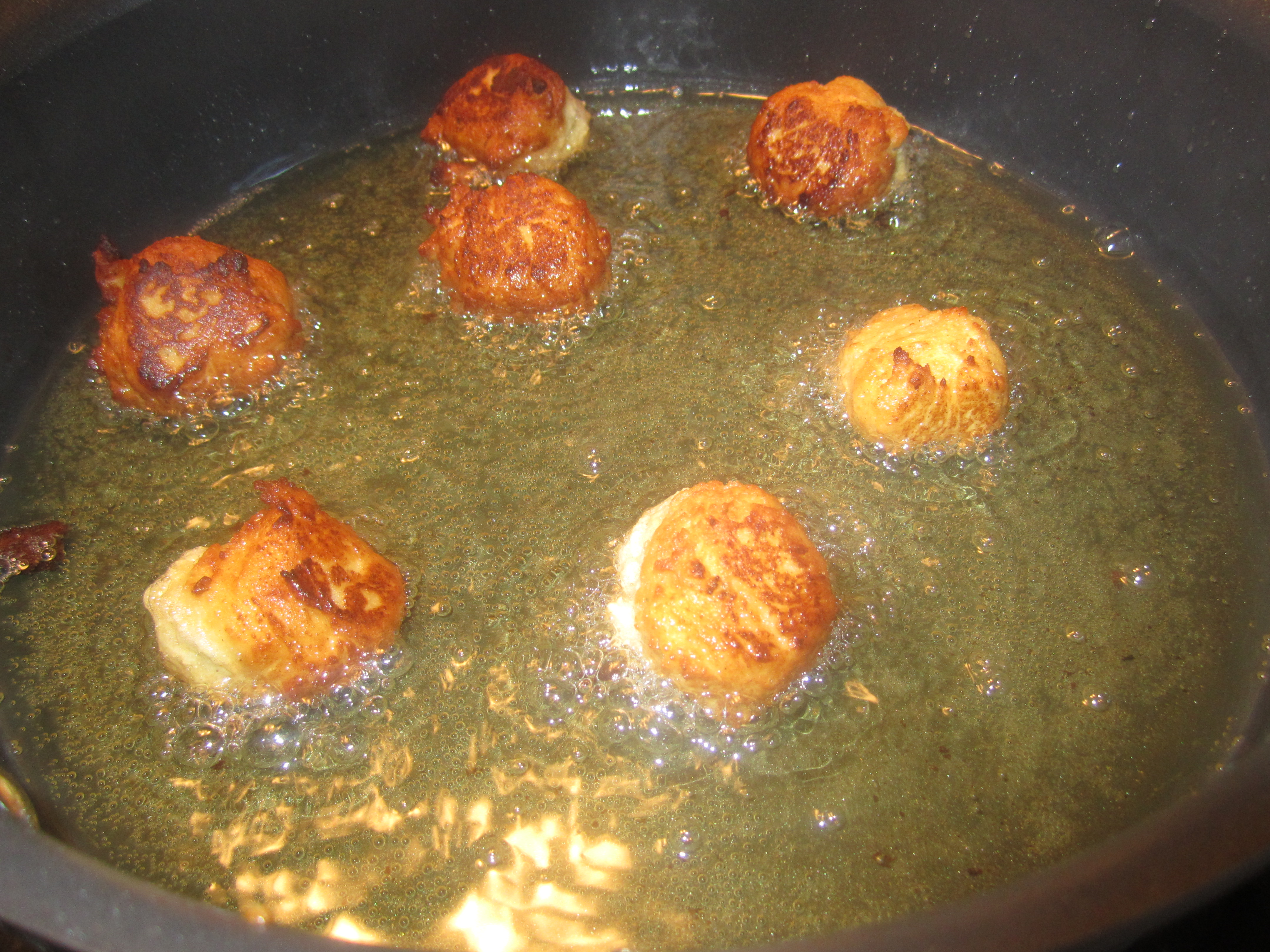 NOTE: Make sure the heat is not too high and the outside burns without the inside being cooked. Adjust heat accordingly.
8. Place on napkin to drain off excess oil and keep on moving with the rest of the dumplings until finished.
9. Place cabbage on naan bread.
10. Place dumplings on naan bread with cabbage and drizzle yogurt on top.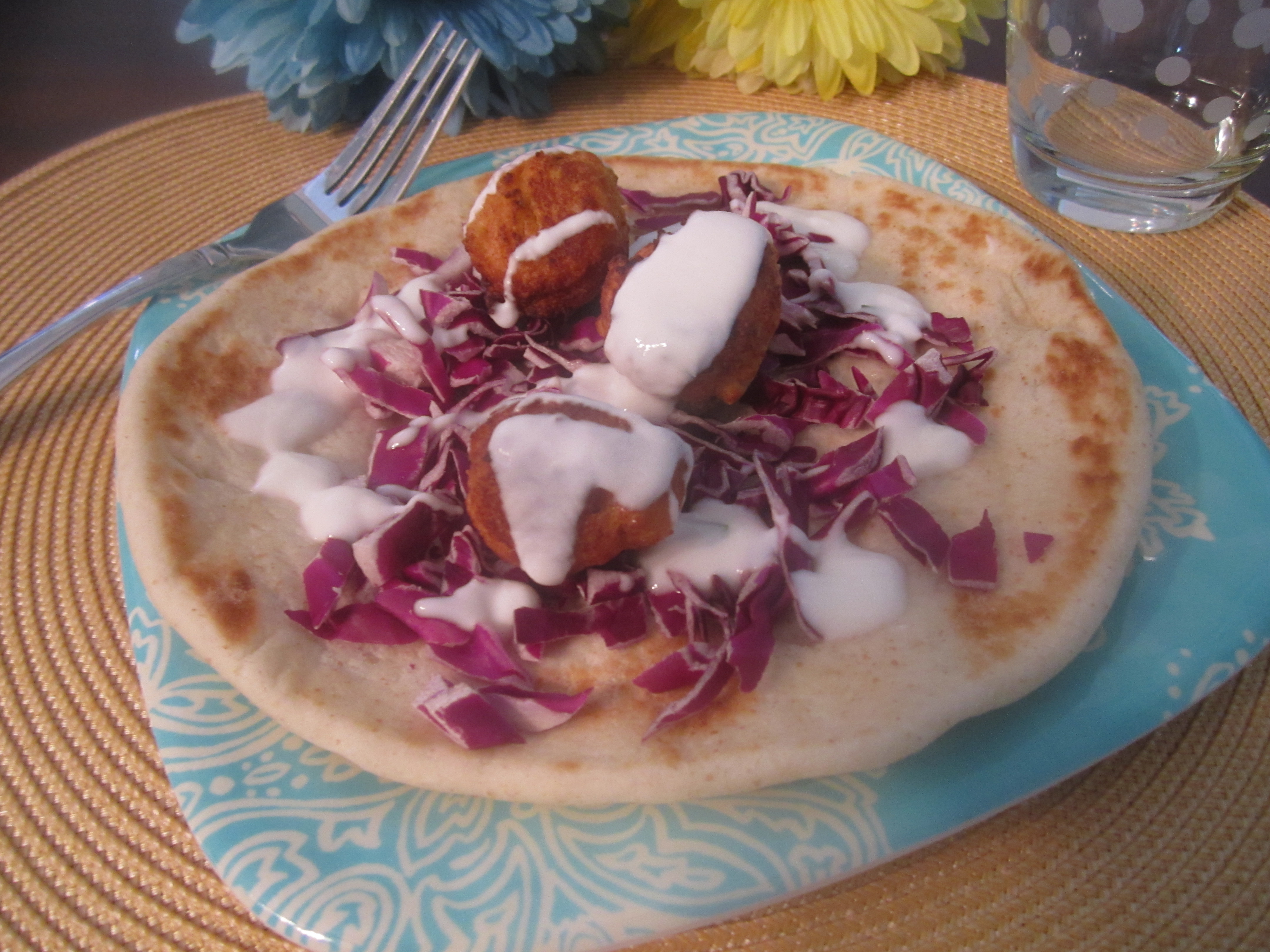 You have yourself a delicious sandwich! Enjoy!
My mother was kind enough to take the kids and I to the Faerie Festival last weekend. A what? Exactly. I never knew they existed, but I'm really glad we went. Besides being extremely eco-friendly (which I love) they also had Falafel. Again, chickpeas and I have a secret affair. I love to eat them, and in any form. I haven't had falafel since I worked a corporate job a few years ago. My mom even bought one for herself and loved it. Must be something to these chicks!
But tonight was different.  Although I love myself a nice fried falafel wrapped in pita bread with greens, tomatoes and lemon tahini, tonight wasn't about me. Nope. I was home with two kids and a working hubby. So I compromised. A kid-friendly falafel meal! Seriously, who doesn't like cheese and tortilla? Score one for mom!!!!!!!!!!!!!!!!!!!!!
Ingredients:
15 oz garbanzo beans
2 Tbs flour
2Tbs parsley
1/2 cup chopped cauliflower
1 teaspoon cumin
1 teaspoon coriander
1/2 tsp garlic powder
salt and pepper
Cheddar/Colby cheese
Tortillas
Salsa (optional)
Sour Cream (optional)
1. Preheat oven to 400 degrees
2. Put all ingredients into a blender. Blend until all is mixed well.
3. Grease baking sheet or stoneware.
4. Scoop the bean mixture into your hands and form into eight patties.
5. Place on greased stoneware (or baking sheet) and bush olive oil over each one.
6. Bake for 20 minutes.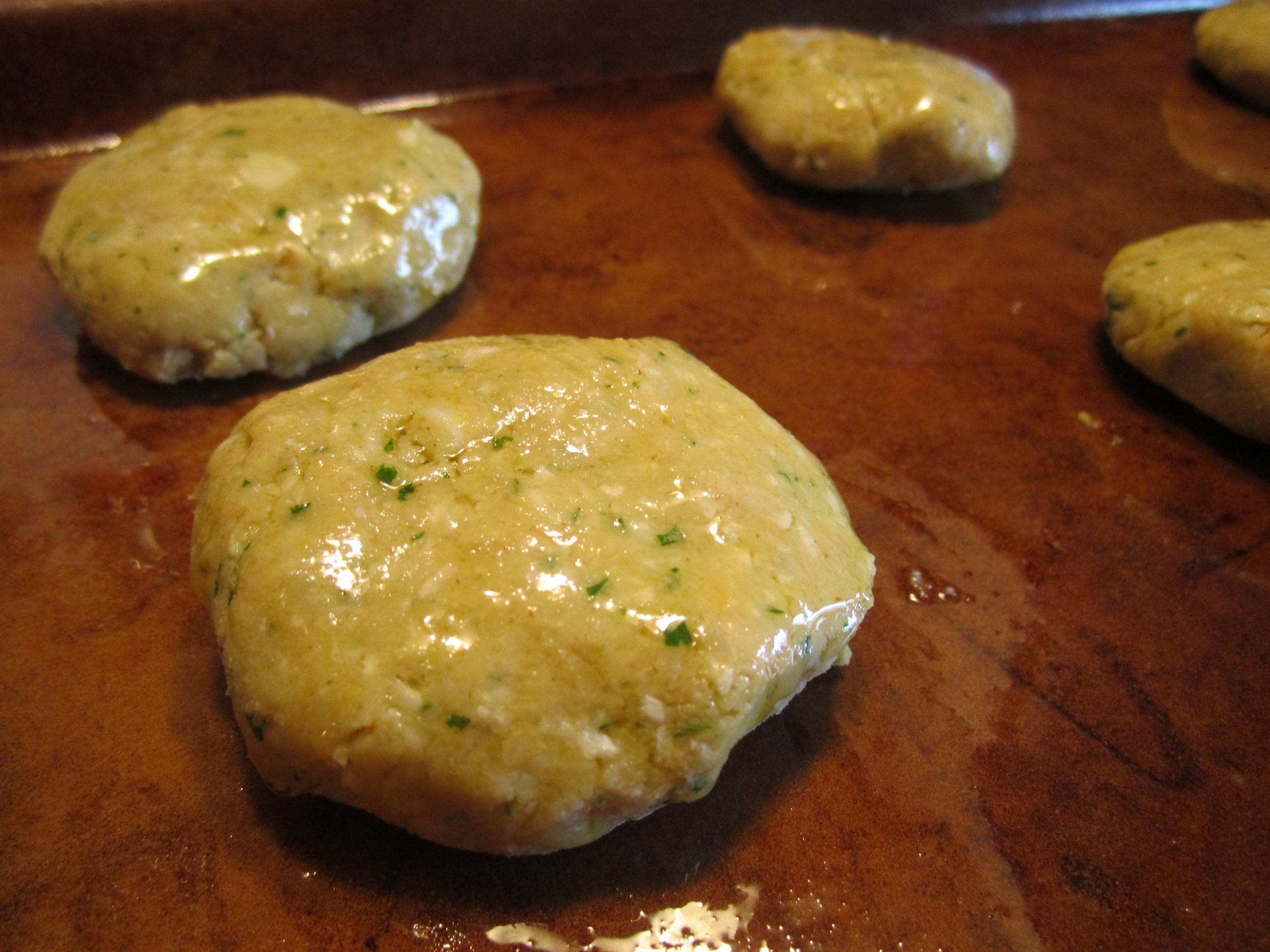 7. After the patties are finished cooking, preheat a skillet to medium heat and spray with cooking oil.
8. Place a tortilla in the pan for 1 minute. Turn over.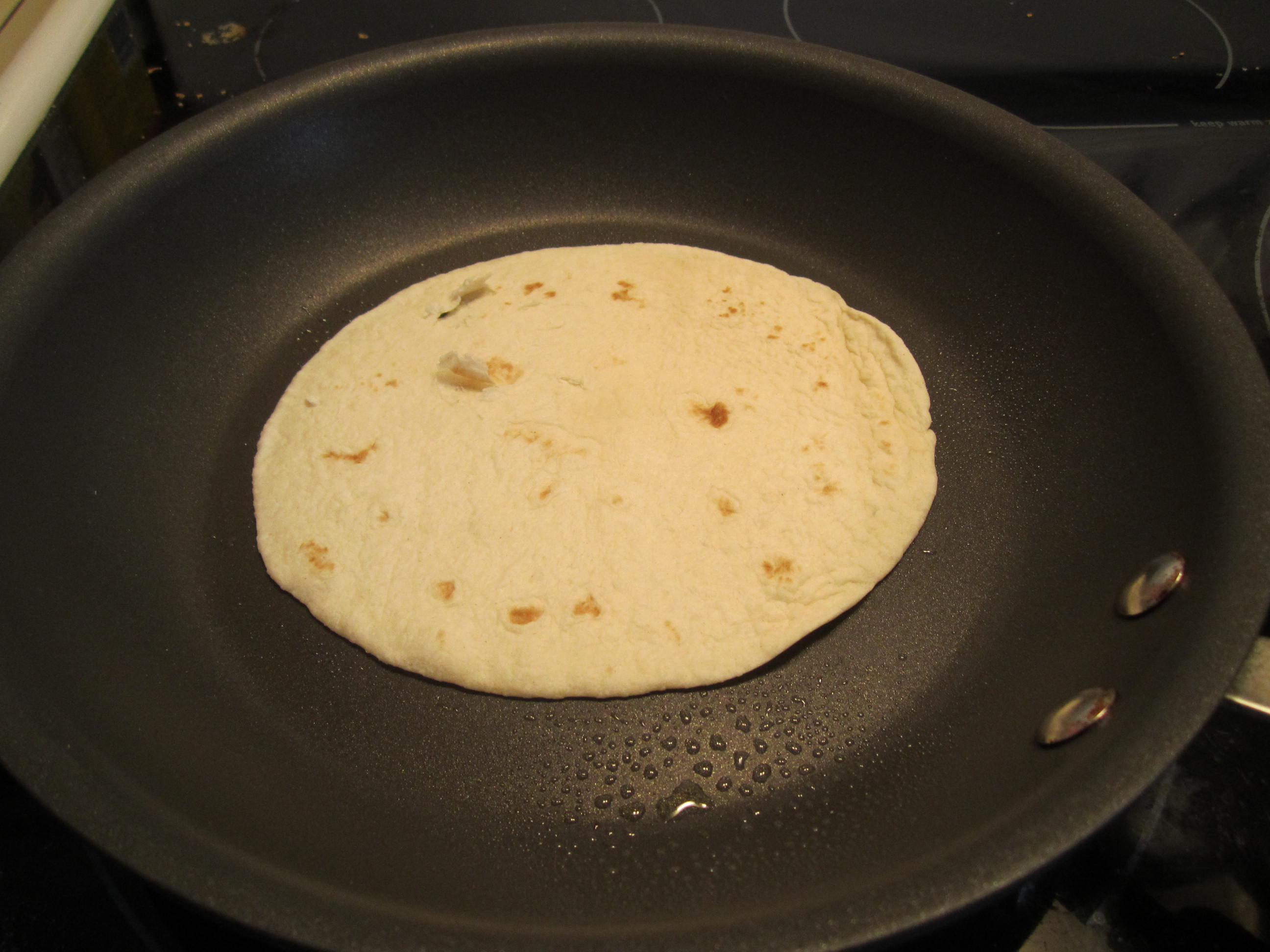 9. Place a patty on the middle of the tortilla and cover in cheese.
10. Let melt for 30 seconds.
11. Add another tortilla on top and flip. (No folks, it's not from outter space!)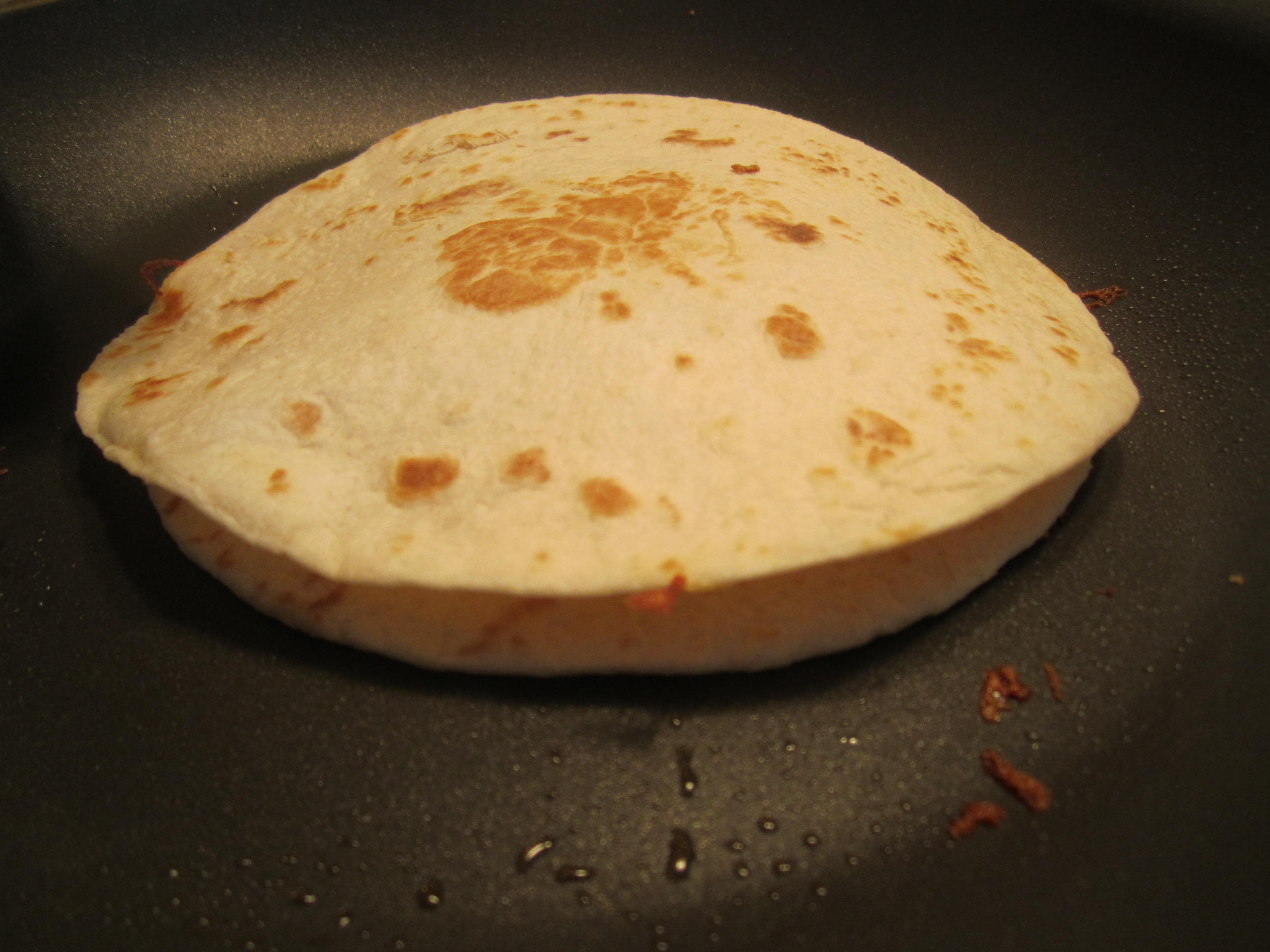 12. Cook for 1-2 more minutes.
13. Cut up and serve with salsa and/or sour cream.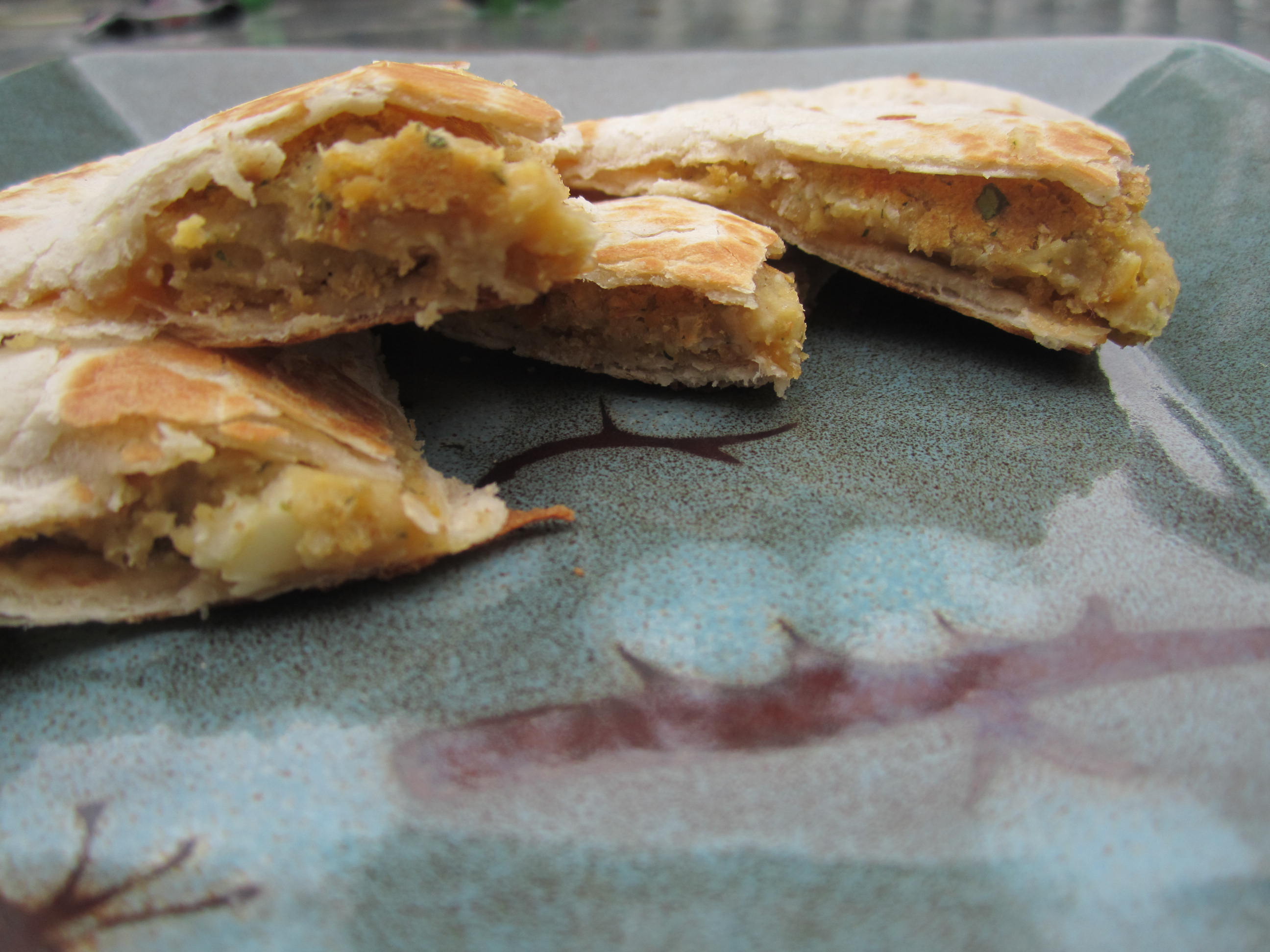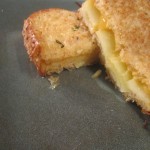 A is for Apple. This is what I teach my two year old son and believe me he has a lot of apples daily! His new love in life is the apple. My mission was to make something WITH the apple instead of just cutting it! I first dreamed this morning of a soft, ewie, gewie baked apple with caramel and cinnamon running down the sides – but that was quickly halted when I thought of the mess that was going to make! Let's just jump back here, oatmeal all over the floor drove me crazy this morning, can I really deal with a baked apple? Nope. Moving on! What little voice in my head? Grilled cheese? Why excellent choice! Let's get started!
First, I have to admit, I made another quite sumptuous compound butter and forgot to take ANY pictures! (oh my, i know!) I was upset too. Since I was in a rush, listening to baby girl cry in her swing, my son wake up crying from nap, and me with the stove on trying to get-it-done, I quickly realized this was going to be a challenge. So, I even cheated and grabbed the Country Crock spread and just went at it. But I wouldn't steer you wrong, it was pretty delicious!
Compound Butter Ingredients: (Servings for 8 pieces of bread)
1/2 cup of butter: softened (I grabbed Country Crock spread….in a hurry, I swear!)
1 tsp rosemary, chopped (really chopped, the smaller the rosemary the oils give away leaving a great taste!)
1 tsp walnuts, chopped (itsy bitsy)
Recipe:
1. Place butter in a bowl. Add rosemary and walnut. Use a fork to mash all together.
2. Place in center of syran wrap and roll up tightly, twisting the ends.
3. Place in fridge for thirty minutes.
NOTE: This butter compound tastes EXCELLENT on a steak!!! Also, since I make this one frequently, the next time I do, I will add step by step pictures!
NOW LET'S DISCOVER THE NEW GRILLED CHEESE!
Ingredients:
2 slices honey wheat bread (pumpernickel and multi-grain is good too. Check in your bakery section)
1 slice cheddar cheese
1 Granny Smith Apple: peeled, cored and sliced thinly
2 Tbs butter
Rosemary-Walnut butter spread, recipe above
Recipe Directions:
1. After apples are peeled and core, thinly slice them. (I used a mandolin on second setting for same size every time).
2. Over low to medium low heat, place butter into saute pan.
3. Add apples. Cook for two-three minutes, turning halfway through.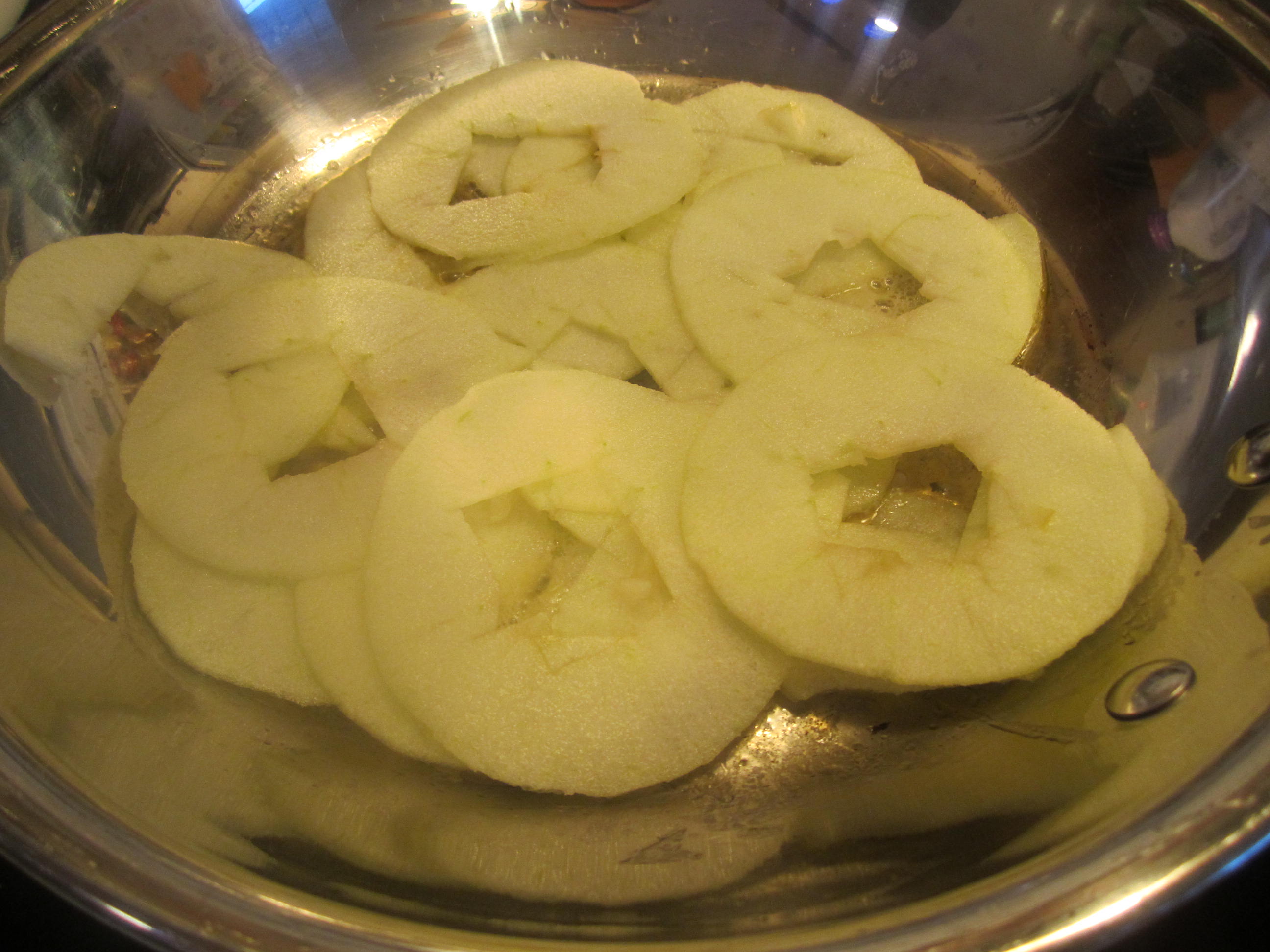 (I obviously dont have an apple corer! will put on list! lol)
4. Turn off heat and set apples aside. NOTE: Try not to over cook your apples by making them soft and limp. You want them to be sweet and have a bite. Set in the butter for sweetness yet have a tart crunch to them. Perfecto!
5. Spread the rosemary walnut compound butter on one slice of bread. Let's not play shy, butter this baby up good!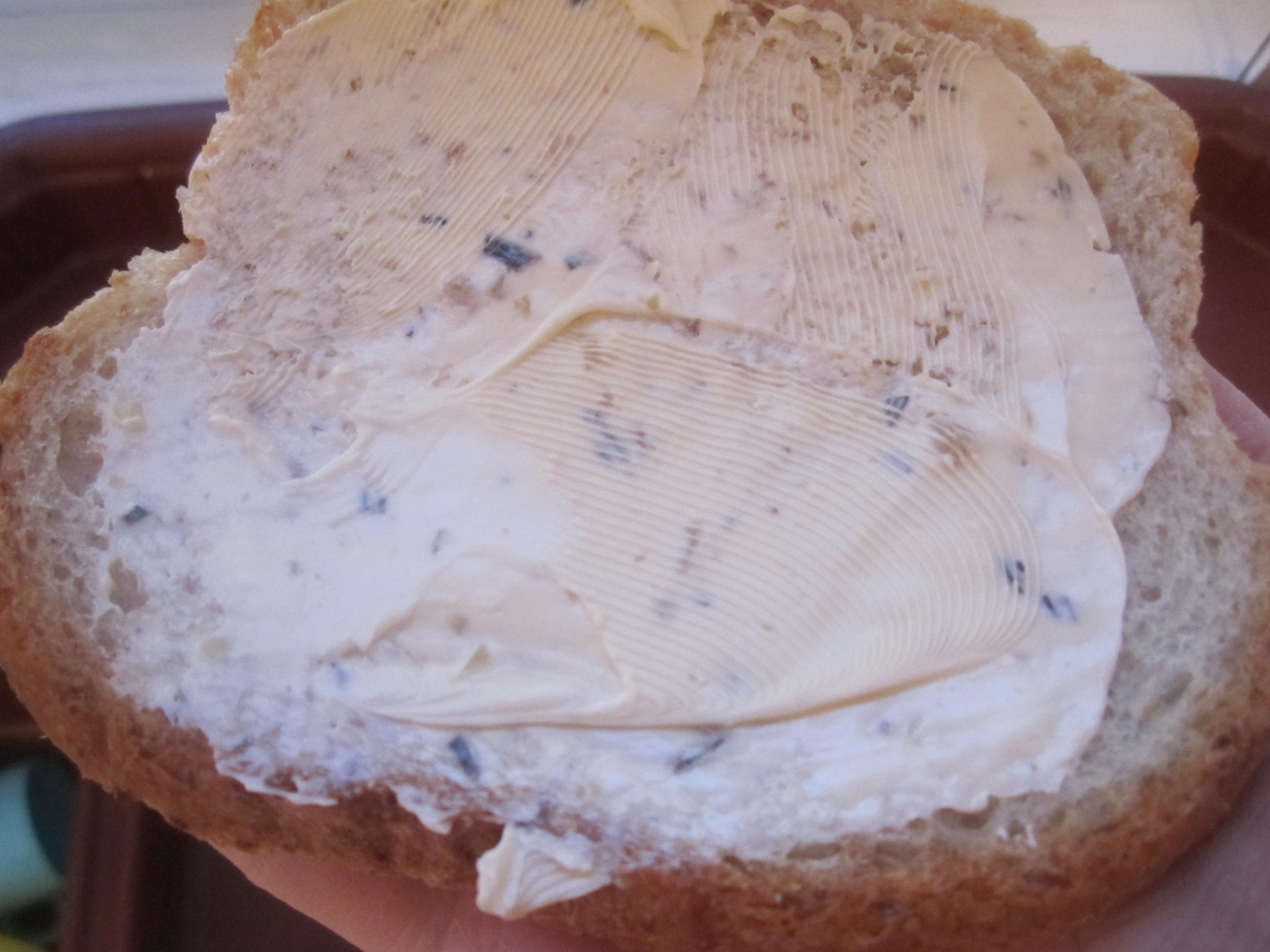 6. Preheat a non-stick saute pan over medium to medium high heat. Once its ready, place the slice of bread, butter side down, into the pan.
7. Add one piece of cheese and half the apple mixture. Let melt for a minute.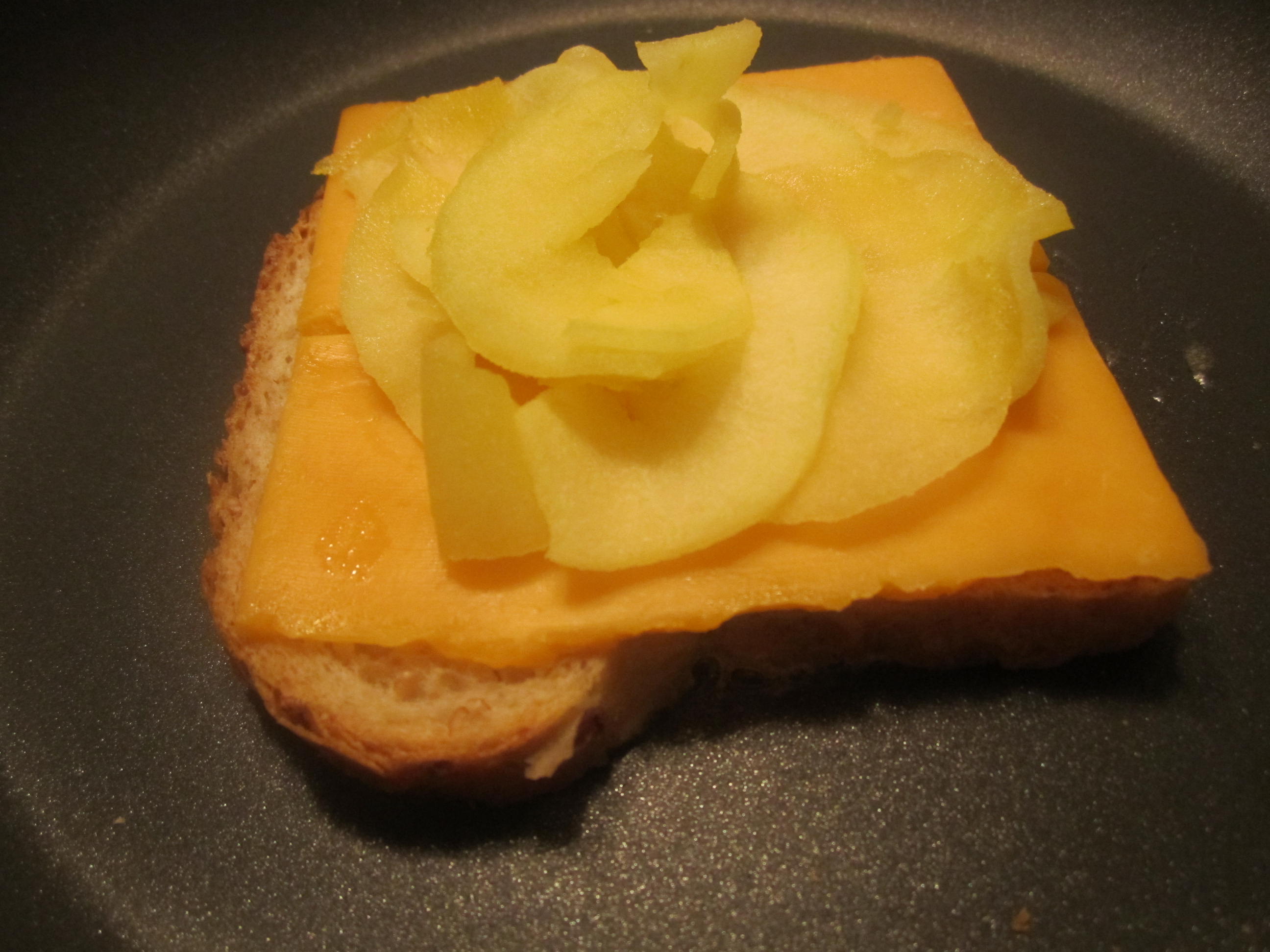 8. Butter the second slice of bread.
9. When cheese starts to melt, add next slice of bread on top with butter facing to the sky.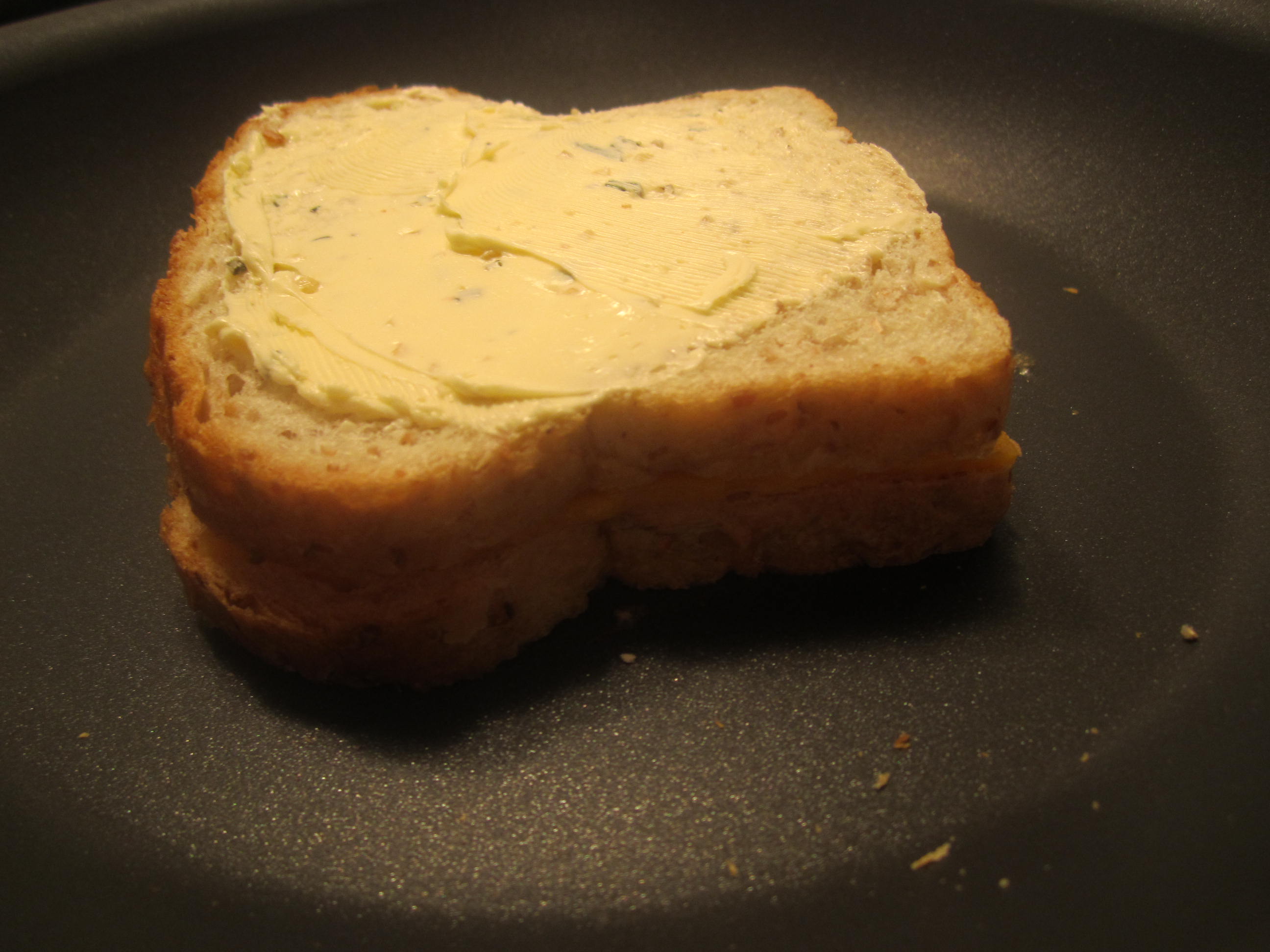 10. Flip the sandwich over to brown the other side!
11. Cut and serve.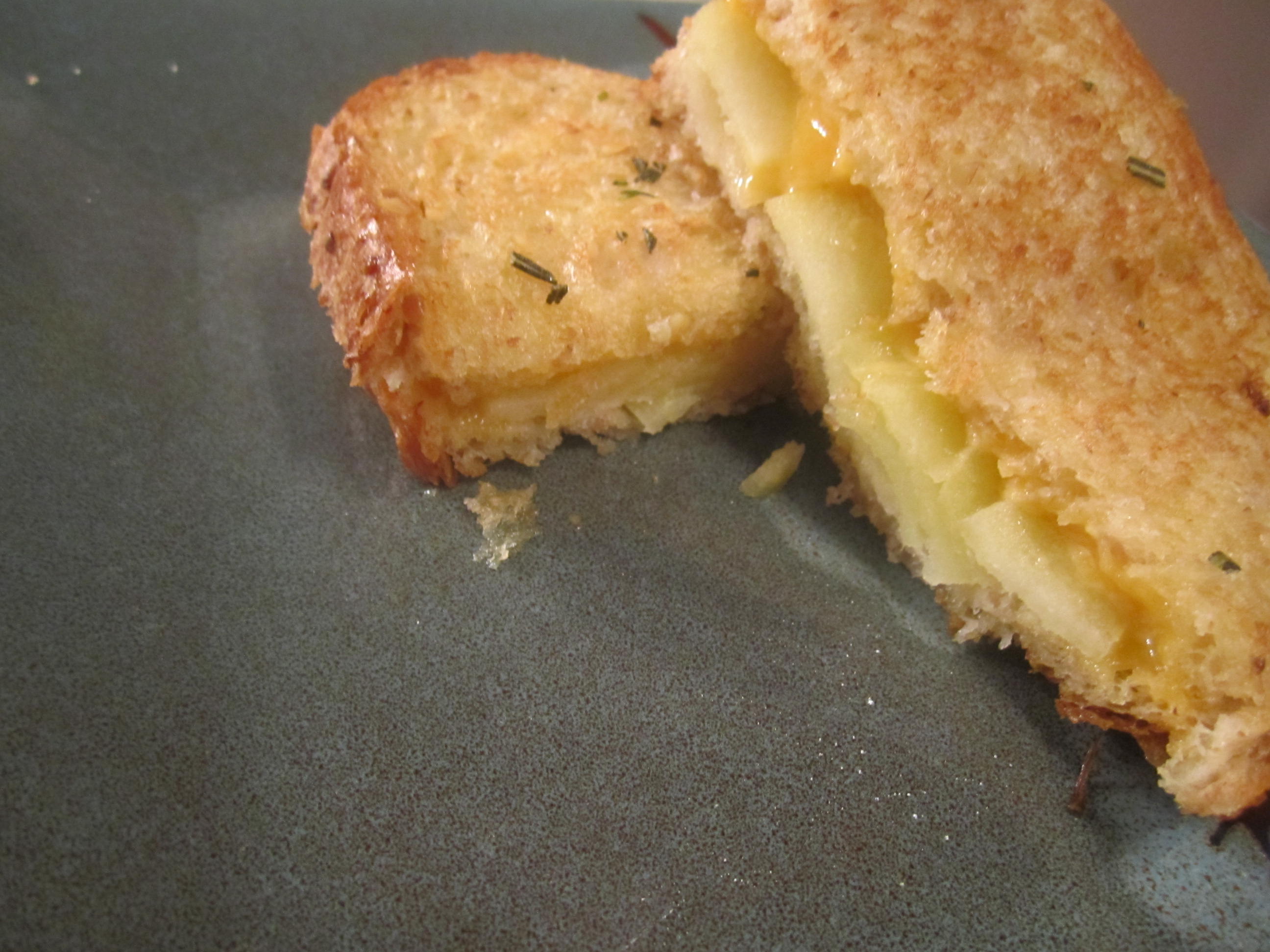 When I took my first bite of apple grilled cheese (what?!) I was in pure bliss. I could still taste the tartness from the apple, with bold cheddar cheese running through but the best part is the rosemary walnut butter compound. It just opened a new door to the every day grilled cheese!
One of my favorite comfort foods of all time, is a delicious sweet yet spicy, guacamole grilled cheese sandwich. By far, one of my favorites. If I need a guilty pleasure, this is where I go. My love for guacamole started on a trip to Camarillo, California where I went to visit my Aunt, Uncle and cousins for the week - and believe me, I fell hard for it. I can recall watching the workers at a restaurant make it fresh from scratch and bring it to our table. I wanted to gobble the whole bowl of it and place every inch on top of my nachos, but that wouldn't be very nice of me, so I had to hold myself back. Now, I place guacamole on my chips, pita bread (baked in the oven makes very nice crunchy/healthIER chips) and of course, a grilled cheese sandwich. If you don't mind, let me tell you how I make my perfecto loco guaca grilled cheese sandwich.
Guacamole Ingredients:
2 ripe avocados
1/2 small onion, minced (prefer sweet or red onion)
1 clove garlic, minced
1 small jalapeño, stems and seeds removed, minced
2 tablespoons cilantro leaves, finely chopped
1 fresh squeeze of lemon
1/2 teaspoon coarse sea salt
A dash of freshly grated black pepper
1 Roma tomato, chopped
Grilled Cheese:
4 pieces of crusty white bread
2 Slices Colby-Jack Cheese
Let's get our guac on!
Recipe:
1. First gather ingredients to make guacamole.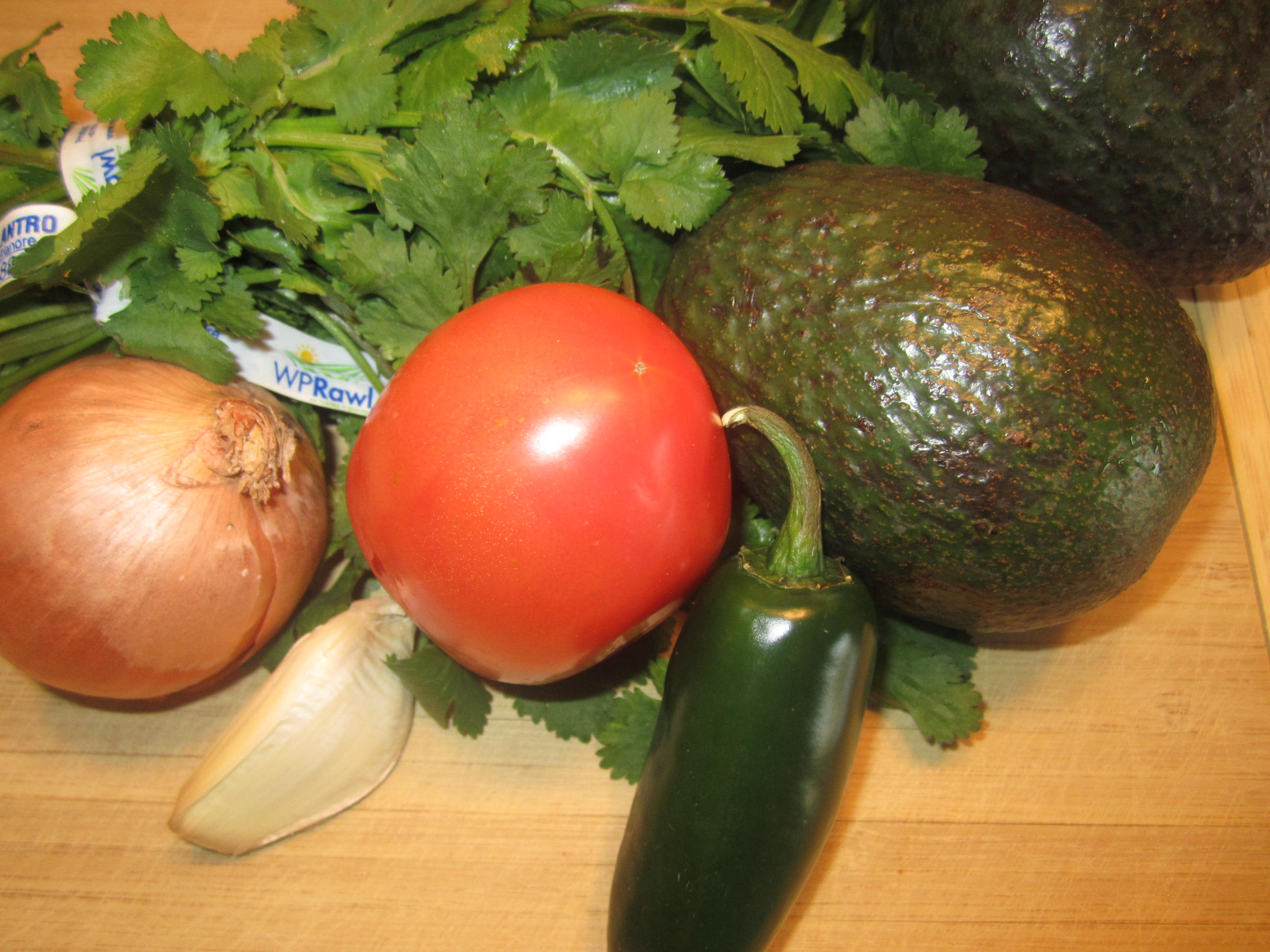 2. Cut avocados in half, open the two sides. Remove seed. Scoop out avocado from the peel, put in a large bowl. Note: (Professionals use a knife, a spoon works just as fine as well. Look for an avocado that is not too mushy but is soft and has a "bounce" back touch.)
3. Using a fork, mash the avocado.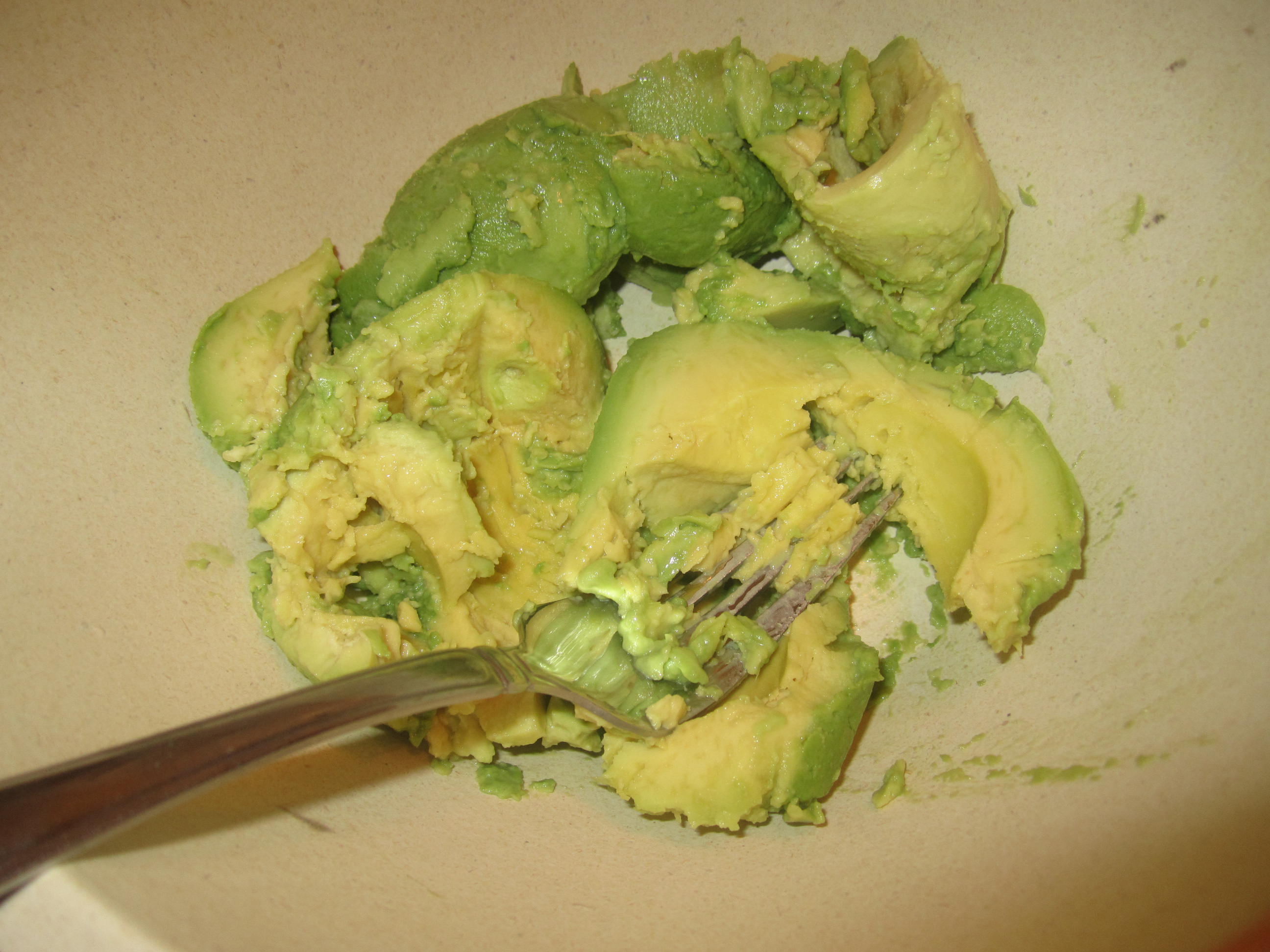 4. Add the onion, garlic, jalapeño, cilantro, lemon juice, salt and pepper. Stir well. Top with tomato and stir.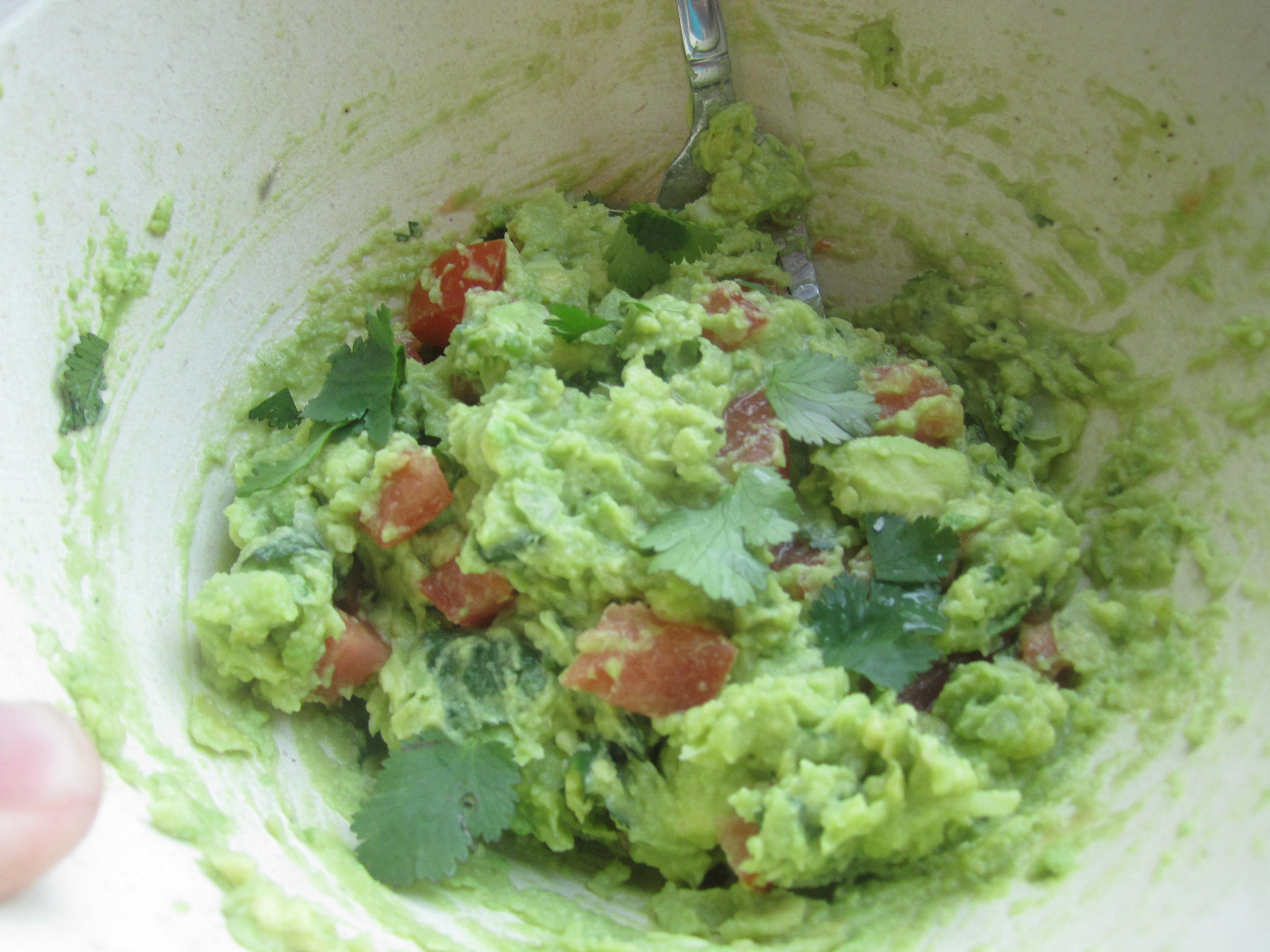 5. Next onto the grilled cheese – yummers!
6. Head a pan or grill to medium-medium high heat.
7. Butter two slices of bread. When I say butter, I mean full out, add those calories butter!
8. Turn butter side facing down. Add generous amount of guacamole to the top of both slices.
7. Add cheese on top of guacamole.  Close sandwich with butter sides on the outside.
8. Place in pan and let the goodness melt!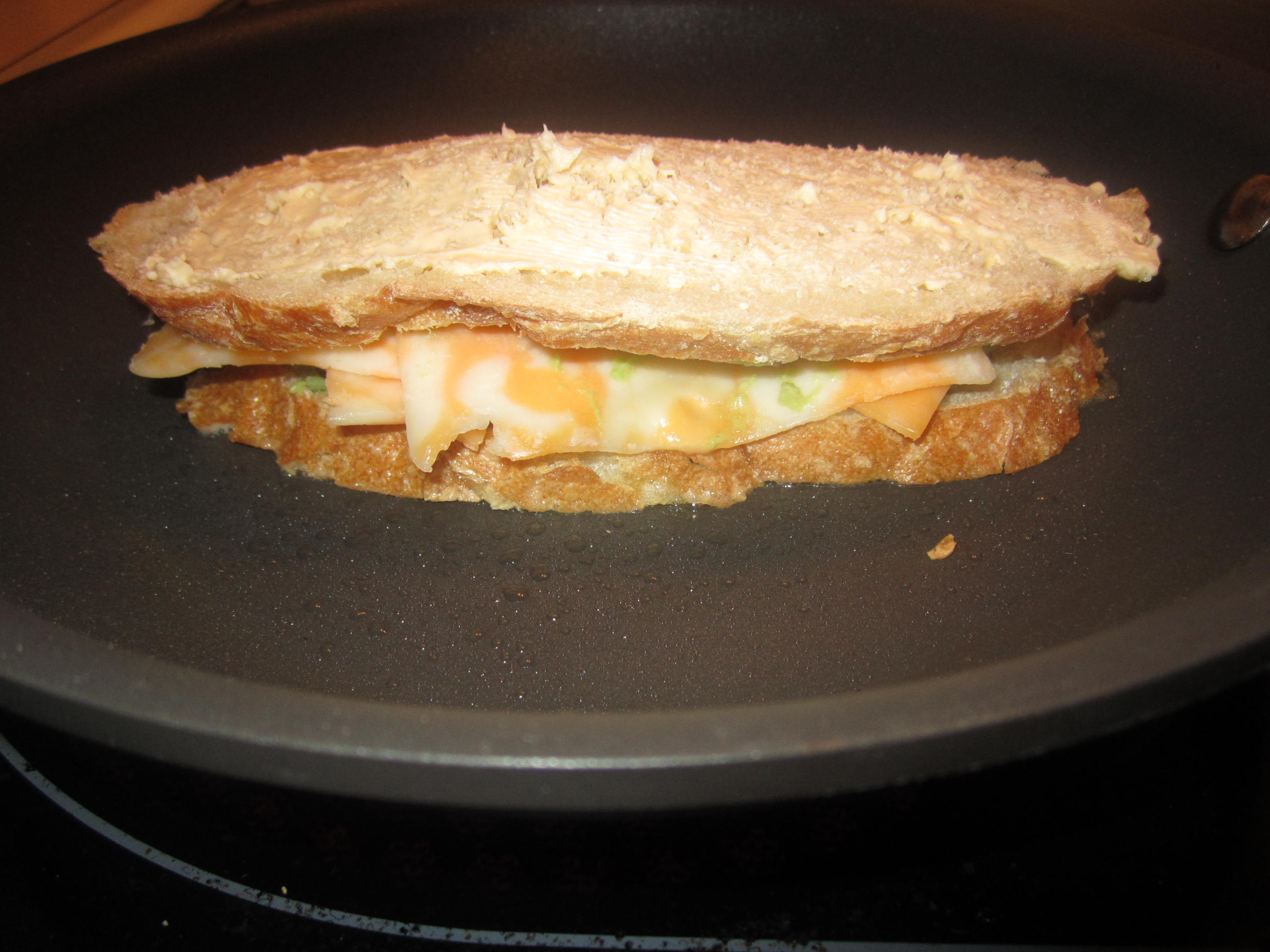 9. Melt cheese for two minutes then flip to other side. Cut and enjoy this fabulous ewieness!!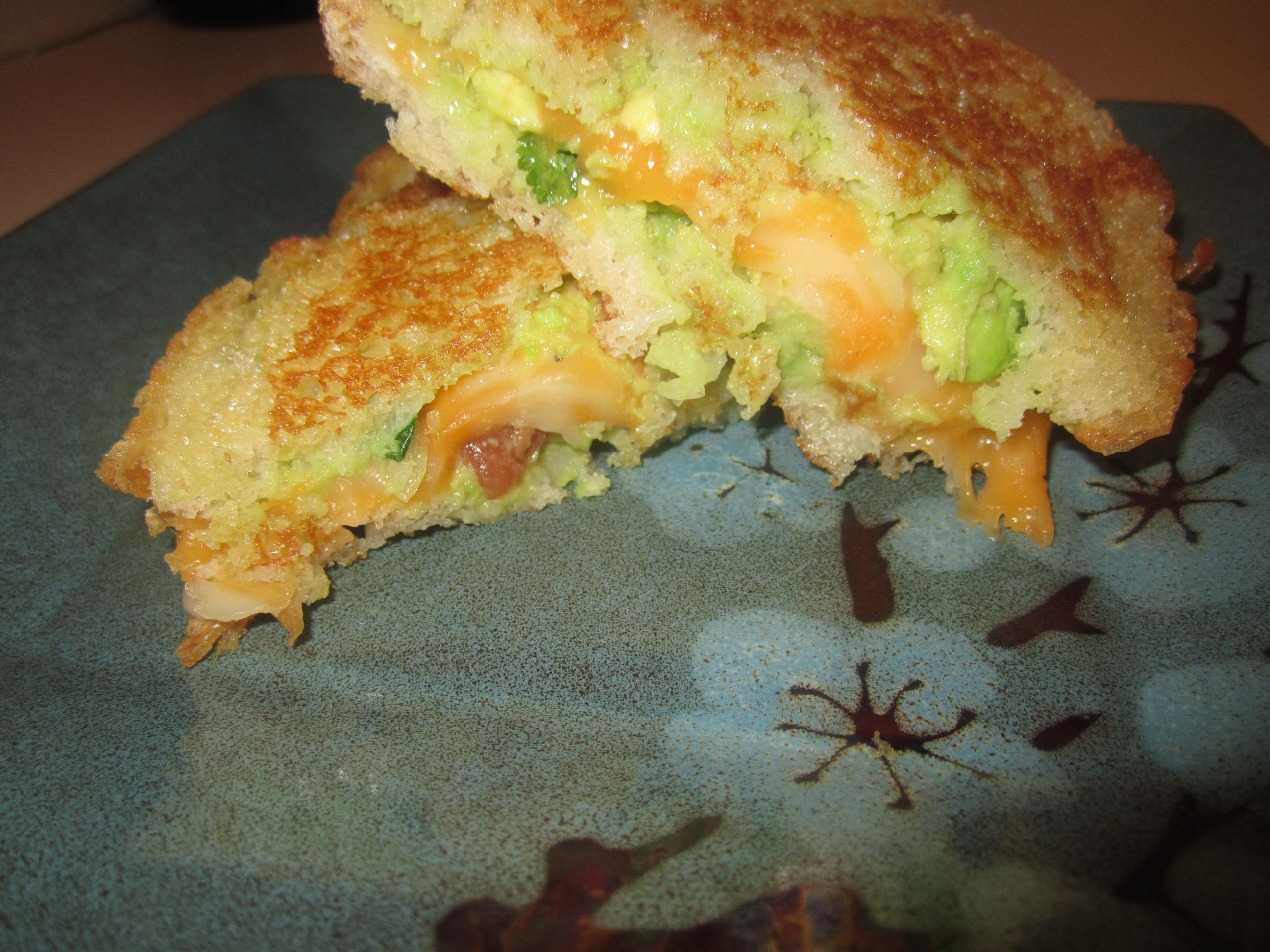 Side Notes, cause I always have lots to say!
1. Choose a good white bread. I used an Artisan loaf from the grocery bakery section.
2. Don't use too fresh of bread – you want a nice crust so I recommend waiting a day after purchase.
3. You can absolutely use a lime instead of a lemon! I used a lemon because I forgot to purchase a lime, but hey, it's all good.
4. Store left over guacamole in an air tight. Place syran wrap over guacamole and try to get as many air bubbles out as possible closing off the sides. Place lid on container. Store for up to three days – when it starts to turn brown, I toss.
5. I always have a good medium high heat going to get that beautiful color to the sandwich, then flip for two more minutes. I turn the heat to a lower setting to make sure the cheese is all the way melted through.
This is a great filling, easy dish. Hope you love this loco guaco as much as I do!