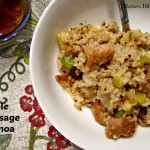 My husband said, "It taste like Thanksgiving stuffing" and my heart melted. If only he knew how healthy this dish was, would he have tasted it from the beginning?
Hubby doesn't like to try things he is unfamiliar with. Things that are normal to me such as mushrooms, Brussels sprouts, chickpeas and quinoa. Okay…maybe these items aren't normal to everyone but they sure are yummy! A lot of times, he will study the food on his fork before even trying it. I personally think taste is the best sense but to each their own!
So when I said it was "quinoa" I thought he was going to put down the fork but to my surprise he didn't. Sometimes I think it's harder to feed him than my kids! "Quinoa like rice?" he asked. He was actually almost correct.  I did by a combo quinoa….shew, thank you for that!
Ingredients
1 package of quinoa (I used Near East Quinoa Blend: Rosemary and Olive oil)
1 package of Italian sausage
2 Tbs olive oil
1/2 onion: diced
2 celery stalks: diced
1/2 granny smith apple: diced
1/4 cup dried cherries
Instructions
Make quinoa according to instructions on package
Over medium high heat, add olive oil to a large saute pan
Add sausage and cook on medium for 7-10 minuets until no pink remains
Remove sausage and place on a plate
Meanwhile, turn down the heat to medium low and add onion and celery
Cook 7-10 minutes, stirring occasionally
Add meat back to pot
Add apple and stir for five minutes longer
Place quinoa and sausage mixture in a large bowl
Add dried cherries
Serve
http://www.mamasblissfulbites.com/2013/09/09/apple-sausage-quinoa/
I can't hide the fact that this is not your twenty minute meal but it is healthy and quite delicious. Hubs even asked me to write it down so I could save it. Tisk. Tisk. I can't keep this one to myself!
What I have come to realize is that healthy food can and does actually taste delicious. I prefer foods in their original form now, not processed and in a box. I enjoy using little to no seasoning because I can taste how the item is supposed to taste. Okay I may be pushing it. Be sure to thank the seasoning packet in the quinoa for that one.

Remember to bookmark this one – it's a keeper.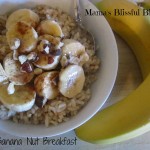 This is one of my favorite dishes to eat for breakfast. Go head, shake your head. I know a lot of people prefer the big bacon and egg, sausage, hash brown, toast kind of breakfast, but I enjoy rice! (Did you laugh, because I did!) When I suggest to have a banana nut breakfast to people who are looking for healthier alternatives, the first reaction is the eye roll. I understand, it's may not be one of the first breakfast ideas you think of, but it's worth putting it in the breakfast category and trying it. IT IS DELICIOUS!
Why eat brown rice?
Promotes Weight Loss. Please don't make me say it again. Breakfast that helps weight loss…okay, let's continue. Brown rice makes the belly feel fuller so you eat less!
High in Fiber. The average person on S.A.D (Standard American Diet) does not get enough fiber in their diets! Fortunately, brown rice is high in fiber which also helps with bowel regularity.
Helps avoid spikes in sugar levels
Why eat bananas?
Low in calories. How is this breakfast sounding now?
Contains about 3g of fiber – which can also make you feel fuller
Contains carbohydrates which makes it perfect for fueling up in the a.m.
Look, I'm not a physician but I have done enough research to know this is a very healthy breakfast! I always use bananas and rice as the base to this recipe. You can also add apples, raisins, nuts or even peanut butter! Change it up and tweak it to your flavor. I add honey for that extra sweet bite. If you prefer agave, go for it! If you are always rushing for time, make rice the night before and store in the fridge.
Please don't knock it before you try it! If you like the nutty flavor of delicious brown rice, you will love this! Think oatmeal with a twist! Do you have an unusual breakfast recipe? Please share! And try mine while you're at it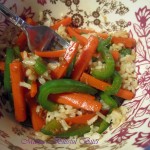 Most of us do it, we are fully committed with resolutions of becoming a better person for the new year ahead of us. Charged with enthusiasm, we make resolutions like paying the bills, becoming organized and my favorite, losing weight. As the count down to the New Year begun and our 2012 year disappeared, I was left without resolutions. This is quite unlike me. I love writing lists, it's one of my favorite things to do yet my list was bare. Not even a number one was in place. I watched as my friends Facebook statuses lit up with goals. Losing weight topped the charts. I finally caved in and committed to the adventure…on a public status. By saying it out loud , I am committed. I'm now forcing myself.
It is now January 5th and I have eaten horrific and by the way, loved every moment. Maybe the new year came upon me too fast (as if I didn't see the 365 days ahead of me!) or perhaps I really wanted to indulge in that chicken sandwich, stuffed-crust pizza or my favorite chocolate, just one more time. Whatever the reason, I achieved. I posted to my friends my goal and then ate like a wild women with no control. The truth is, my year started off rocky. It didn't fall into place with a clear slate. I have related to eating unhealthy to not taking care of myself. I was punishing me again. Things were out of my control and what I can control is the run through the drive-thru fast food joint and yes, it fulfilled me for that moment. As I drank my big Mountain Dew bottle before me, I had a second one lined up. I finally stopped and observed my actions. What was I doing to myself? I still drank it anyways. Perhaps for the torture that followed. I drank it knowingly I didn't want to.
So here we are, Day 5. My friends have posted their great adventures of running and working out and even wonderful healthy dishes. Yesterday, I ordered a pizza because I didn't "feel" like cooking. As I finally got a moment of peace to myself and was able to put together my past week, I made connections of where things were going wrong. No, I can't help the circumstances to all the situations that are presented before me. I have tried desperately but there has to be another way. What I can control is being healthy. I can control eating better so I can live longer for life and what it has lying ahead of me. I dedicated this year, the year for me. Learning to love myself again and treat myself physically and mentally better. This year, I am preparing lots of healthy dishes for you all and my family. I hope you join me on my journey and perhaps one day, we can live in a healthier world together.
Vegetarian Stir Fry
1 Tbs grape seed oil
2 cups brown rice: cooked
1 carrot: julienne (1 cup worth)
1 green pepper: julienne (1 cup worth)
1 tablespoon: minced fresh ginger
1 tablespoon: minced fresh garlic
1/2 tablespoon tamari (or soy sauce)
1/2 tablespoon rice vinegar
1/2 teaspoon brown sugar
Usually, I would list the steps now however I want to tell you why I chose what I did:
Wok: If you don't have a wok, I highly suggest on purchasing one. Prices vary from $20-$200 depeding upon material, weight, size and if it comes with a lid. If you love stir fry dishes or Asian dishes, I would put more money into a higher quality one. There are many benefits to woks. For starters, the shape of the wok is amazing. It holds a lot of food and all in its place! The walls are very high making it easier to maneuver the pan so you're food doesn't spill out. It also holds intense heat very well. You want to be sure to use wood utensils not to damage the pan. Rest assure you can boil, braise, deep fry, pan fry, roast, sear, steam and more!
Grape Seed Oil: I feel like grape seed oil is slowly making its way out of hiding and more consumers are purchasing it, however that's from my personal experience in speaking with people. Grape seed oil is derived from seeds of grapes. Research has shows that there are many health benefits to grape seed oil (it even comes in capsule, tablets, oil and powder) however I love using it because it has a higher point for heat.
Ginger: I feel I can not say enough good things about the ginger. It's has amazing properties that can help nausea, toot-tooting, nose congestion and is an anti-inflammatory (just incase those joints are bothering you!) Be sure to check out this delicious Ginger-Lemon Tea recipe. I drink it daily during the winter months prior to bed. This is actually my first recipe posted when I was battling with many issues to help me out of my slump. I never throw out a good remedy! (PS I actually have a cup by me now).
Brown Rice: I love the heartier flavor of this rice. You may know that brown rice is a whole grain, meaning both the germ and bran parts of the grain have been preserved. It has more fiber than white rice and that's a big bonus in my book.
Now off to the good part:
Step 1: Cook the brown rice according to package. I made two servings since I was planning on a two-person meal.
Step 2: Add oil in a wok over medium-high heat. Wait until it's nice and hot then add garlic and ginger. Toss for thirty seconds.
Step 3: Add carrots, pepper, tamari, rice vinegar and sugar. Stir consistently for 2-3 minutes.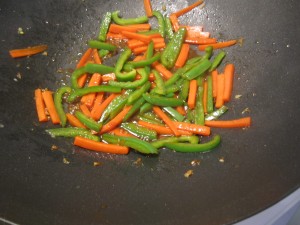 Step 4: Remove from heat and stir in rice. Serve.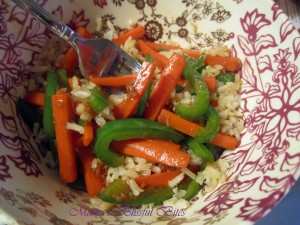 Stir fry dishes are great because they cook up in a snatch and are also versatile. You can use any pretty much any vegetables you have lying in your fridge at any point of time. Need a protein? Add some chicken, shrimp, beef you name it. Being healthy doesn't have to taste like cardboard. I know this is true. There are many hearty and delicious dishes out there that we will be exploring together. To a healthier me and you. Happy New Year.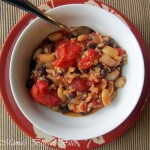 I feel so good that I am back up and running. Sometimes I get into these fogs where I'm distracted and redirected to a different place than where I really want to be. Does that make sense? I am re-focusing myself back to the healthy person I want to be. A person with optimum health. Can that even ever be reached? I don't know, but I'm going to make changes to put me on the path for it as it doesn't happen over night but day-by-day.
I used the word "healthy" in the recipe title because everyone has a different definition. It's a universal word that seems to be over-used daily. What may be healthy to one person, isn't healthy to another. For example: bowl of cereal for breakfast vs eggs and bacon vs a bowl of oatmeal. Which one is healthy to you? Healthy to me is a food, that is a food. It doesn't have a long list of ingredients and I know what it is in it. I can read the ingredients and know that beans are beans and tomatoes are tomatoes! These are the kind of meals I am most interested in. These are the kinds of food that make me feel good to eat knowing that I'm taking care and loving myself.
For this recipe, I choose ingredients that give the body nutrients in a healthy way.
Ingredients:
1 tbs olive oil
1 onion: chopped
2 cloves garlic: minced
1 1.2 cooked brown rice
1 (28 oz) can of organic whole tomatoes
1 (14.5 oz) can of black beans: rinsed and drained
1 (14.5 oz) can of Northern beans: rinsed and drained
3/4 cup water
1 tbs chili powder
1 teaspoon cumin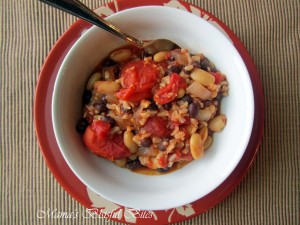 Let's run through!
Garlic: promotes well being of the heart and immune system while also helping maintain blood circulation
Onion:  good source of vitamin C, B6, biotin, chromium, calcium and dietary fibre. They contain good amounts of folic acid and vitamin B1 and K.
Beans: helps bowl movements (so important!), regulates functions in colon, lowers blood pressure and hello, protein baby!
Tomatoes: antioxidants, reduce risk of heart disease
Brown Rice: high in fiber, (with beans makes a complete protein), can help lower cholesterol, prevent weight gain, good source of
These are just some fabulous properties that your body needs. So why not make a delicious recipe and feel healthy in doing so.
Recipe:
Step 1: In a large saucepan, add oil over medium low heat.
Step 2: Saute onion and garlic for 3-5 minutes
Step 3: Add the rest of the ingredients.
Step 4: Turn heat to medium-high and bring to a boil. Cover and reduce heat to low. Simmer for 15 minutes or consistency you want to reach.
NOTE: Make sure there is also liquid or else it will burn. If you need to add more water, do so to the consistency you desire.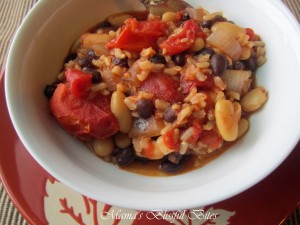 Love yourself. Feed yourself well.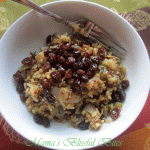 I made this dish on one of my healthy kicks, which I seem to have every day now. I have avoided the scale knowing that I have gained some weight. Since it never shows me what I'd really like to see, I have avoided jumping on as if it was the plague. My pants seem to tell me that they are becoming snug again, so I just avoid the "number" game. But at last, I finally got myself together and jumped on. It wasn't as bad as I tought it would be but it wasn't what I wanted it to say. It appears everything found a new home, my belly.
To make things a little more complicated, when I lost weight from my kids, I threw all of my "up" size clothes away. This was a big debate and struggle for me. I kept thinking, "what if I need a bigger size one day?" No use in throwing them away if I "may" need them again. I actually haven't been this smaller size in years and was wondering if it was a fluke. But after six months, I thew them away. All of them. Jeans, shirts, dresses, you name it. In a bag and donated, that's where they went. I had a difficult time departing from the old me but still love the new me, so I moved on.
Exercise is another challenge. When I finally get into the grove, I'm a moving machine, but it's finding the grove that challenges me. What is it about taking the first steps? I know I need to lose a few pounds, just go, I scream to myself. Have you ever seen those commercials where it says, "one good choice makes you want to pick another healthy choice and so on?" Well, it's true, but taking care of two kids, being up around the clock, preparing meals, cleaning up, teaching skills and rules doesn't make me want to jump up and run. Well, sometimes it does but not in a healthy way

Today was a beautiful day. It was low 80′s and a beautiful breeze was coming through. I decided to take a family trip to the NCR trail. The NCR trails are about twenty miles long and ten feet wide. Guess I did some research along the way. My two little kiddos made it, 1 mile up and 1 mile back. As we started to walk, they started to run. We ended up jogging quite a bit. We looked at the trees and picked up leaves and rocks along the way. I didn't realize how much fun we actually would have! What an easy, great excercise on such a beautiful day. We ended up going to a restaurant afterwards and I ordered the Raspberry and Walnut Salad. What? One healthy choice lead to another. After putting some effort in, I felt so good, I wanted to continue by making a second healthy choice!
For dinner, I threw together the Heritage Rice dish and it was filling and quite enjoyable. The sweetness was a nice combination with the melody of rice. I just hope that I stay on this kick. I hate diets, I don't like to count calories and I really hate limited my intake. I love to eat! When I need to lose the weight, it tells me that I'm out of balance with myself. Something is off set and needs to be fixed. I prefer to eat foods that are good for myself all around and knock off the weight that way. This is a good starting meal!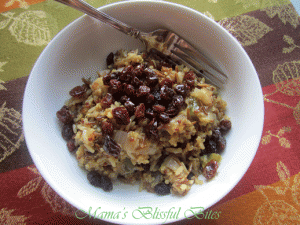 Ingredients:
1 green pepper: seeded and chopped
1 onion: chopped
1 tbs olive oil
1 cup heritage rice blend
2.5 cups vegetable stock
1 tbs cumin
salt and pepper
2 tbs raisins
honey to taste
Recipe:
Step 1: Heat olive oil in a skillet over medium heat. Add onion and cook for 2-3 minutes. Add pepper and cook for 5-7 minutes until soft.
Step 2: Add cumin, salt and pepper and stir for another minute or two.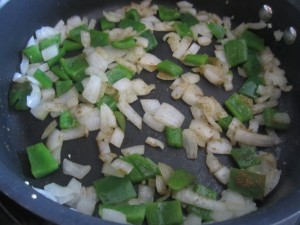 Step 3: Add rice and pan fry for two minutes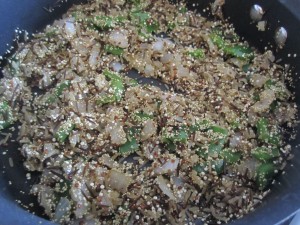 Step 4: Add stock (according to rice instructions) and bring to a boil. Cover and simmer until rice is done 15-20 minutes.
Step 5: Put in a bowl and add raisins and honey to taste!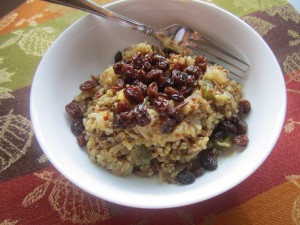 Fingers crossed I have another inspirational day, even though I wasn't planning it. Sometimes the kids hold me back, being so small….Perhaps looking for activities that I can join them with will work better. Fall is here. (YAY!) And this means outdoor activities! Here's to becoming healthy again!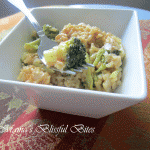 My friend Tracy over at Foodie Friends Friday presented us with a Vegetarian Challenge so of course, I definitely wanted in on it! I was excited to hear that the company Daiya was in on this event too! They sent us two coupons to try out their products! For those of you who may not know, Daiya products are entirely plant-based, have no cholesterol, trans fat or preservatives! I purchased the shredded cheddar cheese and it felt creamy and looked pretty darn close to 'real' cheese.
It's my first time trying a vegan cheese so I wanted to put it in a dish that I'm familiar with, Rice and Broccoli. I was going to add black beans to the dish, which you still can, but my cupboard only had everything but black beans. Beans and rice I love. So, I had to make a quick adjustment.
As I said, Daiya gave me two coupons and for being my faithful readers, I'm going to give one to you! A FREE coupon for one package of Daiya wedge! They have lots of varieties such as: cheddar, jack and havarti style wedges! All you have to do is leave a comment for a chance to win!
Ingredients:
1 tablespoon olive oil
1 onion: chopped
1 cup brown rice
2 1/4 cup vegetable broth (check your rice directions to see how much you should use. Ex: 1 cup rice = 2 1/4 cup broth for me)
1 large head of broccoli: chopped
1 tablespoon ground cumin
2 garlic cloves: minced
salt and pepper
1 cup Daiya cheddar shredded cheese
Recipe:
Step 1: In a large saucepan, heat olive oil over medium heat.
Step 2: Add onion and garlic, cumin and salt and pepper. Saute for 5-7 minutes until soft
Step 3: Add rice and dry-roast for two minutes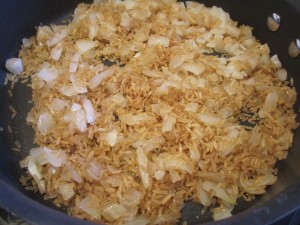 Step 4: Add broth and bring to a boil. Cover and simmer for twenty minutes.
Step 5: Add broccoli and recover for another ten minutes until broth is absorbed.
Step 6: Take off heat and add cheese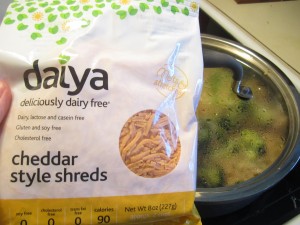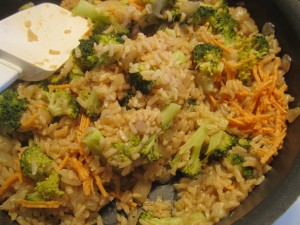 Step 7: Stir together until cheese combines and becomes really cheesy! Serve!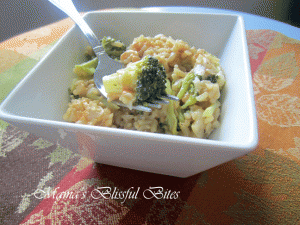 NOTE: If you want to add beans, substitute them for the broccoli and add in the last ten minutes or add them with the broccoli!
Please be sure to leave a comment below for a chance to have your own free package of Daiya cheese. One winner will be selected. Let me know your experience with vegan cheese or Daiya or why you may want to try it!
In addition…dent dent dent….
Be sure to come back Friday for Foodie Friends Friday Linky Party Vegetarian Challenge and link up your creations, get new recipes and ideas! Six lucky entries will win a coupon redeemable for free Daiya Cheese!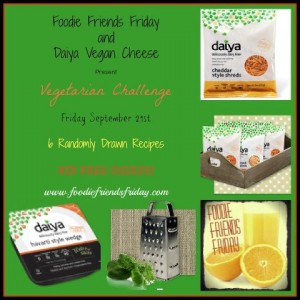 This recipe was adapted for the Foodie Friends Friday Vegan and Vegetarian Challenge sponsored by Daiya Cheese. Contestants received coupons redeemable for free Daiya Cheese Products.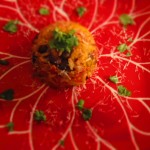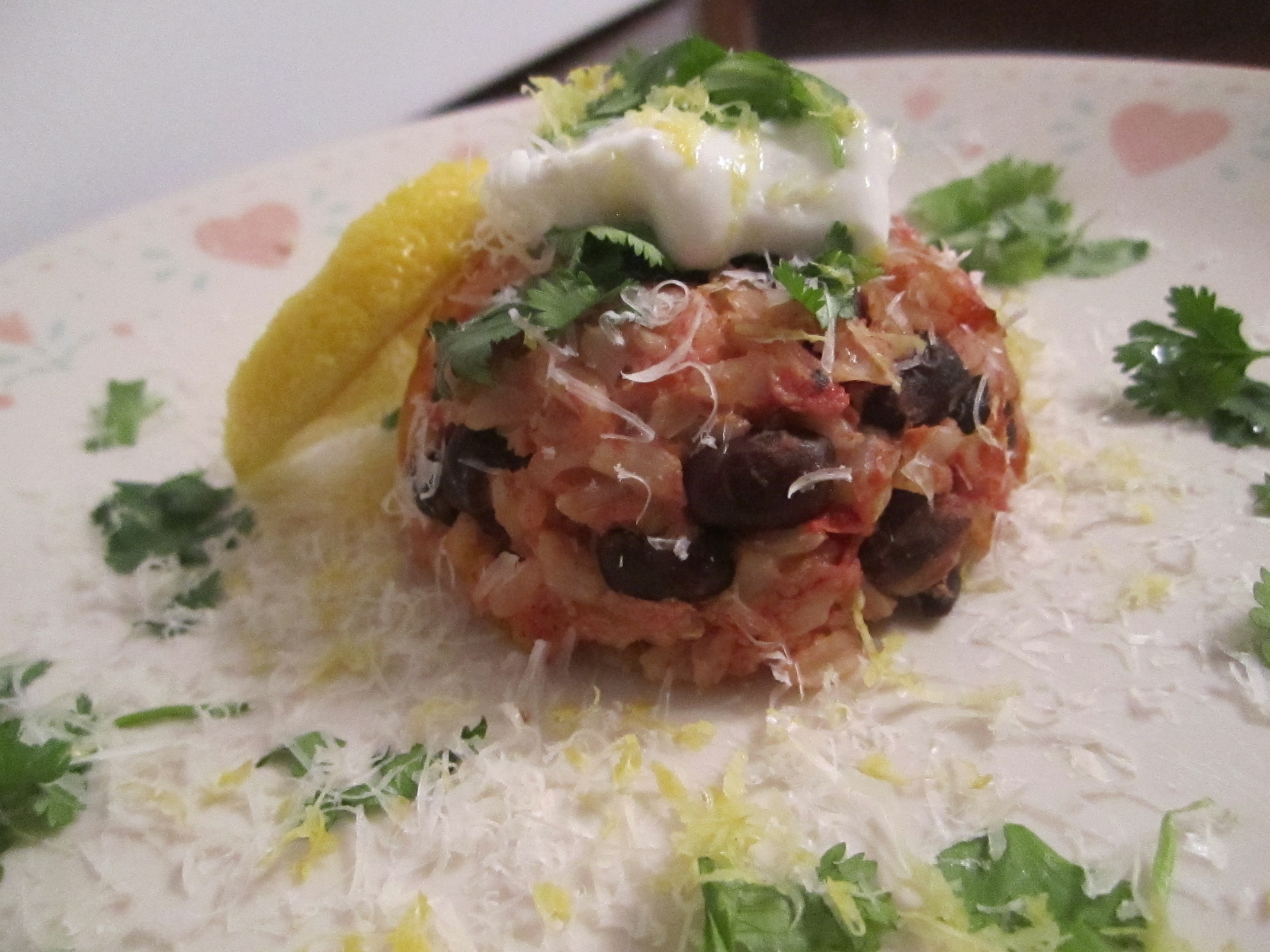 I have to admit, I'm a little bummed out this Father's Day. I'm usually on my game. Presents from the kids for my husband, a card from me thanking him for being such a great father, cards to my stepfather and my father (sometimes even a present to follow), a card and present for my husbands father, a luncheon or brunch for the three dads together. When we celebrate, we celebrate to the fullest as we should thanking them for such big shoes they fill each and every day. I am so blessed to be surrounded by such wonderful fathers.
This year, I wanted to have a cook-off. You see, each time I visit my father, we usually laugh and say we are going to be like Bobby Flay and have a cook off against each other. Yes, his food is delicious but he has never tasted mine.
  When I called to tell him I wanted to post him for #SundaySupper, he was happy to present a recipe on the grill. The grill is one of his strongest areas and I knew I was up for a challenge, so I told him I would bring the side dish!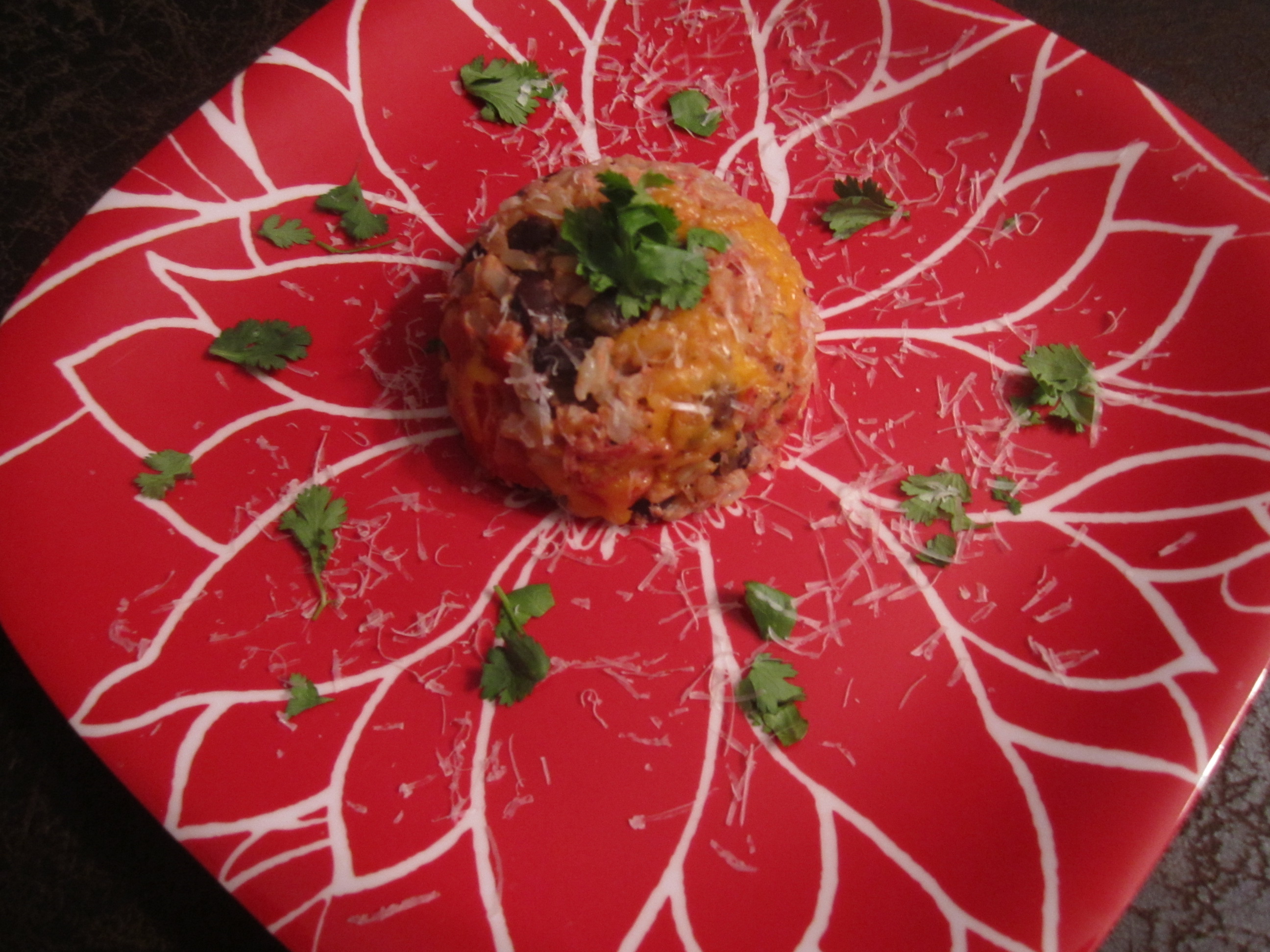 My visits are usually the full day since I don't cross the bridge to visit often (no he's not a troll!). Dinner is usually made and we discuss how he wants to own a deli shop and how I want to own a bakery. Funny, I don't bake, however; there is nothing more exhilarating to me then smelling fresh bread in the air, warm coffee brewing and delectable sweets around each corner….oooh, the dreams we have! We have even talked about how we would work shifts! Hey, this lifetime isn't over, just maybe, one day, we will.
I thought about seeing him all this week because my Gram and Pop are visiting from North Carolina as well. I was looking forward to a wonderful day with my grandparents, father, brothers and stepmother. Oh, that's right…work. Yup, forgot about work. My husband is working all day tomorrow – I hope he doesn't actually get called in but there went my visit with my dad. Fingers are crossed for the following week! Tomorrow is a celebration for my children and their dad.
Ingredients:
1 cup cooked brown rice (I cooked mine with 2 cups vegetable broth instead of water)
1 can (15 oz.) of black beans: rinsed and drained
1 can (15 oz.) of diced, fire roasted tomatoes: drained
1 roasted red pepper: diced
1/2 cup plain greek yogurt (Chaboni)
1 Tbs fresh lemon juice
1/2 tbs coriander
1/2 teaspoon cinnamon
1/2 cup to 1 cup sharp cheddar cheese: shredded
Parmesan cheese (for garnish)
cilantro (for garnish)
Recipe:
1. Make brown rice according to package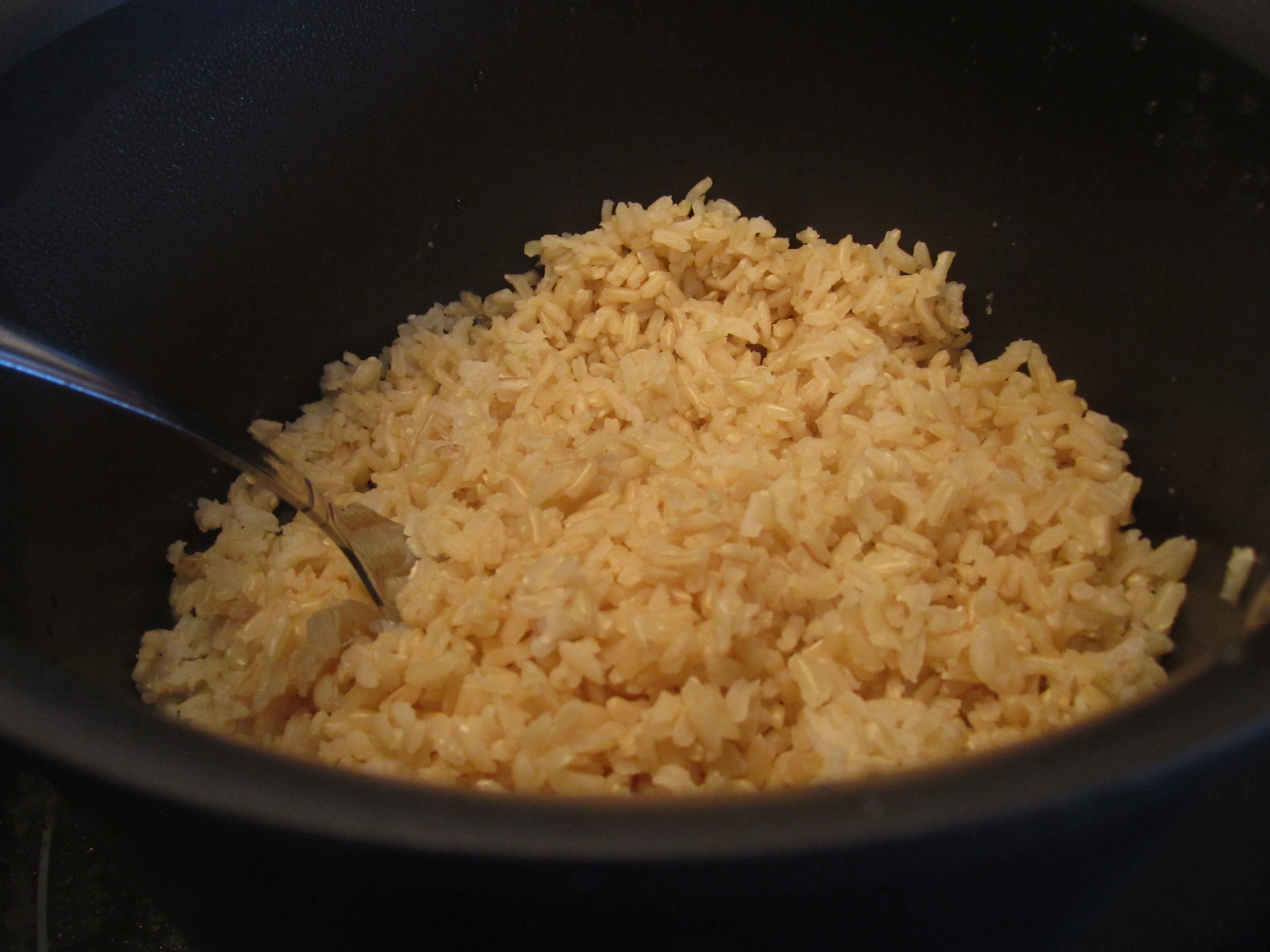 2. Preheat oven to 375 degrees.
3. In a bowl, mix beans, tomatoes, red pepper, cinnamon, coriander, salt and pepper.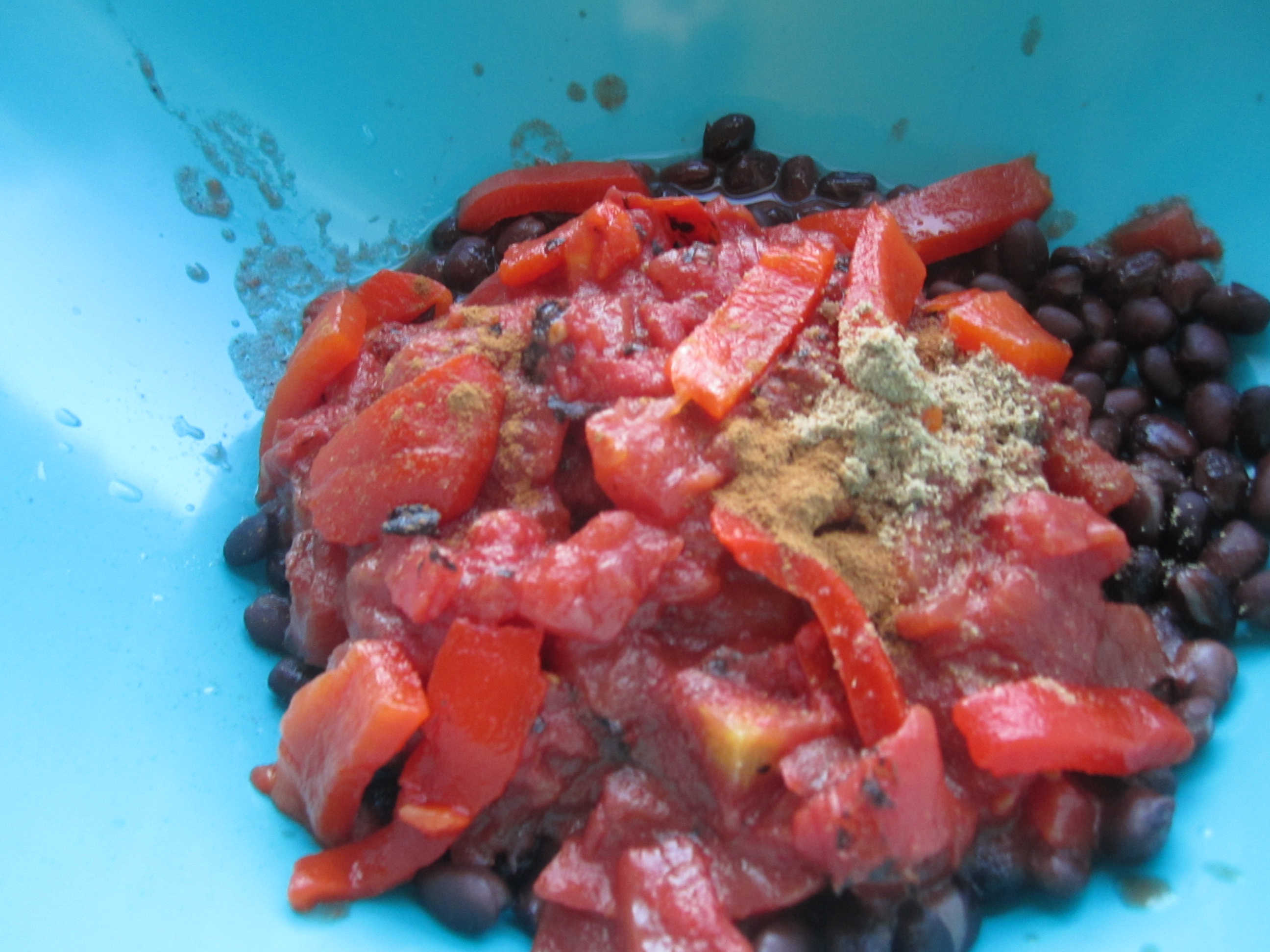 4. In a separate bowl, mix lemon juice and yogurt.
5. Add to bean mixture and mix together.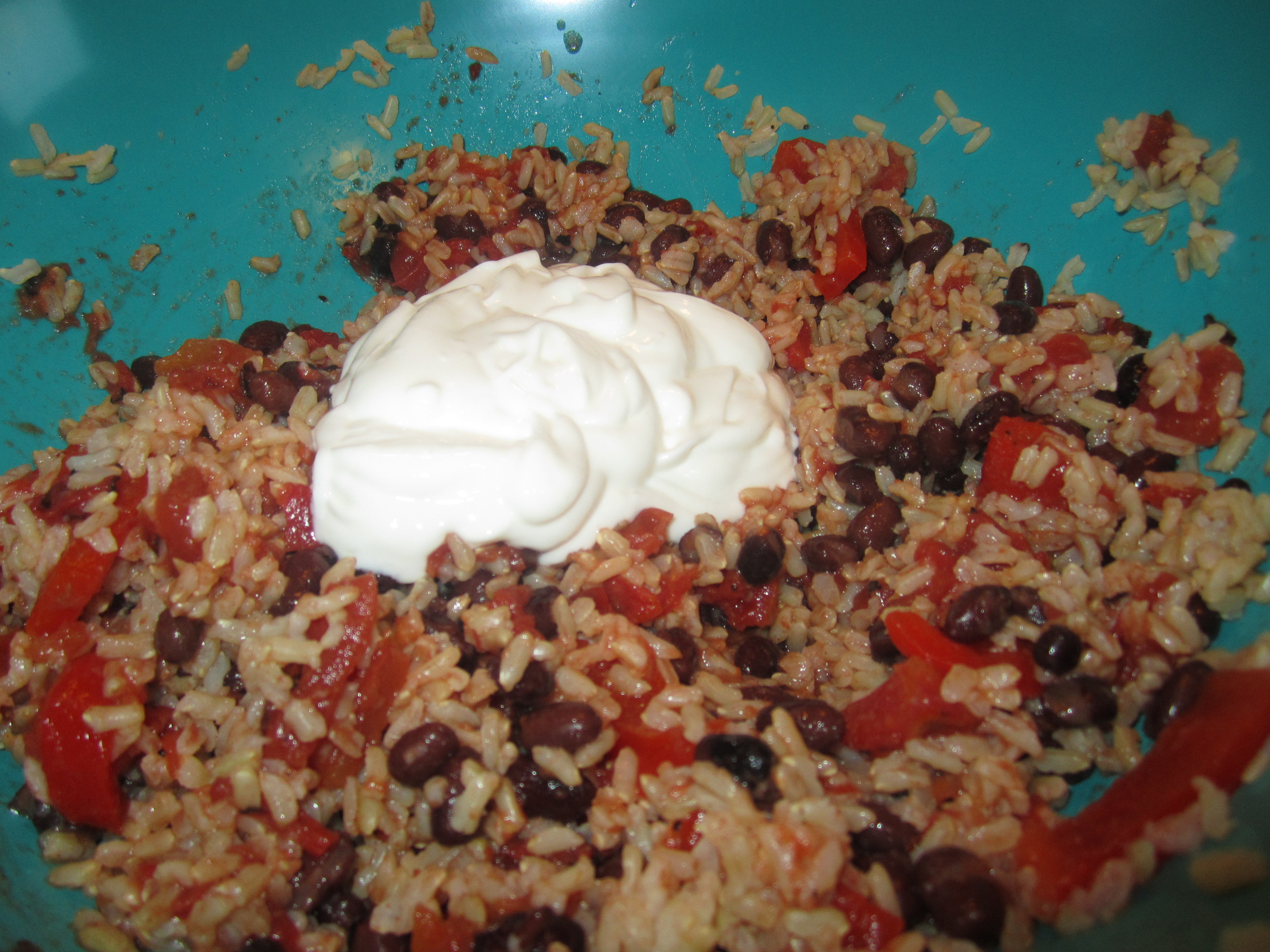 6. Grease a 9×13 pan and add mixture to pan.
7. Top with as much or as little cheese that you would like!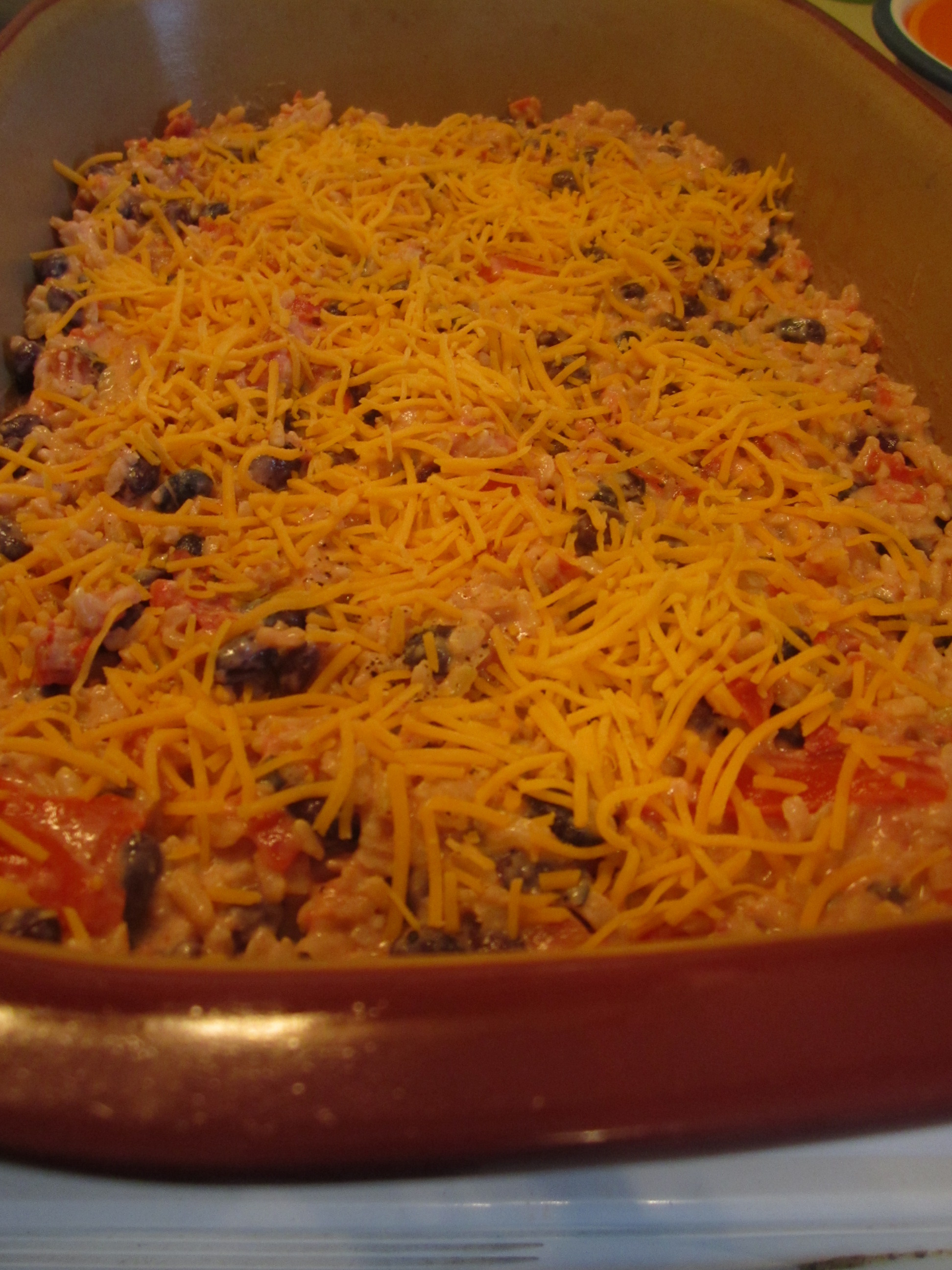 8. Bake for 20-25 minutes until warmed through.
9. Plate and serve with lemon, Parmesan and cilantro for garnish!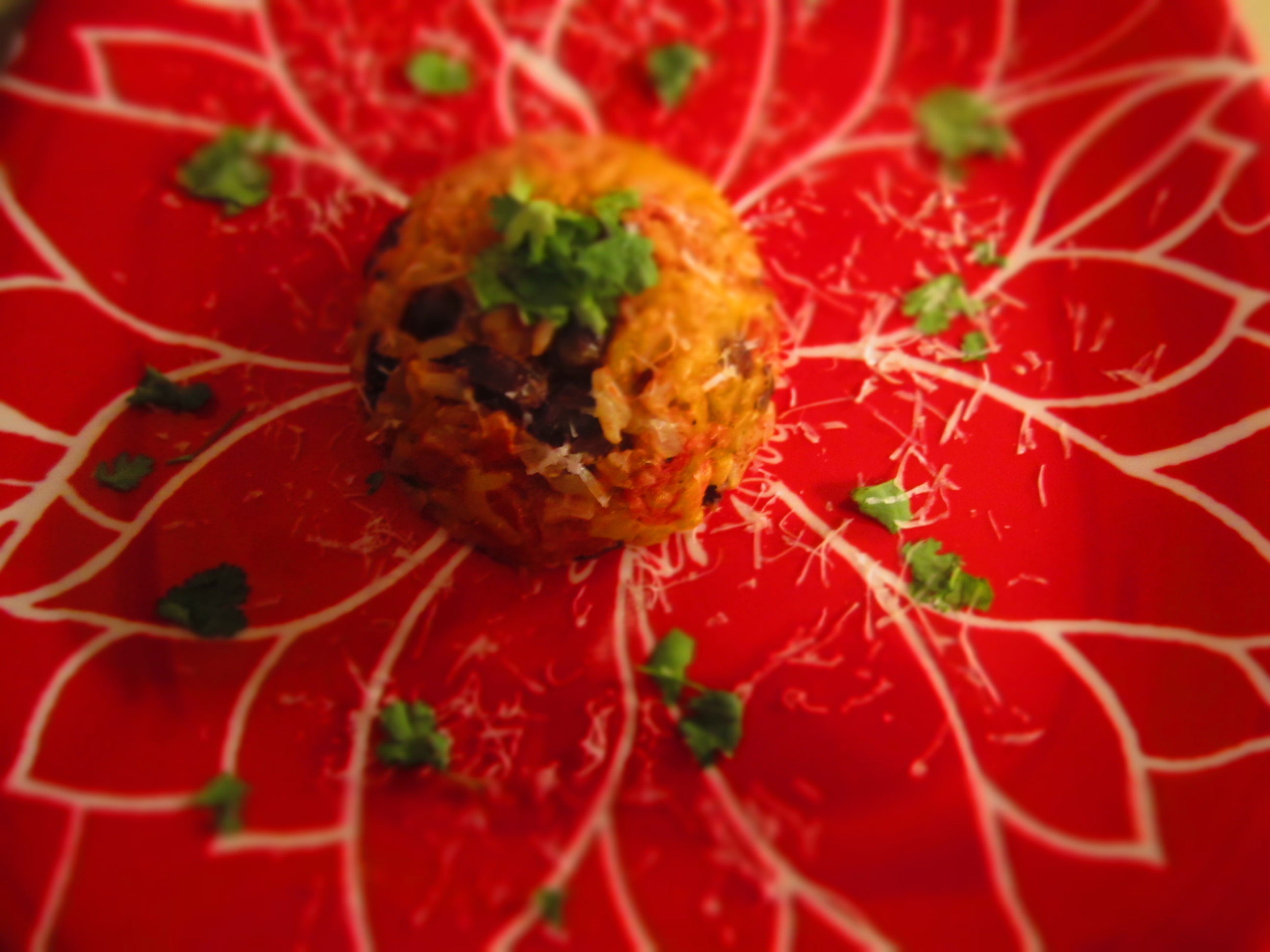 I love this dish because it is made from brown rice (good for you), has a protein of black beans (good for you) and is mixed in with greek yogurt (good for you). May I mention, "Who uses greek yogurt?" I took out the sour cream and changed it with yogurt because it still has the sweet taste. Added in lemon for a "fresh" take on the dish. When using canned items, this really makes the taste lighter and fresh. Perfect for a side dish or even a main dish!
NOTE OF THANKS:
To all of the many hard-working father out there, I am raising my glass to you. Hope your day is as blessed as your little ones are to have you. Happy Father's Day!
Be sure to check out other fantastic Father's Day recipes as well!
Father's Day Brunch:
Dad's Favorite Soup, Salads and Bread:
Father's Day Favorite Main Dishes:
Dad's Sweet Tooth:
Wine Pairings for Father's Day ENOFYLZ
JUST A BLISS….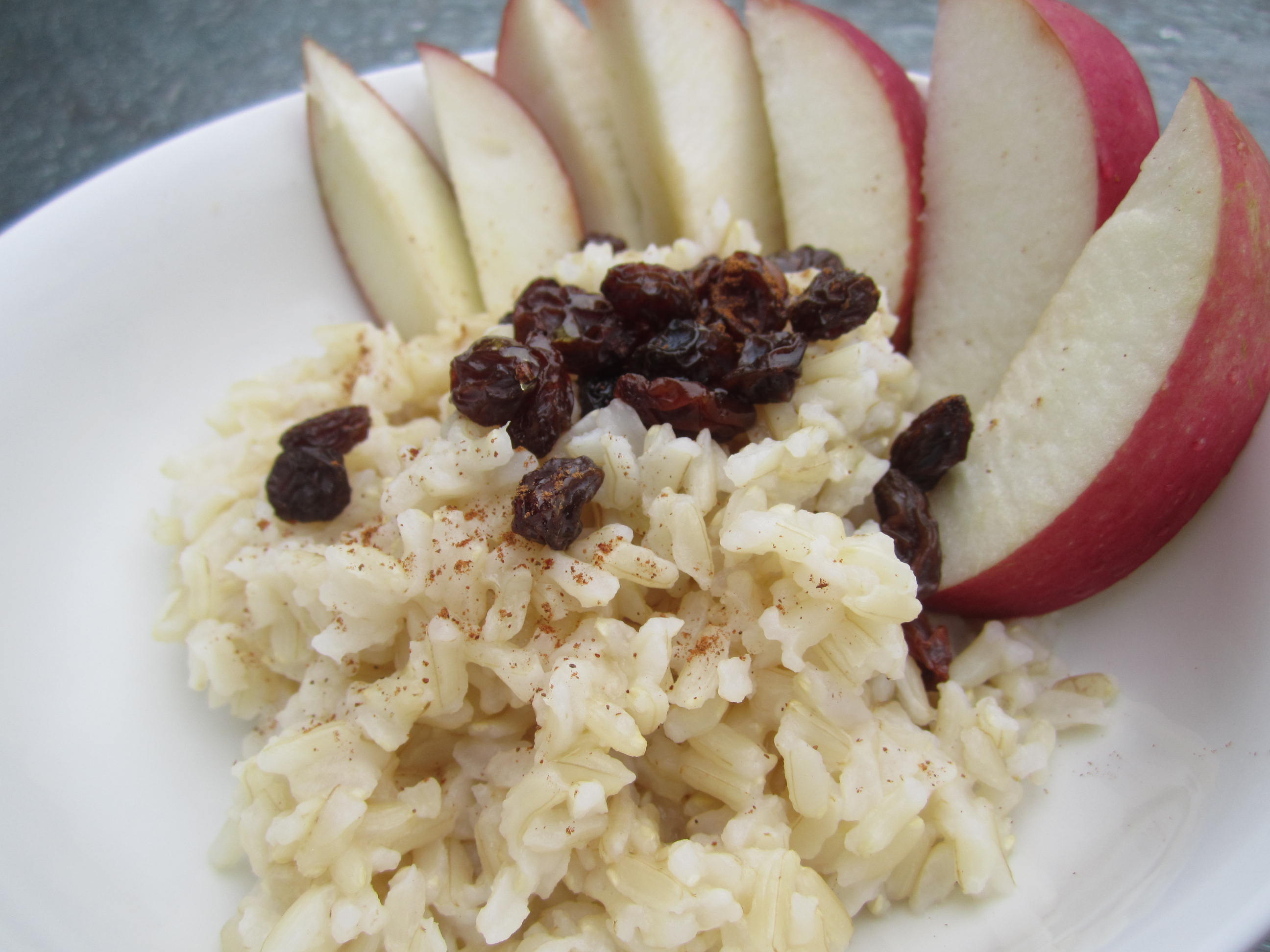 In the morning, I usually don't have your typical eggs and grits or even slam down a pop tart. Nope. I make myself a three day supply of….you guessed it…brown rice. And make no mistake about it's not instant! Brown rice has hardly any calories and is filling, just what I'm looking for. It may take some time to make or wait but its worth it. Make enough for a three day supply, and place in the refrigerator for a quick heat up in the morning. I add some raisins, apples, honey and top with cinnamon. It's quite delicious. Followed with a morning cup of coffee, what a great balanced breakfast!
Ingredients:
Brown Rice
Apple
Raisin
Honey
Cinnamon
Recipe:
1. Make brown rice according to package. When finished cooking, add to bowl.
2. Cut an apple and place on top.
3. Add raisins, honey and cinnamon.
Enjoy!