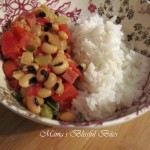 New Years' Day is a time for new beginnings. Throw out the old and bring in the new. Shine light on the year we have to unfold before us. We get so lost and consumed by mid-year and lose focus on what we have set in the beginning for ourselves. Will it be an organizational year? Perhaps a time to commit to our health again? Whatever your goals or resolutions may be, bring them in with positivity and joy. Embrace the New Year or the New You.
I like starting off each year with a Southern tradition. The saying goes:
Eat poor that day, eat rich the rest of the year. Rice for riches and peas for peace!
I'm not superstitious but then again, I don't know what would happen if I didn't eat this dish…so I do it just because, in hopes…sure why not. Is there anything wrong with good fortune? Absolutely not! Plus, my husband said TWICE to me, how good this was. (He doesn't ever do that, so big compliments there!)
Ingredients:
3 Tbs butter
1 onion: diced
3 cloves garlic: minced
2 stalks celery: chopped
1 pepper: chopped (I used poblano. Use whatever is to your taste. Green peppers are great in here too!)
12 oz ham: diced (or whatever size comes in a small package at your store)
11 oz fresh black-eyed peas (or a can if fresh is unavailable): soaked in water for 6 hours
15.5 oz can of diced tomatoes
32 oz. chicken broth
1/2 teaspoon to 1 teaspoon red pepper flakes
salt and pepper
Step 1:
Over medium-medium low heat add butter in a saucepan until melted
Step 2:
Add onion, celery, pepper and garlic and saute for 5 minutes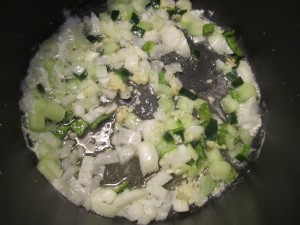 Step 3: Add ham and a touch of salt and pepper. Saute for another 3-5 minutes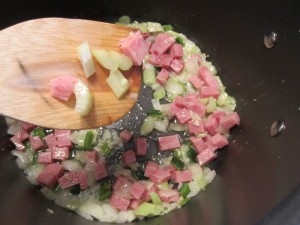 Step 4: Stir in beans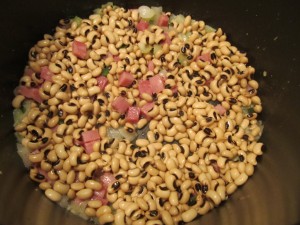 Step 5: Add broth, tomatoes and red pepper flakes. Bring to a boil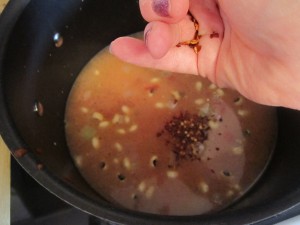 Step 6 : Cover and lower the heat to a simmer for thirty minutes.
Step 7: Uncover and cook for additional 15-20 minutes depending upon thickness. You want to make sure there's enough liquid left but not a soup!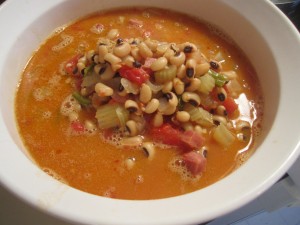 Step 8: Cook up some rice and serve with it! (I used Jasmine)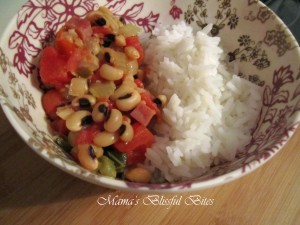 Remember to add the juice in over the rice and mix it well! It adds so much delicious flavor!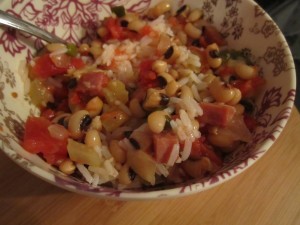 Just because its supposed to bring good fortunes for the New Year doesn't mean you can only have it once a year! Make it whenever you feel a little need for some positivity!
Happy New Year to you all!
xoxo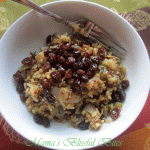 I made this dish on one of my healthy kicks, which I seem to have every day now. I have avoided the scale knowing that I have gained some weight. Since it never shows me what I'd really like to see, I have avoided jumping on as if it was the plague. My pants seem to tell me that they are becoming snug again, so I just avoid the "number" game. But at last, I finally got myself together and jumped on. It wasn't as bad as I tought it would be but it wasn't what I wanted it to say. It appears everything found a new home, my belly.
To make things a little more complicated, when I lost weight from my kids, I threw all of my "up" size clothes away. This was a big debate and struggle for me. I kept thinking, "what if I need a bigger size one day?" No use in throwing them away if I "may" need them again. I actually haven't been this smaller size in years and was wondering if it was a fluke. But after six months, I thew them away. All of them. Jeans, shirts, dresses, you name it. In a bag and donated, that's where they went. I had a difficult time departing from the old me but still love the new me, so I moved on.
Exercise is another challenge. When I finally get into the grove, I'm a moving machine, but it's finding the grove that challenges me. What is it about taking the first steps? I know I need to lose a few pounds, just go, I scream to myself. Have you ever seen those commercials where it says, "one good choice makes you want to pick another healthy choice and so on?" Well, it's true, but taking care of two kids, being up around the clock, preparing meals, cleaning up, teaching skills and rules doesn't make me want to jump up and run. Well, sometimes it does but not in a healthy way

Today was a beautiful day. It was low 80′s and a beautiful breeze was coming through. I decided to take a family trip to the NCR trail. The NCR trails are about twenty miles long and ten feet wide. Guess I did some research along the way. My two little kiddos made it, 1 mile up and 1 mile back. As we started to walk, they started to run. We ended up jogging quite a bit. We looked at the trees and picked up leaves and rocks along the way. I didn't realize how much fun we actually would have! What an easy, great excercise on such a beautiful day. We ended up going to a restaurant afterwards and I ordered the Raspberry and Walnut Salad. What? One healthy choice lead to another. After putting some effort in, I felt so good, I wanted to continue by making a second healthy choice!
For dinner, I threw together the Heritage Rice dish and it was filling and quite enjoyable. The sweetness was a nice combination with the melody of rice. I just hope that I stay on this kick. I hate diets, I don't like to count calories and I really hate limited my intake. I love to eat! When I need to lose the weight, it tells me that I'm out of balance with myself. Something is off set and needs to be fixed. I prefer to eat foods that are good for myself all around and knock off the weight that way. This is a good starting meal!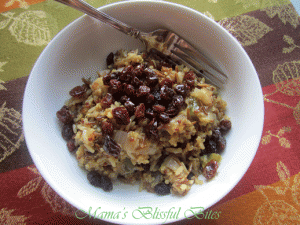 Ingredients:
1 green pepper: seeded and chopped
1 onion: chopped
1 tbs olive oil
1 cup heritage rice blend
2.5 cups vegetable stock
1 tbs cumin
salt and pepper
2 tbs raisins
honey to taste
Recipe:
Step 1: Heat olive oil in a skillet over medium heat. Add onion and cook for 2-3 minutes. Add pepper and cook for 5-7 minutes until soft.
Step 2: Add cumin, salt and pepper and stir for another minute or two.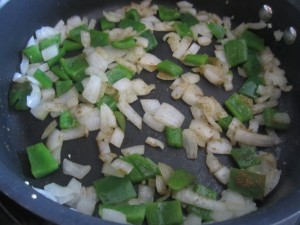 Step 3: Add rice and pan fry for two minutes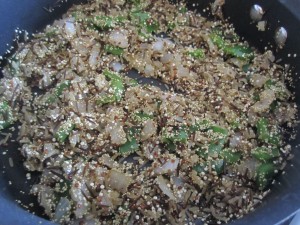 Step 4: Add stock (according to rice instructions) and bring to a boil. Cover and simmer until rice is done 15-20 minutes.
Step 5: Put in a bowl and add raisins and honey to taste!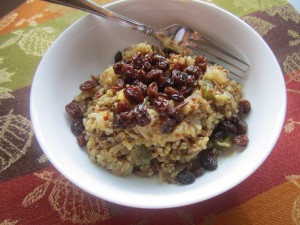 Fingers crossed I have another inspirational day, even though I wasn't planning it. Sometimes the kids hold me back, being so small….Perhaps looking for activities that I can join them with will work better. Fall is here. (YAY!) And this means outdoor activities! Here's to becoming healthy again!
Have you ever had one of those nights when you KNOW you will eating alone? Your spouse is running really late and secretly you are high-fiving yourself because you dont feel like making a big meal? I was excited to make a one-person meal. Although this dish could also feed a family, I like the personal one serving option. I actually made four, just incase my children had a change of heart and they all of a sudden like potatoes. Strange isn't it? Potatoes. I shake my head in confusion. I think food is sooo good, why not like a potato? But hey, more for me and I like it that way.
I assure you, one potato is quite filling. But I made more….just incase….
Since the summer has ended, (HELLO FALL!) I wanted to make sure to use all of my tomatoes. So I did. All two. Added some fresh mint from the garden which added a real nice fresh touch. Threw in some lime, balance it with some sugar and you have one yummy salsa!
Ingredients:
1/2 lime: freshly squeezed
2 small tomatoes or one big one: chopped
2 scallions: chopped
1 teaspoon of fresh mint leaves: chopped
Sea salt and Pepper
1/2 teaspoon sugar
2 rustic potatoes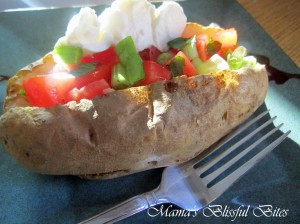 Recipe:
Step 1. Clean and pierce potatoes with a fork. Preheat oven to 425 degrees.
Step 2. Bake potatoes for 40-60 minutes until soft
Step 3. Mix remaining ingredients in a bowl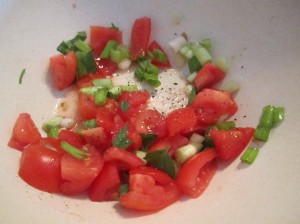 Step 4. Top on baked potato and add a dallop of sour cream
Besides this being an absolute simple recipe, it's healthy and delicious. There's no reason to throw in a frozen dinner. Treat yourself to some good food. Take a few extra minutes to cook a delicious meal for you Mama!
And guess what. You know how I made four? My husband came home hungry…go figure.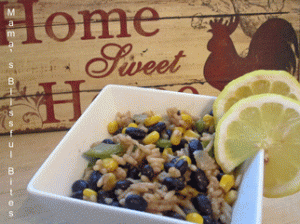 School is back in session! For everyone, this could mean a lot of different things. Hustle and bustling around the house, endless errands running between football and cheerleading, late night homework and of course, who has time to eat, right?! Never fear! Our AMAZING (as if I haven't said that enough!) #SundaySupper group is here to help! We have created meals for you to make for your family in 30 minutes or less!
Mama's Fried Rice and Black Beans are no exception. I timed this recipe. To the T. 18 minutes and some odd seconds. Okay, so I guess that's not exact but pretty darn close. Few ingredients and a delicious robust flavor. I loved it. My family loved it. It is goooooood!
Ingredients:
1 Tbs coconut oil
1 green bell pepper: chopped
8.8 oz Uncle Ben's Ready Rice (Which says ready in 90 seconds…yes baby, that's quick!)
1 (15 oz) can corn: drained
1 (15 oz) can black beans: drained and rinsed
1 tsp chilli powder
1/2 cup water
1 tsp sweet miso (soybean paste)
Recipe as follows:
Heat coconut oil in a wok over medium to medium high heat.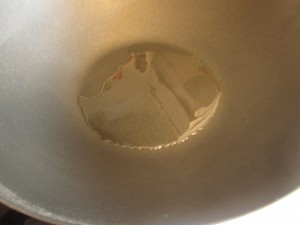 2. Add onior and stir-fry for 3 minutes just until soft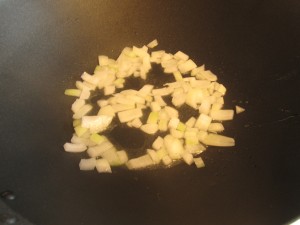 Watch out! This baby is smokin! Smokin good that is!
3. Reduce heat and add: pepper, rice and chilli powder. Stir for 2 more minutes.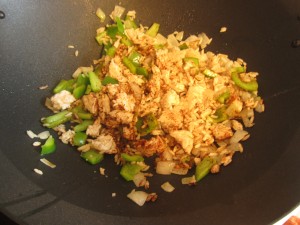 4. Add water and miso. Return to boil. Reduce and simmer for 10 minutes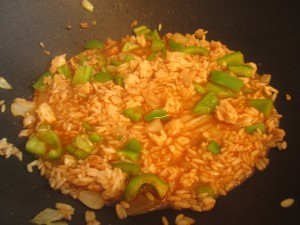 5. Stir in beans and corn for five more minutes until heated through.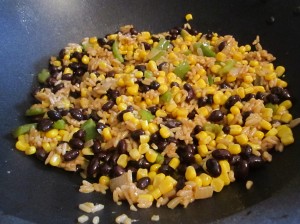 What? What's that you say? I think I heard you say that you don't have any miso or coconut oil in your cupboard…..
NO MISO OR COCONUT OIL???? WHAT?
No problem! Use what you got! Skip on the miso and use olive oil. No biggy, next problem….no rice? What? No rice?! Yeah, that would be a problem

Let's solve some more problems. Run down our fabulous #SundaySupper groups menu and find even MORE yummy recipes for those days you are in a 30 minute and under time crunch! Hey, we got you covered. Wink. Wink. You better believe it!
Can you believe that line up of recipes? What a fabulous list of meals we have and like I said, I can meal plan for weeks!
Please be sure you join us on Twitter throughout the day today. We'll also be meeting up at 7:00 p.m. EST tonight for our weekly #SundaySupper live chat where we'll talk more in depth about Back to School Meals and ways to make meal time easier with tips & tricks to help you out! If you're a busy parent, you don't want to miss this!
All you have to do is follow the #SundaySupper hashtag, or you can follow us through TweetChat! We'll be sharing great recipes and tips all afternoon, and we'll be talking all things Back to School Meals during our live chat!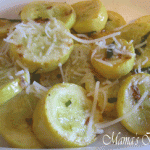 Summer time is a fabulous season to visit your local farmers market and stock up on good eats at reasonable prices. I usually go to our local market for that "one" ingredient and end up picking up anything and everything I see! There is always something to be made from vegetables and fruits! My family complains that our summers are too hot (and this year, they are) and how they can't wait for the winter. First thing that comes to mind are the fresh vegetables. Why would anyone want winter with all these wonderful foods? Watermelon, peaches, blueberries, cucumbers, tomatoes! I get tickled just thinking about them! For this reason, I love summer (and its my birthday which is a big plus!) and I make sure to include an extra special side(s) to go with my main meals.
What is a "special" side you may ask? Well to me, its anything fresh. Anything more than a frozen package or canned ingredient. Not that these food options aren't ideal, but in summer, I want it fresh. I can remember always having frozen vegetables at dinner time. It didn't feel like anything was "special" but a bag added to water. Now, I take the time to make the whole meal a special meal. Oh so often the main course seems to be the star of the plate, I want to show off the back-up stars as well.
Sitting next to the main course tonight was a beautiful sunny site of squash. I can eat squash raw, I think its delicious but as always, I had to get it passed the taste testers. Hubby says, "What is this?" There's something about the name squash that seems to me an "ewie" word. For example, I squashed that pumpkin or I squashed that bug! It just doesn't have the beautiful cheerful name that it deserves. But this time, I was honest and didn't sugar coat it. I noticed it was the last thing on everyones plates. As if it was the plague, they just stared at it. Mine was the first one gone, even way before my favorite poatoes! I always find myself encouraging everyone, "eat it, it's good!" and the kids look to my husband, really dad, is it good?
Let's work on two theories to help kids try new foods 1. Put cheese on it (cause everything tastes better with cheese!) 2. Play choo choo train into their mouths. Both theories succeeded and my husband now loves squash. Seriously, what is there not to love about any vegetable sauteed in butter?
This recipe is perfect since it takes hardly any time at all, very little prep and in expensive!
Two organic yellow squash: $3.49
Tarragon $1.00 (they have this new section where its a smaller amount of herbs for $1.00 so you're not throwing away what you dont use)
Butter Regularly $4.49 so let's say…$.30/serving
Organic Garlic: $3.99 for 8 oz. so let's just say…. $.25/serving
I really like you to see what I have spent. I hate when I see " budget meals" under a ceratin amount and its per serving. My house can't run like that. I need to know how much things are in TOTAL.
This side dish cost approximately $5.04 and served our two children and two adults and did I mention, its delicious!
NOTE: If you are on more of a budget, you can certainly not purchase organic. At our store, squash is $.50 per piece saving $2.49 and garlic at $.50/head. If you choose not to be organic, then this dish will cost you around $3.75
Ingredients:
Two Organic Yellow Squash – cut into 1/2″ rounds
2 teaspoons tarragon: finely chopped
1/4 cup butter
2 garlic cloves: minced
Parmesean Cheese (optional)
Recipe as follows:
1. Melt butter in a sauce pan over medium low heat.
2. Prep your veggies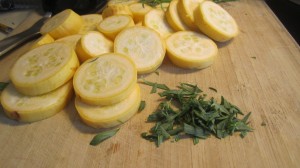 3. Add garlic and tarragon to the butter and simmer for 3.-5 minutes. Be careful not to burn the garlic! If it starts to turn brown, lower the heat.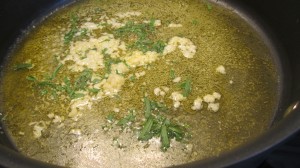 4. Add squash and sautee for ten minutes, flipping half way.
5. Season with salt and pepper.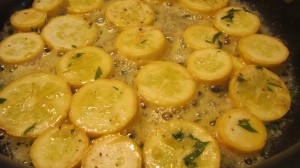 6. Plate and serve with some Parmesean cheese!