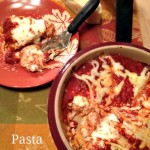 When I was little, I can recall my mom in the kitchen making homemade lasagna. There were noodles laid out in paper towels all throughout the kitchen counters and all the cheeses were huddle together on the table waiting to be used. To be honest, it looked like a lot of work and it was. She did it though, because it was my step-fathers favorite meal.  And really, who would blame him? I even love a good slice of lasagna. One day, she substituted those daunting noodles for spaghetti and baked it in a pie dish. We "ooed" and "ahhed" over the baked pasta pie and couldn't wait to try it.
Fast forward years later, my husband loves baked pasta. I can serve him baked ziti or lasagna and he is one happy man. Last night, I gave him a big helping of baked pasta pie and he said, "Even after 11 years, you still surprise me with new dishes." I kind of chuckled. I couldn't believe I never made it for him before! Well, here it is and here it will stay. I am bookmarking my own recipe and remembering to add it to our rotations. It's now one of our family favorites too.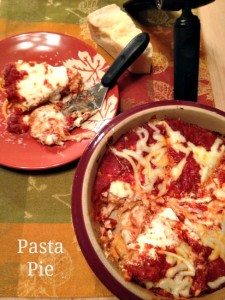 Ingredients:
1/2 pound of pasta. I love using linguini because it's thicker but use spaghetti if you'd prefer!
2 Tbs butter
2 eggs, beaten
1tsp Italian seasoning
3/4 cup Parmesan cheese
1 cup ricotta cheese
1 cup pasta sauce
1/4 cup shredded Mozzarella cheese
Directions:
Preheat oven to 350 degrees F
Cook pasta according to package, al dente. Drain pasta and return to pot.
Add butter and mix
Add eggs, Parmesan cheese and Italian seasoning and mix to combine.
Pour pasta mixture into a greased 10-inch pie plate.
Spoon ricotta cheese on top. Next spread pasta sauce
Bake for 25-30 minutes, uncovered
Pull out of oven and add Mozzarella cheese, bake 5 minutes more. Uncovered.
Let cool for 10 minutes prior to cutting your first piece.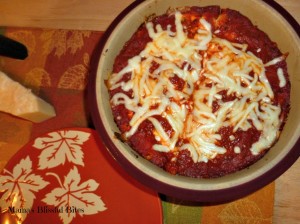 Here's an extra tip: Make two. Freeze one for later. (Throw in the whole box of pasta instead of just half!) This way, you'll have an easy meal to pop into the oven during the busy week. Remember to thaw out first!
This is a paid post. All views and/or opinions are of the bloggers.
The staff at Reedman Toll Auto World strives to achieve excellence in all departments: from sales to finance to service to parts. Our well-stocked new and pre-owned inventories of Chrysler, Dodge and Jeep vehicles are constantly being updated; your perfect car could be just around the corner!
Connect with Reedman Toll Auto World by connecting with them! You can:
Leave a comment on Facebook, or watch their latest videos on Youtube! 
If you are in the Philadelphia, PA area, be sure to check them out!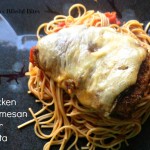 Hi MBB readers!
What a week! You know I love to post daily but this week has knocked me off my feet and smacked my head on the door. Yeah, it's been one of those weeks….
If you can think of 5 life changing events, I have experienced 2 in the same week! (AHHHHH!)
1. Illness
2. Threw a red shirt in with the white laundry load
3. Change in living conditions
4. Pregnant
5. Lost favorite cd
Are you as heartbroken as I am reading this? These are life changing events I'm talking about here!
Oh and it was my baby sisters birthday – that at least made me very happy.
So, I picked up my emotions and am adventuring out to ride the horse again… just in a pink shirt and not white. (sigh…just kidding).
(Source image here)
NOT that horse. Geez, what is wrong with you?

Okay, you obviously had a hard week too. You need a good dinner recipe and a bottle of wine. Please, let me help you. I'll share my Chicken Parmesan over Pasta…yeah, you deserve it.
Chicken Parmesan over Pasta
Ingredients
Sauce:
1-2 tbs olive oil
1/2 onion: diced
12 fresh basil leaves
1 can (28 oz) of favorite diced tomatoes. (I used basil and onion flavored)
salt and pepper
Chicken:
1/4 cup olive oil
3 chicken breasts (I used organic)
3 medium eggs or 2 large eggs
1 cup unseasoned breadcrumbs
3/4 cup freshly grated Parmesan Cheese
1 tbs oregano (or Italian seasoning whatever you prefer)
Cheese of choice: (I used Cabot cheddar cheese but you can use whatever you want. Mozzarella is usually the standard)
Pasta of Choice
Instructions
To make the sauce:
Over medium high heat add olive oil to a large saucepan
Turn down the heat to medium low and add onion. Saute until soft 5 minutes
Add fresh basil leaves and sauce.
Bring to simmer for ten minutes
Pre-heat oven to 375 degrees
For Chicken:
In a separate pan, add olive oil and heat of medium-high. You want a simmer in the oil but not smoking.
Wisk eggs in one bowl
In a second bowl, add breadcrumbs, freshly grated Pamesan cheese, oregano and a pinch of salt and pepper
Dip chicken in egg mixture then breadcrumb mixture
Add to pan and do not touch for 4-5 minutes.
Flip and cook on other side for 4-5 minutes
In a 9x13 dish (I used stoneware) add sauce on bottom
Followed by chicken on top
Then place cheese on top of chicken
Bake for 25-30 minutes until cheese has melted and chicken temperature reaches 165 degrees
Meanwhile, cook pasta according to package.
Drain.
When chicken is done (about the same time pasta) add the sauce to the pasta and place chicken on top.
http://www.mamasblissfulbites.com/2013/08/17/chicken-parmesan-over-pasta/
Mama's Thoughts:
If you really want to cut down on time, use prepared pasta sauce instead of creating your own. It won't be as good but a time saver it is! To cook your chicken evenly, you can pound the chicken breasts or purchase thin chicken strips. I skipped this step and it was just as good. Use fresh ingredients such as freshly grated Parmesan cheese and fresh basil. You will greatly notice a difference. Fresh mozzarella is usually used in this recipe however I didn't have it. My favorite cheese is made by Cabot Creamery so I used that and yes, it still tastes amazing. If you are feeling daring, try the jalapeno flavor.
Did you have a life changing week? Please let me know your events and maybe I'll tell you mine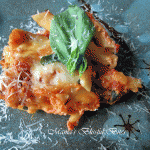 I wanted to  surprise my sister-in-law with a no cook dinner tonight by making her family something. I always like when dinner shows up at my door step, so I wanted it to show up at hers. She's an amazing woman. Her strength is incomparable to anyone I have ever met and her smile will light up a room. She is beautiful, kind and very smart. And by the time I write this, I hope she's full too!
The best way I know to feed a crowd is on a delicious starchy food such as pasta! I love pasta. All kinds, in case you haven't noticed. It's filling, delicious and comforting. You can feed a crowd quickly too. One year, she made this sumptuous pasta with a vodka sauce. I was in love. I pulled out the recipe and was going to make it for her, but I don't have vodka which could be a problem. I will post that recipe one day though. It was too good not to! Another time, she made a pasta sauce with robust flavors in a crock pot. She's my kind of pasta gal!
I hope she loved the dish that I prepared for her family as much as my family did. It's filled with fresh basil and freshly grated Parmesan. Added a little lemon to brighten the flavors and garlic gave it a great edge. I'm a cheese lover so I added lots and lots (2 cups) of mozzarella on top with an addition of more Parmesan. In my opinion, there's nothing like freshly grated Parmesan! Well, maybe fresh mozzarella…maybe.
Ingredients:
1 lb penne pasta (I used this because I love how the sauce gathers in the holes and when you bite it all jumps out. Crazy, I know.)
1 1/2 jars organic tomato sauce. (I always buy two, one just never seems to be enough!)
2 cloves of minced garlic
1/2 lemon juice: freshly squeezed
16 oz. ricotta cheese
1/2 cup freshly torn basil leaves: divided
2 cups: shredded mozzarella cheese
1 cup freshly grated Parmesan cheese: divided
salt and pepper
Recipe:
Step 1: Prepare pasta according to directions minus two minutes. (You don't want over cooked pasta and then bake it!)
Step 2: Drain pasta but leave a little of the reserved water.
Step 3: In a small bowl mix ricotta, garlic, lemon, 1/4 cup basil, 1/2 cup Parmesan, salt and pepper. Stir to combine.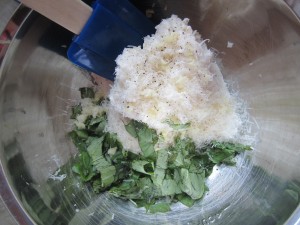 Step 4: Combine ricotta mixture and half a jar of sauce on top of the pasta and stir well.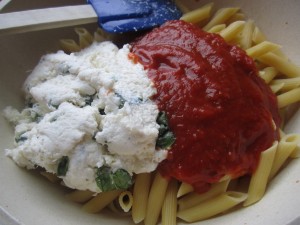 Step 5: Pour 1/4 of sauce on bottom of a 9×13 casserole dish. Add pasta mixture on top.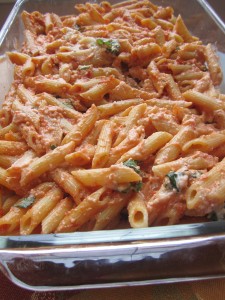 Step 6: Add remaining sauce on top of pasta. I use close to two jars of sauce because I love all my noodles to be covered. I'm not very big on burnt, crisp noodles.
Step 7: Top with mozzarella cheese (the whole bag!), the remaining Parmesan and basil.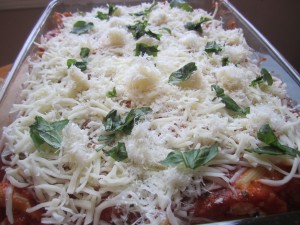 I really like to add a pinch of pepper here too. I'm a pepper lover. Here, you can cover with aluminum foil and place in the refrigerator until ready to bake later that day or the next morning. You can even section into portions and freeze for later as well. As I mentioned, I made one for my family and one for my SIL's. It was really easy to make the production line. As soon as one pasta box was finished cooking, I started to boil water again and went for the next box. It's a great recipe for quantity cooking!
Here it is again, if you want to get the whole picture before baking. I am still drooling over those Parmesan "balls." Really, it's just clumps of freshly grated Parmesan cheese but balls I call them!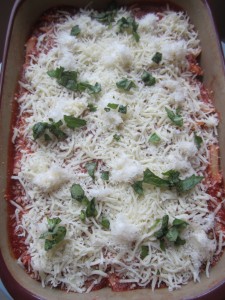 It's beautiful and delicious! It feeds a crowd and great to fill the belly! What more could you want from a pasta? Oh the finale…okay, sure.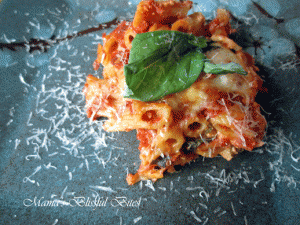 Who stole the star of the show?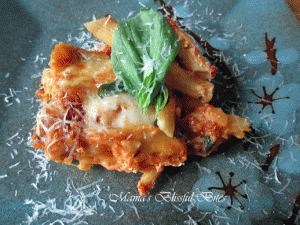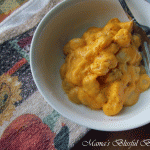 Fall time is here and I say, bring on the butternut squash! While I was growing up, I never even heard of butternut squash. To be honest, my first attempt in trying it was last year. Going to the grocery store, I would pass the odd-looking objects that grew from the ground. You know, things like pumpkin, acorn squash and definitely butternut squash. They just looked to strange for me to handle!  I finally got enough guts to try one of the recipes I saw from the Foodnetwork Channel that included, whole butternut squash. Let's just say, I almost burnt down the house placing it in the oven, skin side up. Yup. But once I cooked it properly, I fell in love. I would really like to make butternut squash noodles so that will be coming soon.
I will admit this, I now purchase pre-cut squash from the grocery store. For two reasons. 1. It costs nearly the same 2. The hard part is completed for me. But there is a catch. If you purchase it pre-cut, make sure you use it quickly and it's not staying in your fridge. If it starts to look slimy, please chuck it.
A lot of nights, I don't have a lot of time to stay in the kitchen and watch my food cook. I wish I did, I would really love that but with two little kids, I sometimes have to keep one eye on them and one eye on the dish! I like this recipe because it doesn't take a lot of effort and it's healthy. The taste is creamy and brings the fall season straight home to my heart.
Ingredients:
1 1/2 pound butternut squash: cut into cubes
2 tbs vegetable oil
2 cloves garlic: minced
sea salt and pepper
1 cup: heavy cream
32 oz gnocchi
pinch of cinnamon
You may be saying, "What? 32 oz gnocchi?" Yeah, I don't blame you. It's a lot. But in my house, we can eat a lot. Gnocchi is deceiving because although small in character it is filling in the tummy! The sauce makes enough for 32 oz gnocchi so please wrap up your leftovers and enjoy for the next evening. It's that good, I swear. If you find gnocchi too heavy, substitute it for your favorite pasta.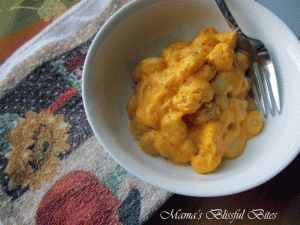 Recipe:
1. Preheat oven to 450 degrees F.
2. Place parchment paper on a baking sheet.
3. In a small bowl, stir to combine squash, oil, salt and pepper and garlic.
4. Place on parchment paper and bake for 25 minutes, flipping half way.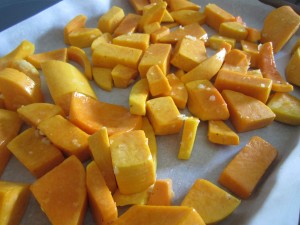 This is my "step away" from the stove time. I like things that just "cook" while I'm away and then come back it's done. It gives me a little break to change the kid activities and give them new games to play with. It's all about occupying the kids!
5. Place squash mixture into food processor or blender. Slowly add cream to consistency you like. Then I add more pepper. I love pepper.
6. Meanwhile, during the last few minutes of the squash baking, start boiling your water for the pasta and cook according to directions.
7. Spoon out gnocchi and place in saucepan. Add sauce, stir to combine. If you want to heat it up again, here's your chance. Heat over low for a few minutes or plate.
8. Finish by adding a touch of cinnamon.
That's the best ending ever. Cinnamon is really good for you and it boosts the taste factor to a whole new level. This dish scream HELLO FALL all over it!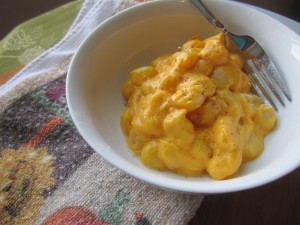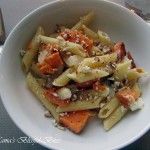 It's the most fabulous time of the year! There are leaves-a-changing and everyone is in cheer…..It's the most fabulous time of the year! (Okay, am I too early for that song?) I LOVE FALL. I have said it over and over on Mama's Blissful Bites Facebook page. Love, love, love. I have already put out the leaf towels, fall house decorations, changed over our summer wardrobes and even put fall food on our dinner plates. I am ready. This year, I want to make a Fall-to-do list. Do you have one? These are just things I want to do for the season! Ready, let's go!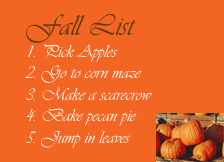 Just the thought of cold weather with warm drinks and comforting food makes me smile from ear to ear. Pumpkin spiced latte with extra whip please!
My first opening official fall recipe was on the table tonight. It was warm and inviting, delicious and hearty. Matter-a-fact, the whole 1 lb of pasta was gone by the end of the evening! I have a very hungry family

Please be sure to add this to your fall favorites as well. It was already requested to make again.
Ingredients:
1 lb penne pasta
4 oz feta cheese
2 sweet potatoes: peeled and diced
4 tbs olive oil, divided
1 bulb fennel: diced
onion: chopped
1 cup pasta water
2-3 tbs pecans: chopped
salt and pepper
Recipe:
Step 1: Preheat oven to 400 degrees
Step 2: In a medium sized bowl, combine potatoes with 2 tbs olive oil, salt and pepper. Stir to combine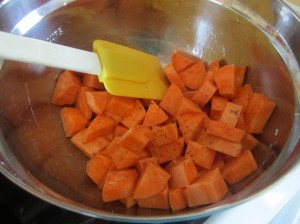 2. Place on baking sheet and bake for 15-17 minutes until soft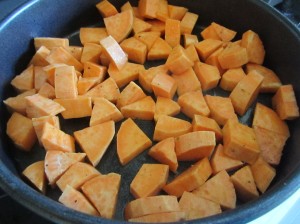 Step 3: Cook the pasta according to package and drain.
Step 4: In a large sauce pan, cook fennel and onion in remaining 2 tbs of oil until nice and tender 5-7 minutes. Season with salt and pepper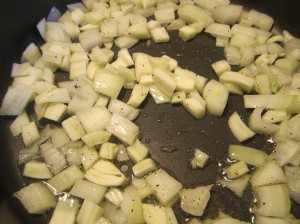 Step 5: Add pasta and potatoes, feta to sauce pan with 1 cup pasta water.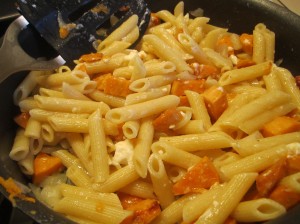 (Note: I added more pepper here because I'm crazy in love with pepper).
Step 6: Top with pecans and…
Serve!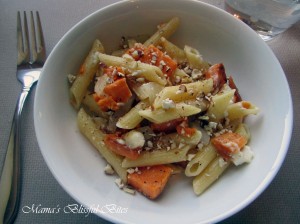 There you have it. Simple yet ooo so good! Fall is coming, bring it baby! I'm ready. Are you?
This is fantastic! My son, who is considered a "selective" eater, LOVED his pasta! It's FILLED WITH LOTS OF VEGETABLES! I repeat, LOTS OF VEGGIES! He licked the whole bowl clean! It was so nice to know he was eating a healthy plate and he loved it! Sounds kind of funny but it was a great table moment. I have to share with you this yummy recipe.
My husband, who hates kale, loved it as well. He said he had no idea his bowl was filled with so much goodness! If your child is not used to whole-grain pasta, then use regular pasta and just change the sauce. Making small changes rather than switching hard-core into a healthy lifestyle is better for everyone. If you do something gradually, it will help make shifting to a healthier lifestyle easier. After you've had the sauce a few times, then try whole-grain pasta. Yes, there is a taste difference between whole-grain and white, but it's still just as good.
Ingredients: (Ready for this GREAT list?!)
1 cup cauliflower: chopped
1 carrot: peeled and chopped
1 zucchini: peeled and chopped
1 onion: chopped
1/2 cup kale
2 garlic cloves: minced
1/4 tsp. cinnamon
sea salt and pepper
28 oz. crushed tomatoes
1 cup broth (vegetable or chicken)
1/2 Tbs oregano
1/2 Tbs thyme
1 Tbs. olive oil
Fresh basil leaves
1/2 lb whole grain pasta
Recipe:
 1. Add oil to a saute pan over medium heat.
2. Place cauliflower, onion, kale, zucchini, carrot, garlic, sea salt and cinnamon into saute pan. Saute for 15 minutes until softened. Stirring occasionally.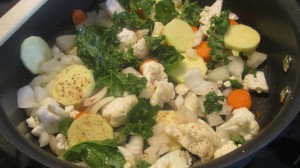 This is how it looks after fifteen minutes…and your kitchen should be smelling fantastic now!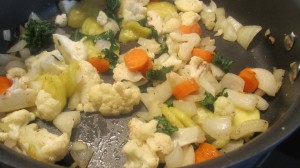 3. Add sauce, broth, oregano and thyme. Bring to boil.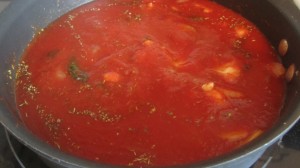 4. Cover and simmer on low for 45 minutes, stirring occasionally.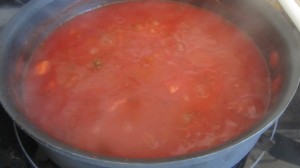 5. Add basil leaves and stir. Cover on low for another 15 minutes.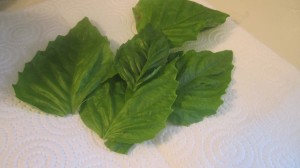 6. Meanwhile, make the pasta.
7. Place sauce into a bowl and using an immersion blender mix until all chunks are gone. (Or use a blender).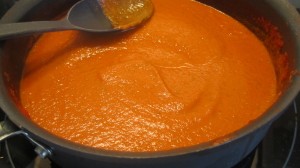 8. Drain the pasta but save 1 scoop of the pasta water.
9. Mix scoop of pasta water, sauce and pasta together. Ladle and serve.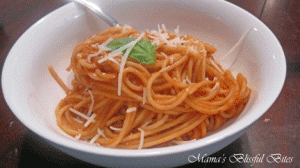 It looks like regular pasta right? How would they know, including your partner, that its FILLED with goodness of the Earth! If your child won't eat vegetables, what's a better way then to hide those babies?! And please, don't just stop at the select vegetables that I picked! Fill your sauce with whatever vegetables you have on hand! Spinach, peppers, any leafs you have! Fill it up! You will fall in love with this sauce and so will your kids

Be prepared for everyone to love this delicious pasta dish! Best part, it's healthy and nobody needs to know! Enjoy!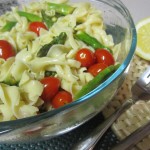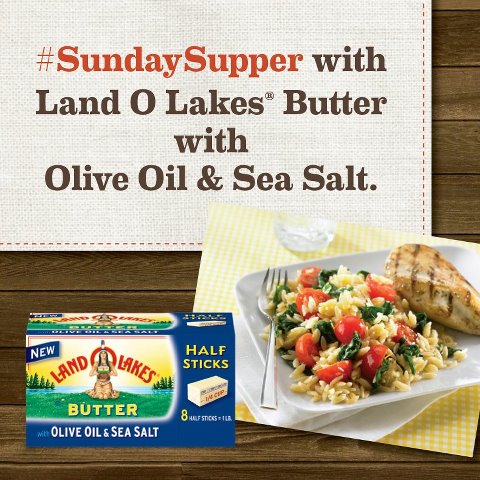 Thinking back on my childhood days, I can recall one of my most favorite, easy, staple dishes which was noodles and butter. The simplicity of these two ingredients go perfectly together. Once in a while, I would even add a touch of salt. There is nothing better than butter sliding into the increases of my mouth as I slurped in a pasta noodle.
One of my favorite memories is of my stepmom pulling spaghetti from the fridge, noodles stuck together on a plate, she would place a dab of butter and it turned into a fabulous comfort food. Matter-a-fact, she still eats them this way to this day and because of her, I serve this to my very own little eaters.
Ingredients:
1 bunch of asparagus: stems removed, rinsed
1 pint of cherry tomatoes: rinsed
1-2 Tbs Olive oil
1/2 lemon: freshly squeezed
Package of egg noodles
Ingredients for Sauce:
6 Tbs of LAND O LAKES® Butter with Olive Oil & Sea Salt
1 clove of garlic: minced
Salt and Pepper
1/2 lemon: freshly squeezed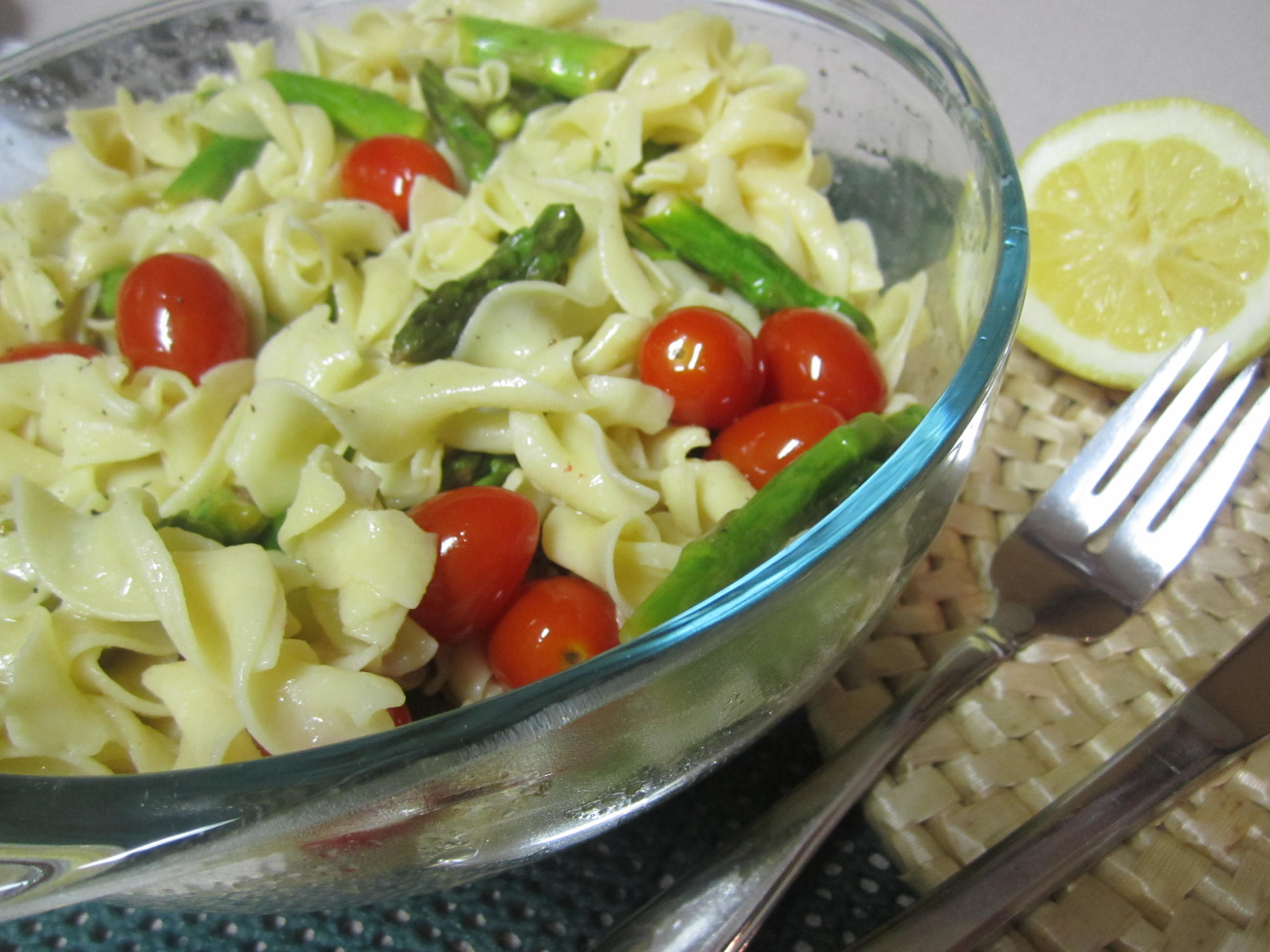 Although I will admit that I take a bite here and there of my children's pasta with butter, I have made a more "adult" version and included wonderful roasted vegetables. This recipe is perfect for LAND O LAKES® Butter with Olive Oil & Sea Salt. If you haven't tried it yet, you definitely should! The olive oil and sea salt give this old fashion dish of "noodles with butter" a brand new make over. Just when I thought my childhood days of noodles and butter were over, heh, they have just begun! Try variations such as different vegetables, cheese, and even some herbs such as thyme! The possibilities are endless and delicious! Make it as a main dish or even a side dish. Add some crunchy bread and oh yea, butter! Mmm, what a meal! Bring on the pasta!
Recipe:
1. Preheat oven to 425 degrees
2. Place tomatoes and asparagus into a baking sheet or a glass 13×9 dish.
3. Squeeze fresh lemon juice and olive oil and mix. (I used my hands, way more fun than a spoon!)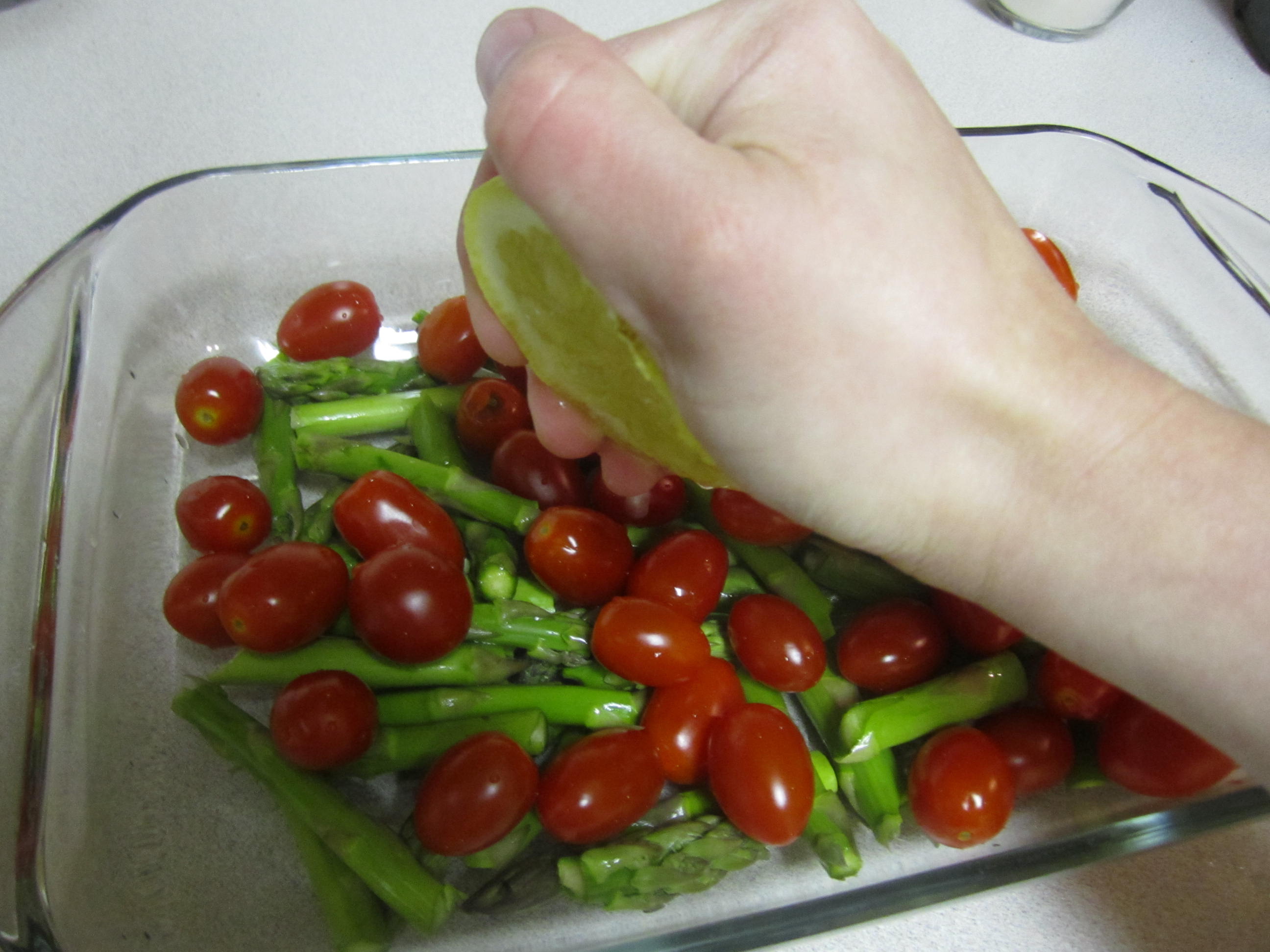 4. Add salt and pepper and you have now given your vegetables a quick  rub-a-dub soak
5. Put in oven for 10 minutes. They should be nice and crisp when they are finished.
Confession time: I ate a lot of the tomatoes and asparagus when they were finished prior to my dish. I just couldn't help it! One turned into two and then into three… please try to refrain and save some veggies for your delicious dish. I promise, it's worth it!
6. Make pasta according to directions.
7. Meanwhile, place LAND O LAKES® Butter with Olive Oil & Sea Salt in a pan and melt on low to medium low heat.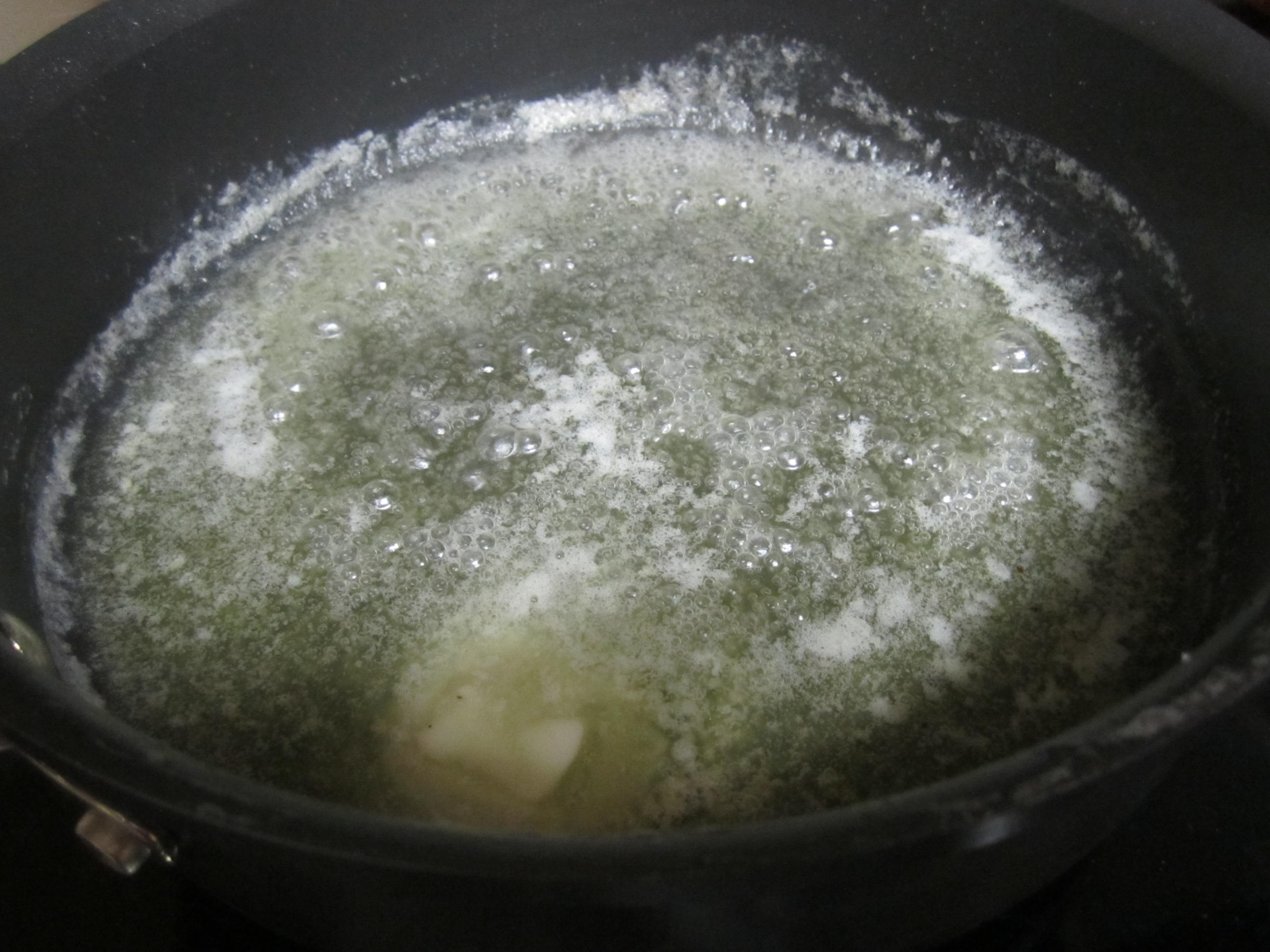 8. Add lemon and garlic to butter and stir occasionally for a few minutes until butter has all the way melted.
9. Add cooked pasta and vegetables to pan and stir.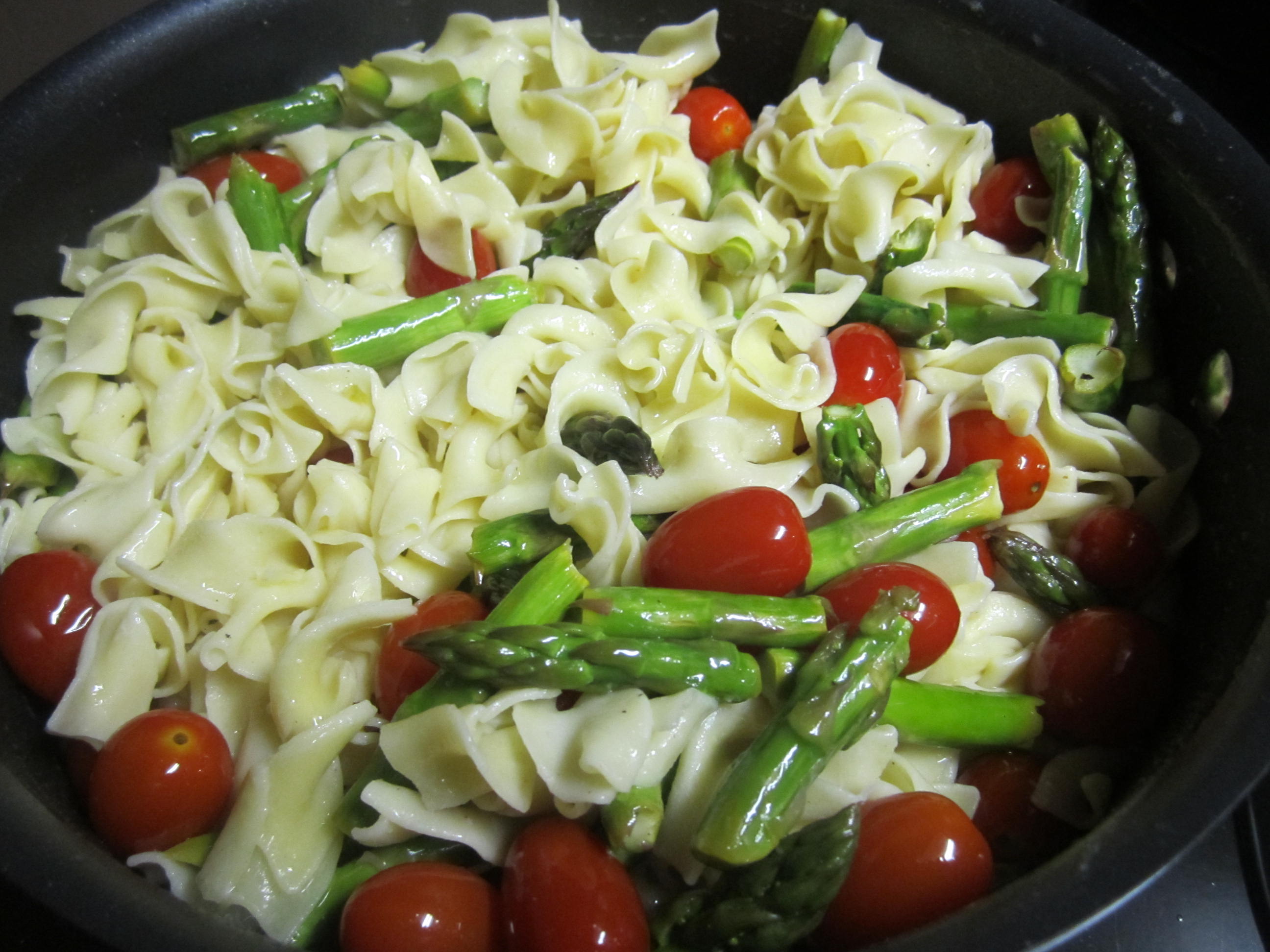 10. Turn off heat and serve! Season with salt and pepper if you like.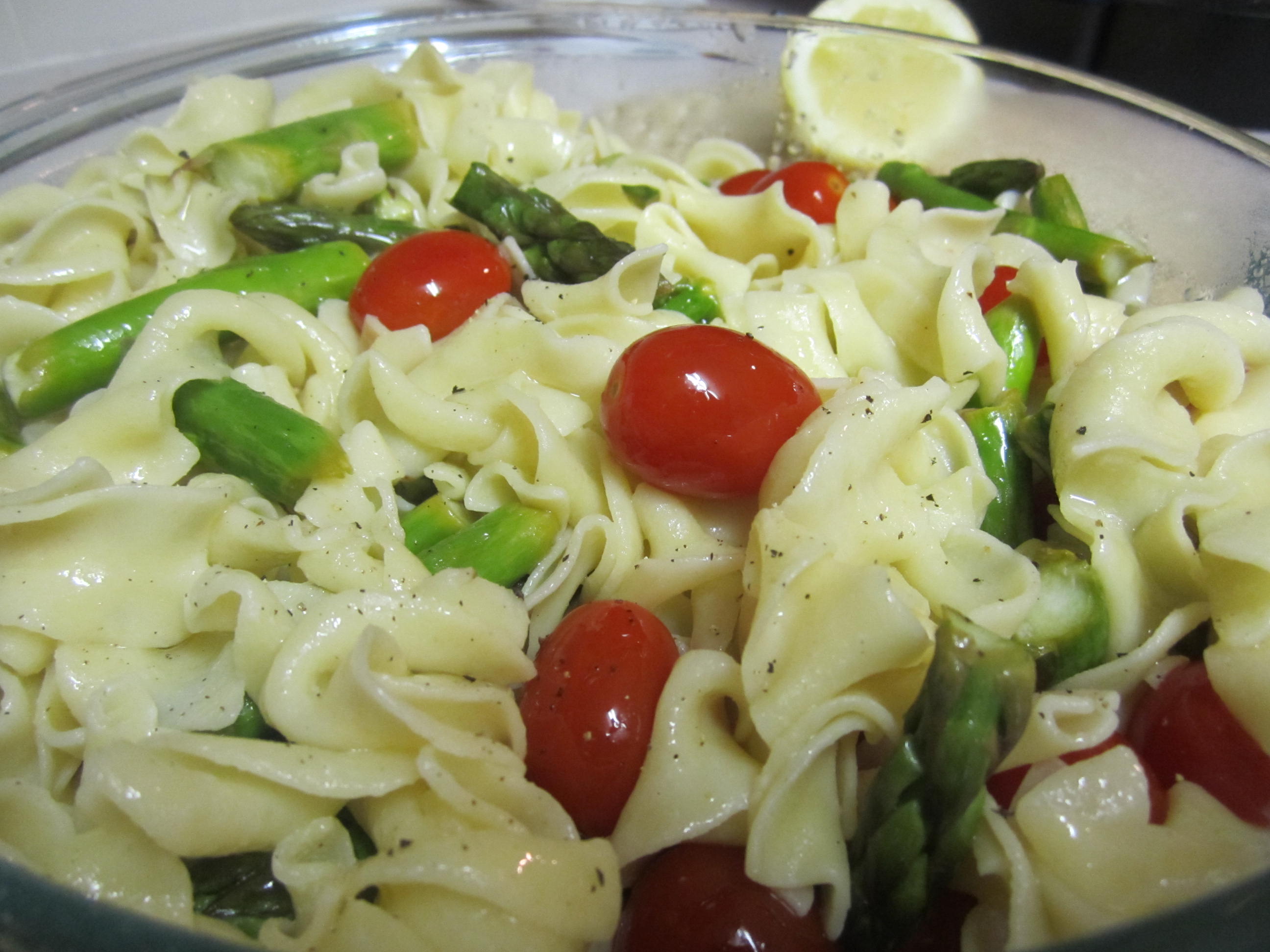 This dish is perfect for the summer!  Go ahead and enjoy yourself!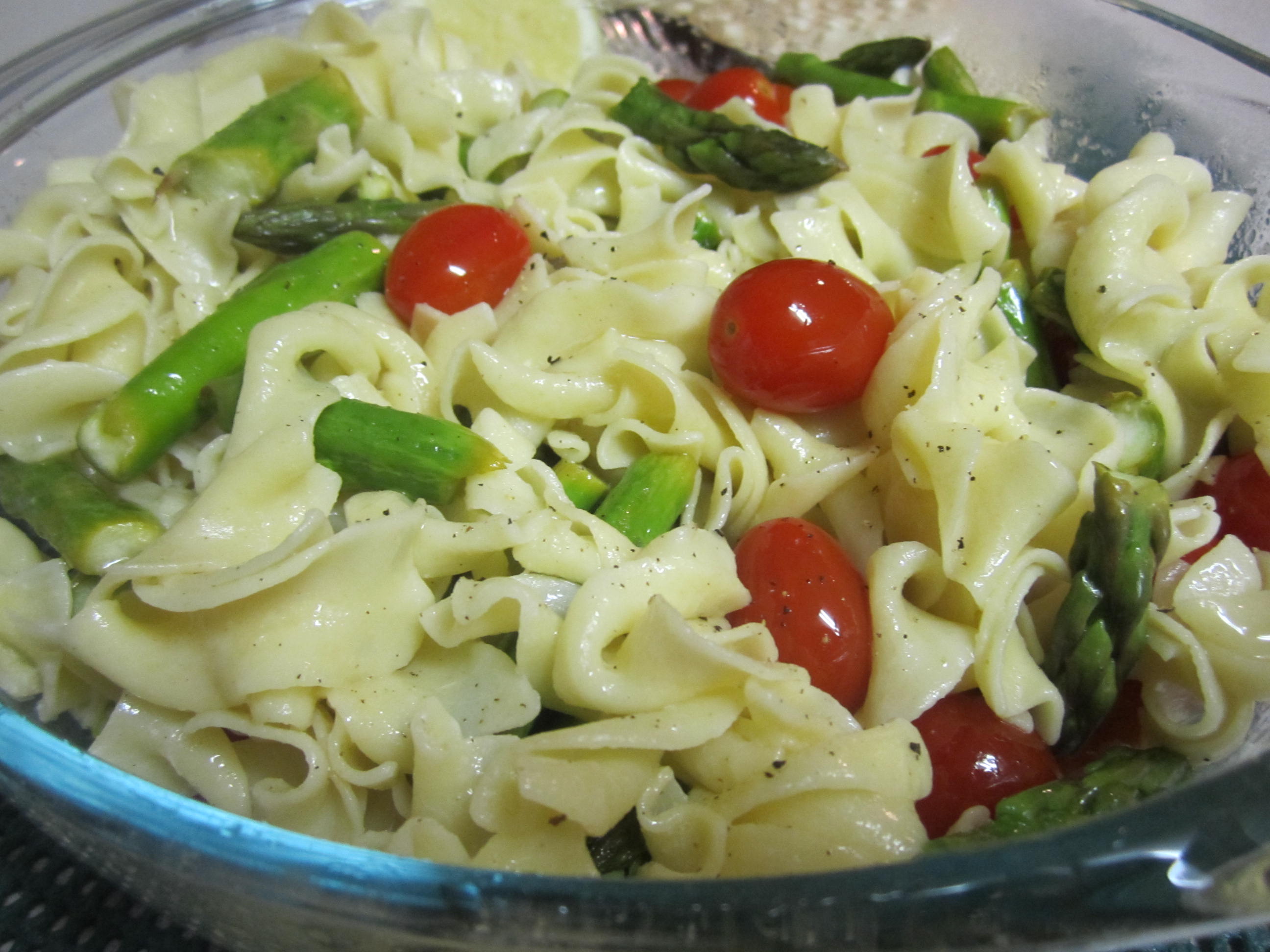 Be sure to check out LAND O LAKES® Butter with Olive Oil & Sea Salt pages! I assure you, LAND O LAKES® Butter with Olive Oil & Sea Salt is what makes this dish!
htttp://www.landolakes.com/ButterWithOliveOilandSeaSalt/
Want more information? Check out their twitter and facebook pages as well!
Twitter: @LandOLakesKtchn
Facebook: http://www.facebook.com/LandOLakes
Oh yeah! I almost forgot…kind of ….I have something for YOU as well!
Answer the following question by leaving a comment and I will give one lucky winner FREE LAND O LAKES® Butter with Olive Oil & Sea Salt!
Ready: "What is YOUR favorite recipe made with butter?"
About LAND O LAKES® Butter with Olive Oil & Sea Salt Land O'Lakes is expanding its popular line of half-stick butter with the introduction of LAND O LAKES® Butter with Olive Oil & Sea Salt. This new product contains wholesome ingredients: sweet cream, olive oil and sea salt. LAND O LAKES® Butter with Olive Oil & Sea Salt is an easy and convenient way to simply enhance the flavor of your favorite foods. Available in a premeasured half-stick size, this new product can be used for topping and cooking a variety of foods, combining the two ingredients consumers often combine separately when frying or sautéing foods. The delicious taste of butter and olive oil will add delicious flavor to any dish.
Disclosure: The author received a full-value coupon redeemable for LAND O LAKES® Butter with Olive Oil & Sea Salt, for recipe development and review purposes. All opinions are my own.
We're just getting started with some great simple and fresh meals for the summer! Grab a drink, relax and read thru the rest of our bloggers dishes!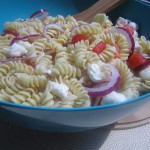 Oh man! I have been waiting all week for this day! I joined a group called the #SundaySupper and have met incredible foodies! For this weeks celebration we are hosting "The Perfect Memorial Day Menu!" One big group of great recipes to fill your picnic or patio table! How exciting is that?! It's almost like an instant menu, made in full and delivered to you pronto.
I have to be honest, I could feel the heat. Not of my food, well because I made a cold dish, but of me just pressuring myself to make that perfect dish. As being my first week, I wanted to make an impression. I went from stuffed sweet potatoes with maple syrup to hamburgers to baked beans and then back to a few more ideas. Why do we do this to ourselves? Why make something harder than what its supposed to be? I can come up with some pretty brainy, intense, layers of flavored dishes that will explore your taste buds, but I was seriously going to hurt my head if I thought any more. After all, two kids, a husband, a homebased business, a dog, a cat and blogging can be an overwhelming choice. Although I choose to live my life this way, sometimes I need to learn to let go of being so hard. I mean, come on, we do the best we can in the situation that we are in. Next lesson please!
As I made many phone calls to many people asking for what they expected on THEIR Memorial Day menu, I finally took a step back and thought of my first idea – a cold pasta salad. One of my favorite pasta salads was made by a girl that I used to work with. She was in my wedding and we have kept in touch through the years but I have no idea why she was giving me this pasta salad. Anyways, it was so simple and I live for simple. Cook pasta, add vegetables and throw on Italian dressing. Yup, that's it. I started to make it for every function after she introduced me to the fresh veggie/pasta world. It feeds a lot of people, its fresh, tastes great and is filling. Really, what more could I ask for? Oh that's right, its simple.
Dressing: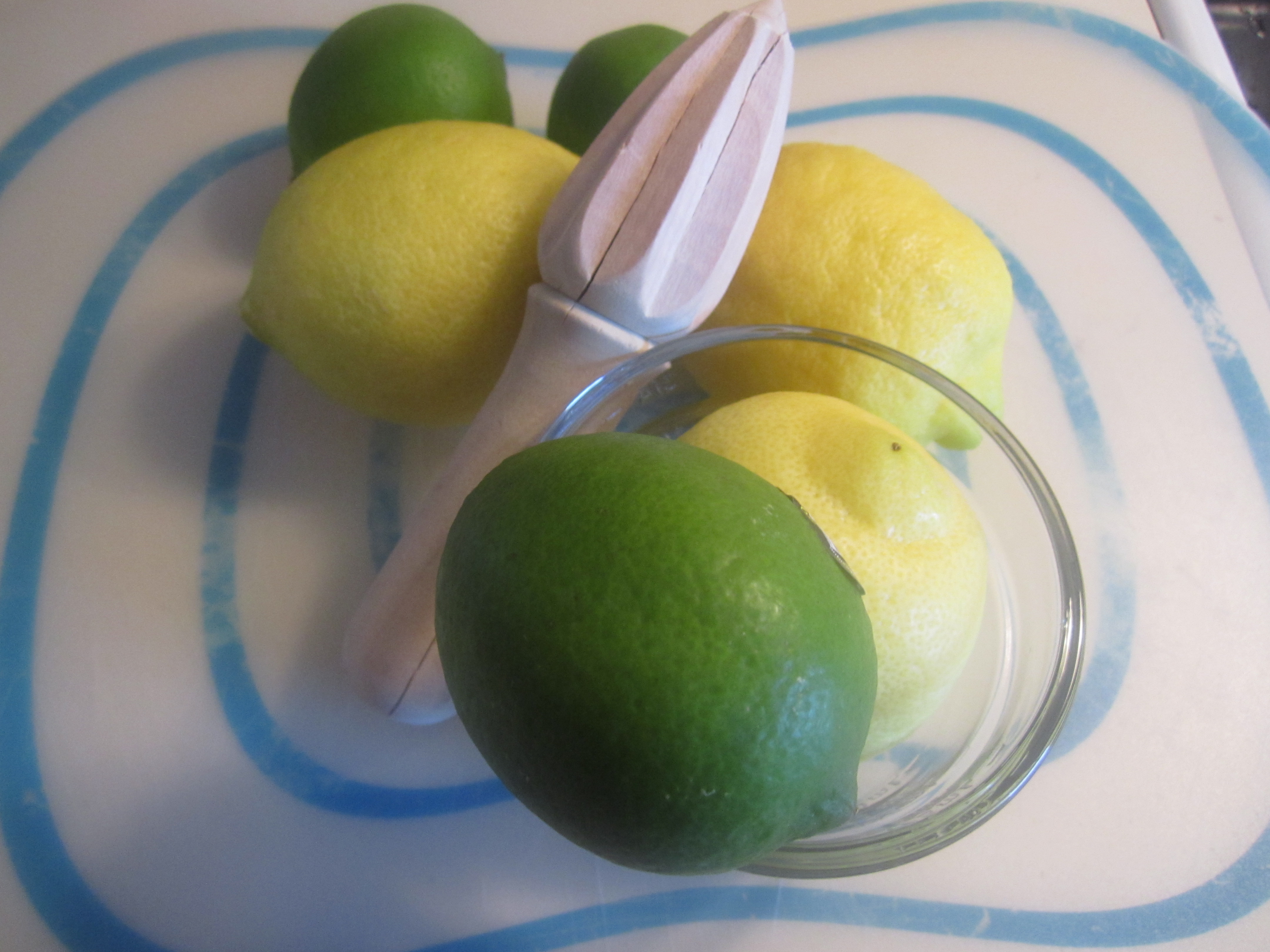 2 Tbs freshly squeezed lemon juice
1 freshly squeezed lime
1/2 cup grapeseed oil
1 clove garlic: minced
1 pinch of sea salt
1 pinch of pepper
1. Freshly squeeze lemon and lime in a strainer over a bowl. (This bowl is what the dressing will be made with).
2. Discard strainer seeds and pulp.
3. In lemon and lime bowl mixture, add grapeseed oil, garlic, sea salt and pepper. Stir to combine.
4. Refrigerate until ready for use.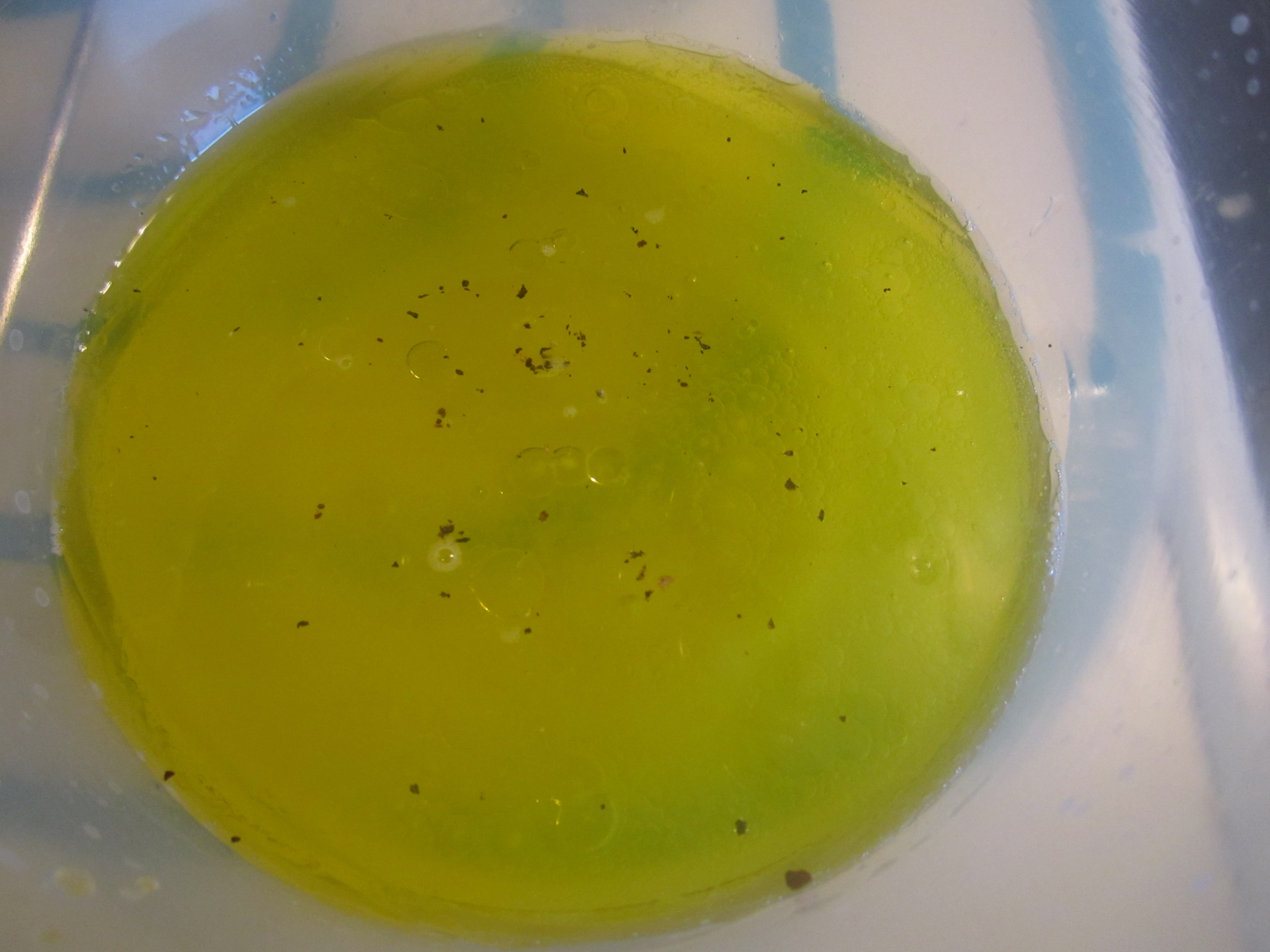 I love to taste different dressings. It really helps shape a salad. This is refreshing and light which goes wonderful with the summer filled vegetables and pasta. I love most varieties of food and there is very little that my taste buds don't go like except for mayonnaise based dressings. I don't enjoy one bit of the taste of mayo and have always avoided these kinds of dressings because of it. From this, I have missed out on many pasta and macaroni salads. (Wah! Wah!) This is unfortunate for my taste buds but I have opened a whole new world of opportunity, the oil based world. Which may I add, is delicious!
Summer Pasta Salad
1 lb rotini pasta noodles
1 red pepper: chopped
1 red onion: sliced
1 container fresh mozzarella balls
1 yellow squash: peeled and sliced
1 pint cherry tomatoes: sliced in half
sea salt and pepper
Walnuts: chopped (optional)
Recipe:
1. Make pasta noodles according to package.
2. Drain noodles and place back in pot.
3. Meanwhile, slice and cut all vegetables and place in a bowl.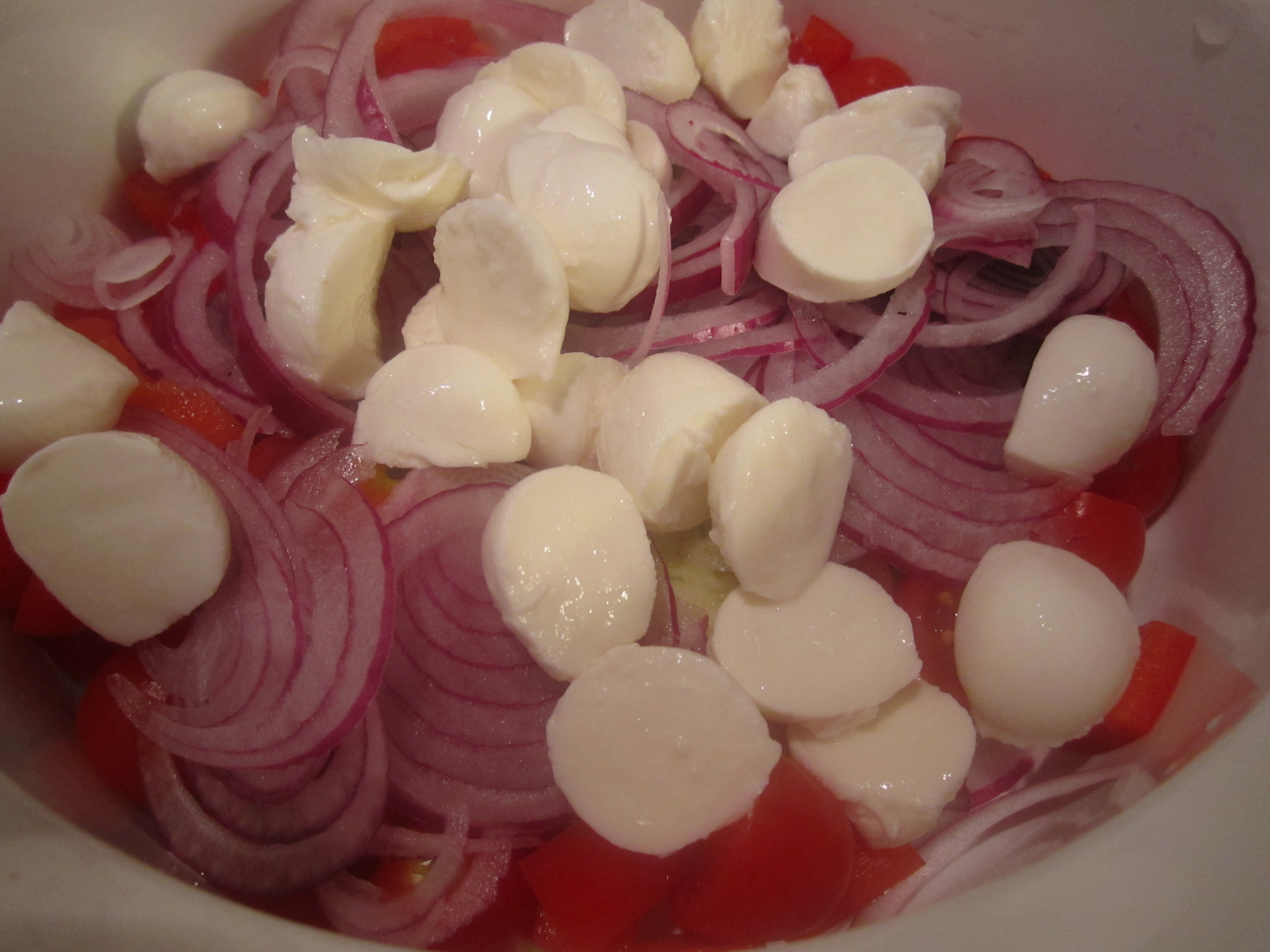 No lie, when I'm trying to make all my vegetables even and give a good presentation, I use a vegetable slicer. I like everything to be the same size.
4. Combine vegetable and cheese mixture with pasta.
5. Pour dressing on top and mix to combine.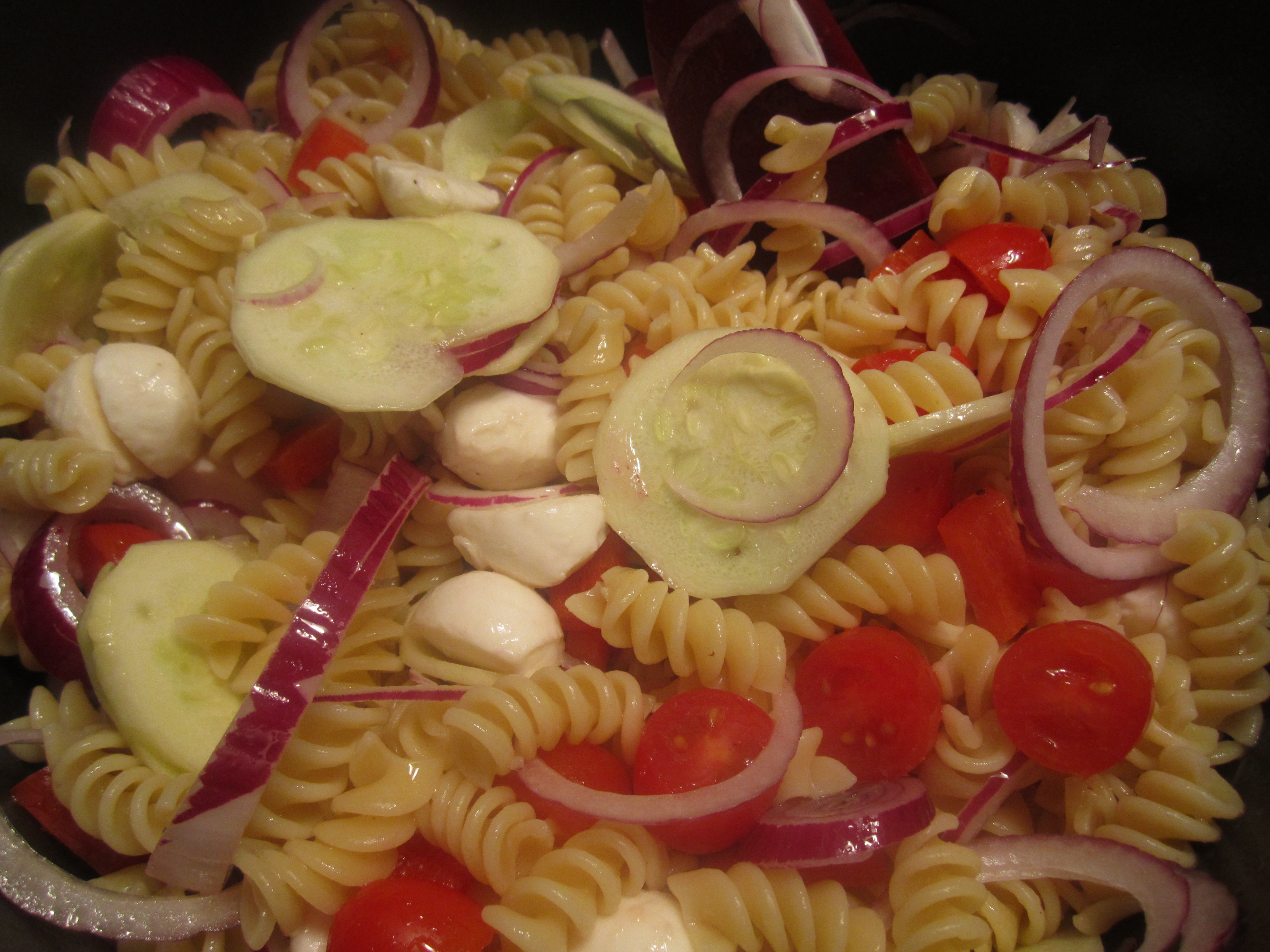 6. Place in container and in refrigerator until ready to serve. (Add walnuts, optional)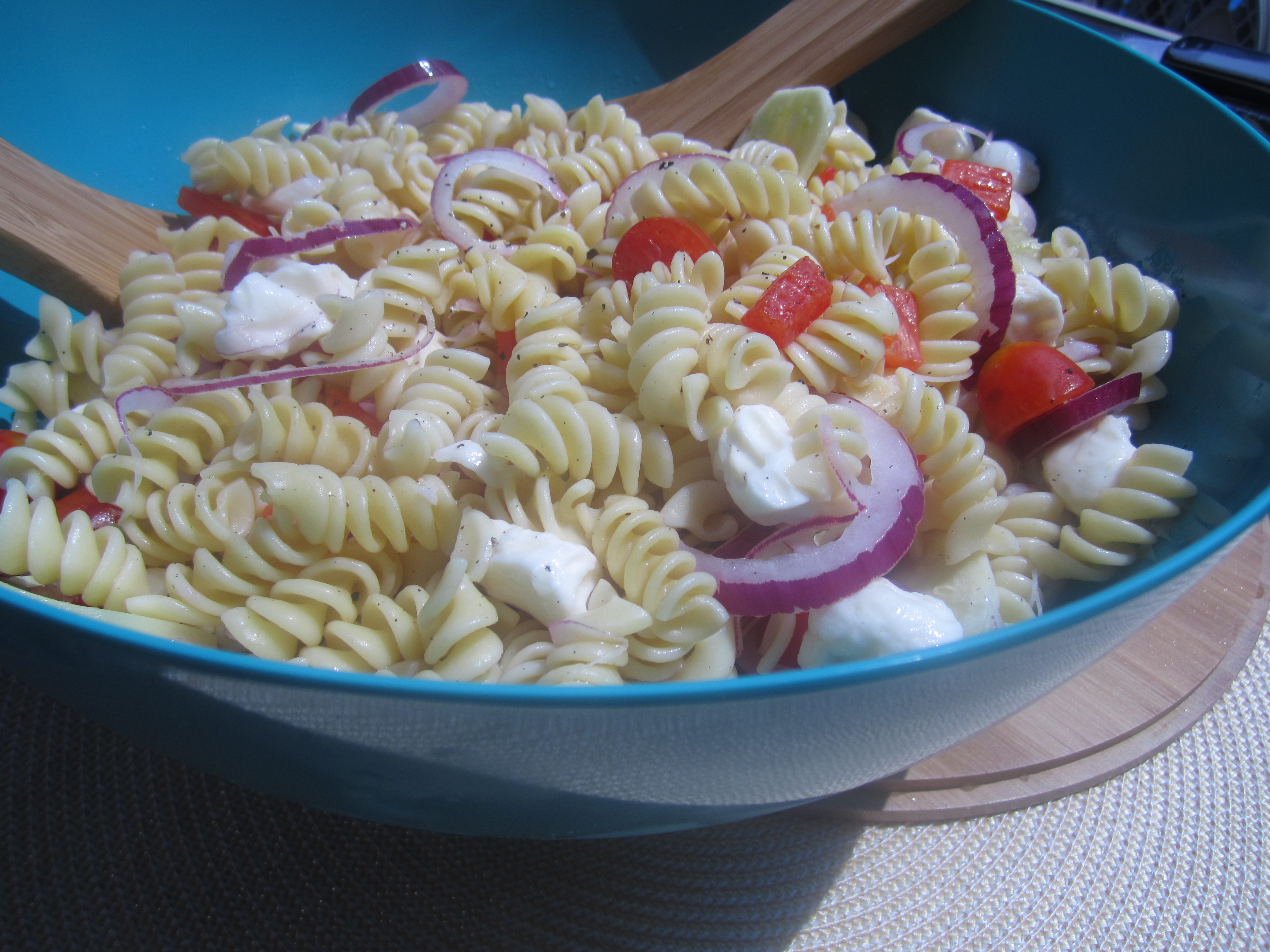 Nothing says simple, filling and delicious like this pasta salad. It's clean, refreshing taste will remind you of why you love Mother Nature so much!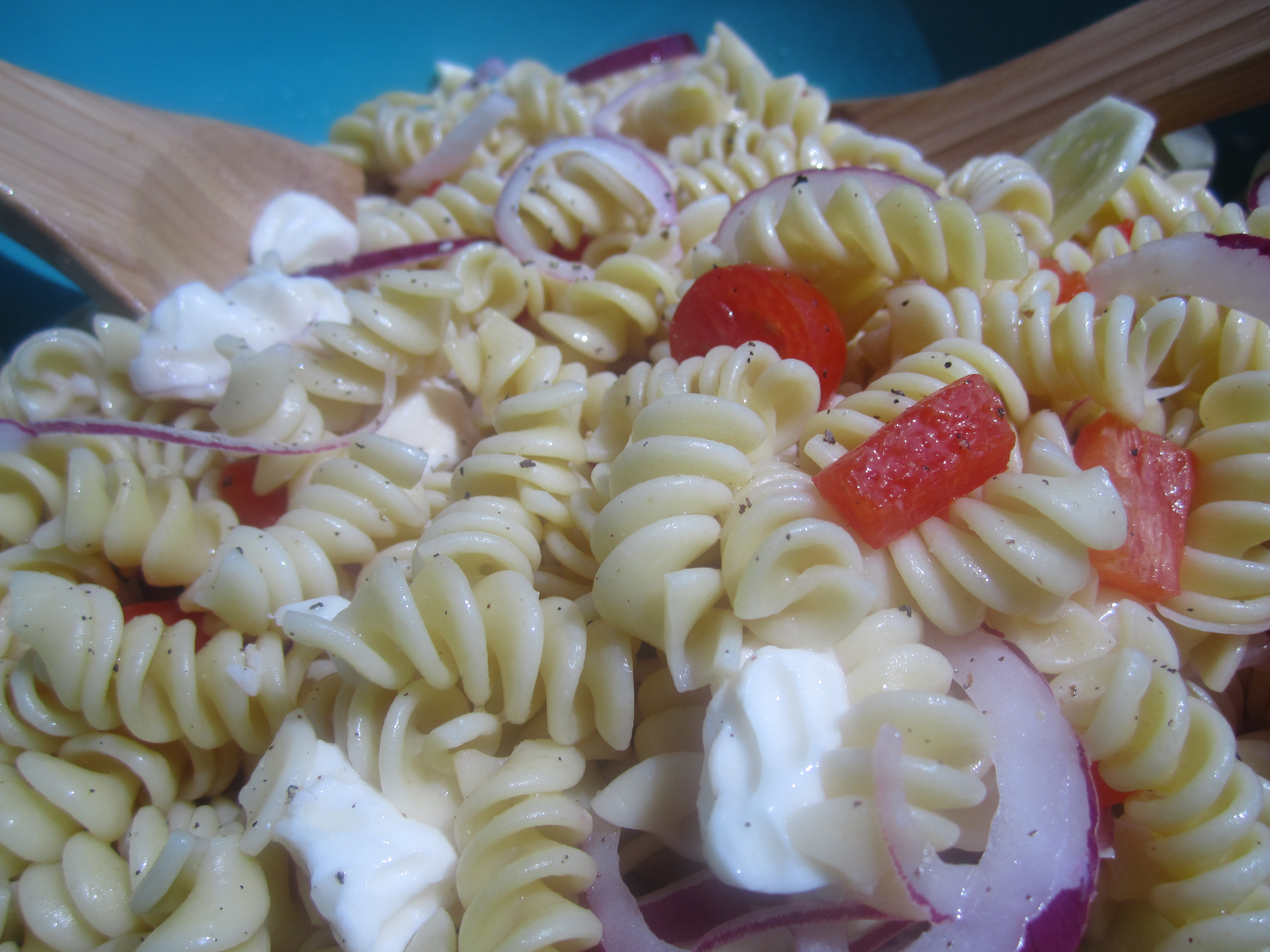 And of course, you must check out the rest of this delicious Memorial day menu from my fellow foodies. Hopefully we fill you up until next week!
Perfect Cocktails:
Salads:
From the Grill:
Classics:
Desserts:
Our recipes will be perfectly paired by Wine Everyday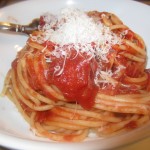 Sometimes, making spaghetti sauce is when I open the pantry door and throw in anything and everything I can find. Spices, vegetables, canned pumpkin, cream, you name it but I always seem to go back to this very simple recipe. Sometimes, simple is just better.
The critics around the table seemed to have agreed. My husband (a very important critic, may I add) says he loves this particular sauce because its "fresh." Now, the two most important critics, a three-year old and an eighteen month old, always have my attention. I want to know the famous question of the day, will they eat it? Some days I will serve them the most lavishing dish and they refuse, other days I make up mac n'cheese and they say yes and sometimes they change it up and even say no…it's always a toss-up. Today, it was a THREE thumbs up kind of day and I love those days.
Ingredients:
1/2 pound of spaghetti noodles
28 oz. can of organic crushed tomatoes
1/2 tsp. cinnamon
1 Tbs basil
1/2 Tbs parsley
1 onion: chopped
1/2 cup (less or more) organic sliced mushrooms
1-2 Tbs olive oil
Parmesan cheese (optional)
Recipe as follows:
1. Prepare spaghetti noodles according to package.
2. Meanwhile, add olive oil to sauce pan over medium heat.
3. Add onions and stir occasionally until slightly softened for about five minutes.
4. Add mushrooms and stir for another five minutes until soft.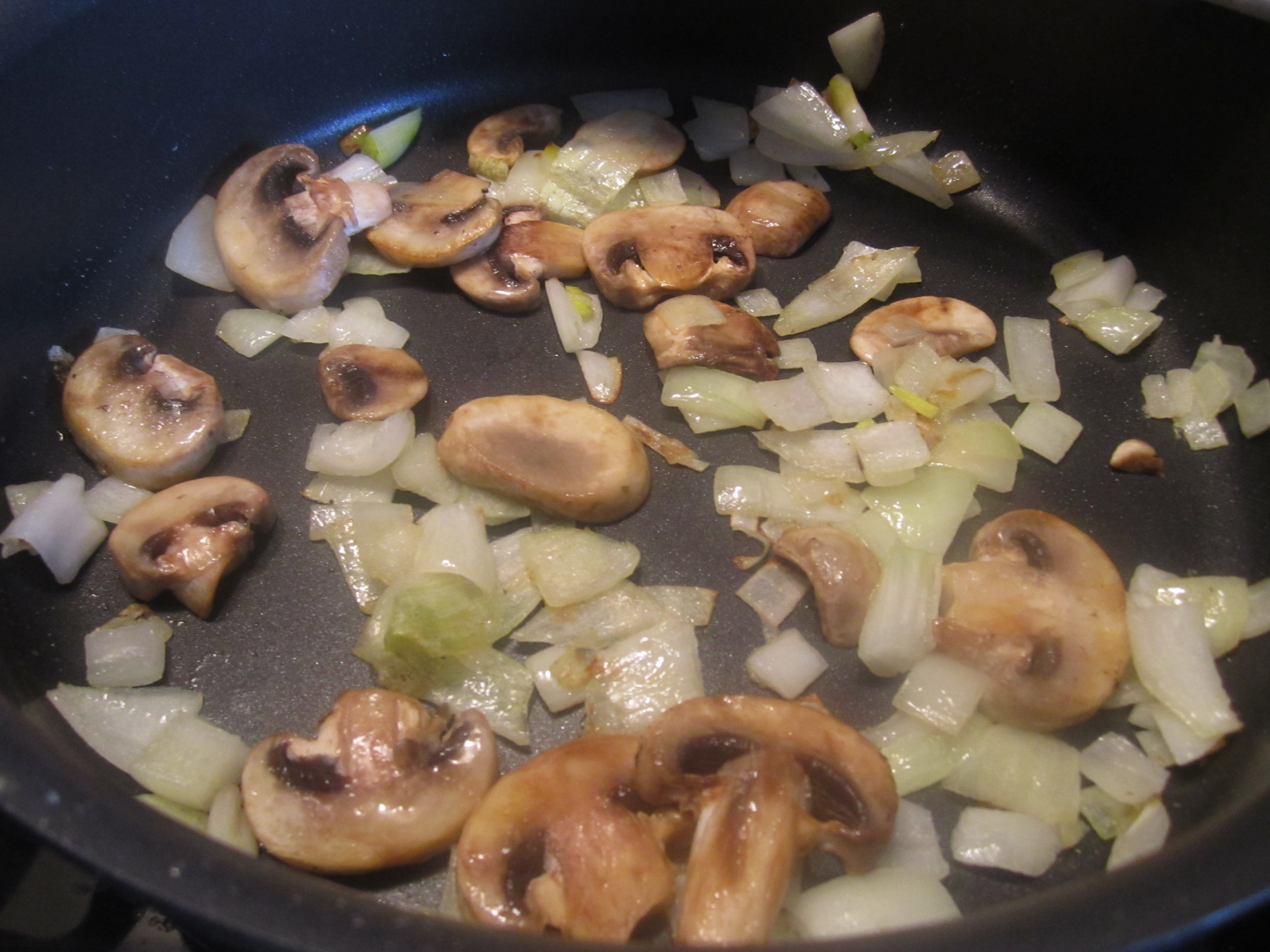 5. Add the remaining ingredients and bring to a boil.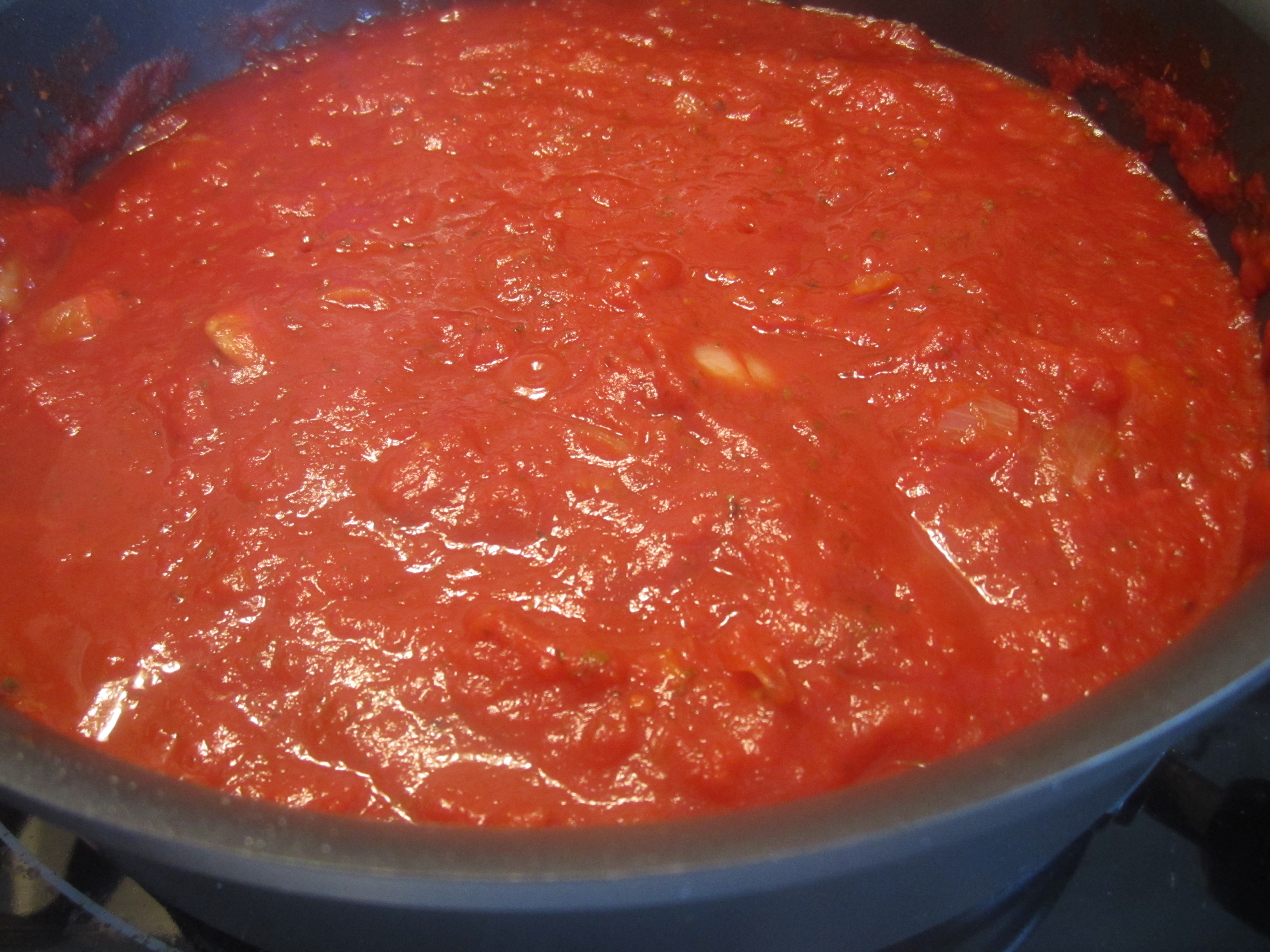 Special Note: I know the recipe calls for organic. And some people may buy the "regular" but I'm telling you, buy the organic! That's what makes this sauce have a fresh taste. It's really good. Spend those saved pennies on an organic crushed tomatoes can – its delicious! And you really CAN taste a difference! (I bought Nature's Promise, mmm mmm good!)
6. Cover, let simmer for 12-15 minutes.
7. When pasta is finishing cooking, drain.
8. Return pasta to pot.
9. Pour the sauce into the pasta and stir to combine.
10. Serve on plates and add some Parmesan cheese!
Bon Appetit!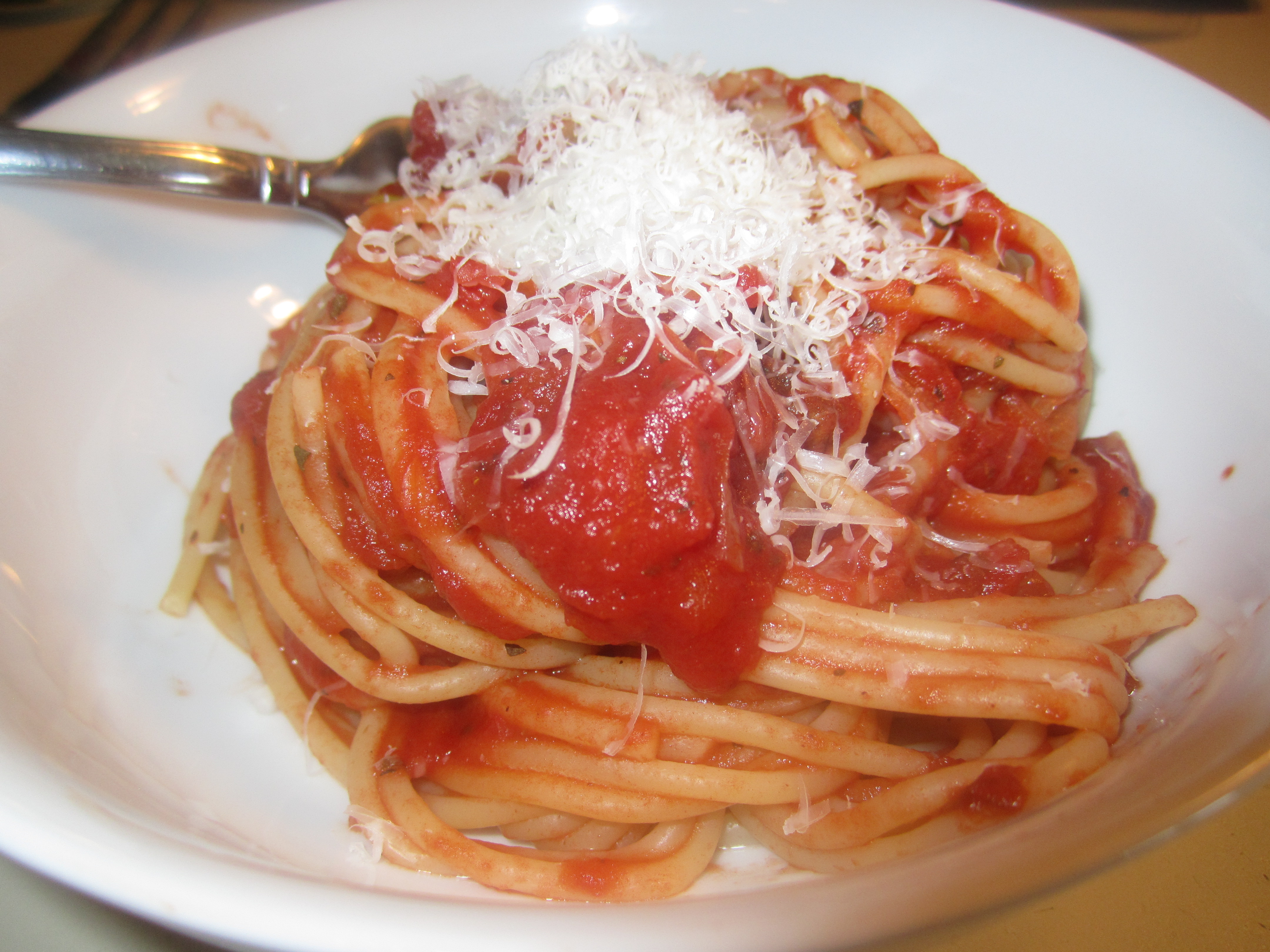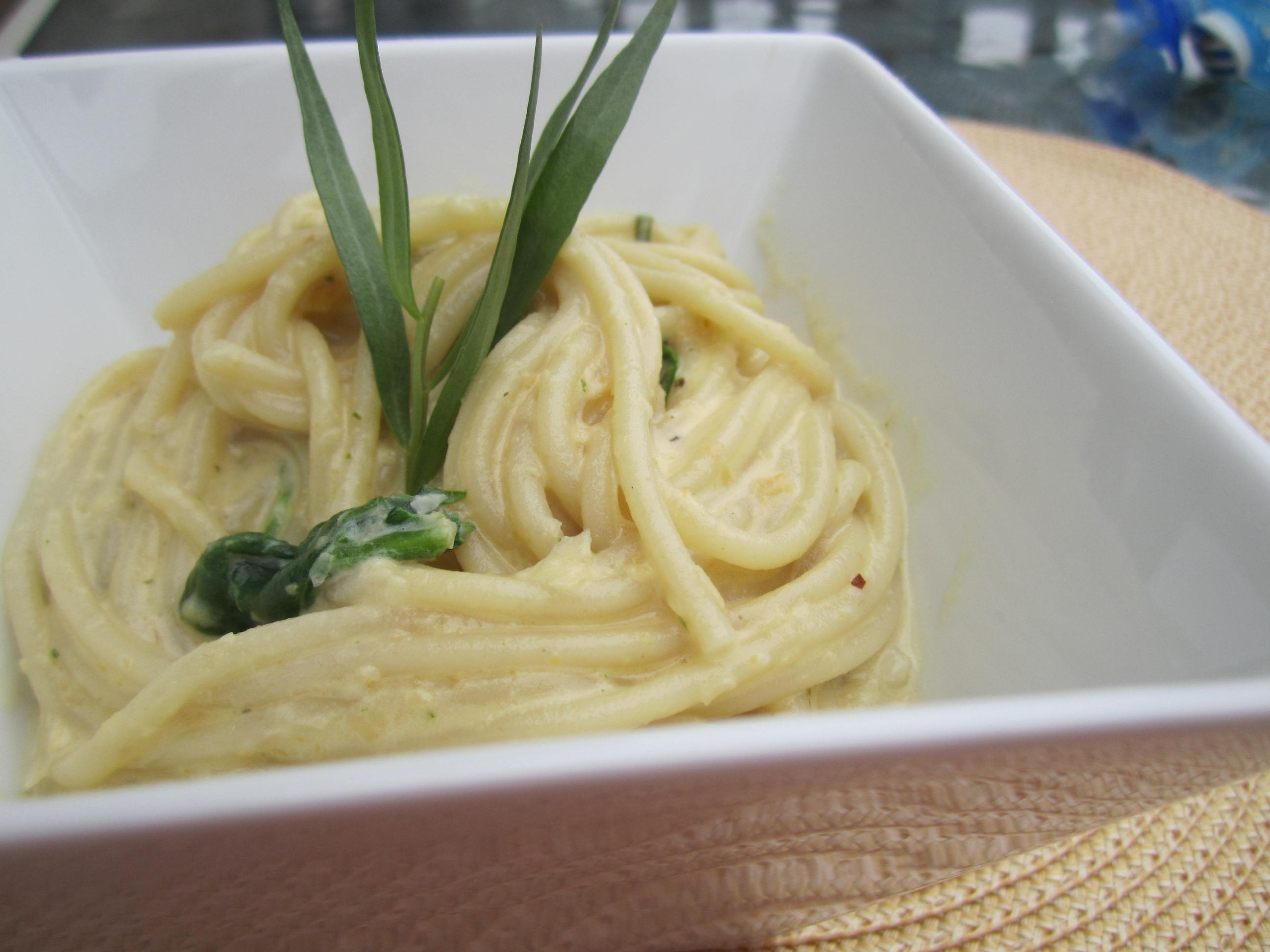 Oh my word. I love chickpeas. Love. I don't know why they are so comforting for me but I absolutely love them.  My poor husband, who never does the grocery shopping, volunteered to go with my three-year old son. What I thought was an easy list, ended up being a three-hour tour in the grocery store! One of the items that threw him off was "Chickpeas." I probably should have mentioned they are AKA garbanzo beans….oops. Although I did write, "International Aisle" next to the word, I put him on a while goose chase. While I was bored at the house, I decided to clean out my pantry and realized, I have FOUR cans of beans! By the time, he called and said, "I finally found them!" I didn't want to disappoint his hard work so I thanked him and used them in a recipe today. My pantry is now filled with garbanzo beans (and I love that!)
So what to make with these little fellows? Spiced chickpeas? Hummus? Nah… let's go for something different, let's reach for the stars and make a creamy sauce! What a true winner but don't take my word, make it yourself!
Ingredients:
1/2 pound of spaghetti
4 cups fresh spinach
1/2 cup butter
1/2 pint of heavy whipping cream
1 can (15 oz) Garbanzo beans, drained and rinsed
1 Tbs tarragon (more to garnish)
2 cloves of garlic
1/2 cup Parmesan cheese, freshly grated
Salt and Pepper
YUMS DIRECTIONS:
1. Add water to a large sauce pan for your spaghetti noodles.
2. Melt butter over low in a separate saucepan for the sauce (move that baby around to get it to melt and YES that's some mmhmmm lots of butter!)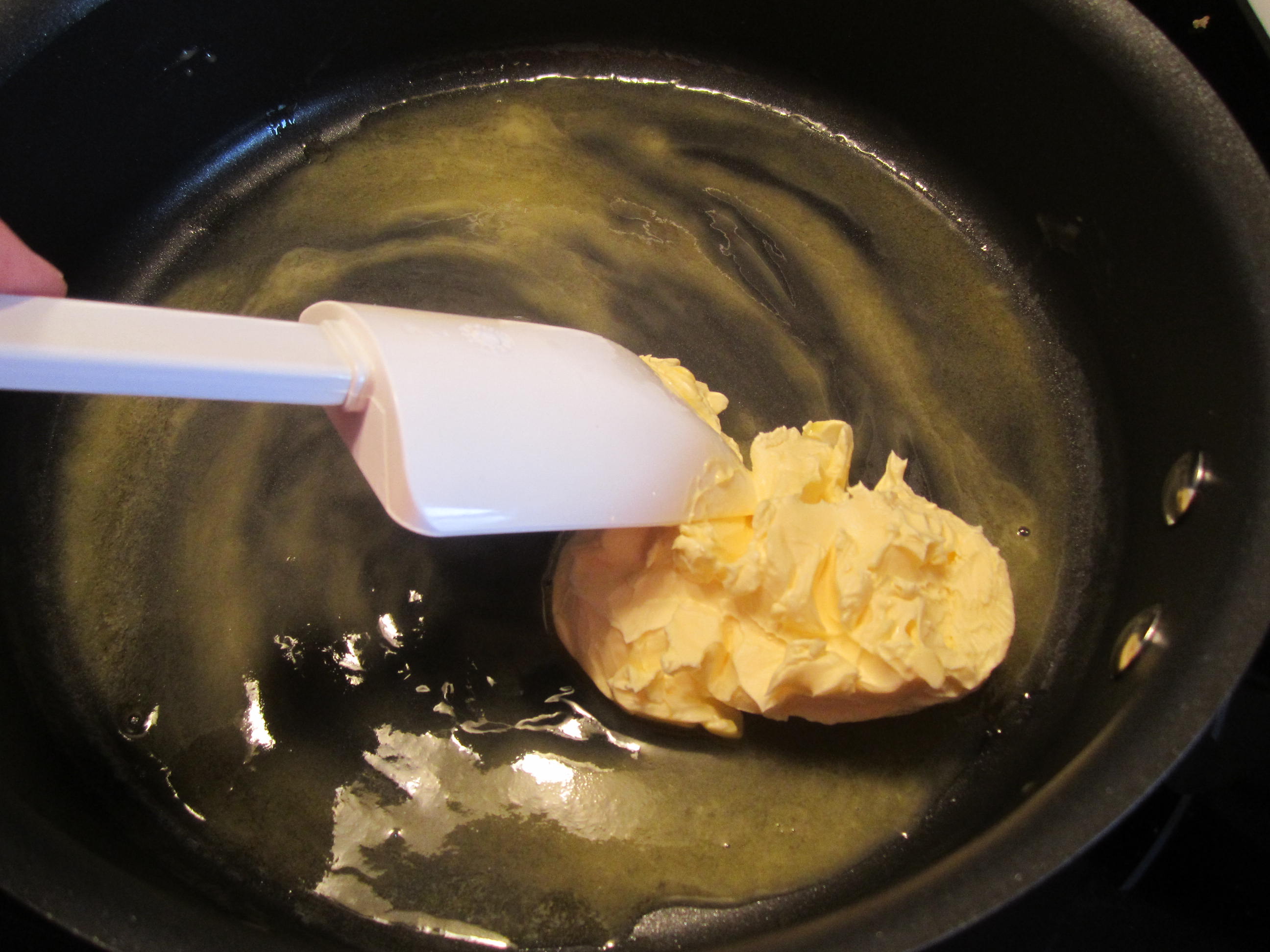 3. Add garlic and chickpeas to the butter
4. Season with pepper (I didn't use salt because the beans have enough in them. Use your judgement. I'm not a big salt fan.)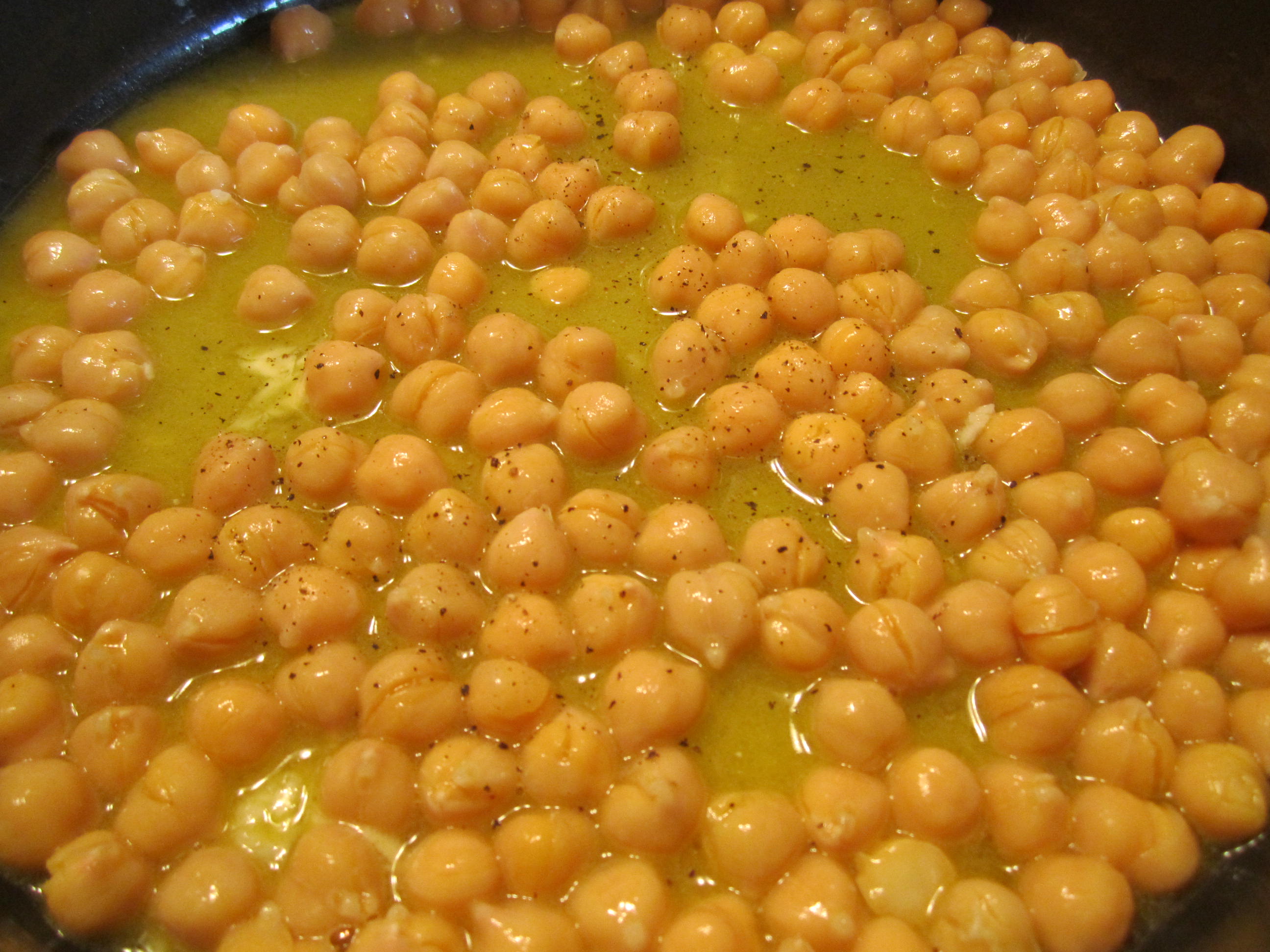 5. Add heavy whipping cream and tarragon and stir.
6. Turn heat to medium-high and bring to a boil.
7. Turn heat to low and cover for 10 minutes, stirring occasionally.
8. Meanwhile, add spaghetti noodles to the boiling water. Cook pasta according to directions.
9.  When your sauce pan has reached ten minutes, stir in Parmesan cheese and turn the heat off. Cover and let rest. (It will thicken)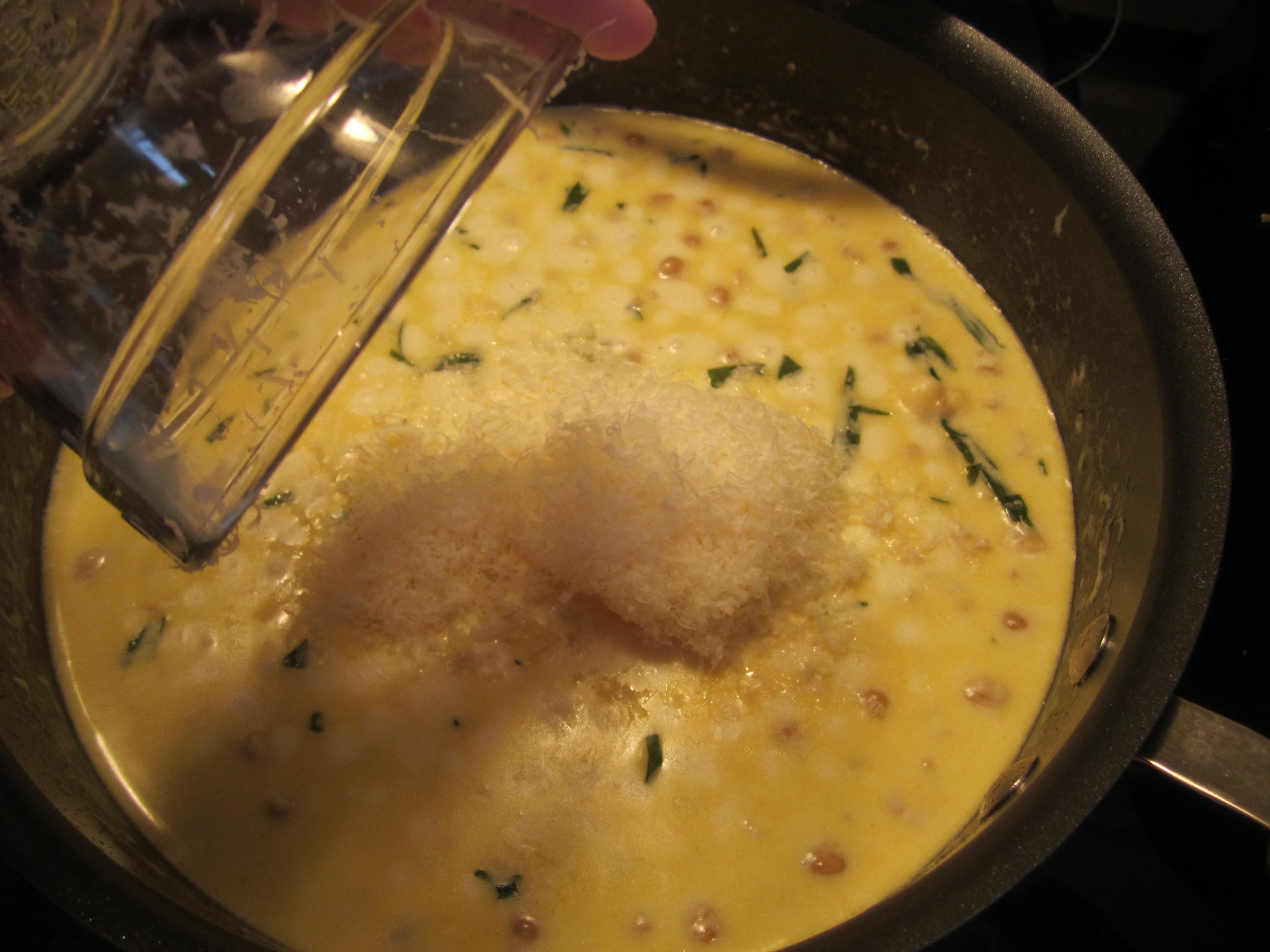 9. It should look like this when sauce is finished: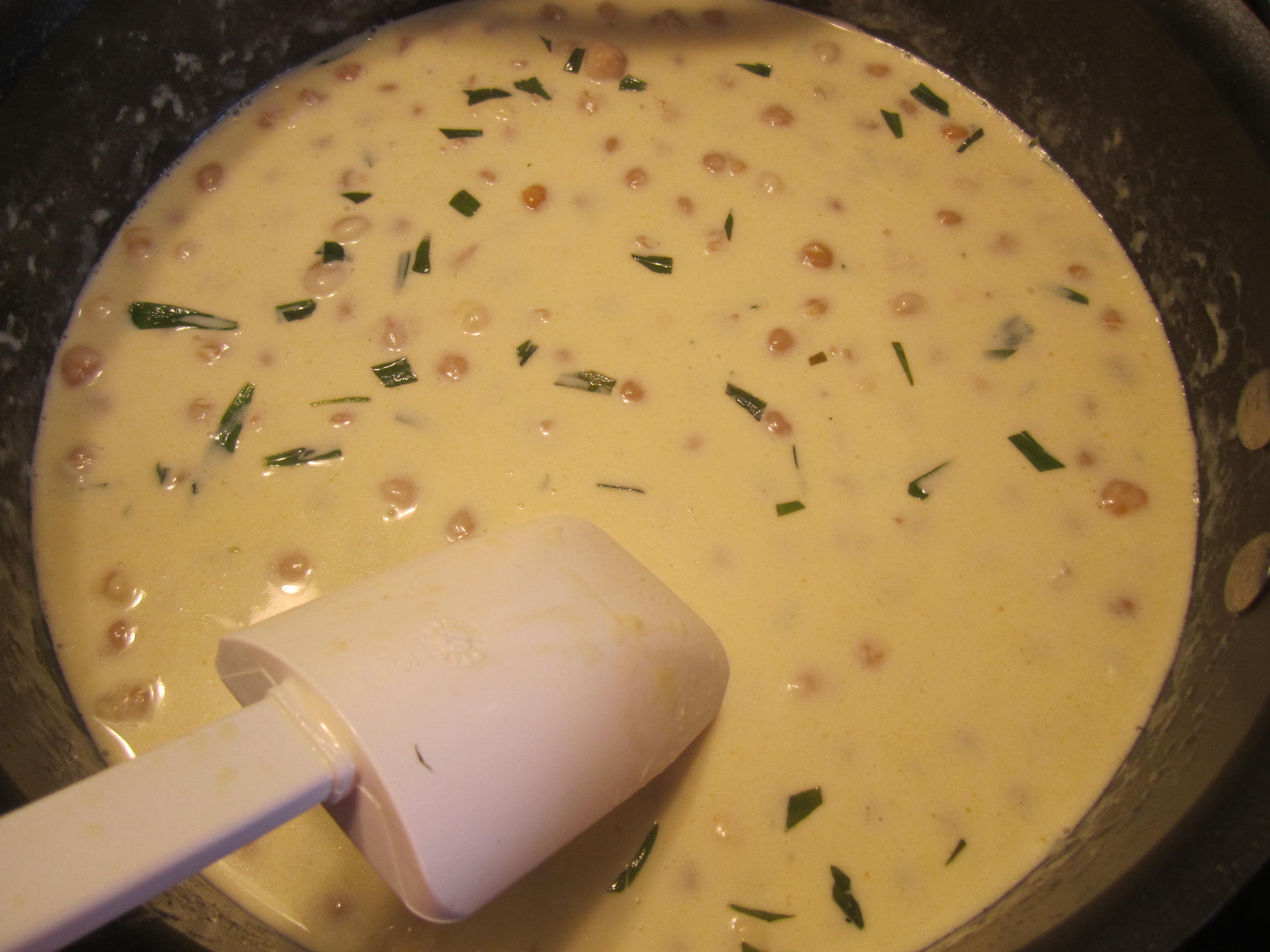 10. Either use an immersion blender or a food processor to turn into a smooth consistency. Place lid on top to keep warm.
11. When pasta is finished cooking, add spinach to the water. The spinach will start to wilt. Drain the pasta.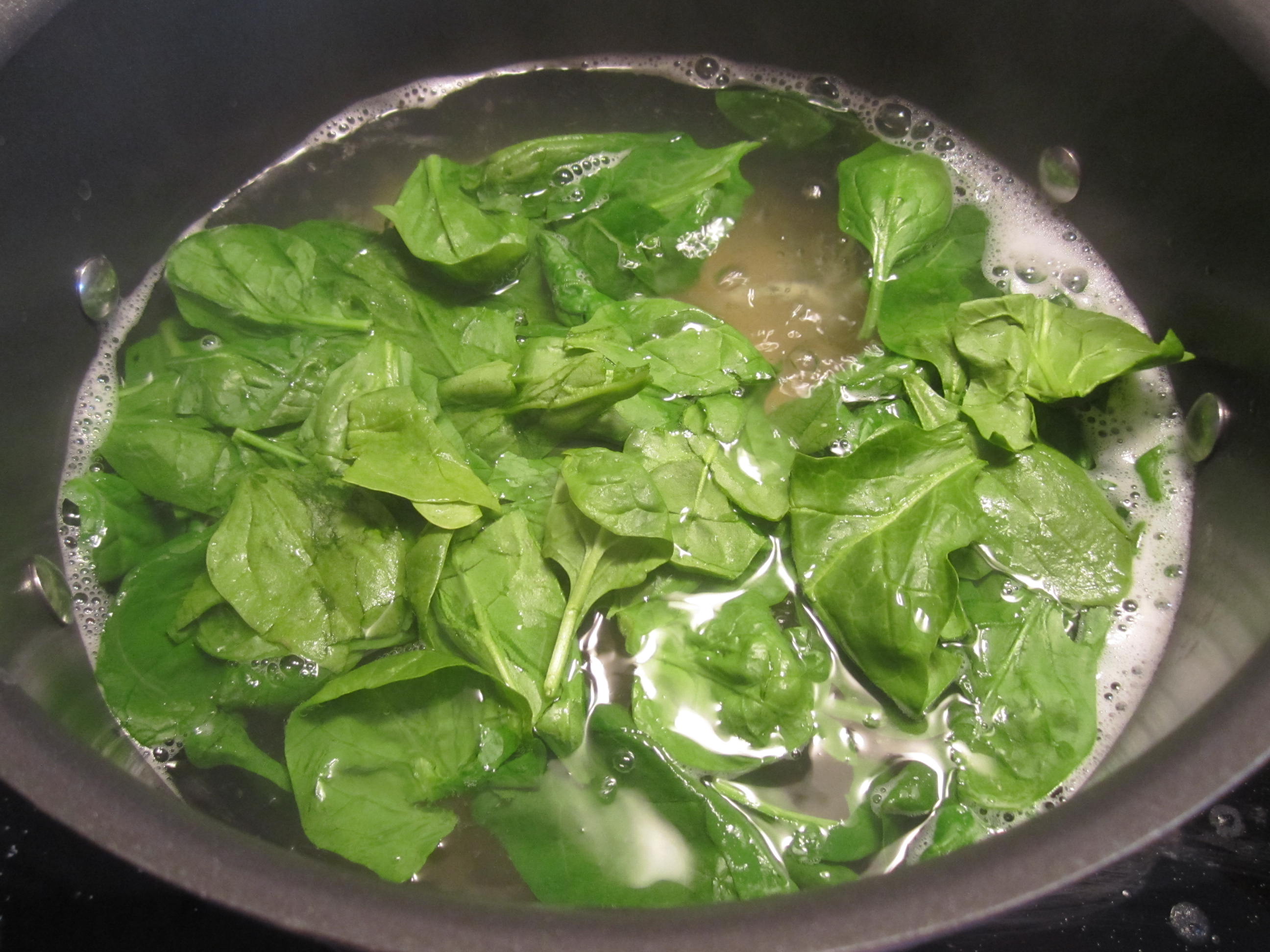 12. Mix the sauce with the pasta to combine. Serve with extra Parmesan cheese or garnish with tarragon.