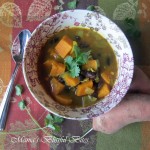 As the colder weather approaches, you will notice more and more soups on my site. They are warm and inviting to the soul, which is why I make them so often during the winter season. (Plus the nutrients is unbelievable.) Nothing is more warming that a nice bowl of soup right? So this season I started off with a Moroccan soup. It's robust in flavor and delicious. One of my "signature" soups that I make season long and I wanted to make sure you had it on your list too!
Ingredients:
3 organic sweet potatoes: peeled and cubed to bite size pieces
1-2 tbs olive oil
1 organic onion: chopped
dash of cinnamon
2 cloves garlic: minced
1/4 teaspoon turmeric
1/4 teaspoon cumin
1 can organic black beans: drained
1/2 cup dried lentils
1 can organic garbanzo beans: drained
4 cups organic vegetable broth
dash of minced garlic (optional)
handful of cilantro (optional)
salt and pepper
Step 1: Heat oil over medium heat in a large saucepan.
Step 2: Add sweet potatoes and cinnamon and cook for 3-5 minutes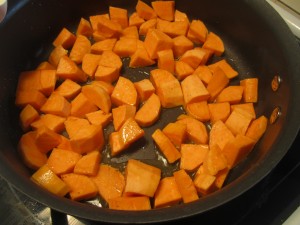 Step 3: Add onion, garlic, salt, pepper, cumin and turmeric and saute another 3 minutes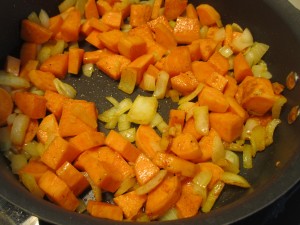 Step 4: Add beans (ps, I forgot the garbanzo…ahhh! lol) and stir for 1 minute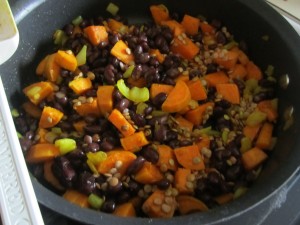 Step 5: Add broth and bring to a boil. Lower heat and simmer for 40 minutes until lentils are soft and cooked through.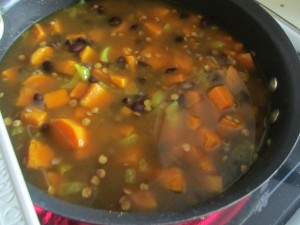 Step 6: Add ginger at the end and stir for a few minutes.
Step 7: Plate and garnish with cilantro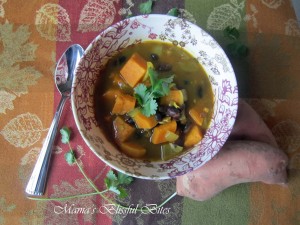 Do you have a favorite soup of the season? I'm ready to rock and roll! More to come so stay tuned!
xoxo,
Mama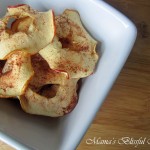 Apples are here year around. It's one of the luxuries we have. Apples come from far places and greet me at the grocery store. And believe me, I greet them back as I pile bags in the cart. During the fall season, I travel to the farm and grab bags of local apples. They are so perfect, crisp and sweet to taste. This is still the best time for apples.
As I was browsing through recipes, I came across apple chips and thought about how heavenly they would be. The recipe had a mixture of sugar and cinnamon but plain cinnamon was just as good. They are easy to make and delicious that you may want to grab a big glass jar and have lots on hand. I tried my little experiment with two apples and they went mighty fast.
Ingredients:
2 apples: cored and sliced
cinnamon
Recipe:
Step 1: Preheat oven to 200 degrees.
Step 2: Prepare an 11×17 baking pan with parchment paper.
Step 3: Core and slice apples thin. Try to make sure they are the same width so they cook evenly. I used a mandolin.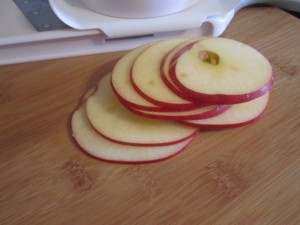 Step 4: Sprinkle with cinnamon. (I used my finger and rubbed it into the apples for a nice coating.)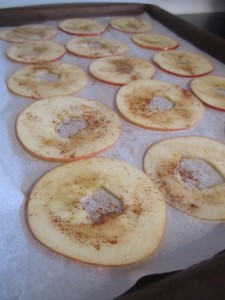 Step 5: Bake for 2-3 hours, flipping them over halfway.  If you have a dehydrator, use that, but if not, oven works just as well.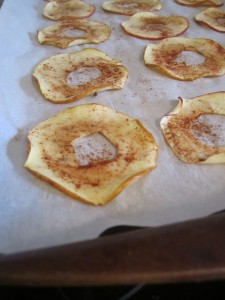 You'll notice when to flip them because the ends start to curl up and it feels "dry."
Step 6: Share…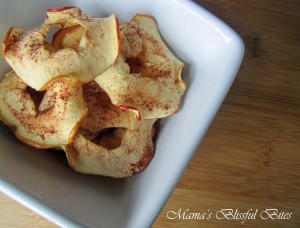 … but make sure to have a little extra hiding for yourself! They go quickly.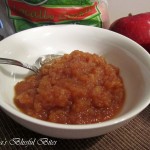 As a health-conscious mom, I am always looking for new recipes to serve to my family. One of my daughter's favorite, old-school snacks is applesauce. I mean seriously, what is there not to love about applesauce? I was in the aisle looking for applesauce when suddenly, I became quite overwhelmed. There are soooo many varieties. Cinnamon, strawberry, fruit-packed, banana, hey, even banana strawberry, huh? huh? At first I was amazed at all the different kinds. I was sucked in. "Wow, this is fantastic! My daughter will be happy," or at least I thought. I read the label on the back of the package. The second ingredient was high fructose corn syrup (uh, no!), then natural flavors. Let me thinks about this, natural flavors? What is natural flavor? Shouldn't it already have its own natural flavor that nothing needs to be added to call it natural flavor? I quickly became not impressed with my boxed product and decided to go home and make my own. I mean why not really? This way I know the exact amount and even ALL the ingredients. Doesn't that sound better to you? Actually knowing what is in your food? It's good and easy, I really hope you make them!
Ingredients:
4 apples; cut in bite size pieces
1/2 cup orange juice (freshly squeezed or bottled)
3 tbs sugar
1/2 teaspoon cinnamon
Recipe:
Step 1: Place all ingredients into sauce pan and simmer until tender over medium heat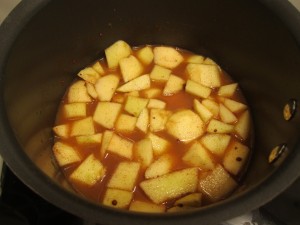 Step 2: Place in a bowl. If there's too much liquid, drain some.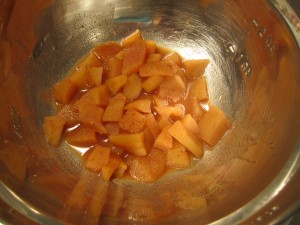 Step 3: Using a potato masher or the back of a fork, mash until desired consistancy.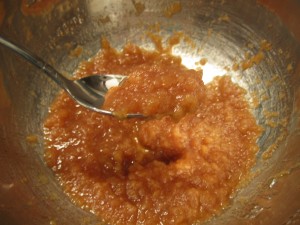 Serve up to your family and friends for a extra sweet snack!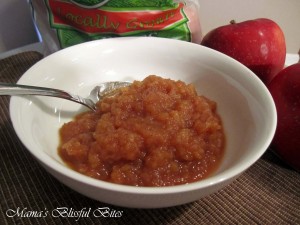 Absolutely award-winning in my mama book! (And the kids loved it too!) What other ingredients do you like in your applesauce?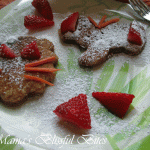 You may have heard me say this before and I'll say it again, trying to get my son to eat anything healthy is nearly impossible. If it doesn't say CARB across the board, he's not interested. If it has a color, he doesn't want it. If it's cold, forget it. I have quite the challenge on my hands, but we work through it, one day at a time.
I noticed that not only does food have to be appealing but fun as well. So, I bumped up the "hiding veggies" factor and have even included cool plates! If you take a look at my photos, you'll notice the "jungle" theme. These plates and bowls are provided from Zak! Designs and give the extra push I need. This is one of my favorite recipes. It's really delicious and has a cup of veggies. After I complete the jungle animal pancakes, I put them on "jungle" plates! It's like we're eating in the jungle all together! My son loves this and so do I. Make any meal fun by adding a plate? Fantastic! Be sure to check them out at http://www.zak.com/. Not only do they offer character items but also beautiful rose colander, (click here) and my personal favorite, Flower Table Serving Set (click here). I'm absolutely going to get their Halloween Dinnerware too! (click here)
By providing a wholesome and fun meal, I have "upped" the mommy factor on serving fantastic meals at my table! Please be sure to check out their site as well. I can't stress that enough! They have everything!
Carrot pancakes have quickly became our weekend breakfast meal and it has even been requested for dinner. They are sweet and delicious and did I mention fun?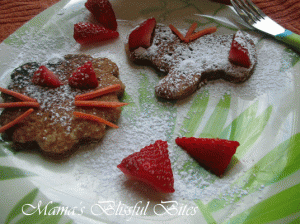 I'll give you the recipe, but be careful, it's a jungle out there!
Ingredients:
1 1/4 all-purpose flour
1 1/2 teaspoon baking powder
1 teaspoon cinnamon
1/4 salt
1/4 all spice
1 egg: slightly beaten
1/2 cup brown sugar
1 cup almond milk
1 cup shredded carrots
1 teaspoon vanilla extract
Recipe:
Step 1: Combine flour, baking powder, cinnamon, all spice, salt in a bowl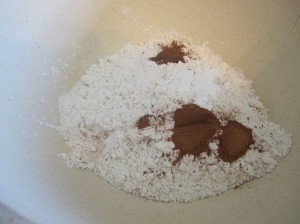 Step 2: In another small bowl, combine egg, sugar, milk, carrots and vanilla. Mix.
Step 3: Pour carrot mixture into flour mixture. Stir to combine.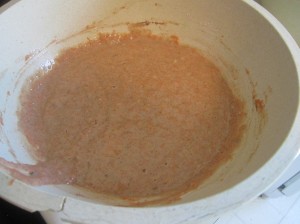 Step 4: Over medium-high heat or an electric skillet, scoop out enough mixture (about 1/4 cup) to make a pancake.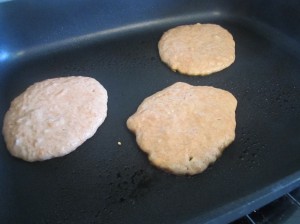 Step 5: When the mixture starts to bubble and a nice brown color is on the bottom, flip.
Step 6: Cut out using any kind of cookie-cutters. I go for the jungle animals myself.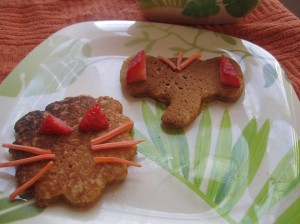 Decorate! I use powder sugar because according to my son, it "snows" in the jungle!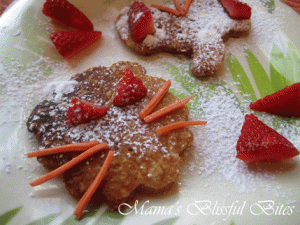 Change up your dinnerware, add some zip and style to your food. Be sure to add vegetables too! You may be surprised at what a little shabang can do

Please join me in welcoming Kristen from Crazy Kwistin as Mama's Blissful Bites FIRST GUEST!!! Thank you Kristen for sharing your recipe!
My First Guest Post!
I am so excited to be working with Amber from Mama's Blissful Bites and other Tidbits about Life! I love her site. Check out her Lavender Pillow Mist, I'll be making that one ASAP. I love lavender!
"For those that don't know me, I'm Crazy Kwistin. I love taking pictures and blogging about my adventures with travel, food, photography and kids. I love things that are unique and different and most of all FUN! Check out my blogs's at www.crazykwistin.wordpress.com and www.kwistinsfavorites.wordpress.com And Thank you Amber for being so awesome!"
I love this recipe!! From the Deceptively Delicious cookbook written by Jessica Seinfeld. The recipe calls for pureed cauliflower or squash but I really like it with carrot AND cauliflower. Plus is makes me feel extra good that my little ones are getting two different veggies…and carrots are orange, so… The first time I tried it my oldest, who for some reason does not eat carrots, devoured it. I was sold on the technique of hiding the veggies.
Start off by boiling the noodles. I like the extra large elbow noodles (for the kids), seems fun for them and holds the puree nicely.
I get the frozen veggies, microwave them, and then toss them into the food processor. About half a bag of each of these.
Coat a large sauce pan with cooking spray, add 1 tablespoon of oil and one tablespoon flour and mix constantly until you get a paste, then add a 1/2 cup milk and mix. Then add in the pureed veggies.
And then the CHEESE!!! My favorite of course! You will only see me cooking with Tillamook. Red wrapper for tonight. Add about 1 1/2 cups of shredded cheddar and 1/4 cup cream cheese. I love Philadelphia cream cheese and the recipe calls for reduced fat but I love the real thing! You'll see me buy generic for lots of things but cheese I am a little bit of a snob about.
The cheese blends perfectly with the veggies, can't even tell it's there.
And then you add in the noodles. I add in as much as I feel like…recipe calls for a 1 1/2 cups but I probably add more like 2.
And for the finished product. I made my puree a little chunky hoping to get the kiddos used to eating the real thing in addition to the puree. Maybe they can get around the chunks but they won't know they are still eating VEGETABLES, muah!!!! I love a little something green and still serve a veggie on the side. This really is a tasty mac n cheese. And I love this cookbook. It makes you think differently about cooking that's for sure. My Kids WILL eat their veggies, they just might not know they are doing it. Add in a little something for the parents, a bottle of bubbly or a glass of Pinot Grigio always goes nicely with cheese. I love me some Ecco Domani, very clean and crisp taste. Super refreshing for these summer nights.
Baby T macking on her mac n cheese
Sniff.
Sniff.
Dribble.
Dribble.
SOB!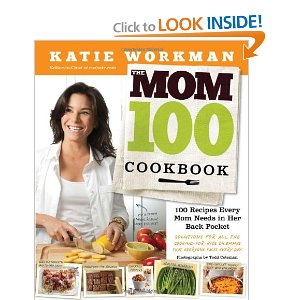 I have to share with you my sadness for this is my last post in sharing Katie Workman's AWESOME cookbook, The Mom 100. Our fantastic #SundaySupper group has been honored to work with Katie and in sharing her recipes and Mom Solutions! I have come to love her cookbook and have spotted it up with clumps of food as I cooked. Katie's cookbook represents the life of a real mom with real life solutions. It is a must have in your kitchen.
This week, the #SundaySupper group is sharing recipes for the Back to School Mom. I can recall my mom making me a peanut butter and jelly sandwich every day all throughout elementary school. Let me just say, that is a long five years of PB&J and to be honest, I would always throw them away. What a waste! Please, grab Katie's cookbook. Sometimes us mom's have a hard time being creative and coming up with ideas for new lunches. Hey, good news – you don't have to think anymore! Katie has done it for you! One of her lunch stuck solutions is to make a lunchbox wrap. A wrap you say? YES! You can stuff with almost anything your little one desires!
Katie gives a list of different delicious ideas for wraps. Again mom, no worries, she's got you covered! One of my favorite wraps that I make quite often is a hummus, cucumber, roasted red pepper and carrot wrap. It's super super sooo good!
My children again, don't like the texture of meat and they are of the ages 3 and 2. I have learned through this stage, they are quite selective with their choice of food, but these wraps are a wonderful addition to the lunch week!
You can purchase hummus at the grocery store  already pre-made. Saves an extra step if you are pressed on time. I love making different styles of hummus and I always have a can of chickpeas on hand, so I whipped up a quick bowl.  I was going to make a regular, plain hummus and throw roasted red peppers on my wrap, but I changed my mind last-minute. I now present to you, Roasted Red Pepper Hummus with Carrots and Cucumber Wrap.
Hummus:
1 (15oz) can chickpeas: drained and rinsed
lemon juice: From 1/2 lemon, freshly squeezed
2-3 Tbs Olive oil
Pepper
3 Tbs roasted red roasted pepper (I used jarred)
1 clove garlic: minced
Recipe:
1. Add beans, lemon juice, olive oil and pepper in a food processor or blender. Blend until desired consistency
2 Add red pepper and garlic and blend again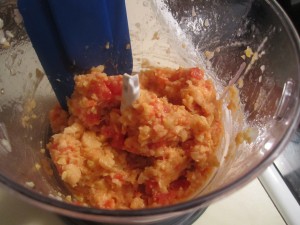 Traditional hummus has tahini however my children can tell a difference and prefer not to have it. Include it if your child likes it!
Wrap:
Carrots: shredded with a vegetable peeler
Cucumber: Cut into pieces according to your childs age. (Mine are toddlers, so I cut them up pretty small)
Wrap of choice (They have a fantastic variety at the grocery stores now. I always find mine near the deli section. Regular white wraps to whole-wheat. Try a variety to see what your child loves!)
Instructions:
1. Place hummus on a wrap
2. Build toppings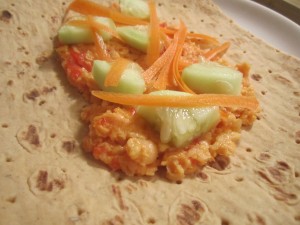 3. Wrap and put on a plate to serve Or in a lunchbox to go!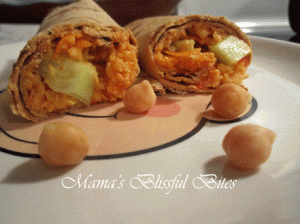 I sometimes make these wraps for a snack too – don't worry, I share…sometimes!
And, did you see that goofy plate? We use them to create fun on their plates. They like to play with their food and I am fine with that as long as they eat it. Why not make meal times fun for everyone

Want to connect with Katie? Yes, I don't blame you! Here's how!
Connect with Katie Workman, Author of The Mom 100 Cookbook:
http://www.themom100.com/the-mom-100-blog/lists/gearing-up-for-back-to-school-weeknight-dinners/
Link to Amazon for this MUST HAVE COOKBOOK!
http://www.amazon.com/gp/product/0761166033/ref=ox_sc_act_title_1?ie=UTF8&smid=ATVPDKIKX0DER
Don't worry moms! We don't want to leave you with only ONE idea for the school year – Please remember to check out more fantastic recipes from our again…clearing throat…AMAZING #SundaySupper group!
Easy Breakfast ideas:
Lunchbox Wraps:
Easy Weekday Suppers:
After School Snacks:
We will be sharing great family recipes all day and want you to share yours with us! Join us at 7pm ET for our #SundaySupper Chat with Katie Workman.   Follow us on twitter by using hashtag #Sundaysupper or using Tweetchat.  We love to feature your recipes on our #sundaysupper pinterest board and share them with all our followers.
Another great week at Foodie Friends Friday!
They make some amazing Granola that is Vegan, Gluten and Soy Free and Sweetened with Organic Raw Blue Agave in many flavors, including a Nut Free one as well!
Suzi at
Gypsy Girl Granola
 was nice enough to give us 3 bags to award to our Foodie Friends Friday Top 3 Voted Recipes this week! Thank You so much!!
So… you guys better get cookin' and get ready to link up your VERY BEST 3
recipes this Foodie Friends Friday!
*Awards only available to US and Canada Residents
But first…here are last weeks winners…
Top Voted for July 27th!
Most Clicks for July 27th:
Here are your hosts for the week!
Step 1: Make sure that anything you link up is:
A Recipe…and is made and photographed by you
Not part of a sponsorship/sales/giveaway or other promotions/linky parties
Linked to a specific page of your recipe, not your homepage
Please limit your link-ups to 3 per party
Step 2:
* for example: This recipe is featured on "Host Blog Link" and http://www.foodiefriendsfriday.com Linky Party)
If you want to be the very best Foodie Friend Ever…
Grab our button at http://foodiefriendsfriday.comand put it on your page and share Foodie Friends Friday!
Take some time and check out other submitted links and the blogs of all of our gracious hosts
Come on over and "like" us on Facebook or Follow us on Twitter and Pinterest
Step 3: Come back on Sunday and vote for your favorite recipes by clicking on the star under the recipe. You only get 3 Votes so use them wisely!
 ***Please note that by linking up your recipe you are agreeing to allow Foodie Friends Friday and any of it's affiliated websites or publications to use photos/links/recipes for any reprint, republishing and distribution without monetary compensation to you. If photos/recipes are used, proper credit/ linkbacks will be published with them. We just want to share your amazing recipes and spread some foodie <3 !
 On to another KID-FRIENDLY VEGGIE HIDING MEAL – BEAN BURRITOS!
Mexican food in my house is a pretty good sell. I love it because the spices can run from mild to smoking hot! It's entirely up to you. I find it best that children don't have too many spices because they seem to steer away from bold flavors. Again, you know your family the best! I do know one thing, it is hard to get veggies into my little ones mouths! What is it? The color? The texture? That it's actually good for you! I feel I have to fight this battle a lot, so this time I have added it to our burritos and disguised it with lots of love from cheese….yet again.
Ingredients:
1 teaspoon Olive Oil
1 cup organic vegetarian refried beans
1 cup cooked brown rice
1 onion: diced
1 cup cauliflower: chopped
1 carrot: peeled and chopped
1 cup vegetable broth
1/2 teaspoon salt
pepper
1/4 cinnamon
1/2 cup vegan cheese or shredded sharp cheese
8 tortillas
Recipe:
1. Preheat oven to 375 degrees.
2. Spray a 13×9 inch pan with cooking spray
3. Place cauliflower and carrot into blender and blend until forms crumbly pieces but not puree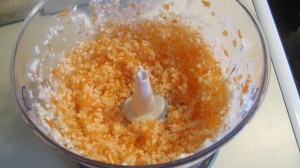 4. In a large saucepan, add olive oil, onion and carrot mixture. Saute for a few minutes.
5. Add remaining ingredients and simmer.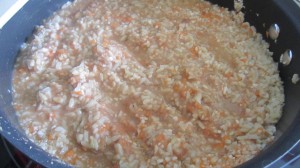 6. Meanwhile, over medium heat place tortilla in a saute pan. Pan fry both sides 1-2 minutes.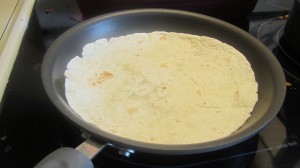 7. Place bean mixture in middle of tortilla and fold sides in and wrap over, seams down. Place in prepared baking dish.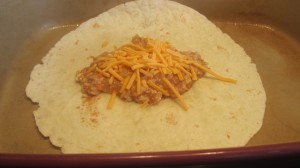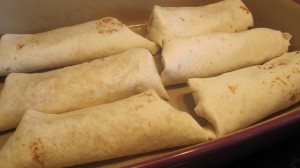 8. Bake for 25-30 minutes until tortilla is crispy. Serve with avocado or salsa.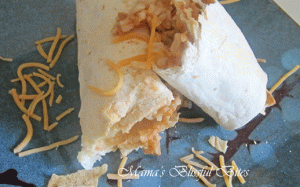 Let's just say they were all gone by the time I got back to the house. The kids thought it was a regular bean burrito, but they don't know their mom very well yet! Ha!
Check out other fantastic recipes as well!



This is fantastic! My son, who is considered a "selective" eater, LOVED his pasta! It's FILLED WITH LOTS OF VEGETABLES! I repeat, LOTS OF VEGGIES! He licked the whole bowl clean! It was so nice to know he was eating a healthy plate and he loved it! Sounds kind of funny but it was a great table moment. I have to share with you this yummy recipe.
My husband, who hates kale, loved it as well. He said he had no idea his bowl was filled with so much goodness! If your child is not used to whole-grain pasta, then use regular pasta and just change the sauce. Making small changes rather than switching hard-core into a healthy lifestyle is better for everyone. If you do something gradually, it will help make shifting to a healthier lifestyle easier. After you've had the sauce a few times, then try whole-grain pasta. Yes, there is a taste difference between whole-grain and white, but it's still just as good.
Ingredients: (Ready for this GREAT list?!)
1 cup cauliflower: chopped
1 carrot: peeled and chopped
1 zucchini: peeled and chopped
1 onion: chopped
1/2 cup kale
2 garlic cloves: minced
1/4 tsp. cinnamon
sea salt and pepper
28 oz. crushed tomatoes
1 cup broth (vegetable or chicken)
1/2 Tbs oregano
1/2 Tbs thyme
1 Tbs. olive oil
Fresh basil leaves
1/2 lb whole grain pasta
Recipe:
 1. Add oil to a saute pan over medium heat.
2. Place cauliflower, onion, kale, zucchini, carrot, garlic, sea salt and cinnamon into saute pan. Saute for 15 minutes until softened. Stirring occasionally.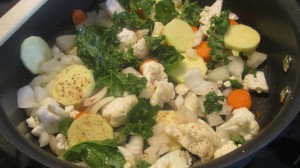 This is how it looks after fifteen minutes…and your kitchen should be smelling fantastic now!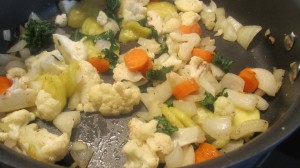 3. Add sauce, broth, oregano and thyme. Bring to boil.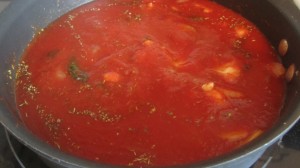 4. Cover and simmer on low for 45 minutes, stirring occasionally.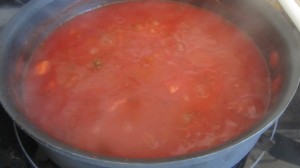 5. Add basil leaves and stir. Cover on low for another 15 minutes.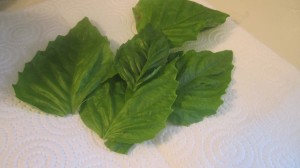 6. Meanwhile, make the pasta.
7. Place sauce into a bowl and using an immersion blender mix until all chunks are gone. (Or use a blender).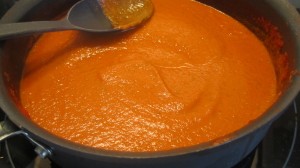 8. Drain the pasta but save 1 scoop of the pasta water.
9. Mix scoop of pasta water, sauce and pasta together. Ladle and serve.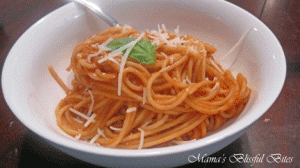 It looks like regular pasta right? How would they know, including your partner, that its FILLED with goodness of the Earth! If your child won't eat vegetables, what's a better way then to hide those babies?! And please, don't just stop at the select vegetables that I picked! Fill your sauce with whatever vegetables you have on hand! Spinach, peppers, any leafs you have! Fill it up! You will fall in love with this sauce and so will your kids

Be prepared for everyone to love this delicious pasta dish! Best part, it's healthy and nobody needs to know! Enjoy!
Come on, it couldn't get any easier, but sometimes in life, we forgot IDEAS for dinner! And healthy ones, may I add. Sweet potatoes are filled with lots of nutrients and are inexpensive. Have them on hand and use them yearly! Some benefits of this powerhouse are:
Rich in Iron
High in vitamin B6
Also contains vitamins C, D and E! (C&E play in part of disease prevention)
High in fiber (because our bodies need to pooh! There I said it!)
Contains magnesium which helps with relaxation and anti-stress mineral
Contains potassium
AND beauty moms, these nutrients contribute to a glowing complexion and shiny hair!
Make this side for the kids, pssshhh, give yourself this wonderful gift!
Super easy and in charge, let's begin!
Ingredients:
4 sweet potatoes: scrubbed
1 Tbs. Earth Balance Butter Spread
1 teaspoon cinnamon (add as much or as little as you like.)
Directions:
1. Preheat oven to 375 degrees
2. Prick potatoes with a fork and place onto oven rack.
3. Bake for 45 minutes to 1 hour until they are soft
4. Let cool until you can touch them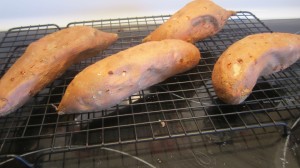 5. Remove skin and discard.
6. Place potato flesh into a bowl and add butter and cinnamon. Mix.
7. Serve warm.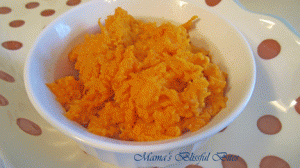 Go a step further and add raisins or nuts! (Pecans are my favorite!)
I started my children on a plain hummus recipe when switching them over to the "healthier" world. Because this is such a simple hummus recipe with little ingredients, there's not an abundance of strong flavors to displease your child's palate. In addition, there are lots of ways to introduce hummus as well. It can be used as a dip with vegetables, dressing to a salad, served with pita chips or even spread on a sandwich. My children and I love finger fingers, for the convenience and fun, so we started with plain hummus on vegetables. My "happy" eater (who eats everything) loved it and my picky eater took two bites, well, let's just say that is more than I thought he would! Next, I spread it on some whole wheat toast, an extra snack to his breakfast. I never force them to eat, but offer it a lot in a lot of different ways and flavors. The more they eat it, the more they start to like it and eventually, I hope they love it as much as I do.
After you child is introduced to the taste, you can incorporate lots of different flavors to your hummus. Sometimes I make it with roasted red peppers other times with spinach and so forth. You can customize it to whatever your body is craving!
I shouldn't have to tell you, but I like to brag for my bowl of hummus….there are a ridiculous amount of reasons to eat hummus.  So on behalf of hummus, here are some reserached (internet!) benefits:
Chickpeas: Are rich in protein, high in fiber, prevent build up of cholesterol in blood vessels
Tahini: Also high in protein and a great source of calcium (Mom's, we need calcium!)
Lemon Juice: Improve the immune functions and fight bacteria and viruses and also reduced oxidative stress in the body (I should be gulping lemons on some days!)
As a whole: Hummus contains Omega 3 fatty acids which improves intelligence (for some..ok, just kidding) and helps maintain a healthy heart
Without further wait, let's start this five minute recipe. That's right, it's about that easy and darn good delicious!
Ingredients:
1 (15oz.) can chickpeas: drained and rinsed (also known as garbanzo beans in the International Aisle of supermarkets)
1/2 lemon: juiced
1 Tbs. tahini
1/4 teaspoon of salt
Water
NOTE: Tahini can be found in the international aisle of supermarkets. It's a paste made from ground, hulled sesame seeds. It has a distinct flavor, so your children may not like it, if that's the case, try a hummus without it. (I'll be posting it soon!)
Recipe:
1. Gather all ingredients.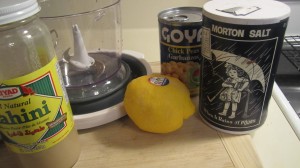 2. Put into a blender and blend.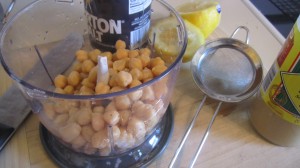 3. Add water as needed to thin it out. (I like it chunky for vegetables so I used 3 Tbs.)