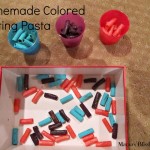 While the boys were out on a Home Depot run (arh! arh! arh!) Mama and baby girl got to spend some much needed quality 1:1 time. Earlier in the week, I noticed I have an abundance of pasta. I mean, can't fit anymore in my pantry, kind of abundance. I decided to throw it in our art section to create necklaces but this turned into an even better project. Making colored sorting pasta has never been so much fun.
Supplies:
Plastic bags
Tempera paint
Pasta of choice
Sorting cups
Glitter (optional)
Wax paper for drying
First, I placed pasta into three big plastic bags.
Then, add tempera paint inside each bag.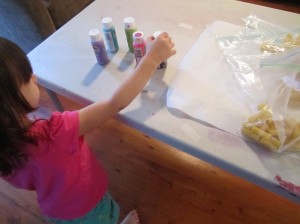 Then, SHAKE! SHAKE! SHAKE!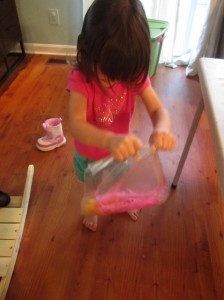 Until all pasta is colored in paint.
Baby bear wanted to add some glitter so of course, we did!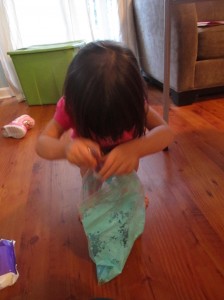 Finally, dump each bag onto wax paper and let dry. It took about 45 minutes to an hour for this to occur. In the mean time, we had snacks and had you know, girl talk.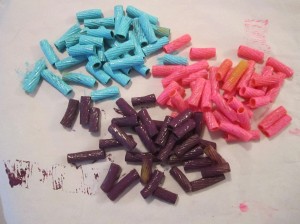 After it dried, the fun began!
First, we made necklaces…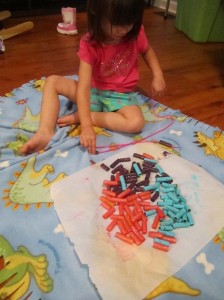 Using string, we made different patterns with each color.
Then my son came home and being a big 4 year old, he stated that, "Boys don't wear necklaces! Only girls!" He cracks me up. So I decided to turn our artwork necklaces to a subject he enjoys, math.
He first counted how many of each color there were: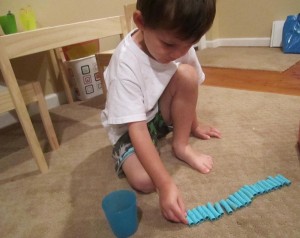 Then we put them in matching cups and estimated how many were in each cup!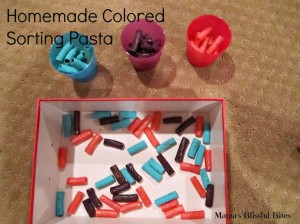 Even baby bear got in on the sorting action.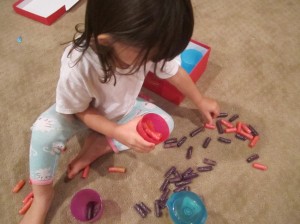 Now don't think this was a one time deal because it wasn't. In the shoe box, I added a measuring cup with the colored cups and it has turned into one of the activities in our new "classroom." (Which I will show you on this weeks Mama Monday post).  Baby bear who is 2 years old, loves to open the box and play with them. Since she made them, I think this project is even more special to her. Making this one of her favorite fun, fabulous games!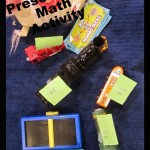 We started a positive relationship with our children and money a few months ago. I say positive relationship because although money is neutral, a person can create positive and/or negative feelings towards money (depending upon their situation) and how they view the concept. I want our children to feel good about "earning" their money and what it takes to earn money, so we started using money as a reward for going potty. (And I'm not talking about pee pee folks!)
Geez, when did I start calling the bathroom a potty? (Yes, this is real parenthood!)
My eldest was having a hard time going number 2 so we created this chart to give him something positive to look forward to. Every time he successfully completed this action, he was given a play dollar. After five play dollars, we took him to a store (The Dollar Store) to pick out whatever toy item he choose. I exchanged his play dollars, for real dollars and told him to pick out a toy that was up to $5.00. This brought me to a whole new concept of understanding prices and how our play store came about.
While we are staying home sick this week, I decided some role playing and learning was a must. So I grabbed two tubs of toys and placed a blanket on top for a table. Then created some fake sales tags and grabbed the play money and register.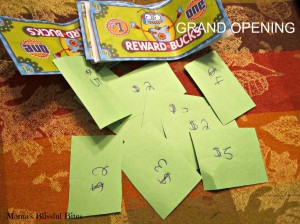 It only took me five minutes to cut out tags, write prices and tape them to some toys. I asked the kids to pick out what toys they wanted for sale…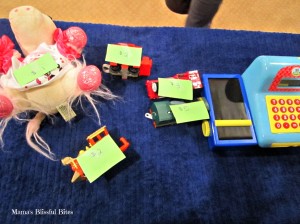 Then, we had the BIG GRAND OPENING!
They were each given $5.00. One person was the cashier and one person the customer. One child would point or ask for an object and I said, "how much does that cost?" They would shout the number written on the tag. Then the customer counted the correct amount and handed it to the cashier. The cashier placed the item in a shopping bag…they were almost professionals!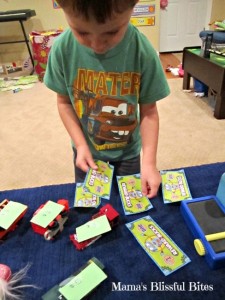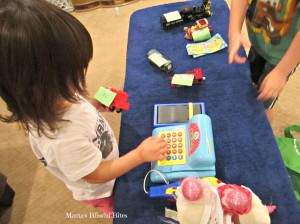 Even the two year old can correctly count out her money!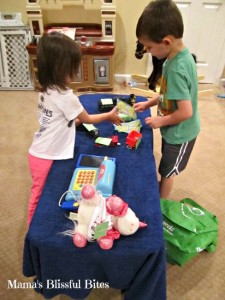 They played store for an hour.
Learning and loving math. They love to count and this Mama, loves that.
If there were two toys they wanted, we put the money with each one. Meaning one for $2 and then one for $3. I would say, "That would be five dollars!" And then count the total together. Just so they start to understand the concept of addition.
And if you are reading this thinking I'm "horrible mama" or that I "spoil" my kids – my job is done. My child is potty trained and it is was what worked for him. Do what works for you.

In the meantime, have fun with your imagination and play! play! play! with your kiddos!
This week we learned about Spring and what that means. We covered everything from bees and ladybugs to planting flowers and making springtime rainbow door hangers.
Here's our Spring Wall – where we fill it up with this weeks crafts.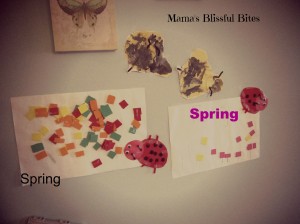 I covered their names with the word "Spring", but we made flowers too. My son said he couldn't use the pink squares as flowers because "pink is for girls!"…so he created his boy bouquet.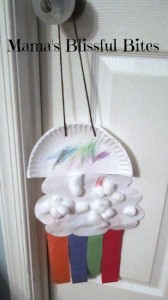 I'm not quite sure how this all came about. There comes a point (actually a few) times during the day where I desperately need something to do because we are all bored. When you're in a house for four years, it does it to you, it just does. I try to plan ahead, (I usually have my days planned out a head so I can be overly prepared as I call it) but sometimes I need to wing it. The kids start running laps in my house. LAPS  I say! It was raining and their energy needed to go somewhere besides my floors. Thinking of our Spring theme, it just all started coming together. Thank goodness for glue and paper, it makes my life so much easier

Craft Supplies:
White Paper
Paper plate
Different color construction paper
Cotton balls
Glue
Tape
String
First, I cut a plate in half so they could color the rainbow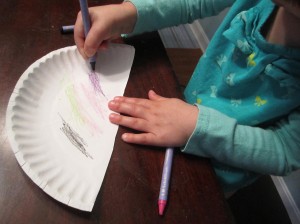 You know, whatever that rainbow may look like to your toddler. Meanwhile, I started cutting out a big cloud.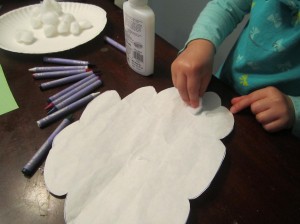 They glued the cotton balls to the cloud.  Then glued the strips of construction paper on the backside for the rainbow.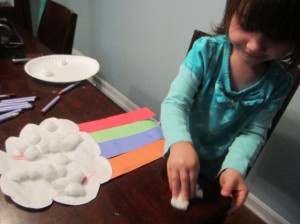 We let it dry and I cut out two small holes with a pencil and put string through. The rainbows are hung on the kids doors and not our Spring wall, I think they like that better.
When we were in the car later that day, my son said, "Look Mama, the clouds are crying." I love the mind of a child, it's so beautiful.
Happy Spring Everyone!
Love,
Mama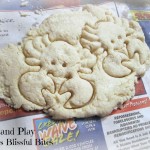 In my house, every day, almost like clockwork, we would have what I call the witching hour. This is where my children went wild. They turned into these little beasts and would run, run, run! Sometimes these creatures would scream and throw things, sometimes they would run in circles and sometimes they would even hit each other! The first few weeks of the witching hour, I would stand in the kitchen and stare out the window and wonder, "Can this really be happening? Is this true?" Of course, these precious, adorable children would turn just as the clock struck dinnertime. It was like they "knew" they had to be quiet and attentive for a little bit and that was truly un-accept-able MOM!

So, this is how we use the Bake and Play!
Before I changed my ways, I would say, "Sit down. Don't run! Find something to do! Calliou is on!" I would say anything to try to keep them occupied. One day, my husband was home while I was preparing the meal and it sounded like someone put him on repeat, "Go play! Go find a puzzle! Go read a book!" Over and over words were being said and said and said but with very little outcome. The witching hour still haunted us until, I changed my tactics.
I've had emails and comments left on my Facebook page, "How do you cook with two little kids? How does it get done?" Here are some answers:
I try to get them involved in making food. I judge how they are behaving if they are in that fun, helping mood…if not, I move onto…
Give them something fun to do!
It's SO much easier Mom's, to give them something fun and keep them busy then using your voice! WOW! This is when I bring out this super easy Salt Dough. I can get an hour in easily if I needed to! I consider what my kids interests are and let it flow with them. My son is into dump trucks and cars, so he is happy making dirt piles and his new thing, townhouses. ("They connect mom, look!") My daughter loves to play chef, so she gets rolling pins and cookie cutters for her dough. The key is not to bring it out too often or they start to lose interest. Once maybe twice a week, I give this to them, MAX. I want it to be effective! This is also what I call a bonus activity because the full project is done in two parts.
Dough Ingredients:
2 cups flour (I use all-purpose flour)
1 cup salt
1 cup water
Stir to combine.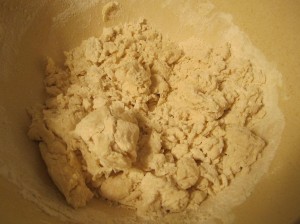 If it's too dry, add more water. I like the texture like this because it crumbles easily into "dirt" piles and if you fold it in your hands it stays together for rolling out dough as well!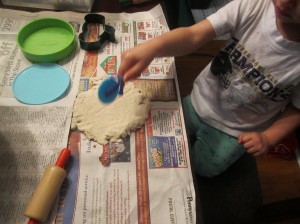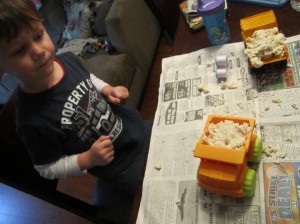 Let them use their imagination! Whatever works for them. As I mentioned, my son builds townhouses and single-family houses as well. (We are learning about communities)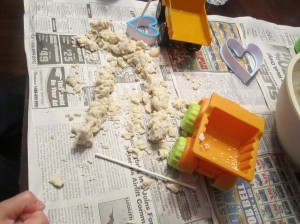 You can also cut out shapes using cookies cutters or sand box shapes too. Keep these on the side…..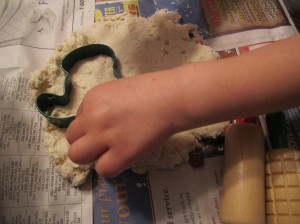 When you finish cutting out shapes then…
Step 1. Place them on a prepared cookie sheet with parchment paper
Step 2: Preheat the oven to 225 degrees and bake for 2-3 hours until completely dried out
The next morning, we paint them!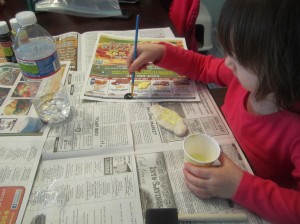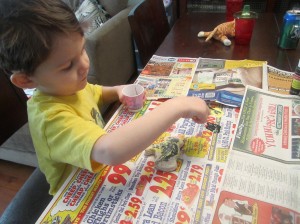 Let them dry and you have beautiful artwork!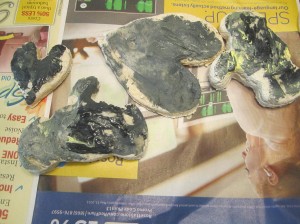 Sometimes, we don't bake, we just play in the dough. When you're finished making the dough, you can always wrap it up in saran wrap and save it for another day. It holds moisture well and doesn't dry out.
Mommy made some sand crabs – wishful thinking for summer!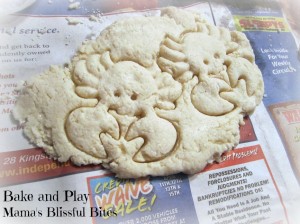 This piece is now on our bathroom floor as a decoration! I love homemade things! It didn't go to waste. Do you have the "witching hour?" If so, I want to know about it!
I couldn't help but notice that my son has pushed a train or a car around the tracks for almost 2 years now.  He loves to watch them go up the railroad tracks or creates his own path and I see them zip over the floor. I honestly have no idea how he's not bored. He genuinely seems to be thrilled watching and pushing, creating and playing.
At least once a day, there is a new track set up on the floor (he no longer likes the train table since he noticed the floor has more room.) We have things to make the vehicles go up and slides to make them go down, bridges you can connect and car washes that make sounds.
My daughter, who is two, watches him and does exactly what he does. She doesn't like to play with dolls yet, but loves to push the choo, choo train. I created this activity to help both of them. Help teach my daughter colors and help my son connect the correct color with the vehicle and see if he could also follow patterns.
My project started like this: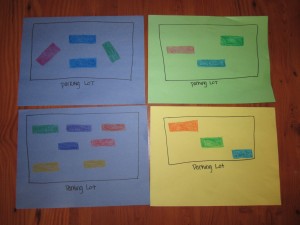 I just created "Parking Lots" on paper and colored in areas for the vehicles. His task was to match the color of the car to the color on the paper AND if it was slanted, to follow the shapes.
I never know how a project is going to turn out. If its going to keep his interest, if he's going to understand it, if he likes it, but this was a winner. I got a solid hour of him learning and playing all at the same time.
First, I showed him "how" it worked and wanted to see if he understood it.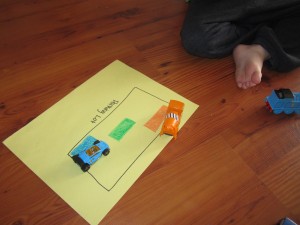 Needless to say, I underestimate the little guy and he nailed it right on.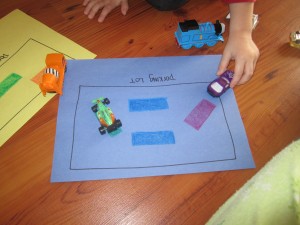 So I brought out the "big guns." <<<<—with lots of colors and a busier page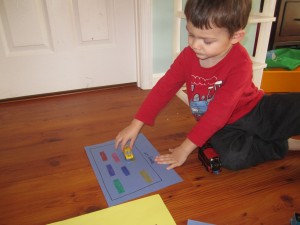 And that was a piece of cake too -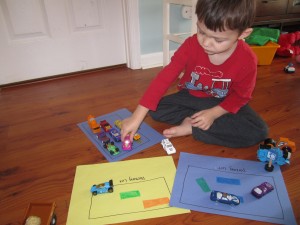 But he was a little bummed out. You see he had all these green spaces and only one green car. NOTE TO SELF: Put the green crayon down!
This was a fun, educational project that kept him busy for a while. He asked if there was one for trains—guess I have a new mission.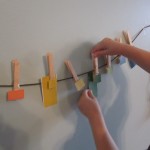 I was glancing through a random search and came across this project. I wish I could link it to a site, however; it didn't give me any links! I found this craft to be educational and fun and could not wait to jump right in. Although we had to travel to two stores with both kids, it was worth the whining. I could take it, they had no idea what was in store for them!
Colors are beautiful. I always take my son outside when there is a rainbow, we glance at all natures glory. I mean honestly, how could we not, it's God's extraordinary work. Anyways, off we went to the first store, the Dollar Tree. A place filled with goodies of arts and crafts, toys, household items and any basic need. Ours even has food and a freezer section. I was a little amazed at what a wonderful place it is and for cheap! I grabbed some clothes pins, pink and blue hangers for their rooms, sandpaper (next project!) and they each got a little gift. Then we drove to Home Depot. Bringing two children into the store, one in a stroller and the other on my hand, I was greeted by many people who were employees and some not, assisting me in what I was looking for. I have to admit, some men asked too. I felt as if I all of a sudden was a little out of place, but was gracious for their assistance. But hey, I could hand it, color swatches here we come! By the way, those are free. This little project gave a whopping $2.00 to the arts and crafts budget. I couldn't be happier.
During their lunch, I started cutting the swatches in half. I cut a little piece out and glued it to each clothes pin. Then hung them on a string on a wall.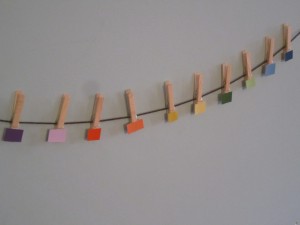 After their quiet time, I brought my three year old down to see the hung clothes pins. He loved the colors and smiled. "What is that?" I explained that we were going to match each color with the color clothes pin and he was beaming from ear to ear. Now I have to admit, I didn't think he was going to be that into this but he was all that and more.
He picked up each color swatch on the ground and started to show me where purple, yellow, orange etc were located but he didn't understand the function of a clothes pin. Why not? Well, because I don't hang my clothes outside! This was something that I overlooked. I realized it was a small challenge to open them and slide a swatch up inside. But by the second one, he turned pro.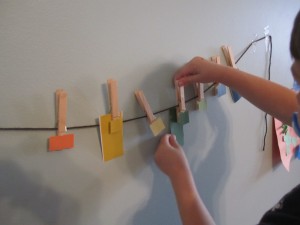 We started to discuss objects of those colors, like frogs are green and the sun is yellow and before I knew it, he was telling me all about colors! We high fived each other when he was finished and couldn't wait to show daddy what he did today. He just started school a few weeks ago and it's not the kind of school that you may think. I'm there for the whole time which is two hours, twice a week. Because of his younger sister, I have had a hard time finding a place that would accept both kids at the same time in the same class. He couldn't do an activity if it was co-op because I would need to be there but couldn't find a sitter etc. I am more than thankful to come across this great class let me just say!
As I observe my children, it's nice to take notes at their new interests and activities that are both educational and challenging. I realized my three year old really likes to match things together and my two year old daughter is testing me and copying her brother every step of the way. From here, I'll find activities to help push them further and activities that are fun! Isn't that what being a child is all about? Fun?!
It was one of those moments that my son smiled at me and I knew he was proud of himself. He was pleased that he did it by himself and it absolutely gave him a fantastic confidence boost. I needed to see that. He needed to feel that. As I mentioned, this activity cost me $2 bucks. It was minimum and worth every smile and bonding moment we shared together. This has been the most rewarding craft I have ever done and simple to say the least.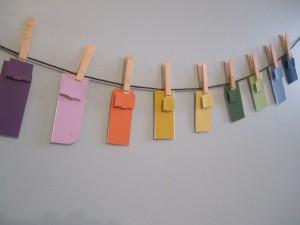 Tomorrow I plan on adding new colors. Colors of different shades and seeing how he does. When my two year old and I had time together, we went through the colors. Hey, they need to start somewhere! This was a fantastic Mommy and Me craft that warmed my soul.
I have arrived! Bringing all my fun, mess and glory to you. This is what I realize. I have looked through many sensory tub sites, many, and all the fun ones seem to have a disastrous mess. This mom has a hard time with mess. It doesn't scream "fun" to me like most moms may think. Instead it screams, "you will be cleaning up this mess a lot longer than they are interested in play with it…." So I brought my husband in for the fun. Wink. Wink.
You may ask why I keep trying these sensory tubs if I complain so much. Well, that's simple, some people just like to complain. Just kidding. 1. Sensory tables are fabulous educational tools 2. I want to give my children some fun 3. I'm bored, a big pet peeve of mine. Next to cleaning I think.
This sensory tub is filled with the mess of shaving cream. My son and daughter love to push cars, trains, busses you name it. If it has four wheels, they are happy as hippos. (Are hippos happy? I'm assuming so. In the game, Hungry Hungry Hippo, they always had a "half" smile look.) Back to the good stuff now. This sensory box is simple. Cars and shaving cream. How much better could it possibly get? Remember, I conveniently waited for my husband to arrive….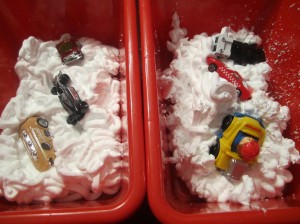 The first five minutes, I thought the stars were aligned for some clean fun. After al,l my daughter was disgusted at the touch of shaving cream. She has some sensory problems we are working through.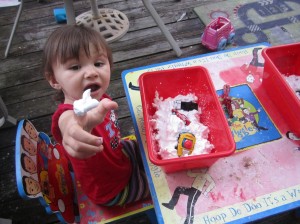 My son was studying it. Interested in the feel. Curious but not overly excited…at first.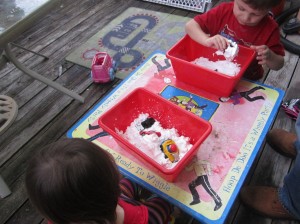 My daughter…still unsure. But uh-oh, looks like my son is starting to enjoy this stuff.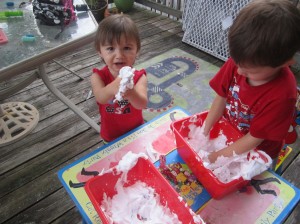 I'm pretty sure the next photos speak for themselves…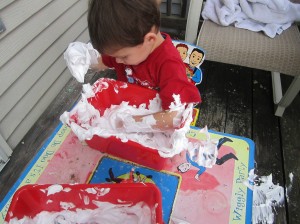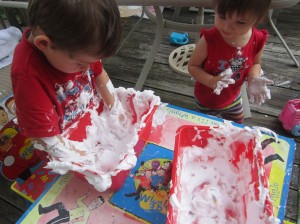 (The arm shaving cream rub)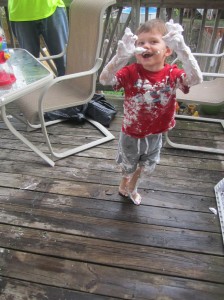 (Here comes the shaving cream monster!)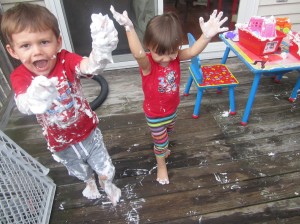 And you know how I waited for my husband? Because double power to clean is better. He's smart and thinks like a fun kid too.  The shaving cream was a mess. Everywhere on the deck. Everywhere on the kids. If you need a quick clean, just get out the hose!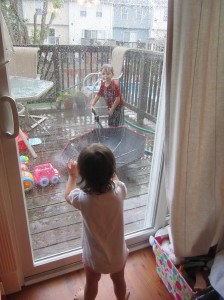 Shaving cream sensory is a winner in my book. I would absolutely do it again. With the help of my rainman husband of course!
Have you ever watched those TV shows where they put the days of the week and then ask, what is your weather like? One of our favorite programs is called Sprout. Which can also be found at www.sproutonline.com if you are looking for some extra great kid-friendly recipes and projects. They have fantastic, educational programing with all the bells and whistles for inspiring value-teaching programs such as Calliou (my kids favorite), Fireman Sam, Bob the Builder and more. Even first lady, Mrs. Obama herself, gets in on the exercise action. I absolutely love this LIVE (did I mention that?) programing. Please check it out.
Okay, enough about that rant! I'm not even sure where it came from. Oh yes, that's right…the weather. My kids are curious about the weather as if they were the incredibly famous, Al Roker themselves! It's fascinating (Yes, I'm talking about Al and the weather!). I have tried many weather type boards but this one works the best. It's a very hands-on, fun version that is portable too!
Materials:
Magnetic Sheets with Adhesive
Photo Fram
Foam Sheets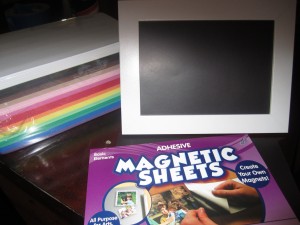 Instructions
Step 1:  Place a magnetic sheet into frame. Remove any plastic cover so you can play with the magnet.
Step 2: Cut out "weather" pieces from foam. Ex: rain, wind, snow, sun, etc.
Step 3: Turn over the weather pieces and attach a piece of magnetic to the back (it should have adhesive, so no extra tools needed!)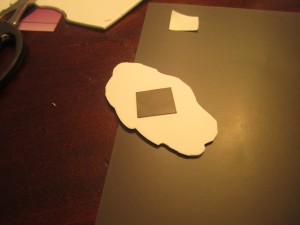 Step 4: Ask your child what the weather is like and have THEM pick out the weather symbol to place onto the frame! Walah, a Weather Station!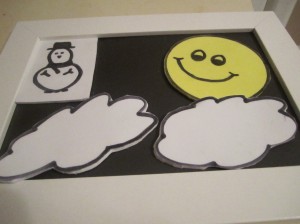 (I never said I was an artist btw!)
Decorate the frame with the words, "Weather Station!"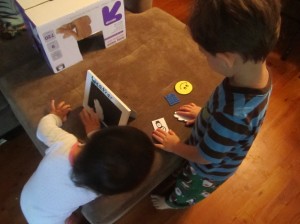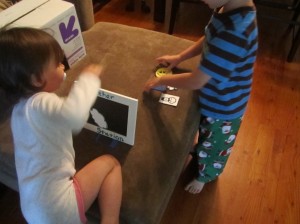 Do you see that diaper box sitting on the side lines? Oh yes, that makes a great fire house too. Soon to come!
While I have been obsessed with sensory tubs lately (please check out my post on them here). I was doing some research and came across something called Cloud Dough. (Which a lot of people have been blogging about).  I have read that people have play-doh parties, water parties and even noodle parties (which by the way, I totally tend to have!) When I read that you can make something called Cloud Dough, all I could think was fun, fun, fun!
Please let me share with you my experience and maybe you will re-think the fun affect that you are going for. I know I did

Cloud dough, as I read, feels like sand. Let me say that again, sand. (It doesn't. It feels like moist flour). Except this will soften your skin, which no doubt it did and does. Not that I am a "neat" person; however, I try very hard to keep my house in some sort of order, this activity will over take anything you have. That's why, I did it outside. Thinking ahead, that's a good start, but nothing nearly prepared me for what I was about to experience.
The ingredients are as follows: (Ready? Are you really ready for this adventure?)
8 cups of all-purpose flour
1 cup baby oil
Oh my. I said it. Baby oil. If you know me, I'm not a "fluff" person. I will not tell you how wonderful something is if I didn't have a good experience with it and I don't beat around the bush. Ask anyone of my guests who attended one of my Pampered Chef shows. I am as real as I can be all the time.
Step 1: Put flour into a bowl of some sort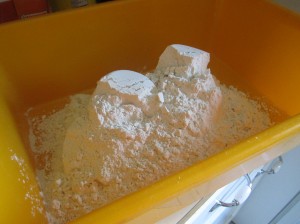 Step 2: Add oil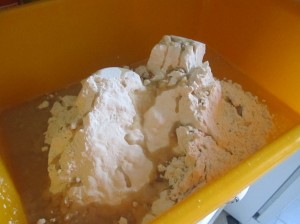 Step 3: Mix and combine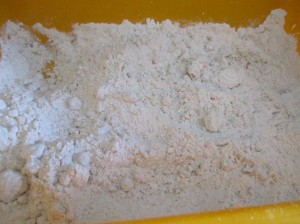 Now, I have read to use a masher or a whisk to work through the clumps. I used a fork. After five minutes of working it, there were still baby oil clumps but I thought it would be okay…..thought. Can I say that again?!
Here are some pictures of our TEN minutes of fun. TEN minutes. Let's just say the Cloud Dough was not a big hit as I was anticipating it to be: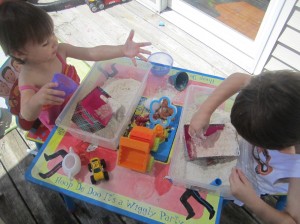 Curious. Curious is always good. What is that on my hand she thinks…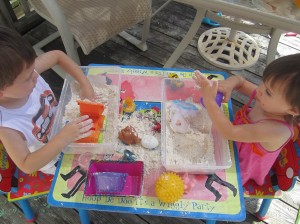 Son jumps right in. He has his dump truck, he's having fun. Daughter…still curious.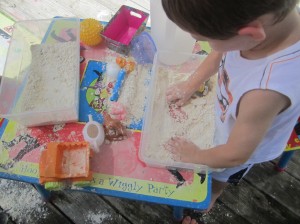 "Wow Mom! This IS great!"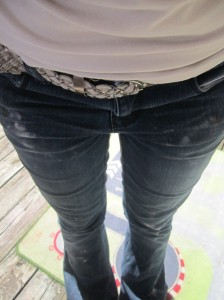 Mom not soo happy. It's starting to get messy up in here. It may not look bad from this picture, but TRUST me. It's messy. M-E-S-S-Y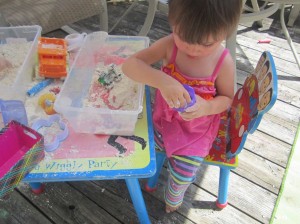 Maybe she does like it after all….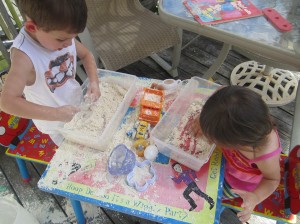 Or maybe they just like to dump it out!
This is where my pictures ended. There are no more. Although this is a sensory activity and they liked to feel the Cloud Dough, their ten minutes of fun were up. Next, they went into the house. Covered in flour. Sliding across the wooden floors. Do you know why? There are clumps of baby oil! That's right, BABY OIL! Try getting baby oil up from wooden floors…..
The sofa, floor, stairs everything covered. Need I say more? This mama likes to have fun and loves for her kiddos to try new and adventurous tasks. With 8 cups of flour smeared into the deck that I needed a vacuum (clearing throat, yes a vacuum!) to remove all the flour PLUS a hose for all stuck in the cracks, plus new clothes, plus another vacuum of the stairs plus a scrub on the floors. It's just not worth it to me.
Would I do this again? Nope. However if you do, just prepare yourself. Put a plastic sheet below to catch the mess, wear old clothes, put a mat in front of the door. Two hours of cleaning is not worth the ten minutes of fun to me. And to top it off, they didn't LOVE it like I wanted them to. Good news, we all had very smooth skin like a baby's buttom. (Sigh….moving on.)  I'm going to make another version of play-doh next. No mama's, it's true. I just don't learn.
As promised, here is our second activity for the book, The Very Hungry Caterpillar. This book is a great childhood classic. If you are unfamiliar with it, please go to your library and check it out. They also have cds and videos portraying the book as well.
In Part 1 of The Very Hungry Caterpillar Activities, we made a beautiful hand-print butterfly (click here). One that I will always keep to see my sons tiny little fingers. Ahh, a mother's love!
What's that? We made a butterfly? We need to make a caterpillar first? Oh yes, that's right! (I have no idea why I hear things when I type!)
The creation of the caterpillar was so much fun for both kids. My 3 year and 21 month old. BOTH. Educational + Fun = Win! Win! (Even my husband got in on the crawling fun!)
Materials:
Construction paper
Glue
Pipe cleaners
Crayons
Ahead of time: Cut out three circles, different sizes for the body.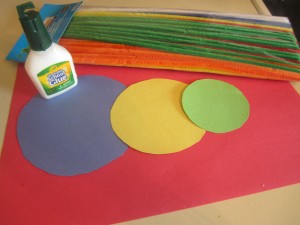 Craft:
1. As you're teaching your child how to put together a caterpillar, discuss the circles and how they are different sizes. Which one is the biggest? Which one is the smallest? Have them glue down the caterpillar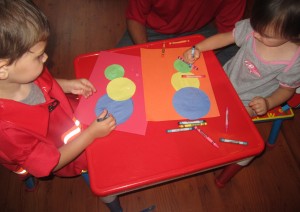 2. Color in a face: Add an eye and a beautiful smile! Use the pipe cleaners for antennas and legs!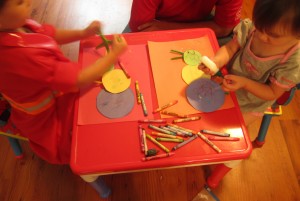 For extra fun, we cut other pieces and pasted them on the picture as well. When we're finished, we tape them to the wall for our "Weekly Museum." This way we can see everything we accomplished for that week. I'll take pictures of the artwork and then scrapbook the pictures for years to come. By doing this, we all aren't stuck with lots of crafts that "clutter" up the house for years to come. The kids can look back and see what they did. If it's a special piece, like the butterfly, click here for part 1, then I'm going to keep it.  I love the size of their hands!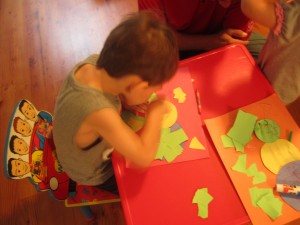 Enjoy your wall of activities as well!