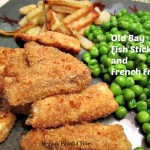 Today was a down-er day. Have you ever had one of those? Where everything goes wrong, no matter what you do? Jeepers, by the end of the day I became a  Negative Nancy.
I would totally rant but I shouldn't. It would only cause myself more misery. So I did what any person would do and exercised…because in all honesty, I needed a stress reliever and exercising is the key!
Today was 40 minutes of XT. Since I'm in desperate need of new DVD's, the 10 minutes Solutions Kickboxing, is what I used again. (I have to tell you I really do love this video, but I do it so much, I just need a change up.)
I think the hardest part of this 14-week program thus far, is doing everything from home. Although possible, I would surely love to see the gym some days and get out of the house to exercise. But, I am doing the best I can with what resources and availability I have so it's all good.
Oh well, now I'm going to wait for my numbers to hit on the POWERBALL tonight and share with you some of my fish. On second thought, with my winnings I can become a Positive Pam…maybe there is hope….but for now ….. just fish.

Here's a great easy dinner recipe, Old Bay Fish and French Fries!
Old Bay Fish and French Fries
Ingredients
For Fish Sticks:
4 fish fillets (I used tilapia)
1/4 butter melted
2 cups plain breadcrumbs
1/2 - 1 cup Old Bay
For French Fries:
4 russet potatoes
1 tbs Vegetable Oil
2 tbs or more Old Bay
Instructions
Preheat oven to 450 degrees
For Old Bay Fries:
Peel and cut potatoes into long fry strips, trying to make them the same in length and thickness
Place fries in bowl and add oil and Old Bay seasoning (as much as you want)
Toss to combine
Place on prepared baking sheet (use cooking spray) and bake for twenty minutes, turning after ten
For Old Bay Fish Sticks:
Cut the fish into "sticks" trying to make them even in size and thickness
In a small bowl, combine breadcrumbs and Old Bay seasoning
In another small bowl, add butter
Dip each piece of fish into the butter, then the seasoning and place on prepared (sprayed with cooking spray) baking sheet
Bake for 10 minutes
http://www.mamasblissfulbites.com/2013/08/08/negative-nancy-and-old-bay-fish-and-french-fries/
I really love this kid-friendly recipe for a few reasons:
1. My kids will eat it!
2. Both dishes use the same temperature so it's easy to cook. Just throw in potatoes first, and ten minutes later add the fish and you're finished!
3. It's quite tasty
Mama's Thoughts:
I do use aluminum foil for the fish. I know…I just don't like to dirty extra dishes. Is that horrible? It's a quick hand scrub when I'm done. I've tried using aluminum foil for the french fries and they don't seem to get reach that crunch affect I'm looking for….too bad. I like being lazy sometimes.

What is your favorite workout DVD?
Hi Everyone!
I was so honored to do a guest post for my friend, Laura as she was away on vacation. (Which makes me entirely jealous!) Please be sure to check out her site on budget friendly dishes. You will be glad that you did!
I did a post on yummy tilapia (which I try to eat once a week. It's fish and I find fish delicious!) I added my own three-step dip and go breading station and it made that little guy into a top-notch winner!
Be sure to check it out!
http://www.smallwalletbigappetite.com/2012/08/guest-post-baked-tilapia-with-breadcrumb-lemon-pepper-topping.html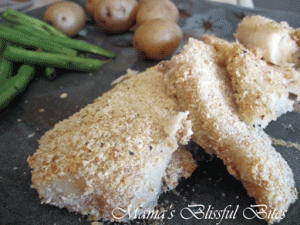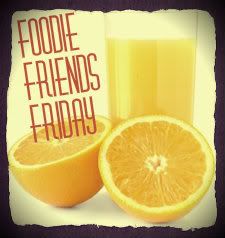 Hi everyone!
I'm really excited to be a part of a group called the Food Friends Friday Linky Party! Be sure to add and send in your delicious meals that you make this week!
CONGRATULATIONS to the Top 3 Recipes picked by you!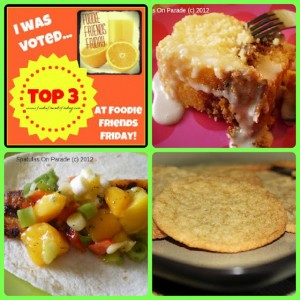 At the #1 spot is our very own Host Marlys at This and That with her Lemon-Lime Sugar Cookies
The #2 and #3 spot go to Spatulas On Parade with the recipes for Fish Tacos and Sock It To Me Cake!
Top 3 Clicks go to: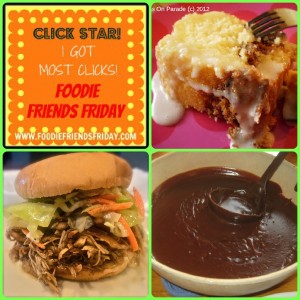 The Most Clicks went to Spatulas on Parade for the Sock It To Me Cake!
#2 for most clicks goes to Chef Picky Kid for the Teriyaki Pulled Chicken
and #3 most clicked was: Country Girl at Home with the Chocolate Gravy
NOW ONTO THIS WEEKS PARTY!!!!
Peachy-Orange BBQ Sauce over Baked Salmon
As a request for more sides and main dishes from one of my life-long friends, I couldn't resist! I had to bring one of my favorite best BBQ meals. This sauce is quite delicious. It tastes like a sweet and sour sauce. The first initial bite is sweet and as you swallow a tang comes in. I always put it on my fish however I'm sure it would go wonderful on meat as well! (I don't cook meat at my house). This BBQ sauce is one of my favorites! Made from sweet summer peaches and orange marmalade this sauce is a nice sweet treat!
Ingredients for Sauce:
1 onion: chopped
1 teaspoon fresh ginger: minced
salt and pepper
1/2 cup orange marmalade
1/3 cup brown sugar
2 Tbs orange blossom honey
1/4 cup apple cider vinegar
1/2 lemon: juiced
5 fresh peaches
Ingredients for Fish:
Fish (My choice was salmon)
Recipe as follows:
1. Bring water in a pot to a boil.
2. Drop in peaches into water, return to boil.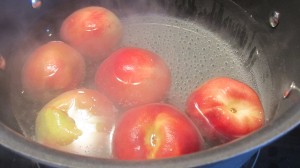 3. Cover and simmer for five minutes.
4. Remove peached with a slotted spoon and drop into ice bath (bowl filled with ice and cold water).
5. Remove skins and chop peaches.
6. Meanwhile, add oil to a pan and cook onions over low heat.
7. Add ginger, salt and pepper.
8. Cook for 5 minutes until onions are softened.
9. Add the remaining ingredients and bring to boil.
10. Cover and simmer over low heat for 25 minutes.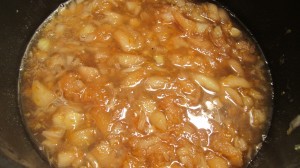 Oh your kitchen should be smelling fanstastic now!
11. Using either an immersion blender or a regular blender, blend until the consistancy you desire.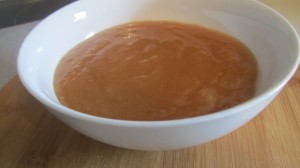 It's a pretty thick sauce. I happen to really like it that way. When I pour out a commercial bottle, that's the consistancy I'm expecting to have! Then store in an air tight container. You can prepare this sauce the day before, then just pour and go!
Now, it just gets better from there! I used this on salmon but tomorrow, I'm dripping over some grilled shrimp! mmmm mmm mmm!
For the Salmon:
1. Preheat oven to 425 degrees.
2. Place foil on a baking sheet and place fish skin side down.
3. Pour sauce ontop of fish.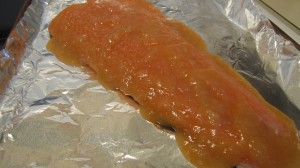 3. Bake for 15-20 minutes until internal temperature reaches 160 degrees.
4. Pull out and let sit for five minutes before cutting.
5. Cut and serve with your favorite sides!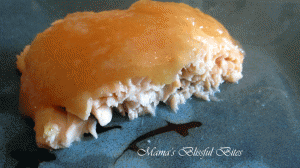 Don't go, make more room in your belly!
ADD YOUR LINK BELOW!    HERE ARE THE RULES! Make sure that anything you link up is:
Made by you
Not part of a sponsership/sales/giveaway
Linked to a specific page of your recipe, not your homepage
Other nice things you can do:
Show some love and link back to my blog and Foodie Friends Friday ( http://www.foodiefriendsfriday.com )
Grab our button and put it on your page and share Foodie Friends Friday!
Take some time and check out other submitted links and the blogs of all of our gracious hosts!
Step 1:  Make sure that anything you link up is:
A Recipe…and is made and photographed by you
Not part of a sponsership/sales/giveaway or other promotions/linky parties
Linked to a specific page of your recipe, not your homepage
Please limit your link-ups to 3 per party
Step 2:
* for example:  This recipe is featured on "Host Blog Link" and  http://www.foodiefriendsfriday.com  Linky Party)
If you want to be the very best Foodie Friend Ever…
Grab our button at http://foodiefriendsfriday.com and put it on your page and share Foodie Friends Friday!
Take some time and check out other submitted links and the blogs of all of our gracious hosts
Come on over and "like" us on Facebook or Follow us on Twitter and Pinterest
***Please note that by linking up you are transferring rights to Foodie Friends Friday and any of it's affiliated websites or publications to use photos/links/recipes for any reprint, republishing and distribution without monetary compensation to you.  If photos/recipes are used, proper credit/ linkbacks will be published with them.  We just want to share your amazing recipes and spread some foodie <3 !