The last 24-hours have been busy, busy! First let me back up a little…
Pete Larson who is a blogger for RunBlogger.com left a comment on my post about running with anxiety, suggesting a particular book to read. I admire Pete with his expertise in running and awesome shoe collection, so I went out right away and picked up the book, Spark.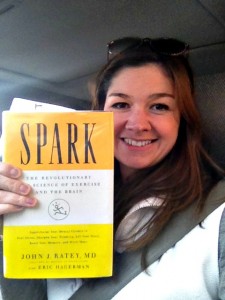 Page 64 baby, it's a good read. THANK YOU PETE!
I sometimes also impress myself.  I have to admit that. Maybe it's even healthy to do so…I like new challenges.
I made my first ever Christmas Wreath!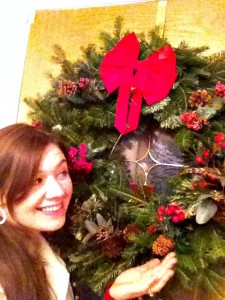 If that's not pretty, I don't know what is! Okay, I need some lights, but I'm very happy.
Who knew it was so easy to find a wreath for $10 bucks and add some ornaments? Is that how you decorate these things? I have no clue, but I'm happy.

We also stocked up plenty for the winter-snowy week ahead as well.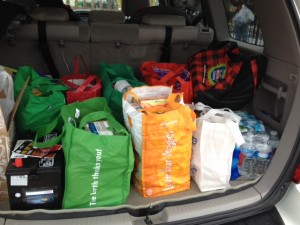 You would think I'm a sucker for Wegman's and you are probably right. I love that store very, very much. To the point I drive a near 20 minutes, $7 in gas to get there, and it is worth every single penny.
They have amazing deals, coupons and natural-organic sections all over the store. If I wasn't there, I wouldn't be able to bring you wholesome, healthy snacks like these incredible, No Bake Oatmeal Raisin Cookies!
No lie – they are fantastic.
No Cook Oatmeal Raisin Cookies
Ingredients
10 dates, pitted
1/4 cup raisins
3-4 cup oatmeal
3 Tbs creamy peanut butter
1/4 tsp vanilla
Instructions
Combine dates and raisins in a food processor. Process until it combines together and rolls into a ball.
Add in remaining ingredients and turn on until forms crumbly mixture
Form balls with your hands and then press down to make a cookie shape
Place on parchment or wax paper and in an air-tight container for up to three days.
Eat as it or refrigerate
http://www.mamasblissfulbites.com/2013/12/09/bake-oatmeal-raisin-cookies/
I also attempted to exercise again, but Jimmy broke down! (Jim, the treadmill.)
PS This was totally me. It just stopped while I was running full force!
I would have ran outside but it's icy and rainy. Instead, I worked on some healthy recipes for the week. If I can't exercise, I should back up on those calories, right?
On the menu this week:
Baked Buffalo Chicken Salad
Curried Chicken and Rice Soup

Turkey and Zucchini Meatloaf

with Potatoes
Healthy Mexican Tostadas
Sausage and Penne Bake
Shout me a comment if you want any of these recipes as well!
Question of the Day: What's your favorite cookie?
 This is a paid-sponsored post brought to you by:
Located in Gilbert, Arizona, Earnhardt's Gilbert Chrysler Jeep Dodge Ram is proud to serve Gilbert with quality vehicles. Family owned and operated since 1951, they have a variety of new and used car inventory.
"Earnhardt' Gilbert Dodge Chrysler Jeep is proud to partner with the Better Business Bureau, Arizona Automobile Dealers Association, Kelley Blue Book, Edmunds.com, Dodge Dealers Association, Chrysler Dealers Association,and Jeep Dealers Association."
Connect with them by leaving  a comment on their Facebook page  
or giving them a call at (888) 262-7401!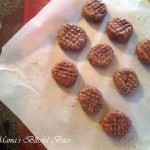 Snack time is never a challenge in our family. My kids LOVE raw snacks. It's the vegetables I have to sneak in

Give them some nuts, fruit and nut butter and we're on. It makes me happy to see them eat healthy. The amazingly high childhood obesity rate is something we can and will overcome for and with our children but we need to start by making healthier choices. What do you make for your children that is healthy?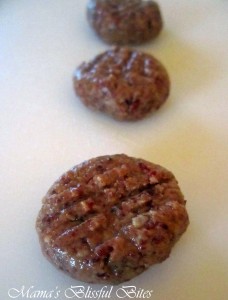 Ingredients:
1 cup almonds (I used sliced)
1/2 cup juice infused dried cherries
1 teaspoon vanilla extract
1/2 teaspoon ground cinnamon
1/2 cup almond butter (you can use any nut butter)
pinch of sea salt
Step 1: In a blender pulse almonds for about 30-40 seconds. You want them very small but not to the point they turn into a flour
Step 2: Add remaining ingredients and blend again for 40-60 seconds until all blended.
Step 3: Take a small clump and roll into a ball.
Step 4: Place on baking sheet with parchment paper and press down. Use your fork to make criss-cross patterns.
Step 5: Place in fridge. Refrigerate for at least two hours prior to snacking, if you can help it. After two hours, place in an air-tight container and munch!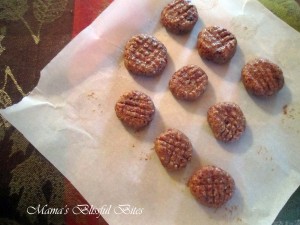 PS Those 9 cookies were all that was left by the time I got them into their container and tried, I mean tried to take a picture! The kids were eating them and I was saying, "PLEASE STOP!" Please know I gave you full warning, they go quickly!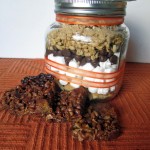 One of my favorite Christmas presents was from my step-mother when I was a teenager. She always gave me "goofy" gifts or gifts that a teenager may not expect, and that year was no different from the rest. I received a jar with a label that read, "Cookies in a Jar." I was baffled at how this made cookies, especially since at the time, I didn't cook or bake! I just turned 18 and had my own apartment with my boyfriend then, now husband. The jar was beautifully decorated and had two little scoops on the front. I could not wait to get home and figure out what I needed to do! From that moment on, I fell in love with any kind of baking in a jar. There's something almost magical about it.
When I received Desserts in Jars: 50 Sweet Treats That Shine (The Harvard Common Press – June 2012), I spent no time running to the kitchen to bake! There are so many wonderful recipes inside that are creative and mouth-watering. Sink your mind around Neapolitan Cakes, Pumpkin Cheesecakes, Apple Pancakes Puffs and Rosemary-Peach Cobblers in a jar! I can't wait to make them!
Not only does this book have easy to-follow instructions but beautiful photos of each recipe! I love knowing how beautiful my dessert will be, don't you? In addition, the talented Olmanson is a blogger herself and takes her own photos! A very talented woman to say the least! You can find her blog at Food For My Family and enjoy more recipes and tips!
To make it even sweeter, Shaina Olmanson gave me one extra cookbook to give away to a lucky Mama's Blissful Bites reader! (I know, I couldn't wait to say it!) Sit down, sit down, let me tell you the details:
Giveaway details:  Mama's Blissful Bites is giving away one cookbook of Dessert In Jars to one sweet reader.  To qualify, please leave a comment of what your favorite dessert to share with your friends and family is! A winner will be choosen by Random. org and contacted thru email.  Open to US Residents only.  Contest closes December 23, 2012 at 11:59 PM CST.
Additional Entries:
Important: Leave a comment on here after doing each additional entry so I know you completed the action!
Now I couldn't leave you hanging with out a sneak peak treat right? I was completely head-over-heals excited to try Campfire Bars Mix – it is FAB-U-LOUS!!!! We go camping a lot, uhm….in our backyard and house…the kids like it, so these bars are a perfect addition to our family tradition!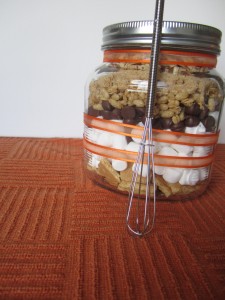 Ingredients:
1 cup graham cracker pieces, each about 1-inch square
1 1/2 cups mini marshmallows, homemade (recipe page 140) or store-bought
3/4 cup milk chocolate chips
1/2 cup granola
1/3 cup packed light brown sugar
1/2 cup chopped almonds
In a 1-quart jar, layer the graham crackers, marshmallows, chocolate chips, granola, brown sugar and almonds. Seal with the lid, decorate the jar if you like, and attach a label with these instructions for the recipient:
TO MAKE CAMPFIRE BARS
8 tablespoons (1 stick) unsalted butter, melted
Preheat the oven to 350 degrees F. Pour all the contents of the jar into a large bowl. Stir in the melted butter until all the pieces are coated. Press into a 9-inch square baking pan. Bake for 12 to 15 minutes. All to cool. Cut into bars and serve
Believe me, these bars are delicious. It tastes just like a smores should be, only ten times better. These jars are perfect for holiday gifts too and bloggers (wink, wink) love to receive them…just kidding, kind of. Alright, your family and friends would LOVE them too….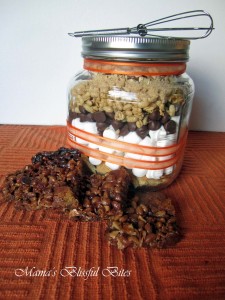 Be sure and stop by to see our bloggers this week and be sure to enter their give-away as well! That's right, ten more chances to win a copy!
Monday
Tuesday
Pam from The Meltaways – Spiced Hot Chocolate Mix with Cinnamon Marshmallows
Heather from girlichef - Orange White-Chocolate Cheesecakes w/ Cranberry Sauce
Wednesday
Thursday
Friday
And if you can't help yourself and are head over heals in love with this cookbook as much as I am, you can also purchase it by clicking here.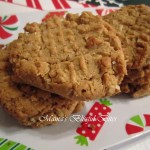 This #SundaySupper is lots of fun! Susan from The Whimpy Vegetarian, has brought this weeks theme, Gifts from the Kitchen! What an amazing idea getting us all pumped up for the holidays! I just love it!
One of my favorite Christmas gifts was in a jar. My stepmom gave me a jar layered with ingredients to make chocolate chip cookies. It was the first time my eyes saw a jarred-gift. I thought it was ridiculously cute. It came with two little scoopers around a tied ribbon with directions. I was just in aww at this wonderful idea. People are so creative, it's amazing.
With this weeks theme, I wanted to re-create my first gift. But this time, I choose to work with my husbands favorite, peanut butter cookies. I always try to work out something healthy but this was a push and shove. It's just not, however; it taste fabulous. The sea salt gives it that salty flavor with the creamy peanut butter sweetness. My son kept snatching them from the "cooling" station and my husband would chase him down. He had way too many.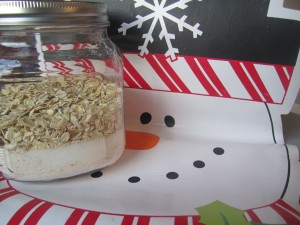 PS. I know some of you may notice, but I forgot to add my brown sugar in the jar – it's actually more in there and higher if filled properly (smack on face

)
Ingredients:
1 1/4 cup whole wheat pastry flour
1 cup rolled oats
3/4 teaspoon baking soda
1/2 teaspoon baking powder
1/4 teaspoon salt
3/4 cup sugar
1/2 cup brown sugar
1/2 cup butter at room temperature
1 cup creamy peanut butter
1 teaspoon vanilla extract
1 egg
Recipe:
Step 1: Mix in a bowl first seven ingredients. If giving as a gift. Stop here and place direction on jar.
Step 2: Cream peanut butter and butter together until smooth, five minutes.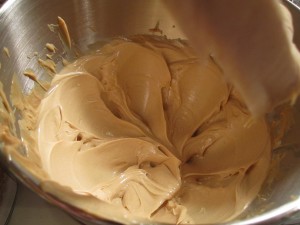 Step 3: Add vanilla and egg and beat thirty seconds more.
Step 4: Add the dry ingredients from the jar into the mixing bowl and mix until combined.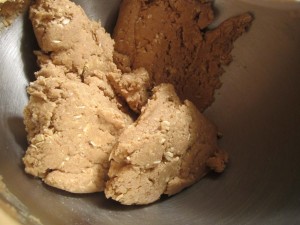 Step 5: Preheat oven to 350 degrees. Prepare a baking sheet with parchment paper.
Step 6: Form dough into small balls for cookies. Take a fork and make a criss-cross pattern for the signature peanut butter cookie look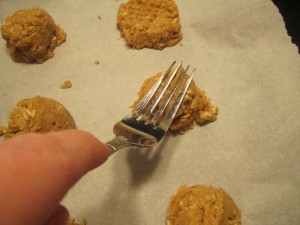 Step 7: Bake 15-17 minutes. I have to be honest, watch your timing because I used stoneware so my cookies wouldn't brown and be softer. If using a metal pan, consider less time.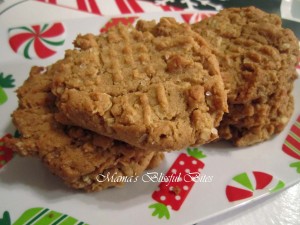 Be sure to check out more Gifts from the Kitchen!
Breads / Breakfast
Condiments / Ingredients
Soup and Snacks
Sweets
Drinks
Please join on us on Twitter throughout the day during #SundaySupper on November 11.  In the evening we will meet at 7pm EST for our weekly #SundaySupper live chat.
All you have to do is follow the #SundaySupper hashtag or you can follow us through TweetChat.
We'd also love to feature your own posts for Gifts From the Kitchen on our #SundaySupper Pinterest board to share them with all of our followers, too.
Last week's Foodie Friends Friday was our BIGGEST PARTY!
Thank you everyone for joining and sharing such delicious recipes.
Here are your Top Three VOTED Recipes from last week…
The Three Recipes with the MOST CLICKS were…
AND the Three Recipes that were picked to win last week's Sponsor Gift were…
for sponsoring last week's party!
One randomly drawn recipe will receive a handmade spoon ring…
Our hosts this week are…
I think Santa must have knocked me out of his sled this year when he found out I already had a batch of Christmas cookies made! Actually, I know he did! When he walked into his North Pole gates, he saw a line up of gingerbread men and Christmas trees. Did I mention the stockings were already hung? Okay, listen, I'm not that crazy!
Fall is absolutely one of my favorite times of the year and I thought, bring on the rosemary! There's something about rosemary and autumn that go well simultaneously together. I asked my son if he wanted to make cookies today and his response was none other than, "I like cookies!" So we got in the kitchen and started to whip up a batch of Orange Sugar Cookies with Scented Rosemary that he loves so much. We were almost at the finish line when he turned the mixer on full blast as I was pouring in the flour. Hey, you live and learn.
Now as I mentioned, I love Fall. These cookies were supposed to be good old sugar cookies with rosemary until the little elf brought out the green sugar. I agreed then he handed me the Christmas cookie cutters. Look, you don't argue with Santa's helper, so you agree! After all, Santa is checking my list twice too! So here is to our first batch of Christmas cookies, in September.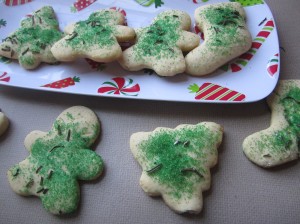 Ingredients:
1/2 cup butter, softened
3/4 cup granulated sugar
2 eggs
1 Tbs freshly squeezed orange juice
zest from 1 orange
2 teaspoons baking powder
1/4 cup fresh rosemary, chopped
colored sugar for decoration
Recipe as follows:
1. Cream the butter in a mixing bowl.
2. Add the sugar slowly with the butter until mixture is light and fluffy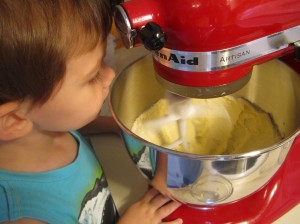 3. Add eggs one at a time. Make sure first egg is mixed in well before incorporating next one.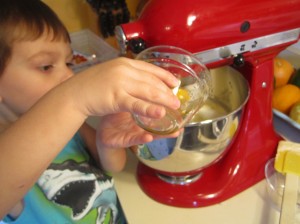 4. Mix in orange zest and juice.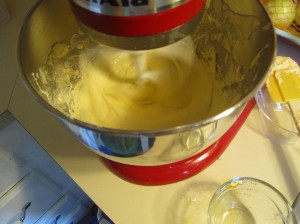 5. Sift in baking powder and flour and mix well.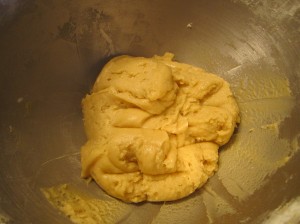 6. Cover and refrigerate for 1 hour
7. Preheat oven to 350 degrees
8. Grease two cookie sheets with butter or shortening or even baking pam. (I used an organic baking spray)
9. Roll out the dough with a floured rolling pin.
10. Cut dough with cookie cutters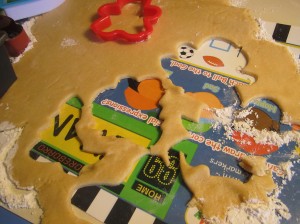 11. Sprinkle with decorating sugar and add rosemary pieces. A little bit goes a long way.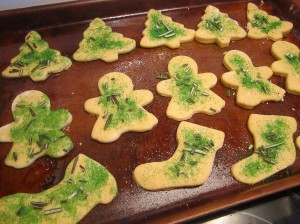 12. Bake for 10-12 minutes until lightly browned on the edges.
13. Transfer to a wire rack to cool. Serve and enjoy!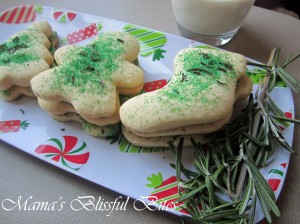 Now please remember, this is a linky party so link up!
Step 1:  Make sure that anything you link up is:
A recipe that is made and photographed by you
Not part of a sponsorship/sales/giveaway or other promotions/linky parties
Linked to a specific page of your recipe, not your homepage
Please limit your link-ups to 3 per party
Step 2:
* for example:  This recipe is featured on "Host Blog Link" and  http://www.foodiefriendsfriday.com  Linky Party)
If you want to be the very best Foodie Friend Ever…
Step 3: Come back on Sunday and vote for your favorite recipes by clicking on the star under the recipe.  You only get 3 Votes so use them wisely!
***Please note that by linking up your recipe you are agreeing to allow Foodie Friends Friday and any of it's affiliated websites or publications to use photos/links/recipes for any reprint, republishing and distribution without monetary compensation to you.  If photos/recipes are used, proper credit and link backs will be included.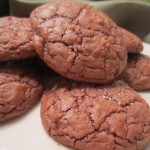 WARNING: Placing these sumptuous cookies into a bag may give people the wrong impression. They may just assume that it is for them and its lunch! Or at least my husband did! No worries, I got a note: Cookies are delicious. Taking to work. Might even share one with a coworker…then again, probably not. Thank you for lunch.
These delicious hazelnut cookies will blow you away. The sea salt on the top is just the beginning of a wonderful experience. Inside you will find cinnamon and coconut. Let's talk cinnamon. Did you know that only 1/2 teaspoon of cinnamon per day can lower your bad cholesterol? Or that cinnamon has been found to be an effective natural remedy for eliminating headaches and migraine relief? Or that cinnamon helps stabilize the blood sugar (which is great for weight loss!) That's right, cinnamon is another great super food for you!
Let's do this O-so easy recipe!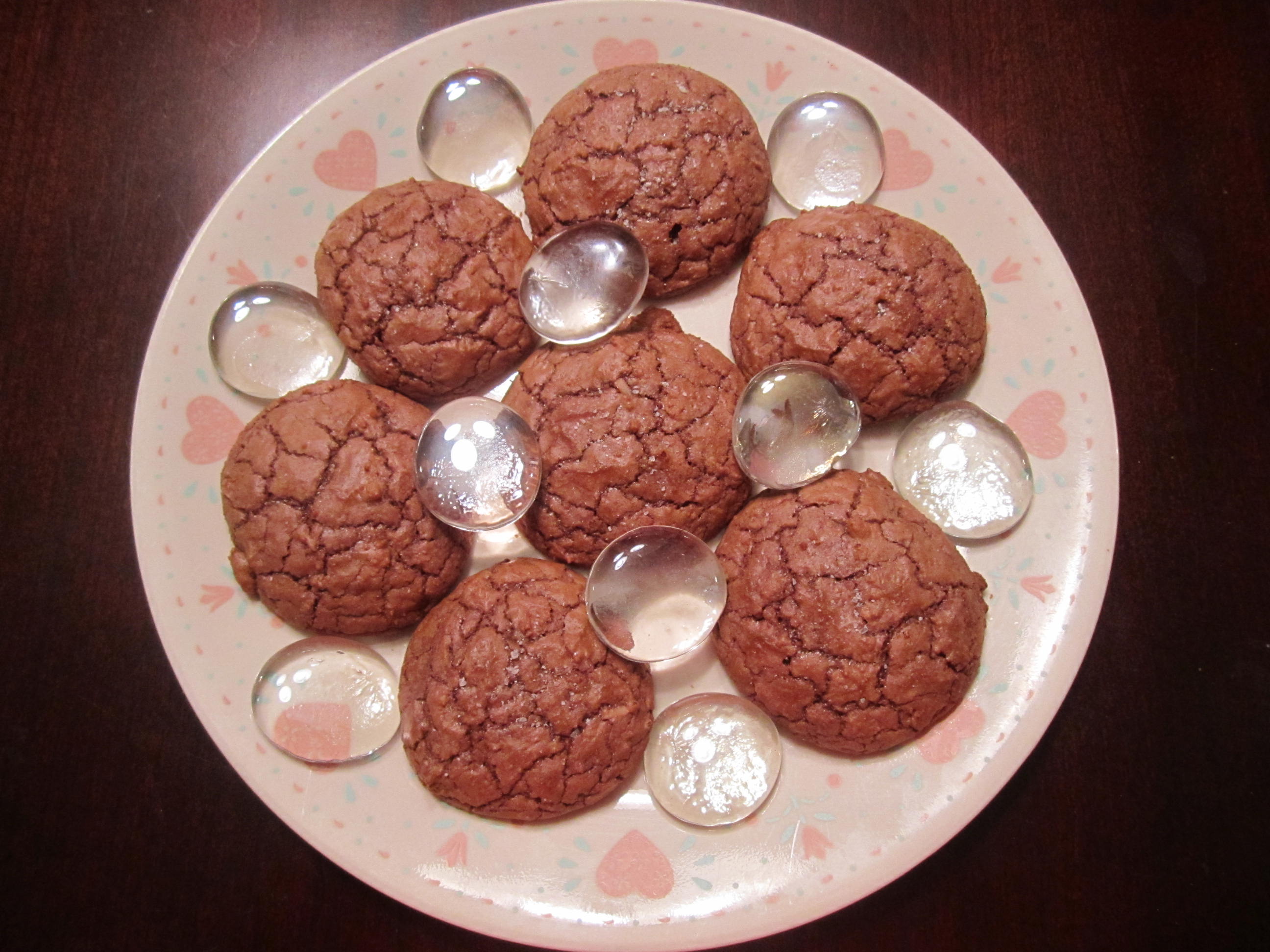 Ingredients:
1 cup Nutella hazelnut Spread
1 cup All Purpose flour
1/2 cup sugar
2 Tbs coconut flakes
1/4 teaspoon cinnamon
2 eggs
Sea Salt
Recipe:
1. Preheat oven to 350 degrees
2. Line a baking sheet with parchment paper
3. Combine all ingredients into mixer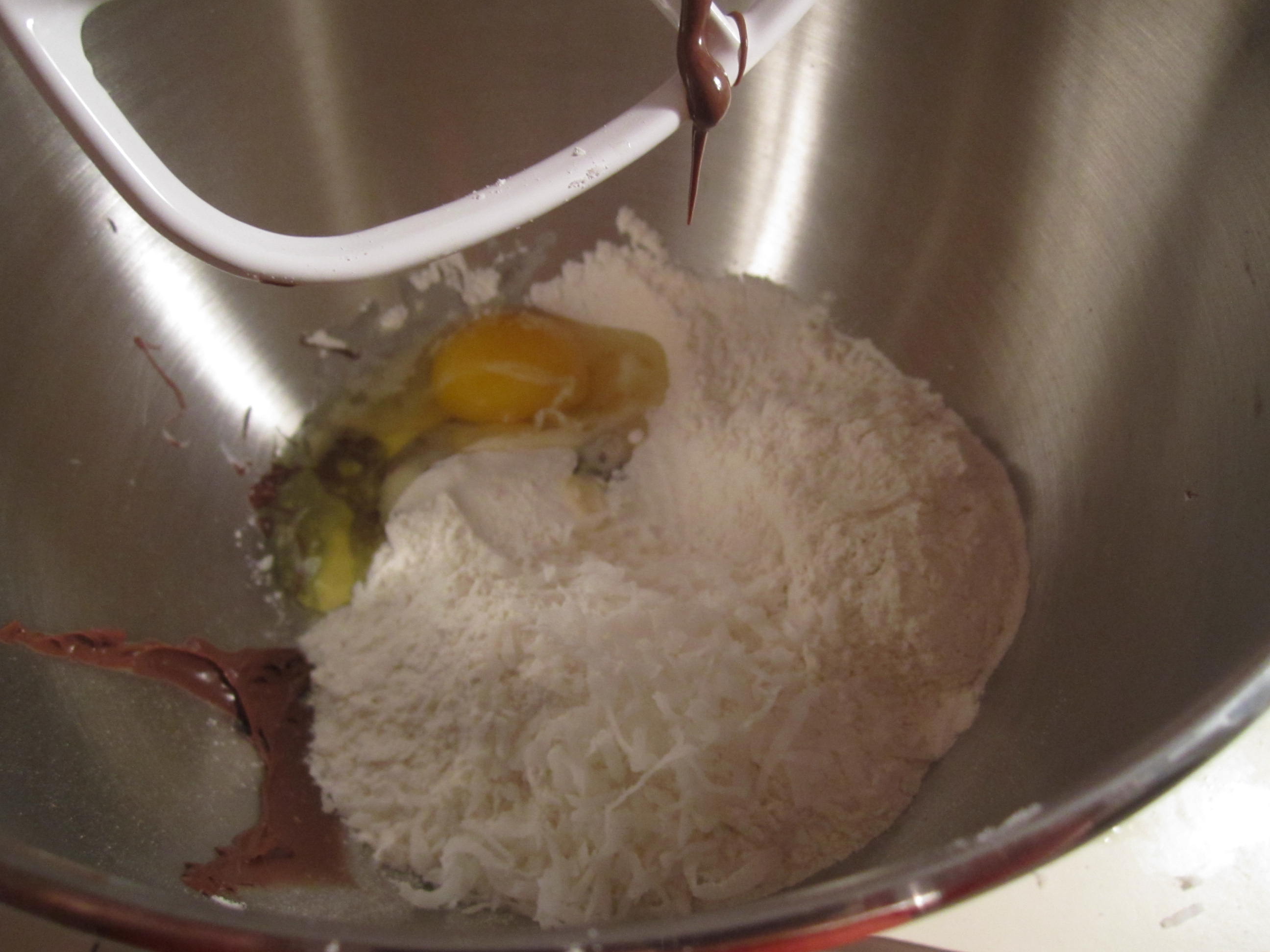 4. Mix until well combined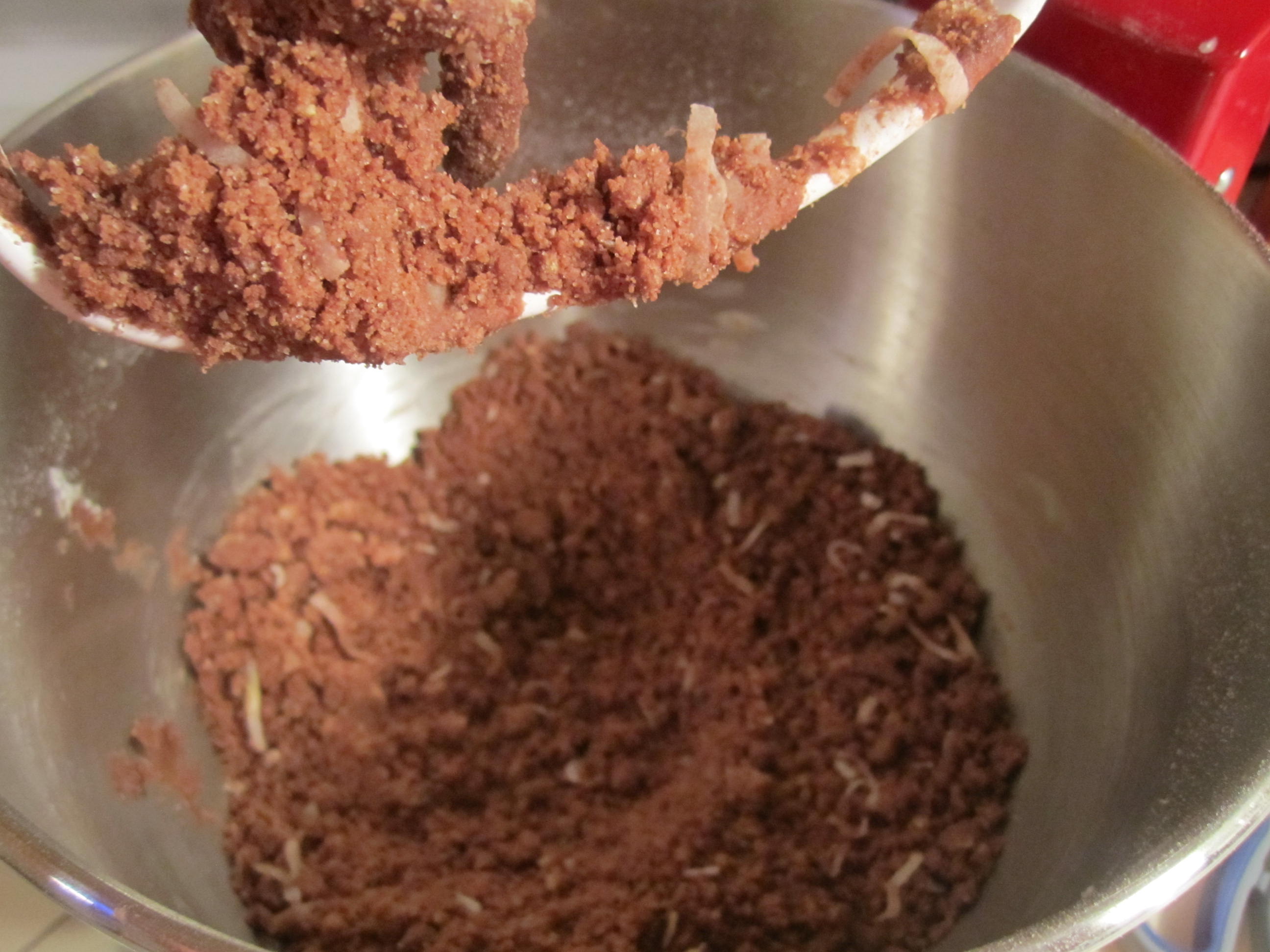 5. When its done, it should resemble something like this – a "wet" mixture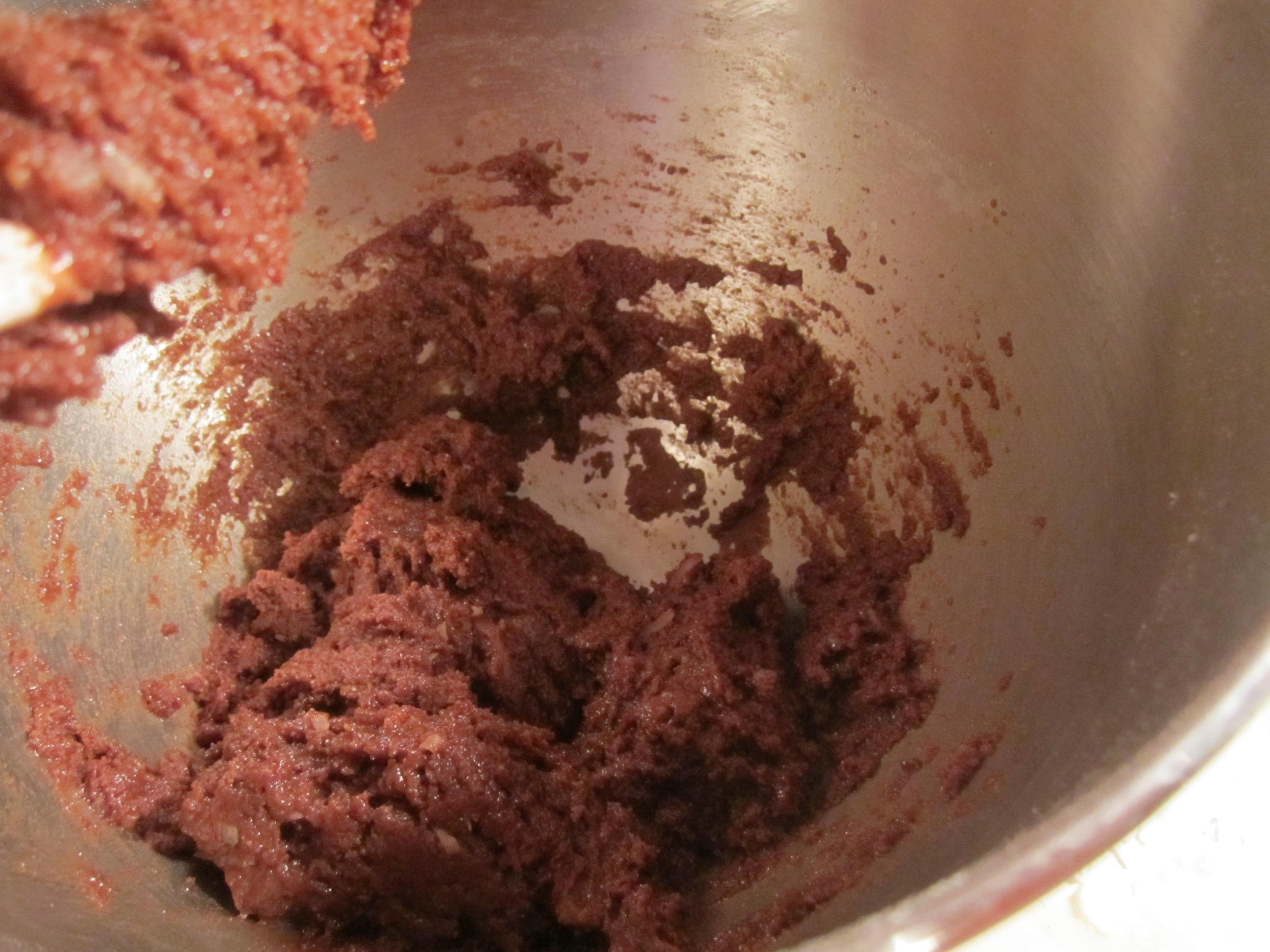 6. Form into round balls. Should make 15 (hubby and I ate some batter, well maybe more than I'd like to admit and I comfortably made 14)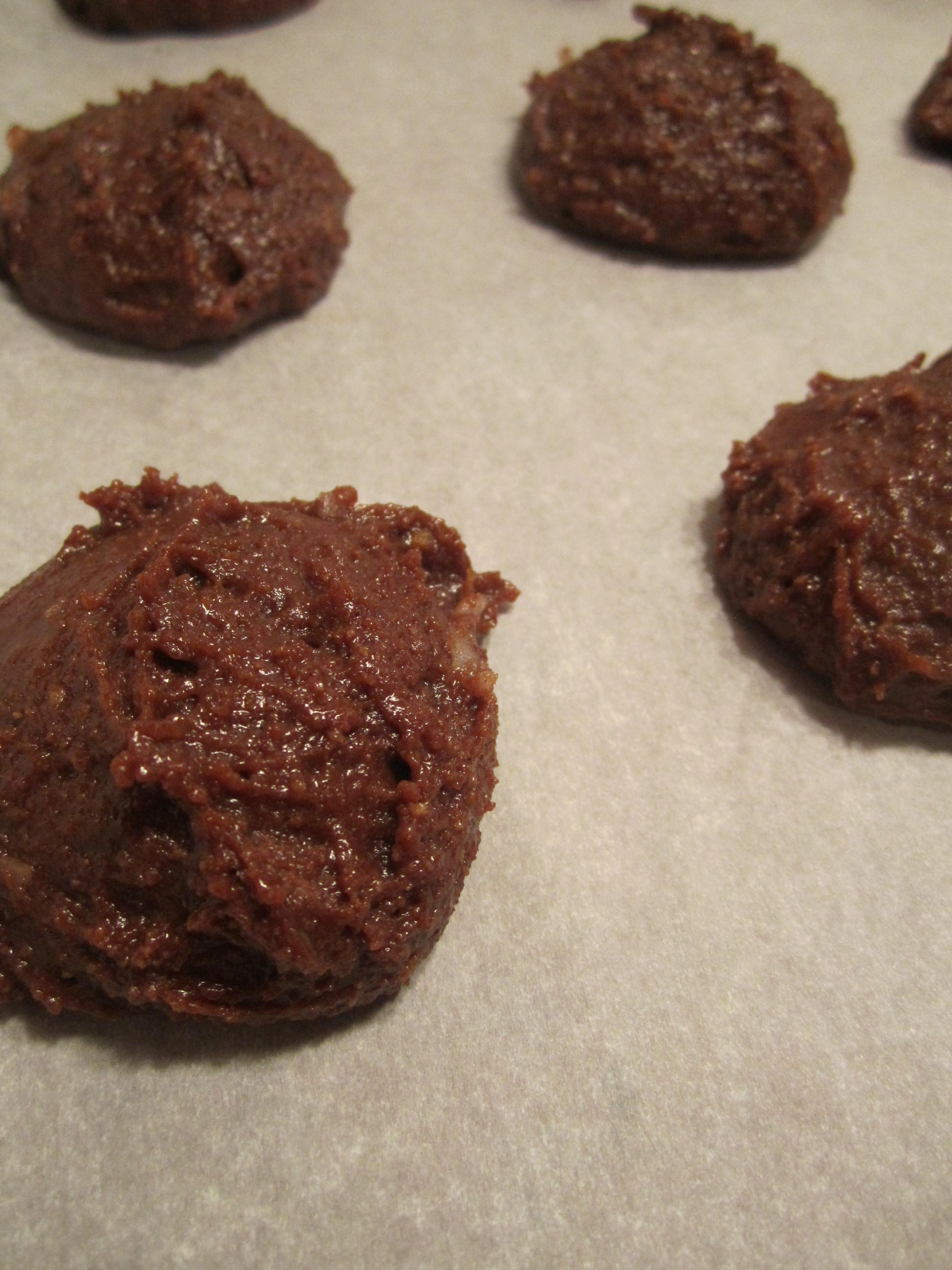 7. Place on parchment paper.
9. Bake in preheated oven for 15-17 minutes.
10. When they are finished, sprinkle with a touch of sea salt.
11. Place on cooling rack and do the unthinkable – wait.
12. When they are cooled down, enjoy!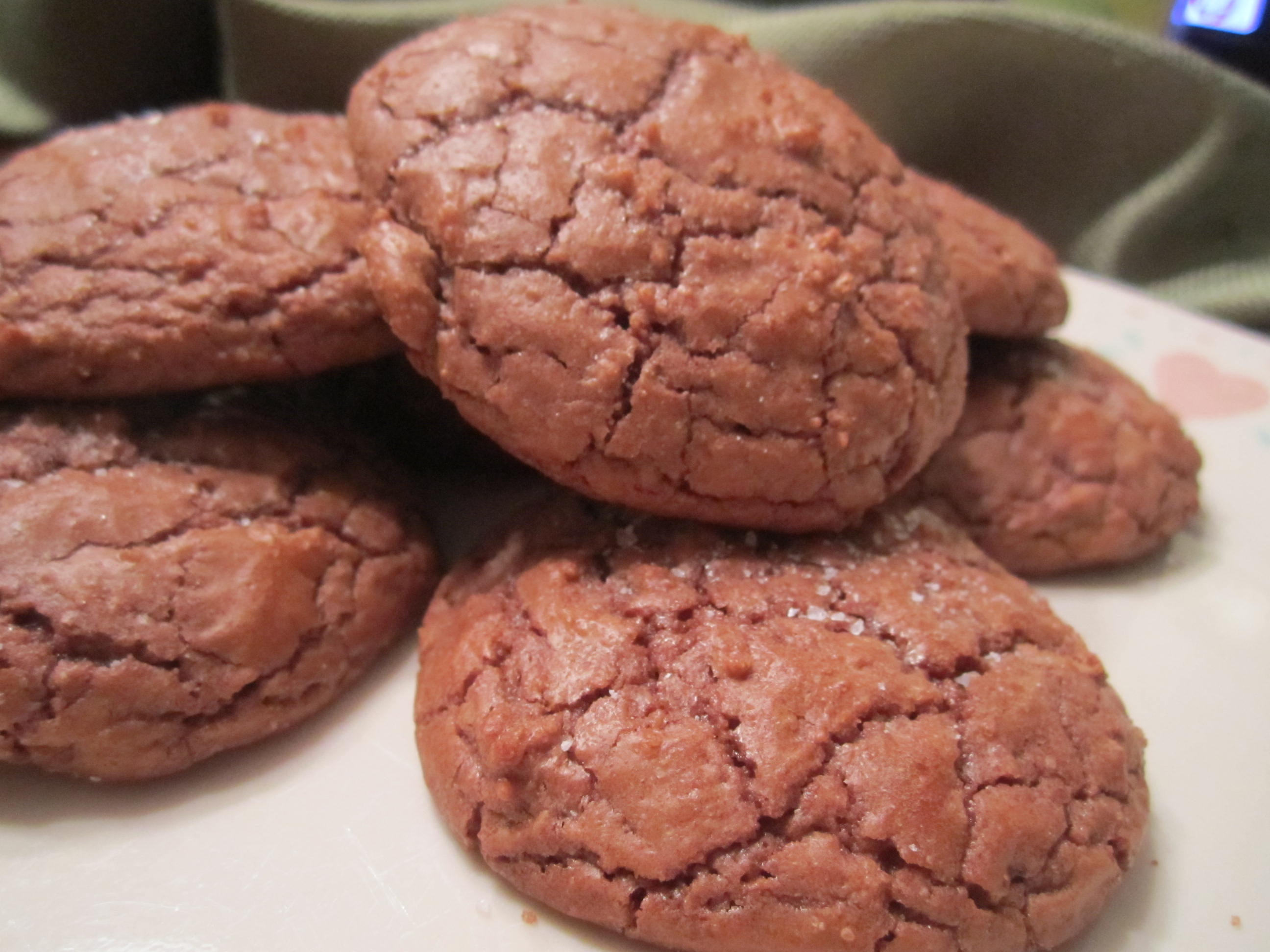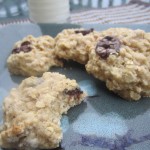 Here's the deal and my truth. I hardly bake – okay, it's so rare, its only for the holidays! But I was motivated from watching Sesame Street (out of all things) and they were making oatmeal cookies. I looked at my two-year old son and said, "Come on buddy! We can do that!" We went into the kitchen and I handed him a bowl to make our magic in.  So, we just pulled random things from my kitchen cabinets and through them in the bowl and then, walahhh!  I'm so happy I actually made a good, nice, yummy Chewy Coconut Oatmeal Cookie, and my son through in the chocolate chips for good measure! Please feel free to make revisions – we were having some fun and like I said, I didn't throw them away and I'm a hard critic of my cooking!
Ingredients:
1 cup all-purpose flour
1 cup instant oatmeal (Used Nature's Promise)
1 cup brown sugar
1/4 cup butter: melted
1/4 tsp. cinnamon
1 egg, beaten
4 Tbs. Creme de Coco (Used Goya Creme de Coconut in International Section of grocery store)
1 tsp. vanilla extract
2 Tbs. Chocolate Chip pieces
Recipe:
1. Preheat oven to 350 degrees
2. In a large bowl, add all ingredients together in order. (Should look something like this….)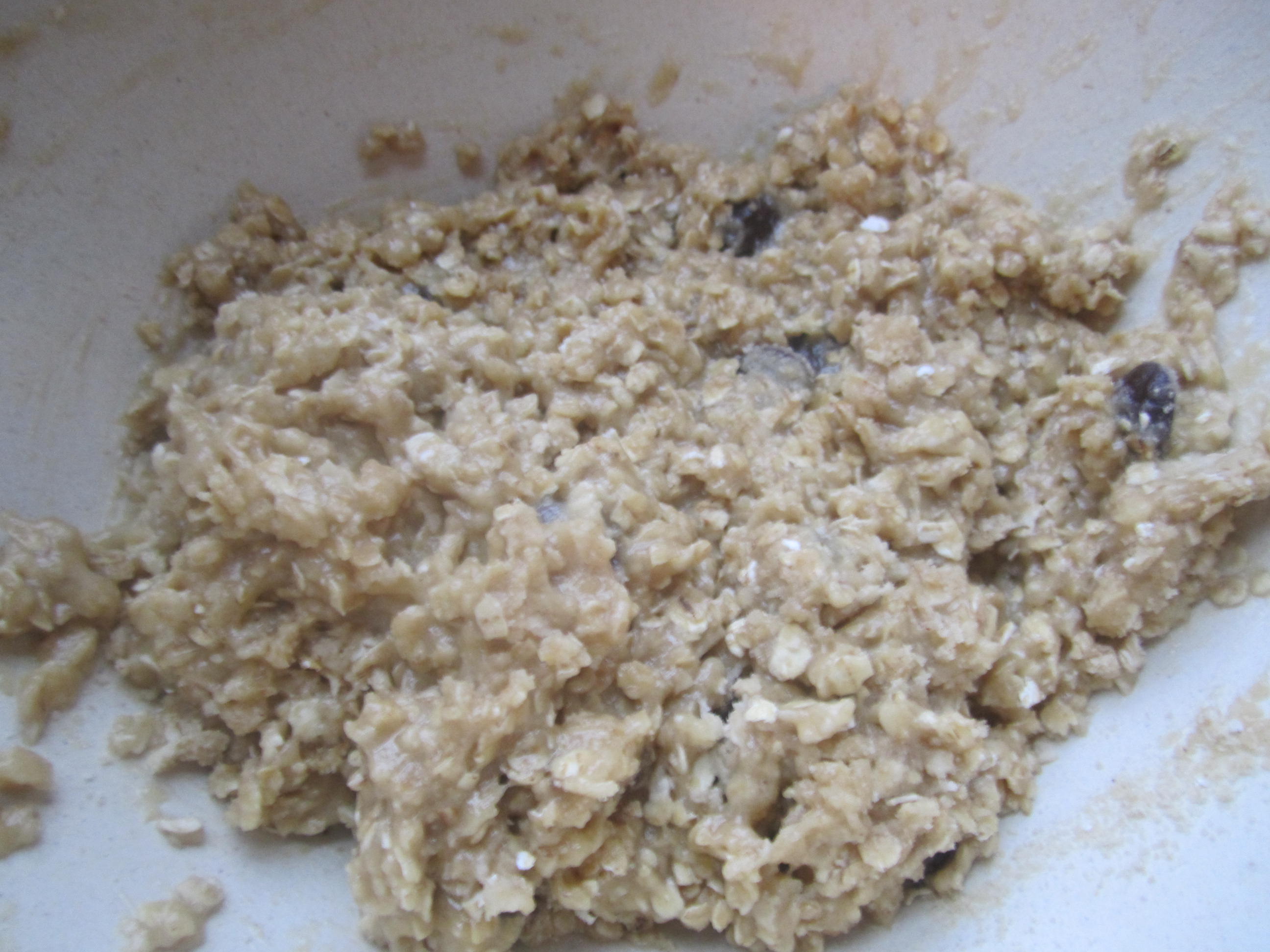 3. Use a cookie scooper (medium size) and place on baking sheet. (I used a stone because that's just what I always use. I'm sure they will be fine on an ungreased cookie pan. And also I do spray my stones, I'm in fear that my food will stick! I don't use Pam, just olive oil in a spritzer) Will yield 12 -14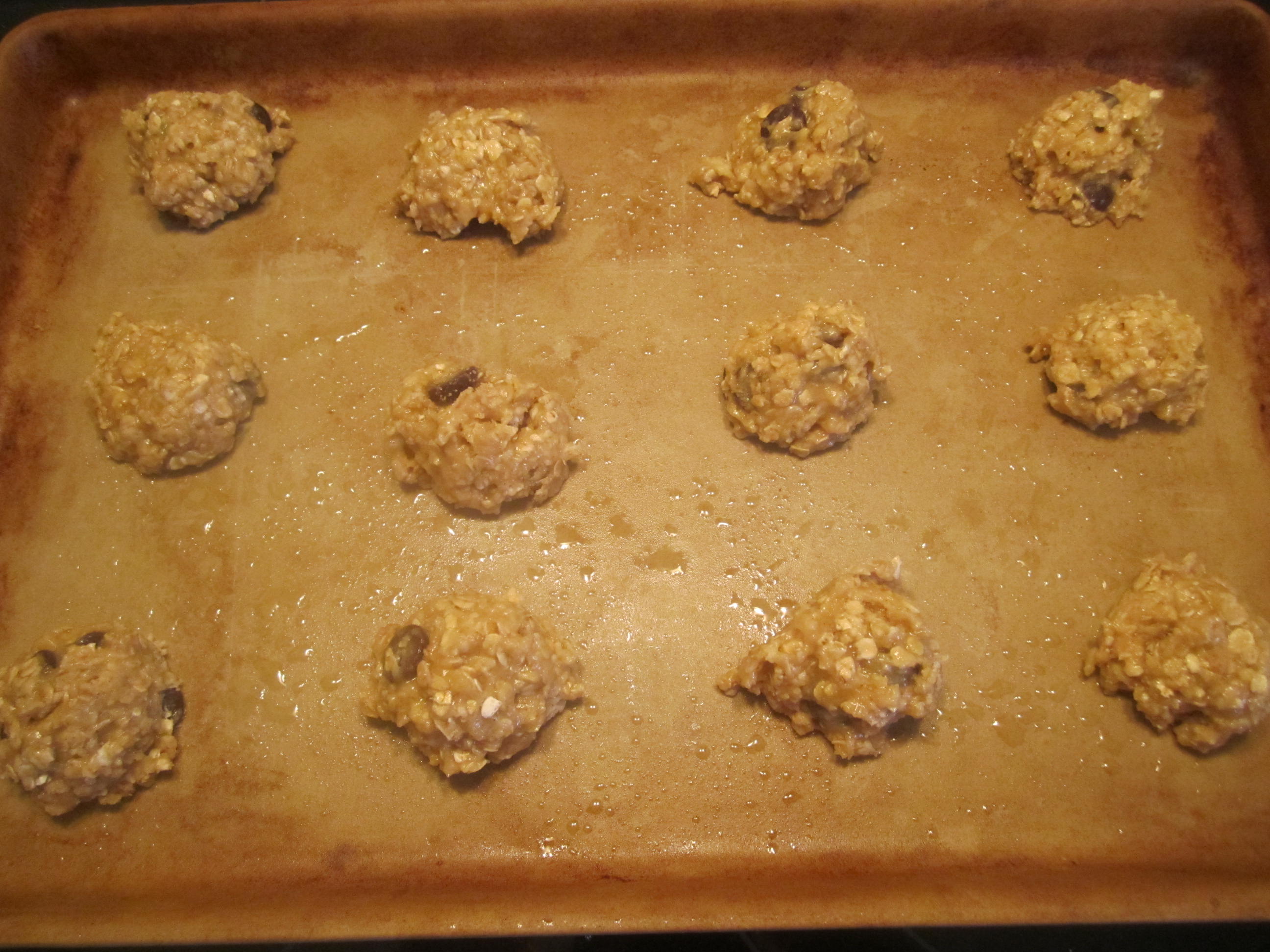 4. Bake for 12-15 minutes for a metal cookie pan, 17 minutes for a stone. The top will bounce back (chewy inside) when its finished.
5. Let cool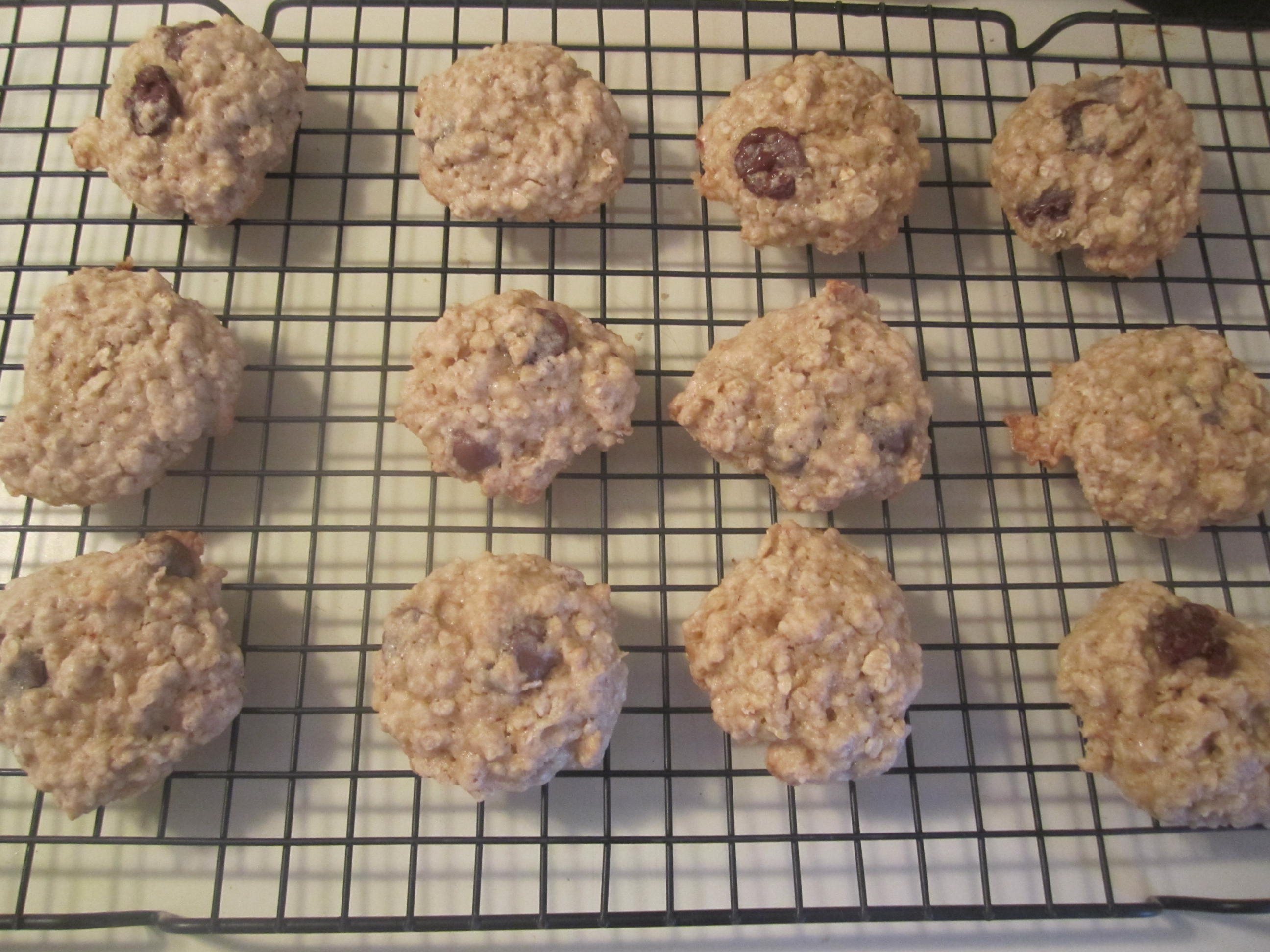 6. Serve and drink with a nice cold glass of milk!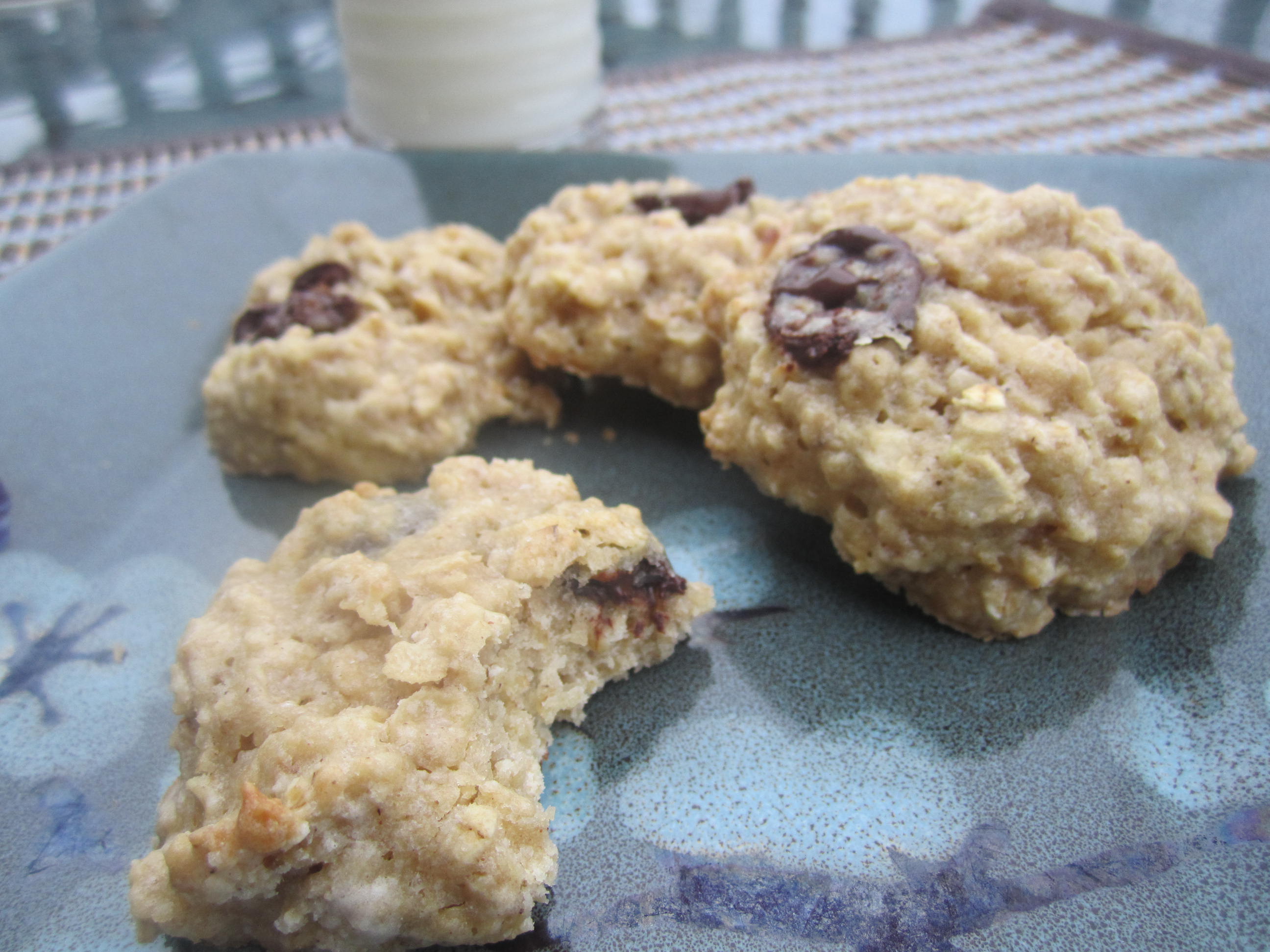 Special Note for me: I would probably add some cranberries next time as well. And thank you Elmo!