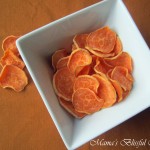 Snack time for me is quite necessary. Do you feel the same? My tummy starts to grumble in those minutes between meals and I find it quite easy to grab something from a box. Oh the box…I have been trying to eat whole foods for a while now. I love how they make me feel: energized and great! But I find it easy to still grab for a box of something 100 calorie or some cookies.
As mentioned a bunch of times, I have a soda problem. The sweetness of the soda really fills my cravings. I have made some improvements and when I feel a craving come on, I juice spinach and grapes. Click for recipe here. It is really quite delicious and then I don't mind skipping the soda.
Another way to eliminate cravings is by replacing the "bad" drink with something sweet but healthy. Sweet potatoes seem to hit the spot as well. Sweet potatoes contain B6 (helps prevent heart attacks), good source of vitamin C, contain vitamin D (good for moods and energy), contain iron and good source of magnesium (an anti-stress mineral).
The apple chips I made last time (click here for recipe) were a great hit in my house. So much that I started making them regularly. Apples are a wonderful source of fiber and we all need fiber! This week, I have also added sweet potato chips. I have found the trick for not grabbing the boxed items are to make PLENTY of chips and have them on hand! Make sure to make lots!
Ingredients:
Directions:
Step 1: Peel sweet potatoes. Use a mandolin (I have the Simple Slicer from Pampered Chef since I am a consultant and LOVE it!) and slice them all to equal width. This helps to prevent burning. If the slices are uneven in size, some will burn and some won't cook all the way through.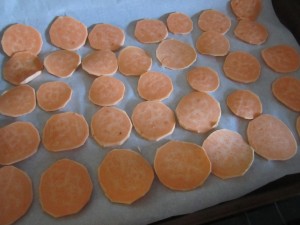 Step 2: Preheat oven to 350 degrees and place parchment paper on a baking sheet. Fill with slices but don't overlap.
Step 3: Cook until desired texture is reached. I like mine a little crisper like a chip so I almost burn mine. Bake for 20-25 minutes, flip half way. (This gives a nice curve to look like a chip!)
Did you ever notice the difference between an organic and conventional sweet potato? I found this quite interesting. My local grocery store does have organic sweet potatoes however they are a seasonal item and when they are in, I purchase a lot.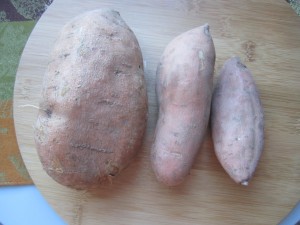 The potato on the left is conventional and the two on the right are organic. What a big difference right? I find organic sweet potatoes to have a fresher taste as well.
After the chips bake, place in a container to cool or eat warm. They are delicious either way! Give yourself a healthy treat today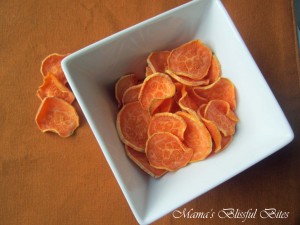 You can even add some seasonings – cinnamon, salt, nutmeg, etc. prior to baking. Test out different options and see what you enjoy best!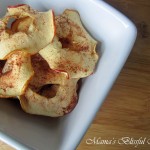 Apples are here year around. It's one of the luxuries we have. Apples come from far places and greet me at the grocery store. And believe me, I greet them back as I pile bags in the cart. During the fall season, I travel to the farm and grab bags of local apples. They are so perfect, crisp and sweet to taste. This is still the best time for apples.
As I was browsing through recipes, I came across apple chips and thought about how heavenly they would be. The recipe had a mixture of sugar and cinnamon but plain cinnamon was just as good. They are easy to make and delicious that you may want to grab a big glass jar and have lots on hand. I tried my little experiment with two apples and they went mighty fast.
Ingredients:
2 apples: cored and sliced
cinnamon
Recipe:
Step 1: Preheat oven to 200 degrees.
Step 2: Prepare an 11×17 baking pan with parchment paper.
Step 3: Core and slice apples thin. Try to make sure they are the same width so they cook evenly. I used a mandolin.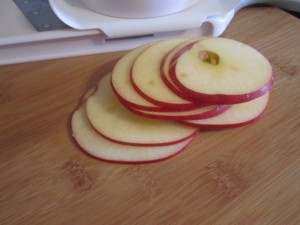 Step 4: Sprinkle with cinnamon. (I used my finger and rubbed it into the apples for a nice coating.)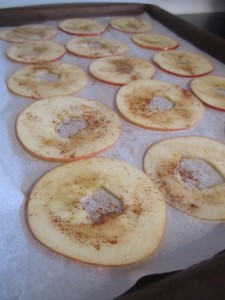 Step 5: Bake for 2-3 hours, flipping them over halfway.  If you have a dehydrator, use that, but if not, oven works just as well.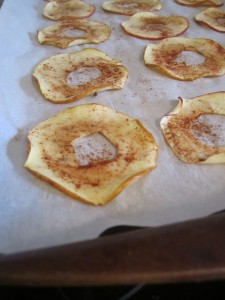 You'll notice when to flip them because the ends start to curl up and it feels "dry."
Step 6: Share…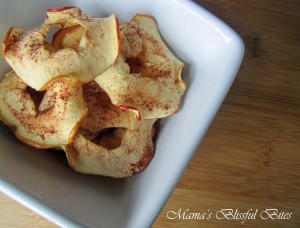 … but make sure to have a little extra hiding for yourself! They go quickly.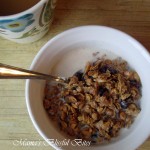 My husband bought a box of cereal the other day and he said, "I love this cereal, it's great." To me, I heard, please you think that cereal is great? I know I can make one better. Funny how we understand each other. So it was challenge on. Making cereal is like making granola bars only not as much "goop" to hold them together. It's the same process, the same goodness coated all over each piece, but the glue that holds it together is lighter. It shouldn't come out of he oven in hard pieces but crumbly and cereal form. The aroma of all spice and cinnamon fills your oven and it gives a winter ring in the atmosphere. My family made me feel like I won the lottery. They ate it before it cooled down and then ate it after dinner. My selective eaters, ages 3 and 2, even had it in the morning while my husband took half the bag to work. My mom, who stopped by unannounced even asked for a bowl! The next day, it is all gone. But it sure did make me smile inside to know they enjoyed it that much.
Recipe:
3 1/2 cups rolled oats
1 cup dried cherries
1/2 cup sliced almonds
1 cup cashews: chopped to bite size
2 tbs flax seeds
2 teaspoons ground cinnamon
1  1/2 teaspoons ground ginger
1 teaspoon all spice
6 tbs unsalted butter
1/2 cup honey
2 teaspoons vanilla extract
Recipe:
Step 1: Line parchment paper on a 11×17 baking sheet. (I used stoneware). Preheat oven to 250 degrees
Step 2: In a bowl, mix oats, cherries, almonds, cashews, flax seed, cinnamon, ginger and allspice. Stir to combine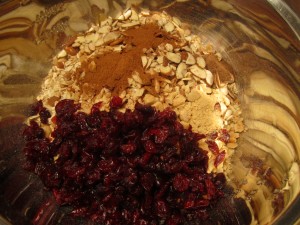 Step 3: In a small sauce pan, combine butter and honey over low. When the butter is melted, take off heat and stir in vanilla.
Step 4: Add butter mixture to oat mixture and stir to combine.
Step : Pour on baking sheet and pat down to evenly distribute.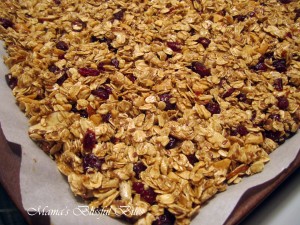 Step : Bake for 75-80 minutes until a little crisp. (You may need less time 60-70 minutes if using a metal baking sheet)
Step 7: Wait for it to cool down (if you can resist) and place cereal in an air-tight container. The cereal should come off in little pieces and not big chunks.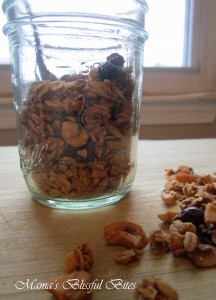 I made this yesterday and sadly our container is gone! It has been requested to make cereal once a week and believe me, I don't mind doing so since I know what's in it! You can also add in raisins in replace of dried cherries, coconut, different seeds, different nuts. The possibilities are endless. Once you have homemade cereal, I bet you won't be going back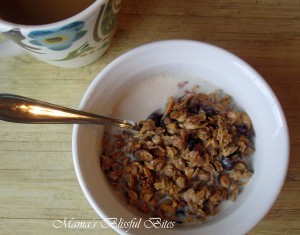 So please know, you have been fully warned. It is addicting. We opened up the container and snacked on it without any almond milk! I felt good about this, knowing my kids were eating healthy. It's filled with lots of nutritional value and it tastes oh so yummy. Good bye boxed cereals!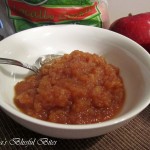 As a health-conscious mom, I am always looking for new recipes to serve to my family. One of my daughter's favorite, old-school snacks is applesauce. I mean seriously, what is there not to love about applesauce? I was in the aisle looking for applesauce when suddenly, I became quite overwhelmed. There are soooo many varieties. Cinnamon, strawberry, fruit-packed, banana, hey, even banana strawberry, huh? huh? At first I was amazed at all the different kinds. I was sucked in. "Wow, this is fantastic! My daughter will be happy," or at least I thought. I read the label on the back of the package. The second ingredient was high fructose corn syrup (uh, no!), then natural flavors. Let me thinks about this, natural flavors? What is natural flavor? Shouldn't it already have its own natural flavor that nothing needs to be added to call it natural flavor? I quickly became not impressed with my boxed product and decided to go home and make my own. I mean why not really? This way I know the exact amount and even ALL the ingredients. Doesn't that sound better to you? Actually knowing what is in your food? It's good and easy, I really hope you make them!
Ingredients:
4 apples; cut in bite size pieces
1/2 cup orange juice (freshly squeezed or bottled)
3 tbs sugar
1/2 teaspoon cinnamon
Recipe:
Step 1: Place all ingredients into sauce pan and simmer until tender over medium heat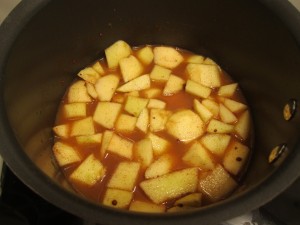 Step 2: Place in a bowl. If there's too much liquid, drain some.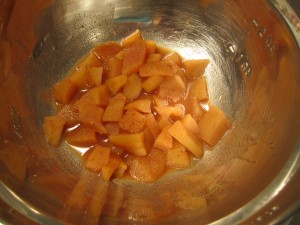 Step 3: Using a potato masher or the back of a fork, mash until desired consistancy.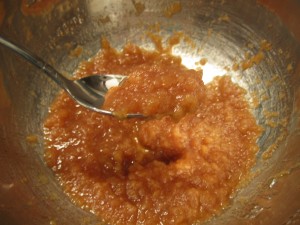 Serve up to your family and friends for a extra sweet snack!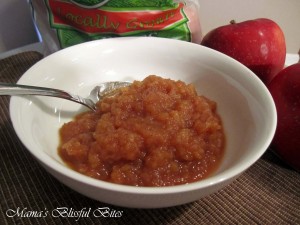 Absolutely award-winning in my mama book! (And the kids loved it too!) What other ingredients do you like in your applesauce?
I started my children on a plain hummus recipe when switching them over to the "healthier" world. Because this is such a simple hummus recipe with little ingredients, there's not an abundance of strong flavors to displease your child's palate. In addition, there are lots of ways to introduce hummus as well. It can be used as a dip with vegetables, dressing to a salad, served with pita chips or even spread on a sandwich. My children and I love finger fingers, for the convenience and fun, so we started with plain hummus on vegetables. My "happy" eater (who eats everything) loved it and my picky eater took two bites, well, let's just say that is more than I thought he would! Next, I spread it on some whole wheat toast, an extra snack to his breakfast. I never force them to eat, but offer it a lot in a lot of different ways and flavors. The more they eat it, the more they start to like it and eventually, I hope they love it as much as I do.
After you child is introduced to the taste, you can incorporate lots of different flavors to your hummus. Sometimes I make it with roasted red peppers other times with spinach and so forth. You can customize it to whatever your body is craving!
I shouldn't have to tell you, but I like to brag for my bowl of hummus….there are a ridiculous amount of reasons to eat hummus.  So on behalf of hummus, here are some reserached (internet!) benefits:
Chickpeas: Are rich in protein, high in fiber, prevent build up of cholesterol in blood vessels
Tahini: Also high in protein and a great source of calcium (Mom's, we need calcium!)
Lemon Juice: Improve the immune functions and fight bacteria and viruses and also reduced oxidative stress in the body (I should be gulping lemons on some days!)
As a whole: Hummus contains Omega 3 fatty acids which improves intelligence (for some..ok, just kidding) and helps maintain a healthy heart
Without further wait, let's start this five minute recipe. That's right, it's about that easy and darn good delicious!
Ingredients:
1 (15oz.) can chickpeas: drained and rinsed (also known as garbanzo beans in the International Aisle of supermarkets)
1/2 lemon: juiced
1 Tbs. tahini
1/4 teaspoon of salt
Water
NOTE: Tahini can be found in the international aisle of supermarkets. It's a paste made from ground, hulled sesame seeds. It has a distinct flavor, so your children may not like it, if that's the case, try a hummus without it. (I'll be posting it soon!)
Recipe:
1. Gather all ingredients.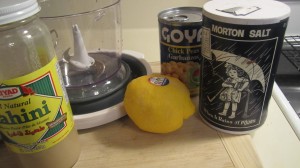 2. Put into a blender and blend.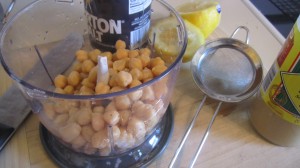 3. Add water as needed to thin it out. (I like it chunky for vegetables so I used 3 Tbs.)