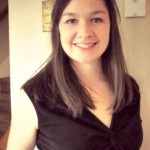 Are you getting pumped for the NEW YOU?
I sure am. So much I created a vlog.
Please, be easy on me.
So now that we covered my goals, what are YOUR goals?
What does healthy mean to you? What do you want to improve on?  Come on, we all have things we can work on and no, I'm not talking about…
Even though, that's ALL I think about…dark chocolate, white chocolate, caramel in chocolate, chocolate covered cherries. Whatever. I love it all.
Back to reality, it's important to write your goals. What do you want in life? We all make our life what we want it to be. When I'm unhappy with something, I think of all the functions. I mean, I think what may be the problem, what can change it, try new solutions.
Life is too short to be unhappy, make the most of it that you can. Period.
After you write your goals, then write your obstacles. What stands in your way?
For me, I don't have a single babysitter. I have lots of solutions but I have to be active in my search to find a new way or solution.
Life's really not that complicated, the bulb sometimes just needs to light up.
Finally step 3, write your solutions! VERY VERY IMPORTANT. You can achieve more when you know what is up ahead. Bring that to the table.
SOLUTIONS! SOLUTIONS! SOLUTIONS!
Let's empower each other on this journey. You or I am not in it alone. We are together.
Are you with me?
Let me know either:
A) What's your healthy goals for 2014?
Or
B) What obstacles are in your way and HOW are you going to overcome them?
Because you can and we can moving one step at a time.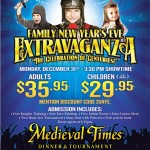 Quite the night! On my Facebook page, I saw a crazy amount of followers all of a sudden. So I did what any normal person would have done and just kept refreshing the screen. "Oooh! Look at this!" I said to my hubby.  Refresh.
Chase Infinite gave me a shout out —
"You know who is awesome – Mama's Blissful Bites – go like her page.
What's your why for fighting?"
Just that little bit of support got me off my tush and lacing up my shoes. I needed it.
When hubby is on call for half a month, it's HARD. A lot of times, my only support system is myself so I don't have the "pressure" of anyone. This was perfect.
A BIG THANK YOU!
Lots of parties are happening in December. I think that's how it's supposed to be, right?
Well, I am taking my sister to a Christmas concert and I have NO CLUE what to wear.
Although cute, I feel this may be a little bit inappropriate ….
(Source)
You see, I'm 9 years older than my baby sister, so I have to figure out some kind of chic outfit! I'll work on it…
I'll probably just go in a t-shirt and jeans. Totally comfortable and jam out to the Gavin DeGraw.
I also wanted to share with you another really fun night coming up…
Where will you be on New Year's Eve?
On of my favorite places to eat and watch an amazing show, Medieval Times Dinner and Tournament in Baltimore is having a new celebration this year!
Won't you join me on December 31st, at 3:30 pm for their first ever "Family New Year's Eve Extravaganza! The Celebration of Centuries!"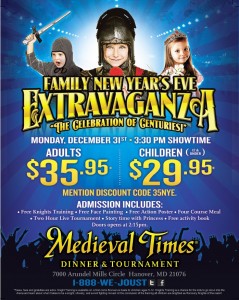 What will be at the party?
Besides me? Come on!
Free Knights Training
Free Face Painting
Free Auction Poster
Four-course meal (my favorite)
Two hour tournament
Story time with Princess
Free activity book
Doors open at 2:15 so please join me for all the fun!!!
If you want more information, here's a snip bit of my review from earlier this year. I love seeing them in action!
So please help this girl fit in…
What do you wear to a Christmas concert?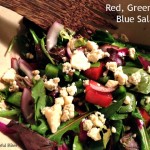 Being a stay-at-home has a lot of perks, don't get me wrong…but it also has some disadvantages as well.
Take for example the BIG factor like we are (choosing) to live off of one income.
When I worked in the corporation world (as an Executive Assistant for six years), I went out weekly for pedi's and mani's, hair-did's and more. I had new clothes all the time and basically bought whatever I wanted.
Yeah, that was before kids.
Now, I'm home which means some sacrifices. Normally, I don't mind a $50 haircut quarterly or new shoes yearly but for the past two years, I've been wanting something "BIG"  that is still on my Christmas List.
Perhaps when I go back into the work world.
For now, I did the best thing I know how, I asked my girl Ellen.
Ellen DeGeneres that is! I love her. We are BFF's. Like her and Oprah.
She has contacted me before…told me how much she LOVES MBB and her favorite recipe was…
Oh wait, I must have been dreaming.
FINGERS CROSSED! She's amazing!
In other news, I made a fantastic Red, Green and Blue Salad.
This goes back to my healthy kick …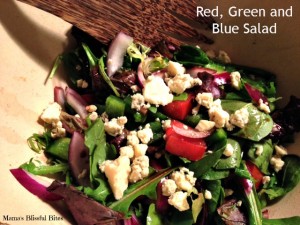 Ingredients:
Red: Tomatoes and red onion
Green: Spinach/Arugula mix (my favorite!)
Blue: Blue cheese, of course!
How many other blue vegetables do you know of? Are you thinking???
Mix together in a bowl and add 2tsp balsamic vinegar and that's love.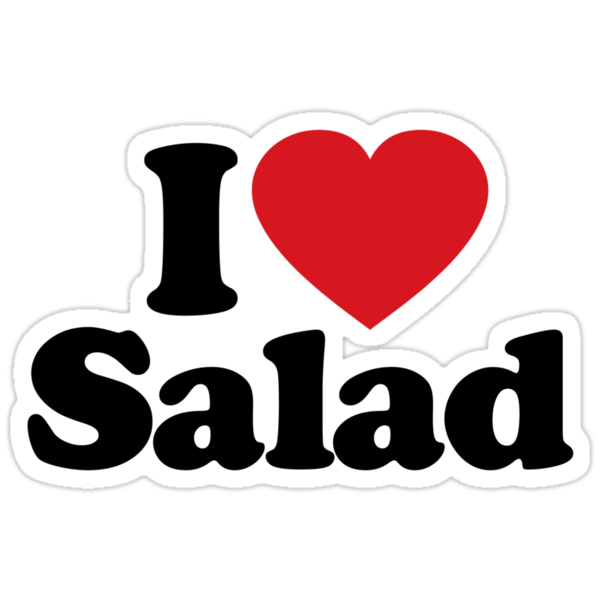 True. I love all food too…but salad is high on this girls Fit List.

Here's my teaser…I also made Buffalo Chicken Salad tonight…
Do you think Ellen likes Buffalo Chicken Salad?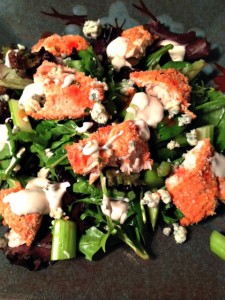 Then she has to tune in tomorrow for that recipe.

See, way to reel her in.
Is that Johnny Depp fishing? How the heck did he get in here? Guess he's reeled in too…
Anyways, did you think of that blue veggie?
Not Madame Blueberry, she's a fruit…keep guessing….
In the exercise world, I've been sticking to my on demand.
This week has been tough but I'm able (and dedicated) to start a new next week. (With running, not working out!)
Okay, I'm done…
It's an eggplant!
You are going to tell me it's purple. I know the emails are going to come in…
I still say potato, potatoe that's blue!
Question: Do you write your favorite star celebs?
What would you say?
This has been a paid post sponsored by:
Earnhardt Auto Centers' Mr. Ed provides loans for good people with bad credit!
"For over 20 years, Mr. Ed's Loan Experts have specialized in getting auto financing for people with bad credit."
They offer new, used and vehicles under 10k!
Stay connected with them on Facebook or give them a tweet on Twitter for the latest updates!
Click HERE for the nearest location to you or call them at 800-217-6733
This has been a paid post – all views and opinions are that of the blogger.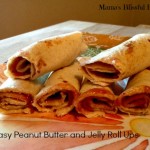 You remember the other day when I mentioned I hate mud?
Well…that didn't last long. My son, who cannot read this, felt the need to prove me WRONG.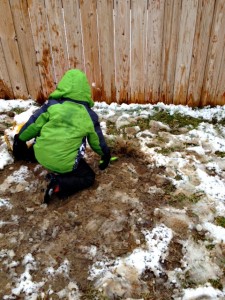 At first, I was completely disgusted. I have to be honest. Mud is not  my thing…but then Mr 4 smacked me in the face with a slab of ewieness, it was game on!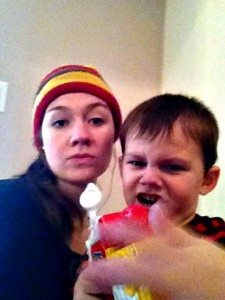 We played (I freaked out) until it all looked like a big bowl of soup…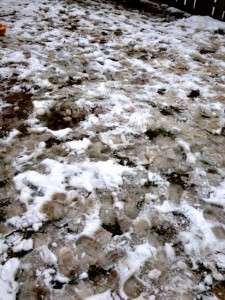 All is well. We went inside for some exercise.
As if we didn't get enough all ready, I turned on my favorite Comcast channel, Sports and Fitness on Demand! I did another mile and the kids got their groove on too. On another note, I wanted to share our favorite SNACK OF THE DAY!
Have you ever had warm PB&J sandwiches? They rock. You know the combo things that go together …
Milk and Cookies
Kim Kardashian and Kanye West
Okay, that's questionable… and of course…
PB&J!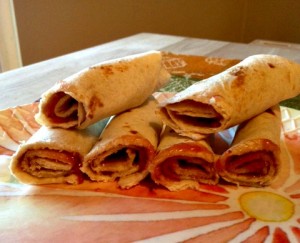 These are a favorite, warm, ooey-gooey peanut butter with the sweetness of jelly. Perfect snack for the kids, perfect snack for me. Ingredients:
Tortillas (We use 8″)
1 Tbs creamy peanut butter
1/2 Tbs favorite jelly
Warm tortillas on the stove for twenty seconds each side. Add peanut butter and jelly, roll and enjoy! Not only are these filling (making a perfect snack) but you can switch it up to whole wheat tortillas instead of flour. They are quick and a nice change up from the old sandwich routine. I hope you enjoy them as much as we do!
Question: What is your favorite healthy snack?
This is a paid-sponsored post brought to you by…
David Hobbs Honda Dealership – Dealer For The People
Located in Glendale, WI, David Hobbs Honda Dealership has new and pre-owned vehicles. This isn't just a dealership, check out their values!
Performance, Honesty, Empathy, Reputation, Fairness, Generosity, Community.
Rapport; relationships, especially one of mutual trust or emotional affinity
Stay connected for the latest updates:
You can find them at: 6100 N Green Bay Avenue, Glendale, WI 53209
(888) 216-8479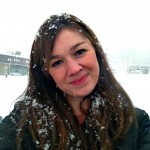 The famous question, at what moment do parents become suckers?
I think I was there today. Really…I know I was.
The look of disappointment from Mr 4 was unbearable when I told him I had to return the train we just bought for the Christmas tree.
"It doesn't stay on the track honey, we have to take it back, " I explained, but his face grew an even bigger frown.
"I promise you, when the train show comes, we will buy you a new train. One that stays on the track!"
Even though, we bought a pricey train for the tree, it still didn't work properly. I was as bummed as he was.
We waited a few weeks and finally the big train show day arrived.
Of course, it didn't come without some challenges…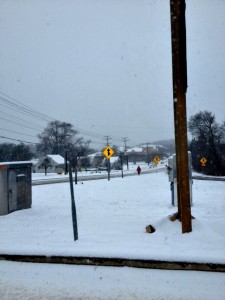 Like Maryland's first snow day of the year.
The weather man said 1-2″ so I wasn't worried about it until we got on the unploughed highways.
It was a fun drive to say the least.
The twenty minute ride took an hour and a half. At one point, I even suggested we just go home..but that wouldn't have been adventurous. No way. We like to live on the edge right? (eeek!)
After seeing so many people stuck on the highways, flashers on, shovels out, I decided it wasn't worth it. I told Mr 4, I thought it may be closed? Hubby was not having that, so we continued our long, scary journey in the icy (now) snow.
Finally, we made it successfully. I always love those moments when we reach our destination.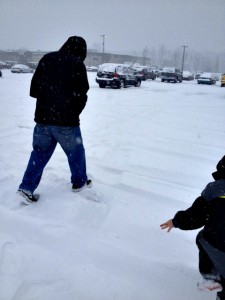 You see, there's WAY more than 1-2″ there. Lots more….someone must have skipped a few inches on their forecast?
Anyways, this photo is for you, because I felt like saying hello and my husband doesn't understand why I take "selfies."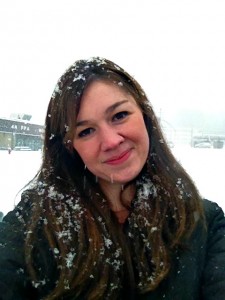 So, "HELLO!"
(I obviously have to figure out where I'm looking at…anyways!)
We were here and getting a new train for the Christmas tree. That made this mama and her cubs very happy.
When we walked in, the lady said we didn't have to pay because of the snow… BONUS, two thumbs up!
Seeing the children look so happy, made me happy. After all, that's why we were there.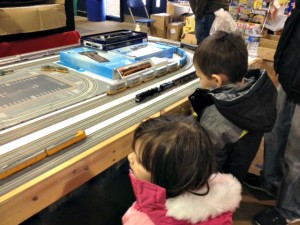 After two minutes of being there, an announce came on that vendors can leave because of the storm  snow.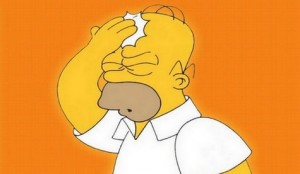 So, that's what they did. Everyone started packing up and so we left too.
I could tell how are trip got even more exciting and how we got stopped by a train…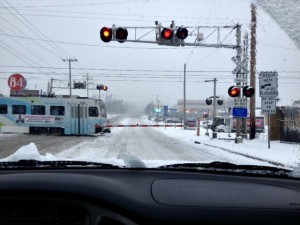 or we were the only ones on the road. (This is a pretty good indication that we should have just STAYED home)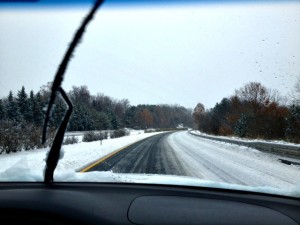 But I think you had enough reading of how our adventures were going…so I leave you with the best thing I know how to do…another selfie.
This one is for you, hubby. With a kiss from your wacky wife.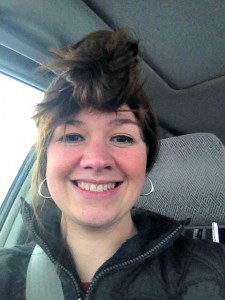 See and I still don't know where to look at the darn camera! Ugh, will work on it.

Question of the Day:
How far have your gone to make your child happy? Am I the only one?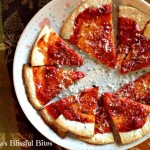 You know when you have those conversations with your child and they stump you?
Like the other night I told Mr 4 that there was no gravity on the moon. He asked how a rocket can land and stay there then…. (hmmm, google…google, google!)
Last night, he got me again but in one of those conversations that I was not ready for.
Mr 4: I want a red dinosaur and a green dino for Christmas.
Me: You know honey, we don't always get what we want…it may just be one dinosaur, it may be none!
Mr 4: Why do we donate our toys?
Me: Because some boys and girls aren't as fortunate as you…
Mr 4: Why doesn't Santa just give them toys? Why do they need ours?
Me: Crap. Thinking…thinking…thinking… and then the best thing I could say…
Me: I don't know…maybe they were naughty? (WHAT?!!!!! Who says that? Uhm, I did!)
Mr 4: Then why should we give them our toys?
Me: Don't you need some sleep?
Mr 4: Is Santa real mom?
Me: What do you think?
Mr 4: Yes
Me: Okay then, good night honey. (Gulp!)
I was really not ready for that conversation with my four year old! Isn't it supposed to be magical still?
Seriously, I believed in Santa until I was 11! And guess what? I STILL DO!
Hello, you big, cute red ball of fluff! I love you!
In the exercise world, I feel I may have moved up.

On the schedule was walk 2 miles. Very, very cool however I knew I wasn't going to have a moment in the day to walk two miles by myself. Nope. Not a chance. So, I did the next best awesome thing possible, I turned on the TV.
To my favorite ON DEMAND exercising program.
Welcome, 1 Mile Walk with Kendra Kemerley.
It wasn't a walk, this is so stupid, kind of video. It actually made me sweat a few beads. I did it twice and the kids actually participated!
Okay, in their own way. They were more or less running laps and passing me by, but hey, we turned our homeschool into gym class so that was a SUCCESS!
Finally, an awesome MBB fan asked for the recipe for my pizza chips so I had to make up a batch. They were a delicious yummy lunch today.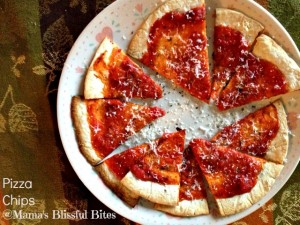 Yum…yum and easy.
Okay, so it looks like a big old pizza instead of chips. What makes it a chip? The awesome crunch of course! You wouldn't want to bite in a soft chip right?
Ingredients:
flour tortillas
favorite sauce
Parmesan cheese
Favorite seasoning toppings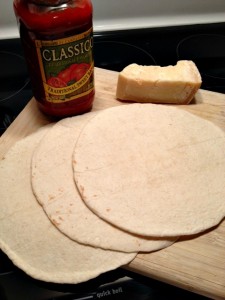 Preheat the oven to 375 degrees
Add a thin layer of sauce to the tortilla and top with cheese
Cut into 8 slices and pop into GREASED baking pan
Cook for 6-8 minutes
When it comes out…don't be afraid smoother it in garlic salt (I do!) basil and red pepper flakes.
That's totally how I eat my pizza.
The question of the day:
 When/how did you find out Mr. Claus was only in our hearts?
This is a paid post sponsored by:
If you are looking for a new or pre-owned vehicle in the Kansas City are, look no further!
Honda of Tiffany Springs can help! With a huge variety of selection and firm commitment to their customers, Honda of Tiffany is proud to be an automotive leader in your area.
For their latest updates and specials stay connected.
You can leave a comment on their Facebook Page or shout out a tweet on Twitter. 
Watch their latest Youtube videos or keep them close in your google + circle!
Open Monday thru Saturday, Honda of Tiffany Springs is here to assist you with your vehicle needs.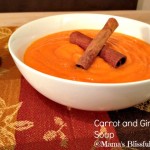 Hi there!
How was your day? Did you get outside to play?
On most days, I take the kids out to play unless it's raining. I don't like to play in the mud, am I missing out?
It looked a little big creepy in Maryland today. There was no sun and the clouds covered the sky like a big old blanket. It was gray all day and I soon had a very ominous feeling while I was out there…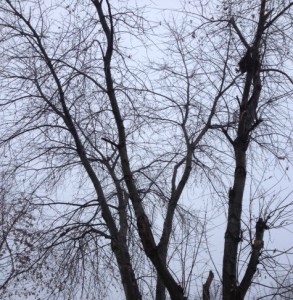 Have you ever heard of the saying, if you get pooped on by a bird, it's good luck? I think people just say that because getting pooped on stinks.
(No pun intended).
You know that second when you think, "hmm, it's starting to rain," yet…there's no rain? Sigh…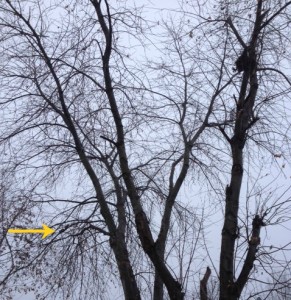 I usually ask on Facebook, "What's on your dinner plate?"
To be honest, I like to see what everyone else is making and whose house I'm heading to. Or maybe not, maybe it gives me ideas what to prepare on the menu for the following week. Or maybe I'm just curious. Either way, I ask almost every day.
Today I posted what I made and here was my hint: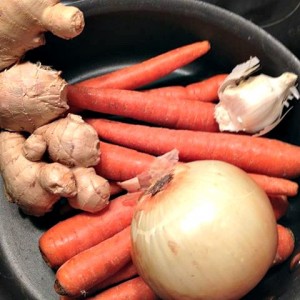 Can you guess?
I was also able to run a little bit too. (Whoop! Whoop!) Hubby worked an awesome 16 hour shift and still made time for me to run. I love that man. I truly do.
I don't know what it is, if it's the fact that I took off three months running or if it's because I just started to run this week, but my time is incredibly disappointing.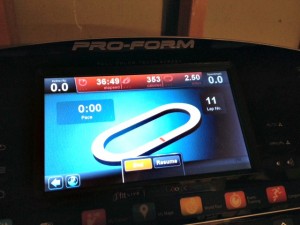 My face is completely red when I'm done and my butt hurts. Who knew I was working those glutes so much?! Guess they would be the drive-force of running, right? Goodbye bumble-bee butt (words of a 4 year old.)
So, were you able to guess what I made from my pot of gold? I hope the carrots gave it away because I made a big helping of carrot and ginger soup for dinner.
Perhaps it was my luck that it was the perfect recipe?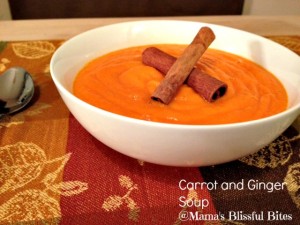 I added apples and apple juice this go around, and it gave it a more sweet appeal. Still had the ginger zing I was looking for too. Just what I was craving. I've been trying to start my healthy lifestyle with little "achievements" every day. This would be considered one of them.
So here's my question to you…
If it's good luck to be peed on, would you rather be peed on by
A. Bird
B. Squirrel
C. Pterodactyl
Go on, be truthful. What happens if that's good luck for a lifetime?
This was a paid post sponsored by:
If you are looking for a new or pre-owned vehicle in the Philadelphia area, look no further! Reedman Toll Lincoln has all your needs from their Accessories department to their collision center, they can help you with what you are looking for!
They are conveniently located at:
1700 E Lincoln Highway, Langhorne PA 19047
Connect with them for the latest updates on their Facebook page or watch their latest videos on Youtube!
Be sure to give them a call with your vehicle needs!
1-888-699-4067
Today was probably one of the best days I've had in a while.
After visiting the ER room the other evening for irregular heartbeat, the docs suggested I reduce stress and calm my anxiety, which may or may not be the culprit. Stress and anxiety – I didn't know about those two words until I got older. They stink.
When I asked if I could still run, the doctor replied, "I'm not going to tell you no…just take it slow."
That's all I needed to hear. I really didn't want my dreams to end so soon.
When I first started this blog, January 11, 2012, my first post was about tea. The tea that made my stomachache finally diminish. The doctors referred to this as postpartum depression.
If I have learned anything about myself on this two year journey, it would be the honest truth that through diet and a healthy lifestyle (in all areas of life) a person can be enriched with the things they need without alcohol, medicine etc.
I know where I need to be. It's just fighting myself to get there.
So today, I started off with a healthy breakfast. We use the word healthy to represent a type of eating however, what it means to one person doesn't mean the same to another. Some people start their day off with protein, some with carbs, some with both and some with none. Through all of the books I have read on being a Health Coach (which are a lot of books), they always say the main key point is to listen to your body. What does that mean? It means to be a little bit intuitive. It means to see how your body reacts to certain foods. It means I have to stop the fight and open up my eyes and ears.
What kick starts my day, may not be the same as yours, but I like it…
Hemp Shake.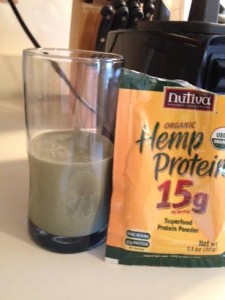 Include one banana, almond milk and hemp protein and I'm good to go.
I can even successfully forgo the second cup of coffee only needing one.

And you know what they say, when you make one good decision, it leads to another.
I had grapes for a snack instead of my delicious helping of chocolate marshmallows. Did I really admit that?
Look, all I know is that I'm human. I like chocolate, (dark specifically, or white. No, maybe with caramel…anyways…) soda (specifically my love for Mountain Dew) coffee and greek yogurt. It may not be in that order, but these are things I love.
What does food have to do with my anxiety and rapid heart rate? It's one of the main contributors.
I should have known when I drank coffee, Mountain Dew and beer all day that I was going to be completely dehydrated. I should have known, because I've been there before, what it's like to deprive the body of something it requires and needs. (PS That was one bottle of beer and I hardly drink… Maybe once every three months).
So, I did what any normal person would do after the doctor said, "Go Slow" on running, I wanted to see how fast I could run. LOL. Who likes being told they can't do anything? I had to know if I'm going to be alright, right?
Here's the most blurry photo I could give you. (PS You're welcome) Try taking a photo while running – yup, that's exactly what that is.
My husband was home for a few hours (YES!) and I was able to get a run in. I have to say, I heard so many bangs and noises that I stopped running twice in the first mile. I just wanted to check to make sure all was well

and thankfully they were all playing…loudly.
By the first mile, I was warmed up and ready to go. I think I went slow on the first mile just to make sure my heart was good and by the second one, I was ready. I kept up at a comfort pace and was honest to myself. After not running all summer, my time was far from impeccable.
The point is that I did it and I have a starting point to where I can improve from. I signed up for my first race of the New Year and am REALLY excited to go.
One of the reasons why I love to run is how it diminishes my negativity. I sweat it out, I would like to think.
I always sore I wasn't a runner. I'm too short, I have a booty of a bumble bee (as my son says), I'm not long and slim…but I do have one thing a runner has, and that's a want to achieve with a positive attitude.
I look forward to being on this journey again. Yes sometimes I do fall off the track, especially when life gets a little out-of-hand… but I'm always ready to pick it up and work towards my goal of being healthy and appreciative of life.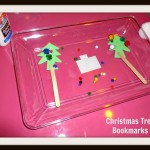 This project was on a whim and really fun to do.
We read a lot of Christmas books this season. Some of our favorite are:
Who can resist the Critters, right?
The Gingerbread Man is such an awesome story. We make gingerbread houses and gingerbread cookies after reading this one…
and….
Because I believe it's the real meaning of Christmas, we love this book as well.
I decided to pull together an easy Christmas Tree Bookmark project to help go through the pages and teach my preschooler about bookmarks. (Because you know…his books now have three chapters…wink. wink)
Supplies Needed:
Green Foam Sheets (Christmas tree)
Pom Poms (for Christmas ornaments)
Glue
Popsicle stick
It's pretty self explanatory, but first you simply cut out a shape of the Christmas tree using the green foam sheet.
Then the child glues on the ornaments and stick!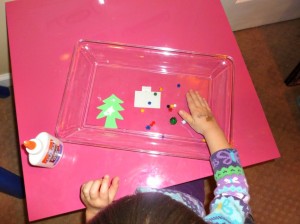 The end results is lots of fun!
They even used their bookmarks as magical wands. To "up" this project, add it to a stick instead of a Popsicle stick, then decorate with ribbon flowing down. Poof, Christmas presents appear. Okay….just kidding on that one.

What fun craft activities are you doing? Go ahead and share!
This is a paid post sponsored by:
If you live in the Philadelphia, PA area and are looking for a new,or pre-owned vehicle, stop by  Reedman Toll Jaguar Langhorne for your vehicle needs.
They are conveniently located off of Route 95 at:
1700 E Lincoln Highway, Langhorne, PA 19047
Sales: 877-702-7807
Service Department: 877-702-7808
Reedman Toll Jaguar offers the finest selection of new and certified pre-owned Jaguars.
Stay connected for updates through their Facebook  page as well!