In my house, every day, almost like clockwork, we would have what I call the witching hour. This is where my children went wild. They turned into these little beasts and would run, run, run! Sometimes these creatures would scream and throw things, sometimes they would run in circles and sometimes they would even hit each other! The first few weeks of the witching hour, I would stand in the kitchen and stare out the window and wonder, "Can this really be happening? Is this true?" Of course, these precious, adorable children would turn just as the clock struck dinnertime. It was like they "knew" they had to be quiet and attentive for a little bit and that was truly un-accept-able MOM!

So, this is how we use the Bake and Play!
Before I changed my ways, I would say, "Sit down. Don't run! Find something to do! Calliou is on!" I would say anything to try to keep them occupied. One day, my husband was home while I was preparing the meal and it sounded like someone put him on repeat, "Go play! Go find a puzzle! Go read a book!" Over and over words were being said and said and said but with very little outcome. The witching hour still haunted us until, I changed my tactics.
I've had emails and comments left on my Facebook page, "How do you cook with two little kids? How does it get done?" Here are some answers:
I try to get them involved in making food. I judge how they are behaving if they are in that fun, helping mood…if not, I move onto…
Give them something fun to do!
It's SO much easier Mom's, to give them something fun and keep them busy then using your voice! WOW! This is when I bring out this super easy Salt Dough. I can get an hour in easily if I needed to! I consider what my kids interests are and let it flow with them. My son is into dump trucks and cars, so he is happy making dirt piles and his new thing, townhouses. ("They connect mom, look!") My daughter loves to play chef, so she gets rolling pins and cookie cutters for her dough. The key is not to bring it out too often or they start to lose interest. Once maybe twice a week, I give this to them, MAX. I want it to be effective! This is also what I call a bonus activity because the full project is done in two parts.
Dough Ingredients:
2 cups flour (I use all-purpose flour)
1 cup salt
1 cup water
Stir to combine.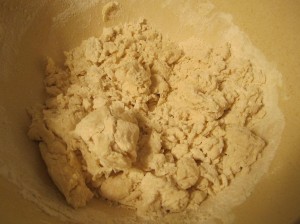 If it's too dry, add more water. I like the texture like this because it crumbles easily into "dirt" piles and if you fold it in your hands it stays together for rolling out dough as well!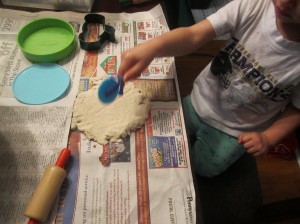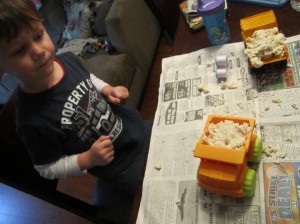 Let them use their imagination! Whatever works for them. As I mentioned, my son builds townhouses and single-family houses as well. (We are learning about communities)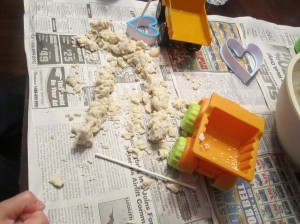 You can also cut out shapes using cookies cutters or sand box shapes too. Keep these on the side…..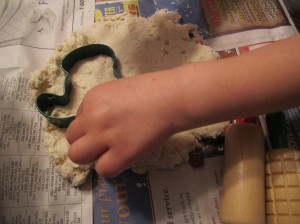 When you finish cutting out shapes then…
Step 1. Place them on a prepared cookie sheet with parchment paper
Step 2: Preheat the oven to 225 degrees and bake for 2-3 hours until completely dried out
The next morning, we paint them!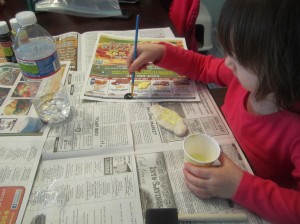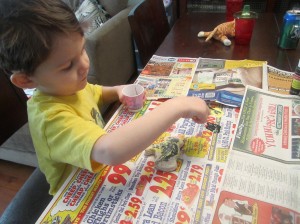 Let them dry and you have beautiful artwork!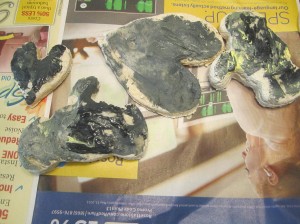 Sometimes, we don't bake, we just play in the dough. When you're finished making the dough, you can always wrap it up in saran wrap and save it for another day. It holds moisture well and doesn't dry out.
Mommy made some sand crabs – wishful thinking for summer!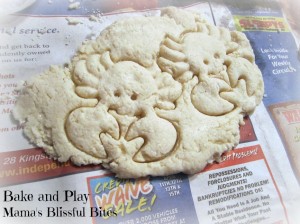 This piece is now on our bathroom floor as a decoration! I love homemade things! It didn't go to waste. Do you have the "witching hour?" If so, I want to know about it!
This post is sponsored by:
Connect with them on Facebook or send them a tweet for the latest deals!
Tyler Automotive, Southwest Michigan's premier dealer group, has 3 convenient locations. Honda, Chevrolet, Cadillac, Chrysler, Dodge, Jeep and KIA & preowned. You want to check them out!