I could have yelled tonight. I wanted to. The burn in my face was coming on.
I've been on mama duty all week (24/7) and looked forward to my thirty minutes of workout time each day. I spoke with hubby on the way home and told him how excited I was to receive this package from Muscle Milk.
I told him how badly I wanted to try the energy chews and the protein nutrition shakes.
I waited patiently as he transitioned from being at work to home. Then I ran (literally) to the treadmill to run. It was my turn to have thirty minutes to myself … or I thought.
To my dismay, the kids kept coming in over and over. Six times. Yes, I counted. Usually, hubby keeps them occupied so I can run my thirty minutes. I was sooooo irritated. By the time Mr. 4 turned off the lights and I got stuck in pitch darkness, I was done and only a mile in.
I marched upstairs to give him a piece of my mind. But the truth is, I realized something entirely different.
I'm contagious.
I wanted to yell and have my moment and ask how dare he not keep a better eye on the kids, but the truth is he's changing just as I am. I listened to him using my Vitamix as he made the family a smoothie. He asked, "You want one?"
All of my anger diminished quickly when I saw that I'm rubbing off on him. Of course, if you asked him, he wouldn't admit to it, but it's true…I'm contagious.  My "health nut" approach is starting to make him question his health and changing his own outlook. Until this week, he has never used my blender or my juicer. But he has quickly become a pro.
That's not my making, that's his! I love it. I love that we can be on this journey together.
And although I am very excited to try the Muscle Milk goodies at my door, my body is really starting to ache. I've worked out every day this week which is abnormal, so maybe I need a rest day.
It just hurts so good shall we say?
So I took a hot shower instead and followed up with some yummy leftovers, Tex-Mex Rice.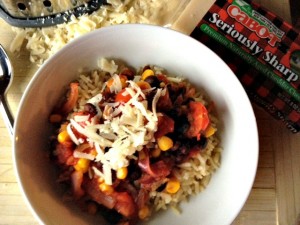 We have a lot of brown rice in my house. We love it. Why choose brown rice?
So, I add it to the list weekly. It's also easy on the wallet. This dish is great for cooks who can't really cook. Do you know any of those? I have nights when my brain goes in a fog and I need something super easy that taste like I was over the stove for-ever. (Please don't tell anyone that I really read the latest magazine and stay hidden in the kitchen longer then necessary!) Ingredients:
2-3 cloves garlic: minced
1/2 cup grape tomatoes: halfed
1 (15 oz) black beans: drained and rinsed
1/2 cup frozen corn: thawed
Directions:
Make brown rice according to package
Heat oil in a non-stick saucepan over medium-heat. Add onion and garlic and stir frequently for 3-5 minutes
Add tomatoes, salsa, beans, corn and water and stir. Bring to a boil, lower heat to a simmer for 8-10 minutes
*Tip* To make this an even faster meal, have brown rice made ahead. I make a big pot at the beginning of the week and re-heat it as we go. Saves on time. You can also skip the onion and garlic and throw the remaining ingredients into a pan, then add to the rice. I don't use seasonings because the salsa is filled with booming flavor. Change up your salsa to create a new flavor each time!
Disclosure: I was provided the delicious sharp cheese from Cabot Creamery because I'm on the Cheese Board, but to be honest, I already have three packs and would have used it anyways. All opinions are my own. It's WEDNESDAY! Time for Anything Goes Linky Party!
Hosted by: Joy Focused Learning and Mama's Blissful Bites
Two of my favorite posts from last week: 5 Tips for Surviving the Never Ending Winter
Deconstructing Our Cravings
Now, it's your turn to share your posts!
Link up to 3 family friendly posts from the following categories:
I have a few simple requests:
Link back to the linky within your posts.  You can use the button above or a simple text link.
Visit atleast two other links and leave a comment.  I would love if you mention you found the post through the Anything Goes link-up but that isn't required!
Share the link-up in some way to help it grow.  You can share it through whichever social media platform you choose.  The more people visit the linky, the more traffic it will generate for all of you!
Be sure to link up below!