When I work with people to help them discover a healthier lifestyle, I always recommend ditching the dead foods. Dead foods are foods that have no real value. They lack in nutrition and usually come in a pretty packaged box. Have you seen the culprit?
I love to help people upgrade their snacking habits! Here are some ways you can ditch the packaged boxes and use real food to feed your body, not to be confused with dead food.
Stock your fridge with a big bowl of fresh fruit. Be sure to look for in-season foods. Wintertime is great for grapefruit, oranges, kiwi and pears
Add vegetables. Did you think I was going to say something different? We all know we should eat our veggies but not all of us actually do. Upgrade your carrots, celery or bell peppers with a bean dip or hummus.
Prep your vegetables and nuts into serving sizes and place in little bags. When you want to grab a quick lunch or snack, grab a bag from the fridge and go.
Have fun and change up your normal fruits and veggies. Try Banana-Pecan Raisin Bites for example.
If you must have a chip, you can always make them from scratch. Does that extra work deter you from eating them? Just cup up a potato, season it and plop it in the oven or you can try delicious Pizza Chips for a change or Apple Chips.
Here's another way you can upgrade your snack: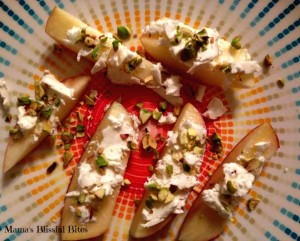 Apples, goat cheese and delicious pistachios. I wouldn't have it any other way.
How can you upgrade your snacking ways?
If you want an awesome  (and delicious!) way to help recover your body after a work out, check out Core Power.
Core Power offers a yummy post-work out recovery drink. They stand out way beyond the high protein shakes. Why? Because Core Power brings you a natural protein shake made from fresh, lowfat, lactose-free milk with real honey! I personally really like drinking them after a good run!
Be sure to try all their flavors such as: Banana (I want!), Vanilla, Chocolate and Strawberry.
 Remember: Milk is a protein and protein helps build lean muscles and recharge the body!
Not to brag, but Core Power was also named the "Official Protein Drink of the Sochi 2014 Olympic Winter Games."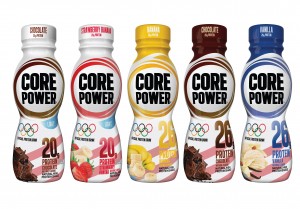 I received this fabulous (and I do mean fabulous) bag of goodies that I wanted to share with you:
Did you say you want one too? Excellent. You will love it! (I really enjoy doing ball exercises. Be sure to google some of your own workouts!) All you have to do is enter to win yourself a Fit-kit!
Disclosure: The blogger is a Core Fit Ambassador and provided one Fit-Kit. All views and/or opinions are that of the blogger.
Remember: It's also a LINKY Day! So be sure to link up your posts and grab our button to share!
<a href="http://www.mamasblissfulbites.com/" target="_blank"><img src=" https://lh5.googleusercontent.com/-pr1tkdKNzik/UsLvAC70vkI/AAAAAAAABTY/6cZ1HjsRkyc/s150-no/anything+goes+new+small.png" alt="Mama's Blissful Bites " width="125" height="125" /></a>