You remember the other day when I mentioned I hate mud?
Well…that didn't last long. My son, who cannot read this, felt the need to prove me WRONG.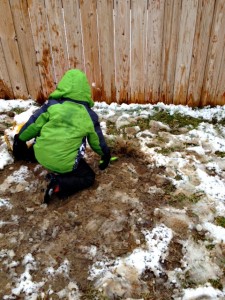 At first, I was completely disgusted. I have to be honest. Mud is not  my thing…but then Mr 4 smacked me in the face with a slab of ewieness, it was game on!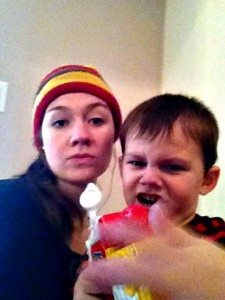 We played (I freaked out) until it all looked like a big bowl of soup…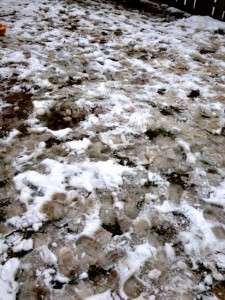 All is well. We went inside for some exercise.
As if we didn't get enough all ready, I turned on my favorite Comcast channel, Sports and Fitness on Demand! I did another mile and the kids got their groove on too. On another note, I wanted to share our favorite SNACK OF THE DAY!
Have you ever had warm PB&J sandwiches? They rock. You know the combo things that go together …
Milk and Cookies
Kim Kardashian and Kanye West
Okay, that's questionable… and of course…
PB&J!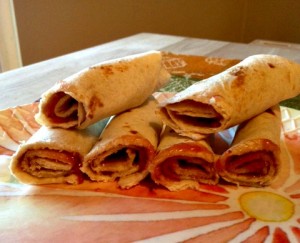 These are a favorite, warm, ooey-gooey peanut butter with the sweetness of jelly. Perfect snack for the kids, perfect snack for me. Ingredients:
Tortillas (We use 8″)
1 Tbs creamy peanut butter
1/2 Tbs favorite jelly
Warm tortillas on the stove for twenty seconds each side. Add peanut butter and jelly, roll and enjoy! Not only are these filling (making a perfect snack) but you can switch it up to whole wheat tortillas instead of flour. They are quick and a nice change up from the old sandwich routine. I hope you enjoy them as much as we do!
Question: What is your favorite healthy snack?
This is a paid-sponsored post brought to you by…
David Hobbs Honda Dealership – Dealer For The People
Located in Glendale, WI, David Hobbs Honda Dealership has new and pre-owned vehicles. This isn't just a dealership, check out their values!
Performance, Honesty, Empathy, Reputation, Fairness, Generosity, Community.
Rapport; relationships, especially one of mutual trust or emotional affinity
Stay connected for the latest updates:
You can find them at: 6100 N Green Bay Avenue, Glendale, WI 53209
(888) 216-8479