The last 24-hours have been busy, busy! First let me back up a little…
Pete Larson who is a blogger for RunBlogger.com left a comment on my post about running with anxiety, suggesting a particular book to read. I admire Pete with his expertise in running and awesome shoe collection, so I went out right away and picked up the book, Spark.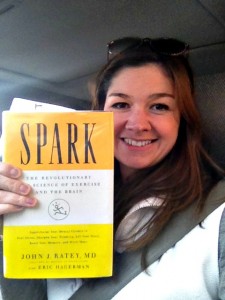 Page 64 baby, it's a good read. THANK YOU PETE!
I sometimes also impress myself.  I have to admit that. Maybe it's even healthy to do so…I like new challenges.
I made my first ever Christmas Wreath!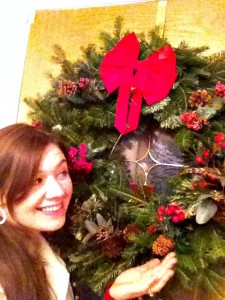 If that's not pretty, I don't know what is! Okay, I need some lights, but I'm very happy.
Who knew it was so easy to find a wreath for $10 bucks and add some ornaments? Is that how you decorate these things? I have no clue, but I'm happy. 🙂
We also stocked up plenty for the winter-snowy week ahead as well.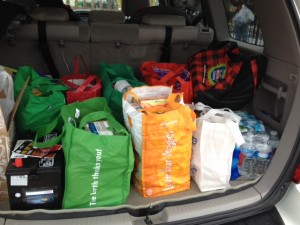 You would think I'm a sucker for Wegman's and you are probably right. I love that store very, very much. To the point I drive a near 20 minutes, $7 in gas to get there, and it is worth every single penny.
They have amazing deals, coupons and natural-organic sections all over the store. If I wasn't there, I wouldn't be able to bring you wholesome, healthy snacks like these incredible, No Bake Oatmeal Raisin Cookies!
No lie – they are fantastic.
[amd-zlrecipe-recipe:41]
I also attempted to exercise again, but Jimmy broke down! (Jim, the treadmill.)
PS This was totally me. It just stopped while I was running full force!
I would have ran outside but it's icy and rainy. Instead, I worked on some healthy recipes for the week. If I can't exercise, I should back up on those calories, right?
On the menu this week:
Baked Buffalo Chicken Salad
Curried Chicken and Rice Soup

Turkey and Zucchini Meatloaf

with Potatoes
Healthy Mexican Tostadas
Sausage and Penne Bake
Shout me a comment if you want any of these recipes as well!
Question of the Day: What's your favorite cookie?
 This is a paid-sponsored post brought to you by:
Located in Gilbert, Arizona, Earnhardt's Gilbert Chrysler Jeep Dodge Ram is proud to serve Gilbert with quality vehicles. Family owned and operated since 1951, they have a variety of new and used car inventory.
"Earnhardt' Gilbert Dodge Chrysler Jeep is proud to partner with the Better Business Bureau, Arizona Automobile Dealers Association, Kelley Blue Book, Edmunds.com, Dodge Dealers Association, Chrysler Dealers Association,and Jeep Dealers Association."
Connect with them by leaving  a comment on their Facebook page  
or giving them a call at (888) 262-7401!