The toddler years are a time of discovery, curiosity and wonder. Around every corner, every step taken, every turn made there is some magic to be touched and discovered. It's a time for social, cognitive and emotional development.
When I tell people that I home school, I often get asked the same question, "What do I do with the other child?" Well, I'll tell you a secret and please listen closely, Miss 2 is learning at the same time as my preschooler. When I give Mr 4 written activities, Miss 2 is learning at the same time but just in a different way. She is discovering the world around her. She is learning the magic of the world.
It doesn't take much to entertain Miss 2, she is filled with her own wonder and curiosity.  When I am working with Mr 4 on his school work, I give Miss 2 easy and frugal activities to improve her fine motor skills and eye-hand coordination. It doesn't take much. Actually these five activities only use 2 supplies and teach her a variety of skills.
Activity #1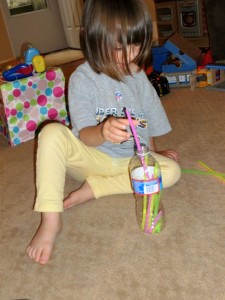 This easy activity teaches Miss 2 eye-hand coordination. The two supplies needed are: water bottle and different length straws. I asked her if she thought all the straws could fit in the bottle. She looked at me with a puzzled face and off she went, exploring the possibility. The experiment doesn't have to be difficult or challenging but provoke a curiosity, a question. Can all the straws really fit into the bottle? Turns out, they could. 😉
Activity #2
Salt and Paintbrush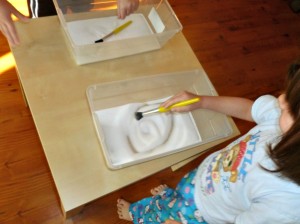 I love this activity. If you have never painted with salt, you need to grab a container and get stirring! You can make shapes, letters or even have your own homemade zen garden! Usually, she uses the other side of the paint brush for drawing and the brush end for gently moving. I love this soothing activity and it also helps her manage self-control by not be tempting to throw the salt everywhere!
Activity #3
Magnetic Wand and Paper Clips
The curiosity of magnets never cease to amaze me. You can even use this science experiment in many different ways. I use a magnetic wand and paper clips but you can also put the paper clips in a bottle of water and watch them move up and down with the wand. I asked Miss 2 how many paper clips could the magnetic wand hold but I think she lost count after ten…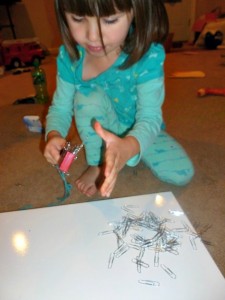 Activity #4
Pom poms and a muffin tin.
My children love to be organized. They really do. They like to pile their cars in lines, put their toys in organized boxes and even sort colors in muffin tins. Here Miss 2 is learning to sort her colors in each muffin tin. If you don't have pom poms, no worry. You can use colored paper clips, bottle caps, buttons, cut out foam shapes…anything you can think of!
Activity #5
Discover your childs' inner creativity with stickers and paper.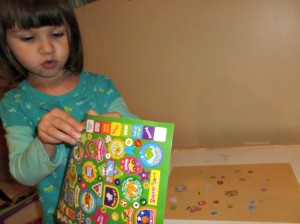 Instead of the usual crayons and paper, we change it up to stickers. She really concentrates to pull those stickers off too! When she is finished with her masterpiece, we hang it on the wall!
And there you go, 5 frugal toddler activities using only 2 supplies! The possibilities are endless. No matter what you do or set out for your child, they are always learning and grasping new concepts. The world is a big place for these small toddlers and they have the desire to learn and soak in all its goodness!
What are your favorite toddler activities?