Dinosaur Hunt: Sensory Bin
Everyday in our preschool home school, we read a new book and discover activities around the theme of the book. Yesterday was no different. After our circle time, we read Curious George, Dinosaur Tracks.
We love this little monkey. The kids are always excited because they say, "George gets into lots of trouble!" and wonder what he's going to do next! This book was about discovering tracks and George wondered if he was going to find dinosaur tracks….did he?
Next, we went on our own dinosaur hunt! This turned out to be a great sensory tub for my Mr 4 and Miss 2!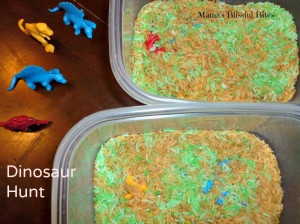 First, I made the special rice. Yup, rice is very special. Earlier in the week, I colored and scented the rice green to represent grass.
First, I took 2 teaspoons of water and placed it into a big ziplock bag. I added food coloring, peppermint extract and rice. Then, shake, shake, shake!  Pour it out on parchment paper to dry. It took about 30 minutes to completely dry.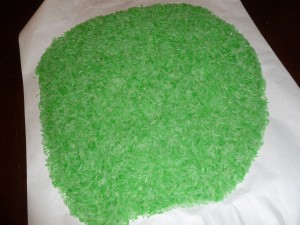 Then, I placed in a container, added dinosaurs and brown rice for dirt!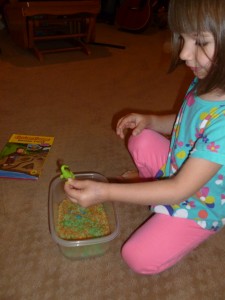 They loved digging for dinosaur bones!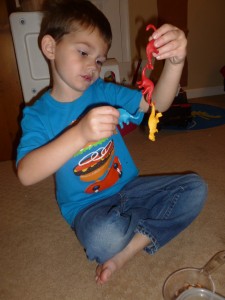 They buried them again and again until they made new discoveries.
Like burying cars…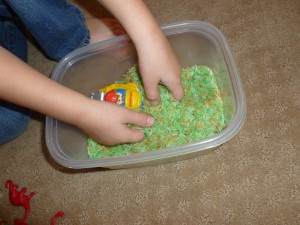 Or filling train carts.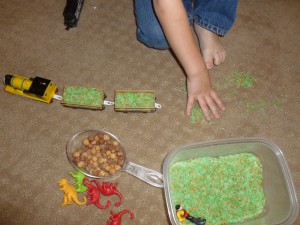 They loved the way it felt. Running it through their fingers over and over.
And even their toes…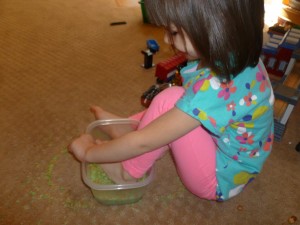 Over and over again…
Don't worry. This was real easy to clean up for those mamas who hate mess…It was a quick scoop and up it went. I was pleasantly surprised!
Finally, we wrote letters in the rice as well.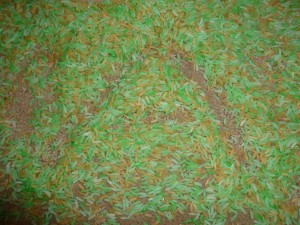 After school time, we go outside and discover nature. Today was no different, except we went on a dinosaur hunt!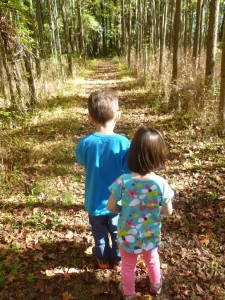 The little archaeologists were on a mission!
How do you explore dinosaurs?
6 Responses to Dinosaur Hunt: Sensory Bin