Last week was Fire Prevention Week. I could not wait until Saturday, when we had the opportunity to meet a real firefighter! I knew about it all week long but come Saturday morning, it occurred to me that I should do some activities with the kiddos as well. Thankfully, I was up at 5 am and able to pull everything together from a quick search on the internet (thank you bloggers!).
No Fire Prevention Week could have started off better without showing the kids a real fire. So, that's what we did.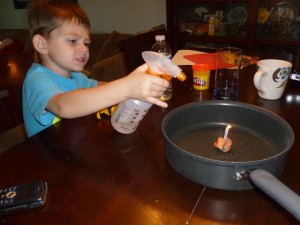 We discussed how water puts our a fire and then I gave them the squirt bottle to let them go at it! I'm sure you can see the determination on Mr 4's face! He just wanted it OUT!
But Miss 2 wanted to know if it was her birthday and she could blow the candles out…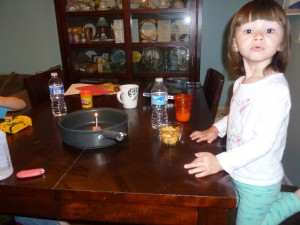 Big shout out to This Fine Day for a great idea!
Then we were off to our paper work. Like I said, I am so grateful for other bloggers doing these activities that I could quickly throw this together. I traveled over to Home School Creations and used their awesome printables!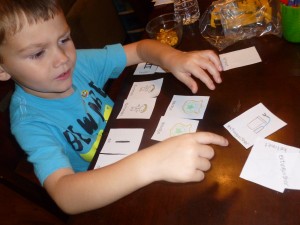 We then followed up with a craft from Teach Preschool and made fire trucks using basic shapes. Both children loved this activity. Even Mr. 4 who hates to get messy with glue!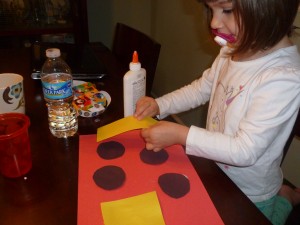 Then off for playtime! Teach Preschool also had this idea on their Fire Safety Week and it rocked! The kids had a blast playing!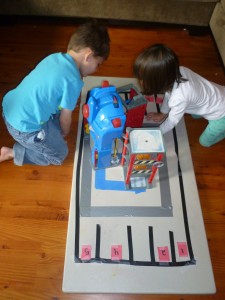 It is supposed to resemble a fire station in the middle with a parking lot on the outside edges. Number 3 parking spot fell off in the wind storm and they had more fun bringing down their fire station to play. It was really enjoyable for me to see them put out the fire together.
By then, it was time to head the road to our local library to visit a real firefighter, paramedics, fire truck and ambulance! Pop pop showed up and surprised the kiddos as well. That made our visit even more special!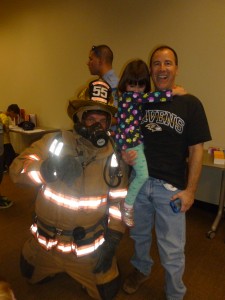 Of course when I took Mr 4 up to the fire fighter he FREAKED out to say the least.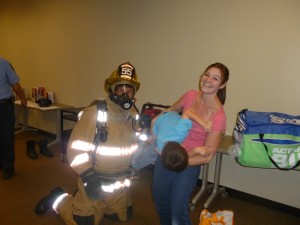 The fire fighters gave a presentation about what to do when there's an emergency and discussed their equipment and gear. The paramedics let us do compressions on dummy bodies.  The kids really enjoyed themselves and by the time we went inside the fire truck and ambulance, they were all smiles.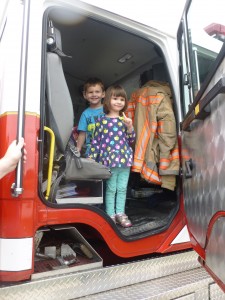 Both of them.
So there you have it. An awesome day at Mama's. Although this was quite last minute, it worked out fantastically. We went back into the library and gathered lots of books and included in the pile, are fire books.
Did you do something special for Fire Prevention Week? Leave a comment to tell me below!