Painting with Salt
Today is a very special day. Not only is it Friday (Whoop! Whoop!) but MBB is being featured on one of my favorite sites, Mommas Meals! I met Tammi through our Sunday Supper group, and once we started chatting, there was no turning back. On a personal level, Tammi is really down to earth, honest and nice. She's one of the Mama's that I can really relate to. On a blogger level, she will bring you the best and nitty-gritty of the motherhood world. She doesn't hold back and she's amazing. Every week she will feature a new blog! Please be sure to visit her and read what she said about this Mama on her Featured Friday's!
And since today is such an awesome day, (every day is really) I wanted to throw in a fun art project as well! I found this one all over the internet so I wanted to try it too! It's called Painting with Salt. Who would have thought? Painting with salt!
Supplies needed:
Paper for painting (we used construction)
Salt
Glue
Food coloring
Water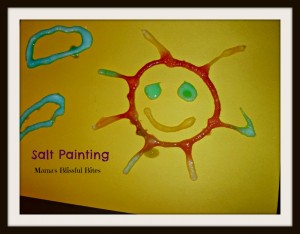 First, have your child draw everywhere with the glue. My daughter loved to watch the glue come out of the bottle.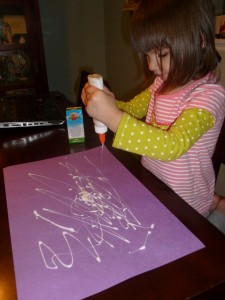 There's something magical about the squeeze.
When the glue work is complete, throw salt on top. Don't go skimpy like I did in this photo, cake that baby on!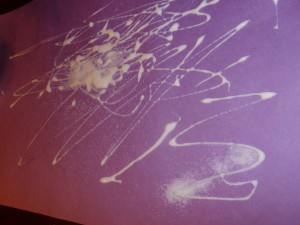 Then shake it off. (I folded up the sides and dumped it into the trash.)
You will notice how everything looks raised.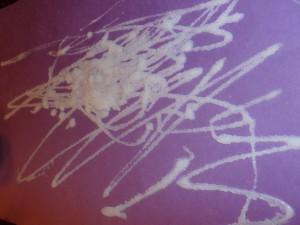 I filled up cups with a little bit of water and a few squirts of food coloring. Gave her a dropper and let her create.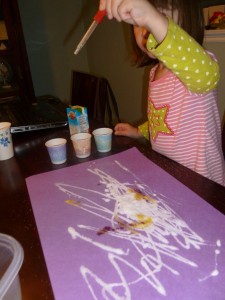 With each drop, the color would spread throughout the salt. It was actually quiet neat to see.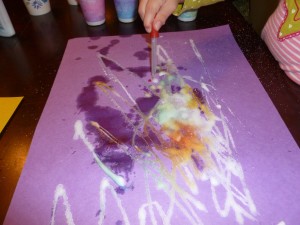 To be honest, my photo is the sun. I just had to get in on the fun as well…but here's her completed artwork!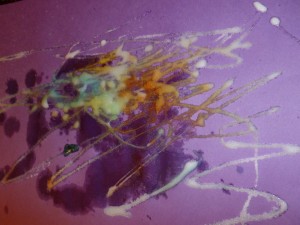 In case you don't have a dropper, I also read that you can use a paint brush.
If you don't feel comfortable with food coloring and water, I also read that water color paints work too! Please let me know how it goes!
If you have a create way to paint, leave me a comment below and in the meantime, be sure to visit Tammi!
3 Responses to Painting with Salt