Mama Monday: Homeschool Classroom for Preschoolers
This week has been a blast! I was able to turn my basement into a "classroom" on a very small budget. I mean small. I want to give a big shout out to IKEA for supplying all the new items and UNDER $100! (Actually I think it was $80 something! Even better.)
My goal was to create new spaces for the kiddos by setting up different stations around the room. I really wish I took a photo prior to the new design but I didn't. Imagine being filled with endless toys, a big train table and exploding tubs of items. Get the point? A big playroom!
I did have to compromise though – the sofa had to stay per hubby. In my mind, that was already gone too but I could see the panic on my husbands face as he wondered where his quiet time was going to be. So, it stayed.
It took me two hours by myself to move all the items into a second part of our basement but I did it. (Even that big old train table!) I did not donate or trash anything but simply moved it in case I got the, "Mom…where's my…" and some favorite toy was missing. You know, the favorite toys that you don't realize are the favorite toys until moved deal. Here's our new set up!
STORY TIME: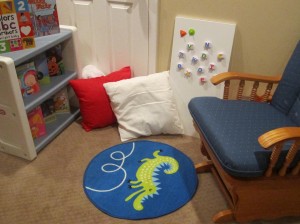 A turn of the chair, a snatched bookshelf and a simple rug pulled this piece together. We visit the library once a week and grab a whopping 20 books each time. That's right, I said 20. The kids enjoy opening up a book and looking through the illustrations so this is a great quiet time space for them.
The magnetic board is not attached to the wall so the kids can put it on the floor and play. We even made new magnetic shapes by adding magnetic strips to the back of felt earlier in the week so this board was perfect.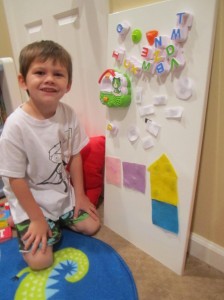 The two pillows are used for them to sit comfortably with a blanket in case they choose to get even cozier.
This is one of their favorite areas since there are new books to glance through each week.
MUSIC TIME:
My preschooler LOVES to play music. Running back and forth banging on a drum or tambourine is quite fascinating to this little one. With a donated keyboard player, my guitar and drums in a box, there's endless hours of music!
(PS He was running with the drum, so didn't get a photo of it!)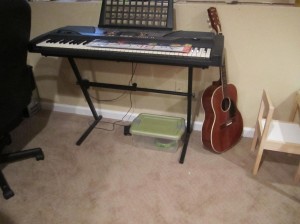 I have since placed a child's cd player under the piano to turn on at anytime they want to dance!
ART SPACE: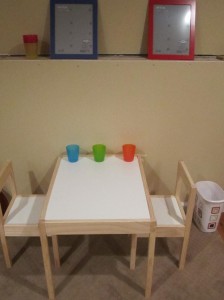 This table set with chair was $20 from IKEA and well worth every penny. It's slightly small for a preschooler but perfect for two toddlers. We play play-doh, draw pictures, build blocks and more. The two photo frames were also from IKEA and I have been placing their artwork in them weekly. Whatever new piece they do, I simply change them out. They are hung by command strips on the wall for easy removal.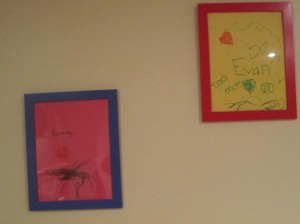 Our cups are also filled with crayons, scissors and pencils. At any time, they can create a masterpiece!
IMAGINARY PLAY: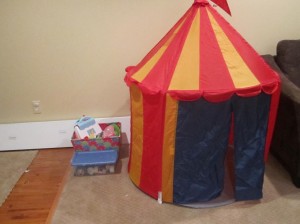 Yet another awesome item from IKEA, a tent. This is the kids "secret" hide-a-way. They love reading, playing, or even sleeping in this tent! At $19.99 it was worth the price! To the left, I placed all their dress-up clothing and play items. I have since found a rack that I am placing on the wall this week. The rack has hangers for their clothes and a section for three small cloth bins. I also asked hubby if I could take his full length mirror so they could see themselves all dressed up. This area is still a "work in progress" but almost there!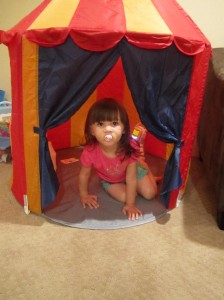 Now, you may be wondering what I did with all their toys, I mean, you didn't expect me to leave them with nothing right?
TOY AREA: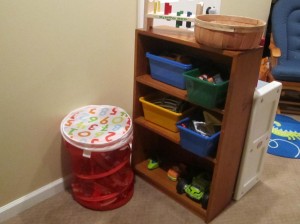 On the other side of our story area, are their toys! Blocks, trains and items my son would "freak out" if he didn't have. My daughters sensory boxes are there as well. (Pasta, cups, sort of items). The pop-up bin was a whooping $5.00 from IKEA as well! A great way to store loose train tracks!
LETTER TREE:
This (obviously handmade) tree is the set for our letter tree. If you've ever read the story Chicka Chicka Boom! Boom! then you will know where I'm going with this! This is one of our projects that I'm starting next week.
Finally, we have computer time. I took an old dresser that I grew up with and placed the computer on top and brought down my lap top for the preschooler.
COMPUTER TIME: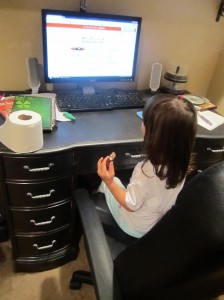 (We had colds, so that's the reason for the toilet paper! lol!)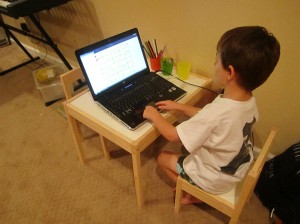 And there you have it – the start of our classroom!
Tell me, what do you have in homeschool classroom?
Disclosure: This post is not an affiliate post. I gathered all links for products for your convenience.
5 Responses to Mama Monday: Homeschool Classroom for Preschoolers