While the boys were out on a Home Depot run (arh! arh! arh!) Mama and baby girl got to spend some much needed quality 1:1 time. Earlier in the week, I noticed I have an abundance of pasta. I mean, can't fit anymore in my pantry, kind of abundance. I decided to throw it in our art section to create necklaces but this turned into an even better project. Making colored sorting pasta has never been so much fun.
Supplies:
Plastic bags
Tempera paint
Pasta of choice
Sorting cups
Glitter (optional)
Wax paper for drying
First, I placed pasta into three big plastic bags.
Then, add tempera paint inside each bag.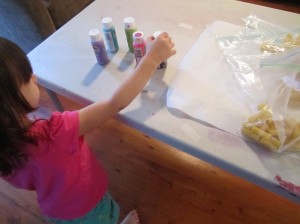 Then, SHAKE! SHAKE! SHAKE!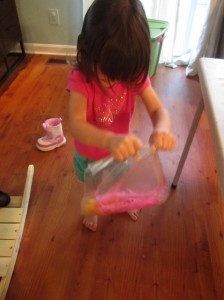 Until all pasta is colored in paint.
Baby bear wanted to add some glitter so of course, we did!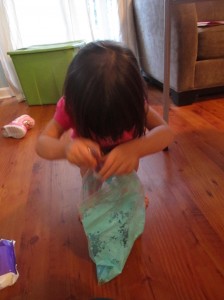 Finally, dump each bag onto wax paper and let dry. It took about 45 minutes to an hour for this to occur. In the mean time, we had snacks and had you know, girl talk.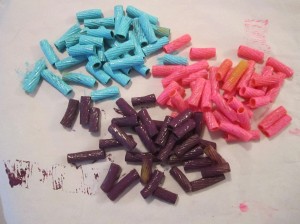 After it dried, the fun began!
First, we made necklaces…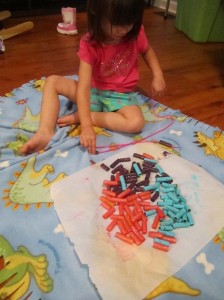 Using string, we made different patterns with each color.
Then my son came home and being a big 4 year old, he stated that, "Boys don't wear necklaces! Only girls!" He cracks me up. So I decided to turn our artwork necklaces to a subject he enjoys, math.
He first counted how many of each color there were: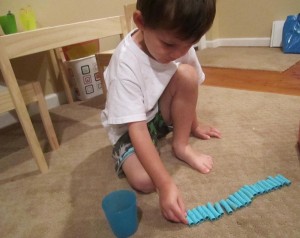 Then we put them in matching cups and estimated how many were in each cup!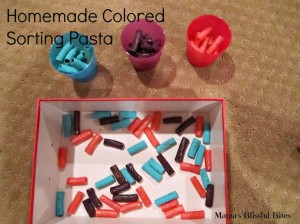 Even baby bear got in on the sorting action.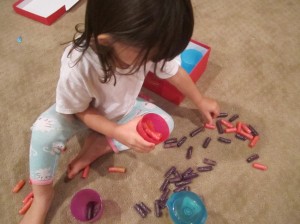 Now don't think this was a one time deal because it wasn't. In the shoe box, I added a measuring cup with the colored cups and it has turned into one of the activities in our new "classroom." (Which I will show you on this weeks Mama Monday post).  Baby bear who is 2 years old, loves to open the box and play with them. Since she made them, I think this project is even more special to her. Making this one of her favorite fun, fabulous games!