Eco-friendly NCFD: #CTWW + #Giveaway Lunch Box
Okay, be honest with me. Did you accept our Eco-friendly Hair Removal Challenge? I have upgraded my razor to one that I only "trash" the heads and I feel pretty good about that. Honestly, I don't change them very often so I already feel like I'm contributing minimum trash.
I have LOTS of goodies to tell you…
The Challenge This Week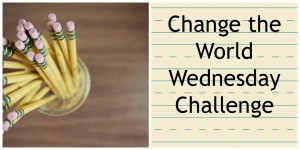 Have you ever thought about saving the energy in your home either by air conditioning, unit windows or heating elements? Today is National Ceiling Fan Day and we have joined with our friends at Fanimation to help celebrate this day! The challenge, should you accept, is to turn off your air conditioning unit, window unit or even heating element for 1 full day. Why? Because when you do so, you save trillions of kilowatt hours of energy. That's right, just one day.
If you're cold, bundle up! Use blankets, warmer clothing, sunlight to keep warm. I personally like fuzzy socks with big bunny head slippers but to each their own!
If you're in warmer climates, cool down. Try cooling the body with refreshing water, watermelon, ice cream etc. and wearing less (but appropriate!) clothing!
So are you up for this weeks challenge?! I know I am!
This brings me to a special part that I have been eager to share with you!
AN AWESOME GIVEAWAY!
With the school year approaching quickly, I wanted my children to have Eco-friendly lunch boxes. I researched many companies until I found one that really peaked my interest, the Go Green Lunch Box.
As a parent, it is VERY important to me that I try to be as Eco-friendly conscious as possible. My goal is to eliminate as many products filled with harmful chemicals by simply not supporting the companies who make them. It's easy, I just don't purchase them. I do not support regular products/items until I research the chemicals listed in them. Just by having a little bit of knowledge can make a big impact on our lives.
I wanted a lunch box to save on trash that is wasted from the normal brown-bagged lunches. When I was a child, my mom used to package every item in snack bags. Grapes, carrots, applesauce and spoon, you name it! Everything was in its separate container thus producing waste after the items was consumed. I love the Go Green Lunch Box because there are four large sections to place food in.
Not only is there ample amount of space but there's a lock  so everything is secure and fresh! Nothing falls out – EVER.  All four sides click into place AND there's a an easy lock located on the top the lid. The food doesn't pass over to the other sections combining those chips with grapes! I love it! Especially because my kids won't touch their food if it touches something else. Please tell me, your kids are like that too?
It also comes with a water bottle that my son absolutely carries with him everywhere. Not just for lunch time.
I can also feel good about giving him this bottle because it's 100% stainless steel!
Also included are very stylish carrying cases…
Here's my mama confession: My son loves his lunch box so much that he also uses it to store his favorite car toys and lock them under his bed. Too darn cute, just means I have to purchase another one for its real purpose!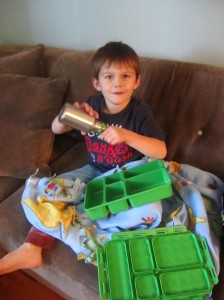 Quick Recap. Why I love the Go Green Lunch Box:
Container is BPA free
Water bottle is 100% stainless steel
It saves on trash from every day brown bagged lunches
It's reusable
Easy to clean
A ice-pak fits nicely inside
It's stylish
And for my son – it fits his cars
They even have an awesome return policy!
We stand 100% behind all our products and offer a 30-day return policy for all unused (salable) items.
PRICE: The price for all lunch boxes are $34.99. It's a little under $3/month if divided by a year and worth every penny. Some items are just good investments and this is one that won't break the piggy bank.
My only room for improvement (if I'm being picky) is the case fits perfectly. As in perfectly snug. It may just need to be broken in to loosen things up.
Although I was given a lunchbox to review, I was also given a lunchbox to GIVEAWAY. That means one lucky MBB reader gets one!
Be sure to check back often with Go Green Lunch Box for new styles!
You can find them on the web at: http://www.gogreenlunchbox.com/
Good Luck!
11 Responses to Eco-friendly NCFD: #CTWW + #Giveaway Lunch Box