If you can recall, my children may have a thing for monsters. Early last month, we went to the monster caves and ever since then, it has been all about monsters. I mean all about monsters.
This week was dedicated to MONSTER WEEK. Welcome to a day in our monster adventures…
Each morning, I implement a song with our circle time. I ordered library books (online) early last week and found a great book to go with circle time called, If You're A Monster And You Know It by Rebecca Emberley & Ed Emberley.
The book is colorful and filled with fun! The words go to the "If you're happy and you know it" song.  We stomped and growled, twitched our tails and more.
After circle time, we did a monster craft.
We had two favorites: Monster Puppets and Musical Monsters.
Monster Puppets Instructions: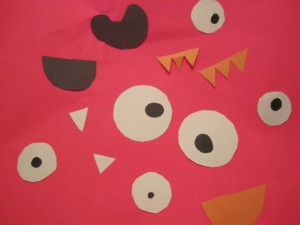 Using construction paper, draw and cut out goofy monster facial features such as eyes, noses and teeth and mouths. Make sure there are lots. Glue them to a brown paper bag and tell each other monster stories!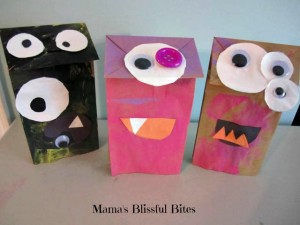 I ended up taping them to each of their monster bedroom doors!
Then, we did the monster mash because it was a total smash…
With all that mess, we had to clean up! We read another monster book, Monster Mess! By Margery Cuyler
This book rocks because it's just so darn cute. Who wouldn't want a monster to clean up their mess? I would!
For game time, we read  Monster Musical Chairs by Stuart J. Murphy. The kids LOVED removing the chairs and dancing around them!
We had a monster lunch and prior to nap time did one more monster project, Musical Monsters. I think it's important to have music in life daily! We sing, we dance and act all sort of monster crazy!
Supplies Needed:
1 gallon containers (water or milk whatever you have)
paint
eyes
pipe cleaner for arms
tape
paint brushes
beans
Instructions: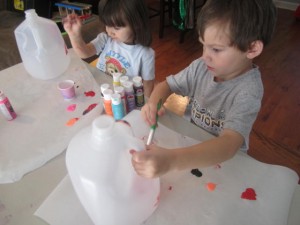 Paint the gallons and then let them dry (the hard part…waiting!)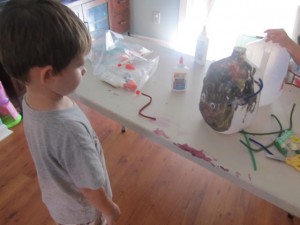 Glue on eyes, tape on arms with pipe cleaner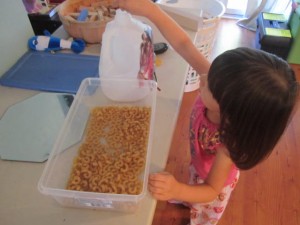 Fill them up with pasta or beans
and dance like wild monsters!
(PS Remember to put the cap back on!)
We finished the evening off with a final monster book called, Bedtime Monster by Escrito por Heather Ayris Burnell. This book is written in Spanish and English.
Our monsters get tired just like this bedtime monster and we ended our monster evening.
What do you do to celebrate the monsters? Do you have monster fun?