Day 3 for the half marathon schedule suggests 30 minutes of cross training activity today. I may have over succeeded this. It may just be the over achiever inside me just wanting a little bit more. As much as I wanted to run today, I didn't. I successfully chanted my way through yoga practice for 45 minutes in the am and then completed an awesome 20 minutes of kickboxing this evening.
When I say awesome kickboxing, it is as awesome as it can get in the privacy of your own home. I felt like a superhero. After throwing a jab, cross, hook, uppercut while holding weights, I thought I could take on anything or anyone. 😉 Woo hoo!
I have three FAVORITE DVDs…including the one I told you about this morning for my half marathon training (click here), an old Jane Fonda VHS (am I out dating myself?) and this one…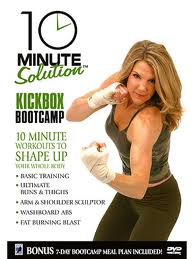 It's an incredible workout that brings the sweat on! I love it. It features 5 different segments each 10 minutes long. Seriously, you should consider trying it. It makes me feel really gooooood!
This is how I ended my night but let me get back to the morning yoga…
When I was finished, I was starving. As in, I wanted to eat anything that was easy to consume right then and there. I grabbed a banana and peach. This covered me for a little bit. Then I went to town or in the kitchen I should say. I worked it this morning. I was so fueled by my workout that I was accomplishing a lot! I did a load of laundry, made Koosa Ma Laban (posting later!), oatmeal for kids, got their fruit cut up and yogurt in bowls and made these delicious roasted parsnip fries all before 8am! (Yes, that was with a 45 minute workout!) I was on fire! (Pat on back, very rare morning!)
Usually served as a side dish, these delicious parsnip fries can also be cut into small matchbox pieces as sticks as a snack. When I first made them, I thought of my husband who doesn't care for celery sticks but loves carrot sticks. Walah, parsnip sticks! But today, I made them thicker and it reminded me of a nice juicy fry. So, we had parsnip fries for breakfast! (Along with the rest of our breakfast.) They were a hit in the house. They are really easy to make and use very few ingredients. This recipe would be perfect for those cold winter months.
[amd-zlrecipe-recipe:18]
Parsnips carry a really deep and robust woodsy flavor that no other seasonings are required. They are delicious all on their own. They also provide a lot of vitamins, minerals and soluble as well as insoluble dietary fiber. Serve these instead of regular fries to add a twist to your next meal!
Okay, Day 4 2 miles run/walk. Are you ready? I hope I will be!