In my search of Eco-friendly products, I came across a fabulous company called If You Care. I instantly fell in love with their commitment to protect the environment by using high-quality alternatives to conventional and kitchen products. In my journey to become more holistic in every aspect of life, I realized how much waste I create using paper products! I know, I can't believe I even admitted that! I use paper towels religiously, or at least, I did. I knew I needed to make changes to help our environment and become more Eco-friendly immediately.
I love this company because they use unbleached paper, recycled materials and wood from sustainably managed forests. They also replace petroleum based ingredients with natural and renewable resources. Yup, it's all right there. One amazingly environmental friendly company that is a must in changing our ways to a more sustainable, simple lifestyle. I knew I had to try them out so I contacted If You Care right away. They supplied me with their household gloves and 100% sponge cloths.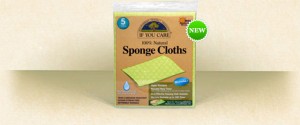 At first, I was hesitant on the cloths. I have never used cloths before! To my surprise, I quickly fell in love with them. Not only could I reuse them and clean them through the wash machine but they were even better than the commercial sponges. My husband loves the old-school sponges. He has a line up, even though he's never in the kitchen to cook or clean! But what  I noticed is that the sponge cloths are very easy to maneuver around my pots and pans and very effective in the clean up job. They handled all of my dishes easily. When I was fished with the cloth for the day, I placed it in my laundry basket and used another one. There are five in a box! VERY convenient! Nothing made me happier than using NO paper towels at all! This means no waste from towels in the landfill! Very Eco-friendly. I also love how affordable such a fantastic product is! And, just so you know, we no longer have those dingy conventional sponges anymore, wink wink. You can check them out by clicking here.
Next, I tested out the Household gloves.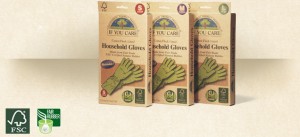 Yes, I truly fell in love with them as well! They are made from Forest Stewardship Council (FSC) certified latex with 100% natural cotton lining, biodegradable non-toxic ink and glues and cardboard processed chlorine-free! This simply blows my mind! This company takes all leaps and bounds to produce very Eco-friendly products!
My husband must have been smiling because I couldn't wait to clean everything! And so I did…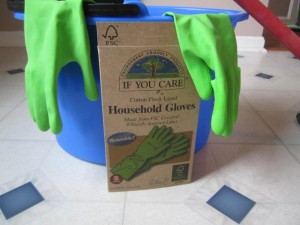 I love the way my hands felt. They didn't leave behind that "rubbery" feeling afterwards! Really great for me!
If You Care not only offers environmental household products but sandwich bags, trash bags, parchment baking paper, firelighters and more!
The item I really want to try next in their Natural Laundry Detergent! Yes folks, I said it! Made with only pure ingredients (all natural formula made from 100% plants!) I want to try it now! They even offer this amazing detergent in lavender, my absolute favorite!
WANT TO WIN A FREE BOTTLE OF LAUNDRY DETERGENT?
You can enter to win a free bottle of this environmental friendly laundry detergent by entering here.
Be sure to check them out at their website: http://ifyoucare.com/
Follow them on Twitter by clicking here
Follow on Facebook by clicking here
And …. there's more!
If You Care is kind enough to give one of Mama's Blissful Bites readers Cloth Sponges and Household Gloves as well! Giveaway ends on Friday, June 14th,2013. Be sure to tweet every day for more chances to win!
PS For an extra chance, answer this question: What is the one household product that you would love to see go from conventional to Eco-friendly?
Happy Green Living!
Love,
Mama