Transform back in time the moment you step into the castle. Surrounded by knights, a king and princess you will sure feel as if you stepped back into a different age of time. An age where rivalries weren't resolved by laws but by epic battles which are performed in front of your eyes. Medieval Times Dinner and Tournament blows away your typical dinner and show. First of all, you walk into a castle! I said that correctly, a castle.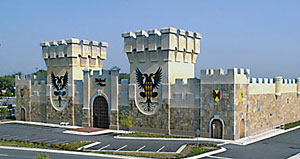 How many places can say that? When you see the castle, you know you are heading in for a spectacular treat.
Inside you are transformed back in time with knights, swords, a fabulous bar (hey, hey) and more. Take your picture and place on your knights colors, you are in for an awesome show.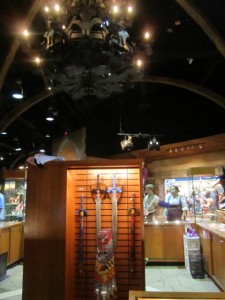 After you are seated, which may I add was very organized, out comes your server. Please don't get the impression that this is your average regular server, oh no. Dressed to the part, the servers are funny. They have a sense of humor calling the knights, "pathetic" and more.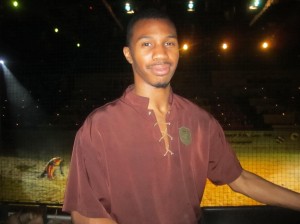 If the show doesn't keep you on your feet enough, the "Bill of Fare" or food is amazing. Everything is eaten without utensils making it a fun, real experience!
They send out, meal after meal after meal making sure to stuff your belly. The food is really delicious too. I think the my favorite was the ribs…no wait, the steak fries…no dessert!
I don't want to give away the whole show…but here are some clues….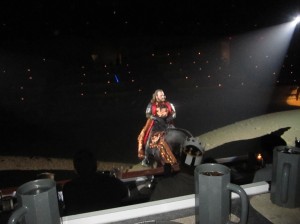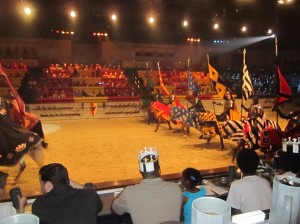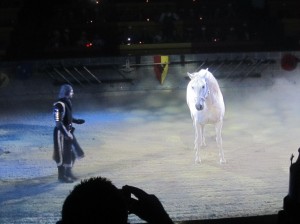 With a story line in play, a jousting tournament and a major feast, you will be sure happy that you took your family here. Yes, I did say family. One of my favorite things about attending the Medieval Times is how family oriented it is. There's a lot of space to seat comfortably all four of us, the bathrooms were neat and clean, the food was amazing, the show was entertaining and it was a blast! My children are 4 and 2 and watched the whole show. Believe me, they don't even sit down for a movie!
I feel the prices are reasonable too. $56.95 for adults and $35.95 for children under 12. If you think it's expensive, think about the two hour performance and the major feast that will be brought before your eyes. It's prices fairly right on.
My only warning is to come early for parking. With the new casino, we had to park very far away from the castle, so be sure to arrive early. You'll want to anyways, just for the shopping 😉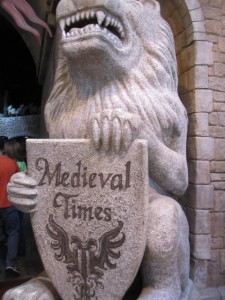 Go ahead, transform yourself in time. Forget about what day it is, enjoy the past and an amazingly fun time with your family!
Medieval Times has 9 locations. Be sure to visit one by clicking here. 
Facebook them: https://www.facebook.com/MedievalTimes
Disclosure: I was provided tickets to attend and review a show. All opinions are absolutely mine and mine only. I was not compensated any further.