Chocolate Banana Peanut Butter Kabobs #Cleaneating
I was craving and I do mean craving some sweet chocolate. Whenever I get in those moods, I make sure to give myself a sweet treat! I usually make these as bites and use toothpicks but I didn't have any so this is how the chocolate banana peanut butter dessert kabob was created! (Say that ten times fast!) Sometimes a girl has to do what a girl has to do!
Chocolate Banana Peanut Butter Kabobs #Cleaneating
Ingredients
2 bananas: sliced
2-3 Tbs peanut butter* (See Note)
70% bakers chocolate
*lollipop sticks or toothpicks
Instructions
Place parchment paper on a baking sheet
Slice bananas and place on baking sheet
Top with peanut butter and freeze for 30 minutes
Take lollipop sticks and push three on a stick
Melt chocolate in a glass container in the microwave
Spoon over kabob and place in a paper cup
Place in freezer for 20 minutes
http://www.mamasblissfulbites.com/2013/05/14/chocolate-banana-peanut-butter-kabobs-cleaneating/
Note: I used homemade peanut butter. To make, I used 2 cups roasted peanuts in a food processor and processed for 5 – 7 minutes until it turned into peanut butter. I still have lots left. Placed in glass container in fridge.
If you don't have lollipop sticks use toothpicks and place one on each stick for a bite size snack.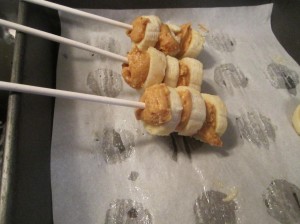 This is how they look prior to having chocolate drizzle all over them. You don't have to freeze them for thirty minutes. To be honest, they thaw very quickly. I like to freeze them to have the peanut butter and banana adhere to each other better but it's really no biggy. Skip that step if you want

You will be very satisfied either way with this sweet, delicious treat!
One Response to Chocolate Banana Peanut Butter Kabobs #Cleaneating