April showers bring May flowers. That's how the old saying goes, right? Spring is a time for new beginnings, new babies, new brides and new flowers! In celebration of all our glorious new beginnings, our #SundaySupper group is throwing a virtual shower for you! If you are having a bridal shower, baby shower, or just a regular rain shower, join us and our host, Home Cooking Memories, for our party!
♥♥♥
Finger foods are such a big hit at gatherings. Have you ever noticed that? All of a sudden, the fork isn't proper and there are tiny bite sized spread of food on tables everywhere. Little slider hamburgers at baby showers because their "bun is in the oven," or deviled eggs because…do we really need an explanation? (insert questionable face here) Finger foods have taken over popularity at large functions. Perhaps a slice of carrot will do? I enjoy these finger foods tremendously. I over indulge all the time at functions – it's easy, just one bite at a time. I mean seriously, you have some really cute food in front of you and it looks like you didn't really eat that much, right? Just a bite.
After a while, I figured something out. I'll bring my own food to keep me from going nuts over all the other finger foods. It's a win-win situation. I'm bringing one of my favorite snacks and the host thinks I'm such a big help. I like that. My snack of choice are nuts. They help make the belly feel  full so I eat less. Yup, guess my host didn't know my real M.O! Let's keep it between us.
I've made glazed pecans a whole bunch of different ways: with sunflower oil, with egg whites, with brown sugar, with regular sugar, but this recipe is my favorite. It's the kind that will make you sit on your tush and eat the whole 1 cup pecans without missing a crumb.
You can see how owie and gooey the glaze is after being baked: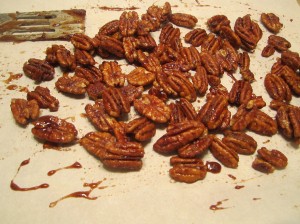 After they cool down and harden, you are left with a beautiful sweet and delicious crunch.
BE WARNED!!!!! They are addicting!
[amd-zlrecipe-recipe:4]
To make a larger batch, just double the quantity. These little treats also make perfect gift-giving presents. Place in a jar, add a ribbon and you're done. Homemade from the heart.
 What are you having at your shower? I want to know!
Join our #SundaySupper Chat!
One of the best parts of #SundaySupper is our weekly Twitter chat. If you love food, you definitely want to join us! Just follow the hashtag #SundaySupper on Twitter this Sunday, April 21st at 7pm EST, and we'll be chatting about food and fun for baby showers, bridal showers, and parties!
Be sure to check out more fabulous shower recipes! That's right, we know how to bring a party!
Starters, Appetizers & Snacks
Soups, Salads & Sandwiches
Main Dishes
Cakes
Cookies, Brownies & Dessert Bars
Sweet Treats
Drink Recipes