This week, Lane from Supper for a Steal is hosting an amazing #SundaySupper theme – Meals on a Budget! And believe me, Lane is the girl to go to. She has all kinds of tips and tricks for you!
I think every family should learn how to budget in general. Having a budget helps save money as well as have money for spending! Are you with me? We budget as well. There is a $50 window of opportunity as I call it. Where if we have a special event or meal, it's okay to spend the money, if we don't spend it, the extra money goes into savings. Kind of like how banks round the sales price to the nearest dollar, then throw the change in your savings.
First, I was going to make tuna casserole then salmon cakes then I landed on one of my favorites, honey mustard chicken. What I love about this recipe is that it's not only EASY (you need to have zero skill for this) but it's affordable AND I make two dishes out of it.
Did you see that? I make two dishes out of this! Which, saves me money in that budget 😉
First, I serve it just as is, plain Jane. Why? Because it's soft, moist and filled with honey mustard flavoring and delicious juices. Why would I need anything else? I pair it up with some frozen veggies and there ya go kids, dinner is serve.
Later in the week, I either throw it on a bun for a delicious sandwich or I shred it for soup or sometimes I even put it in a wrap or a salad.  Two meals, one easy day of cooking.
Ingredients:
1 organic whole chicken
1 – 1 1/2 cup honey mustard marinade
salt and pepper
1 onion (optional)
3 celery stalks: chopped (optional)
2 carrots: chopped (optional)
See, too easy, too easy. I don't have a roasting pan so I used my Deep Covered Baker but in my good old teenage apartment days, I threw that bad boy in a casserole dish and covered with aluminum foil. Works like a charm. wink. wink.
Recipe:
Step 1:  Preheat oven to 425 degrees. (I used a 4 lb chicken).
Step 2: Sometimes I go for the fresh veggie approach as I did for this dish – sometimes I just throw in a bag of frozen veggies, entirely up to you. This step is optional.
Cut up your vegetables and place on bottom of pan.
Step 3: Take out giblets from chicken and discard. Rinse and pat dry the chicken. Place on top of vegetables. Sprinkle salt and pepper on top.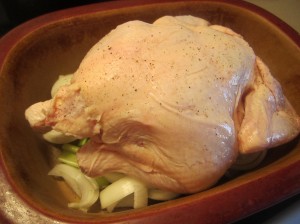 Step 4: Pour marinade on top of chicken. You don't want so much that your veggies are drowning just enough to coat the chicken.
Step 5: Place lid on top and place in oven for 1 to 1 1/2 hours. No matter the time, check to make sure the juices run clear and the internal temperature reaches 165. I rather be safe than sorry.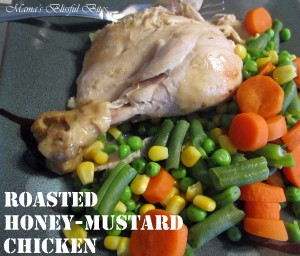 You want to know my budget for this meal?
1 organic whole chicken: 8.99 + 1 bottle of marinade: 1.99 = $10.98 Plus tax but hey, no shipping
🙂
Vegetables are .99 so we're looking at $12.00 for a family of four = $3.00 per person. To go further, I use a whole chicken for two meals, meaning two meals…so I'm saving even more as leftovers!
Want to know some more budget friendly meals? Our #SundaySupper crew is on it!
Starters, Soups, and Salads
Main
Sides
Drinks and Desserts
Join the #SundaySupper conversation on Twitter Sunday! We'll tweet throughout the day and share recipes from all over the world. Our weekly chat starts at 7:00 pm EST. Follow the #SundaySupper hashtag, and remember to include it in your tweets to join in the chat. Check out our #SundaySupper Pinterest boardfor more delicious recipes and food photos.
Coming to Orlando July 19-21, the first annual Food and Wine Conference sponsored by #SundaySupper. Visit the website to learn more and join in on the fun.