Let's talk St. Patrick's Day – this is truly one of my top three favorite holidays. There's something so magical about the leprechaun's and fairies that come to visit our house. The magic that is put in the air. Last year we decorated a big rock green and painting little leprechaun feet, like they magically walked on our rock. It stays in front of our house for good luck. We also played a "magical" game where we had to find lucky numbered coins all throughout the house and it ended at a pot of gold. When you have kids, the magic just seems to come alive.
When I started this #SundaySupper dish, I initially was thinking GREEN, GREEN, GREEN! And what a better dish to have fresh vegetables for our Springtime #SundaySupper! As I prepared the dish, it didn't turn out as "pretty" as I would like…but nevertheless, the taste of the avocado sauce is amazing and zesty! Did I accomplish green, holla! Those little leprechaun's would be proud of this Mama 😉
Ingredients:
cucumber: sliced lengthwise into three portions
1/2 green bell pepper: diced
carrot: little slices
spinach leaves: just a few to add
sprouts (optional)* PS I bought mine today – what do you know, expired. Check the dates!
Sauce:
avocado
1/2 lemon
handful of parsley (cilantro would work great too, I just didn't have any!)
2 cloves of raw garlic
1 – 1/2 cup of fresh spinach
salt and pepper
Steps for Sauce:
I actually combined everything in the Vitamix on low-speed until incorporated but I'm just learning the new appliance and it needed more of a liquid base…you can add more lemon like I did OR you can use a food processor! The goal is to incorporate all the ingredients. Add salt and pepper when you're finished to taste!
Here's the fun part! I was really thinking this was cute but as I looked at my sandwich, I thought, "crap, it's just a salad!" LOL!!! Take it for what you will. The thing about eating raw foods, the focus becomes more on the presentation and the texture. You never want anything cut the same size, you always want to change things up to give it a different crunch/taste in your mouth. So, let's get started on the layering fun!
Step 1: Cut the cucumber in three long pieces
Step 2: Add a layer of sauce
Step 3: Add bell pepper on top
Step 4: Add some shredded carrot
Step 5: Add a few pieces of spinach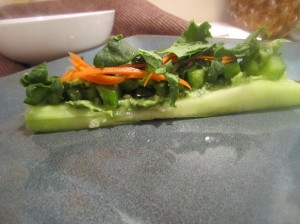 Step 6: REPEAT layers!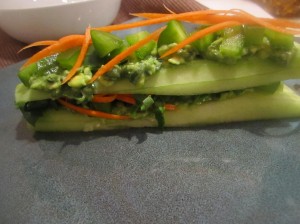 Step 7: End with cucumber on top. (Add some extra sauce if you want!)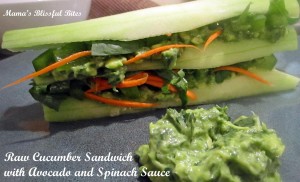 See, in my mind this was the most amazing GREEN sandwich ever…then I cut it and realized it was a salad. Wah! Wah! If you know me, I totally laugh at myself… So just for fun, pick it up like a sandwich that it should be, take a picture and send it to me! I want to see your cucumber sandwich! If you look close enough, I think there's a little leprechaun chillin in there. Go ahead, give it a look 😉
If I didn't mention this, I will gloat about it now. I am hosting this week's #SundaySupper and so happy to do so! We have an amazing, sweet, kind and fabulous team and I was very happy to do so! Be SURE to check out our fantastic #SundaySupper team and their dishes!
Green and Spring Dishes Menu Includes:
Breakfast
Apps, Bread, Salads, Soups and Dressings:
Main and Sides:
Desserts:
Beverages:
Please be sure you join us on Twitter throughout the day during #SundaySupper. We'll be meeting up at 7:00 p.m. EST for our weekly #SundaySupper live chat where we'll talk about our favorite Springtime recipes!
All you have to do is follow the #SundaySupper hashtag, or you can follow us throughTweetChat!