Sometimes I feel like pleasing a three and two year old is far more challenging than pleasing someone in the public eye. You know like someone big – maybe Oprah or the President or even Ellen or maybe easier than pleasing Chef Ramsay (lol or maybe not!) My point is that usually even if someone dislikes a dish, they go through the courtesy of still eating it and pretending they enjoyed it! Or possibly not saying anything at all and politely feeding it to the dog while the host isn't looking. But preschoolers are a challenge! They will tell you how it is and refuse to eat whatever looks "foreign" on their plates! The same old song and dance came up on the plate – apples. Now to a person who loves eating fruits and vegetables, I will take them as they are, but to my little ones, they looked at the cut apples and declined.
Welcome jazzed-up apples. If you are familiar with my banana pecan-raisin bites, you will know that I like to dress up my fruit and give it a little pa-jazz to the plate. This dish is no different and the flavors blend perfectly. I mean magical music time.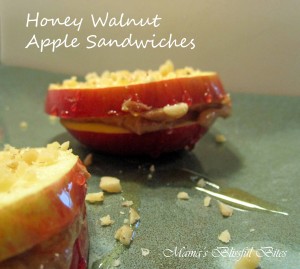 Ingredients:
one apple: any kind
almond butter or any kind of nut butter
2 teaspoon walnuts: finely chopped
drizzle of honey (or you can subsitute agave)
Step 1: Core the apple.
Step 2: Slice the apple making sure to have even amounts of apple disks!
Step 3: Spread your favorite nut butter (on all or one side of the apples)
Step 4: Combine two sides to make a sandwich
Step 5: Sprinkle with walnuts and drizzle honey on top.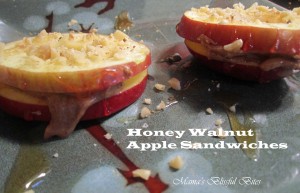 I made them each an apple and they both handed me the plates back asking for more. I have to be honest, I didn't mind, I wanted another one myself! This snack is a sure winner and will stay in our house. No more regular apples only dressed up ones. From a "mom's point-of-view" you would have thought I won the lottery. Nothing thrills me more than to see my children eat healthy! Wahoo!!
Do you have challenges feeding your children healthy snacks? What kind of snacks do you feed them? I think we need to have a parent 101 intervention and start collaborating healthy snack ideas! Please feel free to share some of your "winning" snacks!