Woo hoo! It's finally Sunday, which means I can sit down at the table with the #SundaySupper crew and exchange recipes! It's where I become inspired to get ideas for what meals I'm cooking that week in my own kitchen! Our theme is….Cheese, Cakes and Cheesecakes (mmmm mmmm) and is brought to us by our talented host, Angie from Big Bears Wife.
If you have stalked me on Facebook, you will know that last week I put our family on a gluten-free diet. This was no easy task. Not so much finding meal ideas but coaxing my three year old into eating anything I served. He's a pretty good breakfast, lunch and snack muncher but dinner time is always a pass. He loves his carbs and breads or shall we narrow it down to pasta, pizza and mac n cheese. Does this sound like your child? What I found that works well are finger foods and bites on toothpicks. I wanted to accomplish making gluten-free mozzarella sticks because I felt like that was a for-sure winner. Guess what? Mama's always right. 😉
Normally, I love a good fried mozzarella stick, actually I love almost anything fried (sigh) but healthy doesn't run with fried foods. Not only are we going gluten-free but we are also baking those babies. How do you like that double-healthy whammy? Shaboing!
Ingredients:
5 mozzarella cheese sticks
1/4 cup Organic White Rice Flour (I used Arrowhead Mills: Gluten Free and Wheat Free)
2 eggs: beaten
2 cups Gluten Free Chex Cereal
2 Tbs Italian Seasoning*
salt and pepper
It doesn't take much to make these delicious snackers but I have to tell you, I didn't have any Italian Seasoning on hand…wah wah. Nothing like going to grab a spice and holding an empty bottle with the name written on it! Since I had all the other spices, I made my own. Feel free to use whatever spice you're in the mood for.
My Italian Seasoning*
2 Tbs dried basil
2 Tbs marjoram
2 Tbs Oregano
2 Tbs Thyme
2 Tbs Rosemary
1 Tbs dried cilantro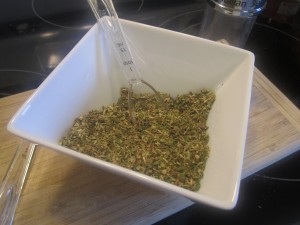 Mix to combine and place contents in empty bottle…that was more of a note to me.
Back to recipe….
Step 1: Cut mozzarella sticks in half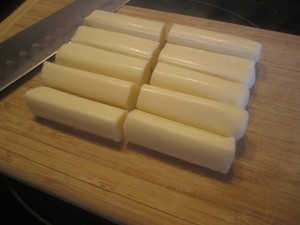 Step 2: Prepare a 8×8 with parchment paper and place mozzarella sticks in freezer for about an hour, until frozen.
NOTE: I have read over and over that by placing the sticks in the freezer it would help prevent them from oozing. Mine still melted out so I'm not sure in comparison to how much. I put them in anyways as a precaution.
About 40 minutes into the freezing process, I preheated the oven to 400 degrees and set my mixing stations.
Step 3: Place cereal in a plastic bag and crunch using rolling-pin or by hand. Make sure it resembles a crumbly texture.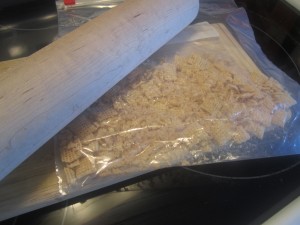 Step 4: Place cereal crumbs in a bowl and add 2 Tbs Italian Seasoning*, pepper, salt and mix
Step 5: Place flour on another mixing plate and the eggs in a third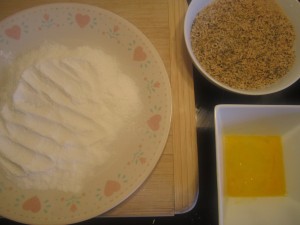 Step 6: When your mozzarella sticks are frozen, dip one at a time in the flour, egg then cereal mixture. Place on baking sheet with aluminum foil.
NOTE: The flour is not really going to stick well. I tried not using the flour and went for the egg/cereal mixture but the mixture didn't stay on at all. You need the flour, even if it appears that nothing is really gathering, be sure to use it.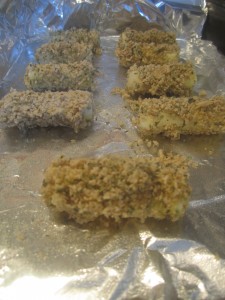 Step 7: Place in preheated oven at 400 degrees and lightly spray the tops with olive oil. Cook for 7 minutes and then turn over. Spray again and bake for 7 minutes longer. Let cool and enjoy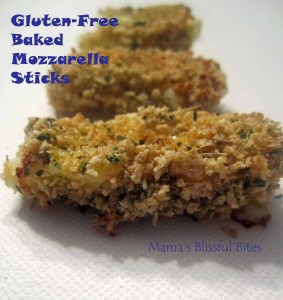 There they are – beautiful and cooked. They didn't last long, which always makes a Mama feel good!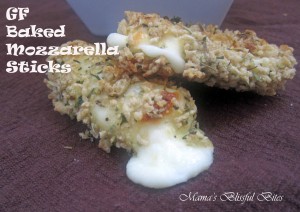 NOTE: I made sure to make LOTS of crumb coating because I hate when a recipe calls for x amount and I'm running low of mixture. You will have lots to throw away or be sure to place extra mozzarella sticks in the freezer. I add these notes just to give you a heads up!
Be sure to start your morning off great by reading even more #SundaySupper recipes! And I hope to talk to you Sunday night for the twitter chat!
Cakes —
Banana Split Bundt Cake with Chocolate Glaze by
Neighborfood
& Cheesecakes
Join us Around the Family Table this Sunday at 7PM Eastern Time and share your favorite Cheese, Cake and Cheesecake Recipes with us!