My sweet tooth was kicking up a notch tonight – I had to go for the gold! If you come to my house, you will never find anything to eat unless you know how to cook. My husband always says, "what do we have?" It's the question I hear a lot. Boxed items you will not find in my house, but bags of flour, oatmeal, peanuts, vegetables, fruits and seeds you will! This becomes a challenge for my husband so I must have plenty items on hand ready for him and the kiddos!
I stopped at the gas station today and picked up a pack of Planter's salted cashews as a pick-me-up before running the kids to school. Guess what? I forgot to eat them. So when my evening snack cravings started, I had to make something and fast! Chocolate is one of those things that you can never go wrong with. Am I right? You can melt chocolate on fruit, add nuts to it or eat it by itself, it's just good. No real story here, I pulled out the food processor and started to create! What happened was out of this world goodness. If you are not into making "balls," that's cool, but be sure to put this in your MUST make list because I promise, it's worth it!
Ingredients:
1/2 cup salted cashews (I used Planter's)
1/4 cup oatmeal (I used instant because that's all I had left! The small flakes were perfect)
3 Tbs maple syrup
3/4 cup chocolate morsels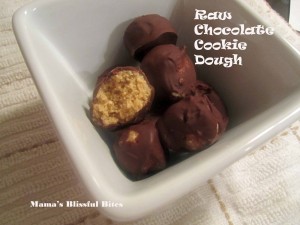 Recipe:
Step 1: Combine all ingredients but chocolate in a food processor and combine for about 30 seconds until it forms a ball-type mixture.
Step 2: Put chocolate into a glass bowl and melt in the microwave for 30 seconds or so until melted
Step 3: Form balls with cashew dough and drop into chocolate. Pull out with a spoon and drop ball on air-tight container. NOTE: I put some in glass and some in plastic. The ones on glass stuck and the ones placed on plastic container came right out.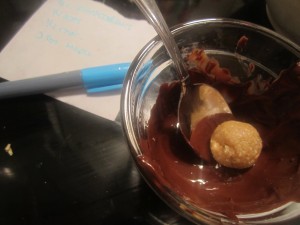 Step 4: Place in freezer for 30 minutes – 1 hour until harden. Eat and enjoy!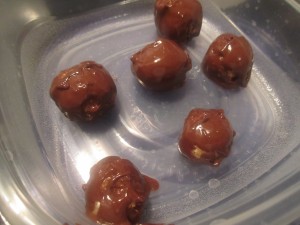 This recipe made 12 plus I think I may have eaten two or three prior…..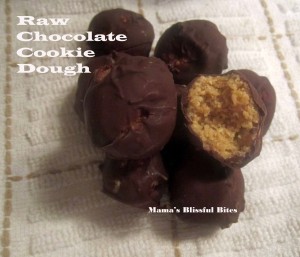 I was crowned queen at my house tonight – hubby and kids both approved. How could you not? They are soooo gooood. Creating new snacks can be so much fun.
Again, if you have never tried a raw ball, my two-sense would say to make these. The cashews leave a salty taste while the chocolate makes it sweet and rich. The best of both worlds!