I'm really, really, really excited about this weekend! I am hosting a "Healthy Snack" show! This means, I'm showing a variety of healthy snacks that are made from whole and raw foods! My guests will have a full demonstration of how to recreate these snacks, as well as taste test, play games and then go home with their own mini-cookbook! Did I mention I'm excited? Because I really am!
I have been hard at work in the kitchen, two to three times a day, creating new recipes, tasting and testing. This recipe was a "crowd-pleaser" at my last party so I wanted to include it at my show. I mean really…who doesn't like a salty/sweet nuts? You don't? Are you nuts?!?! Just kidding!!!
To me, snacks shouldn't take a long time to put together and they should be waiting on the side lines for me to pick up and eat at my leisurely pleasure! I want them to be healthy and whole, tasty and satisfying so I'm not running into the kitchen for another snack! Peanuts are great because not only do they provide a wonderful source of protein but they also keep the belly feeling full! This is a great snack to keep handy for those desperate times of hunger or when you just need an extra something something. I keep a bag handy for my kids. When I start to see they are turning from a cute kid to a scary hungry monster, I throw them a few, literally 🙂
Ingredients:
2 cups party peanuts (mine were lightly salted)
1/4 cup 100% maple syrup
sea salt
1/2 teaspoon cinnamon
Step 1: Pre-heat the oven to 350 degrees. Prepare a baking sheet with parchment paper. Spray with cooking oil. (I used the Large Bar Pan from The Pampered Chef)
Step 2: In a small glass bowl, mix syrup with cinnamon and microwave for thirty seconds. (I used the 1-cup prep bowls, again, by The Pampered Chef)
Step 3: Place peanuts in a mixing bowl and add the syrup mix. Stir well to combine.
Step 4: Pour on parchment paper and bake for five minutes. Toss the peanuts and bake 5 more minutes. Keep your eye on it, but they should be done between 12-15 minutes.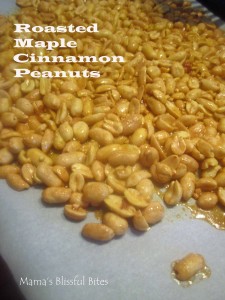 Step 5: When you pull them out, stir them up again. If you let them sit, the sauce will thicken and they will all stick together. Cool and eat!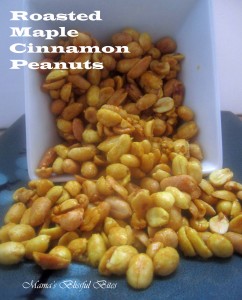 If you live in the Baltimore area, email me and I can let you know the details on the next show! I would love to meet you and believe me, this recipe is just the beginning!
Happy Healthy eating!