I love this dish. It's filling, satisfying and delicious. When I first started my cooking experience, I used to spice up everything. Spices and I were best friends. I like to close my eyes and see if I can guess what spice I'm holding without cheating. It's just a game I play, I suppose. As I started on my new journey of the healthy me, I backed off on my spices. Why? Honestly, real food just taste that good. It's not in a can with spices added, it's fresh food. I really like tasting what real food has to offer so I have backed off on the spice world. When I made this shrimp jambalaya – I added in red pepper flakes. Let me tell you, when your taste buds change to almost natural foods, 1/2 teaspoon goes a long way. For those that like it spicy (my husband) be sure to add more or even your own favorite hot sauce! YUM! For me, it was plenty!
Ingredients:
1 cup brown rice
1 teaspoon olive oil
51-60 cooked shrimp
28 oz canned diced tomatoes (I used Nature's Promise, no salt added)
1 onion: chopped
2 cloves garlic: minced
1 green pepper: diced
3 celery stalks: chopped
1/2 teaspoon red pepper flakes
1 teaspoon or more of Cajun seasoning (I used McCormick Perfect Pinch Cajun Seasoning, with no MSG)
Step 1: Cook brown rice according to directions
Step 2: Meanwhile in a skillet, heat olive oil over medium-medium low heat. Add onion, garlic, green pepper and celery. Sautee for 5 -7 minutes until soft.
Step 3: Add in tomatoes and seasoning and bring to boil. Simmer for 10 minutes. Add shrimp and stir. Cook for another ten minutes.
Step 3: Serve on top of cooked brown rice and wahla, a healthy delicious dish!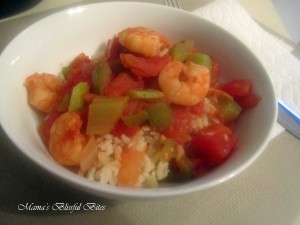 I have to admit, I realize my picture is blurry. Please don't discredit the dish! I need to send my camera in to get fixed so in the meantime, you might just get me on camera 🙂
Enjoy dinner!