Happy Valentine's Day! There is love in the air and in my kitchen. Love is so funny. You don't actually have to be in a relationship to celebrate Valentine's Day but to just love. I love that 😉 It's that day when you give that extra uhmph to the people you love by sharing your heart with them. Letting people know that we are all human and we do still love. Even strangers. By holding a door, saying thank you, carrying a bag, letting someone in line in front of you are just a few ideas of how we can show appreciation for each other. We all need to show compassion. It's a beautiful thing to share with everyone.
I have been having so much fun in the kitchen making raw snacks and desserts. It makes me feel good eating better, healthier and well, different. Who would have known that raw desserts could taste so delicious? This recipe was a lot of fun to create.
First, I had to make my first batch of homemade almond butter. Have you ever tried? I don't have the best food processor, it's not top of the line. But I did put it to work. It took me a good 15-20 minutes, scraping down the sides and pulsing, again and again and again. On, off, on, off. Guess what, completely worth the time. I haven't been this amazed in a while. (I think that's what makes me a real foodie!) Place almonds in the food processor (2 cups makes about 1 cup of almond butter) and let it go: on, off, on, off until it all comes together. All of a sudden, probably after 12 minutes or so, the whole thing just picked up and started whipping. It looked like a tornado grabbing all the scraps and turned into a ball form. Rolling and rolling and rolling. Soon enough, it was almond butter. Seriously awesome. The thing with homemade almond butter – it's a lot easier on the calories!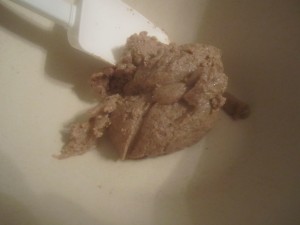 Pretty cool right? Almonds turning into almond butter? I loved watching the transformation! Okay, moving on!
Ingredients:
(For the fudge)
1 cup homemade almond butter (or any nut butter, store bought is good too)
1 cup organic coconut shreds
1 avocado: peeled and pitted
1/2 cup cacao powder
1/2 cup 100% pure maple syrup** (start with 1/2 cup and go up to 1 cup)
sea salt
(For the ganache)
1/4 cup melted coconut oil
1 banana: mashed
3 tbs cacao powder
Can you believe that this fudge has a beautiful ganache on top?! I KNOW! I was really excited to create it. I just can't get over the fact that this rich, decadent fudge has avocado and banana in it! It's fantastic!
Step 1: Combine butter, coconut, avocado, cacao powder, maple syrup and sea salt in food processor until a big dough ball forms.
*(Here's the thing. If you read my blog, you'll know how honest I am with food and when I mess up, when its delicious and when it needs a tweak. I truly believe that I should have let the fudge set with 1/2 cup of maple syrup. When you place it into your prepared pan, use your fingers to press the mixture down and fill the pan. I didn't think of this and instead wanted to use my spatula to spread it. What a newbie move. The texture was perfect then I went and added an extra 1/2 cup of maple syrup. Why, because I wanted to spread it. This made it into a more pudding type texture. If you prefer more of a solid (what I envisioned this fudge) use only 1/2 cup and your judgement on texture.)
Step 2: Prepare a 8×8 pan with parchment paper and press mixture reaching all sides.
Step 3: Place in freezer while preparing ganache.
For ganache:
Step 1: Mash the banana with a spoon in a small mixing bowl. You want baby food looking kind of banana
Step 2: Melt the coconut oil (I used the microwave and a glass prep bowl)
Step 3: Combine coconut oil with banana and add cacao powder. Mix to combine.
Step 4: Take fudge out of freezer and pour banana coconut mixture on top. Spread it all around. Top with either more almonds pieces or coconut flakes.
Step 5: Place in frezer for two hours to set. I put it in the fridge about an hour before I want to eat it. But you can eat it from the freezer too.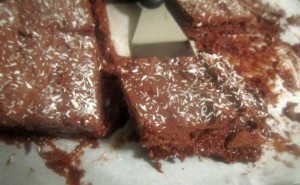 Take out of fridge and enjoy! The top was very hard. Like a solid piece of chocolate and if you can see, the bottom was slightly mushy like a fudgey pudding. I highly recommend using 1/2 cup maple syrup 😉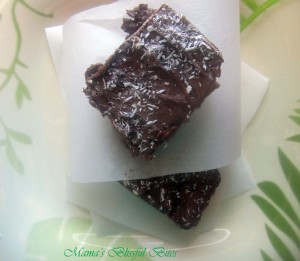 No matter what, these Raw Fudge Love pieces do not sacrifice taste by any means. They are rich, chocolately and delicious. The topping of the banana is what stands out the most I think. Kind of like a chocolate covered banana. Just down right good.
Be sure not to keep these to yourself. Share! Share! Share! And be sure to spread the love more delicious #SundaySupper recipes from my favorite foodie group!
#SundaySupper Valentine's Day Breakfasts, Apps & Main Dishes:
#SundaySupper Valentine's Day Sweet Eats:
#SundaySupper Valentine's Day Drinks:
#SundaySupper Valentine's Day Tablescape:  A Romantic Table For Two Please from An Appealing Plan
Join the #SundaySupper conversation on Twitter on Sunday, February 10th to talk all about Valentine's eats and treats!  We'll tweet throughout the day and share recipes from all over the world.  Our weekly chat starts at 7:00 pm ET and you do not want to miss out on the fun.  Follow the #SundaySupper hashtag, and remember to include it in your tweets to join in the chat.  Check out our #SundaySupper Pinterest board for more fabulous recipes and food photos!