You ought to know by now that I'm crazy for balls. And I do mean crazy. "Balls" are amazing because they are perfect for bite size snacks, they take no time at all, they are easy to put together, they are healthy and they go faster than you can make them! NOTE: Make many batches – this will save you from all the ball thiefs. Yup, I said ball thiefs. What happens is you start to plop the balls on the parchment paper and these fingers come out from no where and run off with them, never to be seen again. My three and two year old are masters at this scheme. You are now full warned of the effects.
I was at one of my favorite health stores the other day and I went to grab a jar of almond nut butter. One of my favorites or maybe cashew nut is, I can't decide. Whatever. And this new jar was like…winking at me…and said, "take me home." I couldn't say no! Wild Squirrel makes an incredible peanut butter called "All-Natural Chocolate Coconut." I know right? I almost fell over in the aisle! Sounds AM-AZ-ING and guess what, it is!!! Made with only peanuts, organic dark chocolate (cane sugar, cocoa liquor, cocoa powder), organic virgin coconut oil and salt, it will leave your mouth begging for more. I mean begging. Mmmm, so good. They can be found at http://wildsquirrelnutbutter.com/ And no, they are not paying me or even know that I exist at this point! lol. Their nut butters are just darn delicious.
Once in a while (okay let's be for-real, like everyday….) I want something sweet and delicious to handle my cravings, but I don't want to go overboard. These balls are made with healthy ingredients and what I love about them is not only do they take on and match my desire for sweetness but the form of the ball is brilliant. They are dense and hold together so you can take bites out of the ball. Or if you are my husband, apparently its one bite but that's a whole different story!
Let's get to it!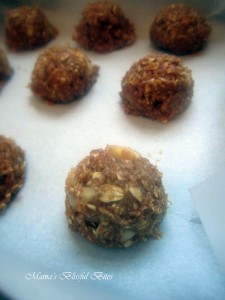 Ingredients:
2 ripe bananas
3/4 cups oats
1/2 cup chocolate coconut peanut butter
Step 1: Mash the bananas in a bowl with a fork. You want them mushy as if you are feeding a child who can't eat solids. Got the idea? 🙂
Step 2: Chop the oats. You can either do this by hand, in a food processor or my favorite the amazing FOOD CHOPPER by The Pampered Chef
Now here's the deal – I'm totally biased. I am a Pampered Chef consultant and not only have their products but LOVE them as well. The chopper is one of my favorites as well as a host favorite – you can chop onions and my favorite, nuts or anything you want. I like to chop nuts until they turn into a flour form and yes, the chopper can do that for you too. Go ahead, take a look at this time-saving tool. It's dishwasher safe.
https://www.pamperedchef.com/ordering/prod_details.tpc?prodId=240&words=chopper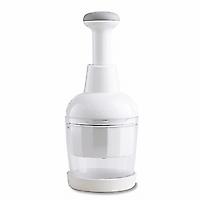 Amazing tool that you will use. Guarantee.
Step 3:  Add the oats and peanut butter to the banana bowl. Stir to combine.
Step 4: Make "ball" forms and place on baking sheets with parchment paper.
One quick and easy tool that I love to not only drop my balls but my cookie dough is the small and medium scoops. This helps me make the balls even and the same size for everyone! Check this easy-release tool!
https://www.pamperedchef.com/ordering/prod_details.tpc?prodId=238&words=scoop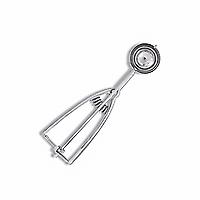 Step 5: Place in the refrigerator until it gets firm about 2 hours. Place in air-tight container and enjoy for snacks or desserts!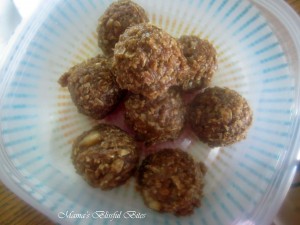 If you are interested in either of these tools please visit my Pampered Chef site by clicking here. I've been bringing chef-quality cooking products into people's homes for over a year. I love, love their products. Should you have any questions please always feel free to email me at pamchefamber@gmail.com  And the best part is – you can always order without even being invited to a party!
Enjoy the balls!