Snack time is never a challenge in our family. My kids LOVE raw snacks. It's the vegetables I have to sneak in 😉 Give them some nuts, fruit and nut butter and we're on. It makes me happy to see them eat healthy. The amazingly high childhood obesity rate is something we can and will overcome for and with our children but we need to start by making healthier choices. What do you make for your children that is healthy?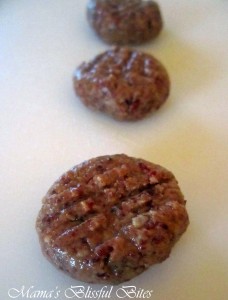 Ingredients:
1 cup almonds (I used sliced)
1/2 cup juice infused dried cherries
1 teaspoon vanilla extract
1/2 teaspoon ground cinnamon
1/2 cup almond butter (you can use any nut butter)
pinch of sea salt
Step 1: In a blender pulse almonds for about 30-40 seconds. You want them very small but not to the point they turn into a flour
Step 2: Add remaining ingredients and blend again for 40-60 seconds until all blended.
Step 3: Take a small clump and roll into a ball.
Step 4: Place on baking sheet with parchment paper and press down. Use your fork to make criss-cross patterns.
Step 5: Place in fridge. Refrigerate for at least two hours prior to snacking, if you can help it. After two hours, place in an air-tight container and munch!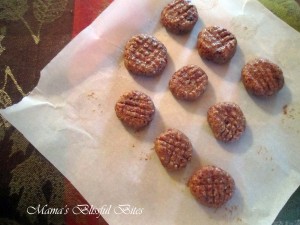 PS Those 9 cookies were all that was left by the time I got them into their container and tried, I mean tried to take a picture! The kids were eating them and I was saying, "PLEASE STOP!" Please know I gave you full warning, they go quickly!