Chili is a winter staple in our house. It's comforting, filling and can be made many different ways. When I was a vegetarian for 7+ years, I always made a big bowl filled with many different types of beans, veggies and a thick sauce.  We had it at least once a week during the cold season, always. Plus, it's a staple for the big Super Bowl game!
Chili is amazing because there's so much debate on what defines chili. Some people think chili must have chilis, some people think it must have chili powder, some think chili can not be made with tomatoes while others love tomatoes in their bowl! Wowza! How confusing! So this is how we make chili in our house. Different almost every time – except for two recipes. This is one of them. It has my heart of sweet and creaminess. Second day is always better. It just is.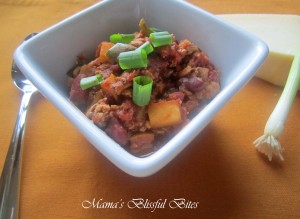 I use turkey but if you use ground beef for your chili dish, go for it! I know I switched it up at my Pampered Chef show last week and nobody noticed. But hey, don't take my word, try it for yourself!
Ingredients:
1 lb turkey
1 Tbs olive oil
1 onion: chopped
2 cloves garlic: minced
1 jalapeno pepper: chopped
1 poblano pepper: chopped
1 green pepper: chopped
2 organic Granny Smith apples: cubed (don't prep these too early…read the recipe first)
15.5 oz canned organic kidney beans: drained
14.5 oz canned diced organic tomatoes
15.5 oz organic salsa (any time, I use mild)
1 Tbs cocoa powder
1 Tbs Mexican-style chili powder
salt and pepper
green onion (optional for garnish)
Step 1: In a big saucepan brown and cook meat until done and place in a bowl. Set aside for later use.
Step 2: Wipe out same pan and add olive oil over medium-low heat. (I always start with a tablespoon of oil and then take a napkin and wipe out the excess. I just like to season the pan and not over season it! Plus it knocks down calories!)
Step 3: Add onion and cook stirring often for 3 minutes. Be careful not to burn them!
Step 4: Add all peppers and garlic. The jalapeno, poblano and green pepper. Your pan is going to look so green and beautiful!  Season with salt and pepper and stir every so often for about 7-8 minutes more.
Step 5: While you are watching the pepper soften, cut your apples. This way, they don't turn brown early. (wink. wink) When you're finished cutting (after 7-8 minutes of cooking peppers) add them to the pan. Stir again for another ten minutes until that crunch is gone.
Step 6: Add meat back into pan and stir for about thirty seconds to get it warmed up. Add diced tomatoes, salsa, cocoa powder and chili powder. Season with salt and pepper.
Step 7: Cover (half way!) and keep stirring every so often for 20 minutes. All the flavors combine and it tastes A-MAZ-ING!
Step 8: Plate up and serve with green onions and any cheese your heart so desires.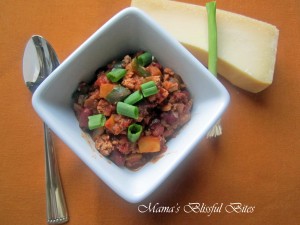 Now, this is where I brag. Well, not on the chili but the team. I am from Baltimore, Maryland so I am cheering on my Ravens!!!! I can't wait to ROCK THIS SUPER BOWL!