Growing up, we never ate granola, ever. Cereals were filled with sugar and I could always find something fluffy and kid-friendly floating in the mounds of milk. Then I grew up and things became foreign all over again. I realized there were not only granola cereals but granola bars and some packets at 100 calories or less so I wanted to explore this granola world.
One thing to know, granola is fabulous and I do mean fabulous. There are so many ways to use it! First, let's talk about making it. You will never go and purchase a granola box again after you make it from scratch. Ever. Why would you? It's like buying a pre-made apple pie wrapped in plastic wrap that's been sitting on a shelf in a store versus a decadent mouth-watering scrumptious apple pie baking in your oven. Which would you prefer? Exactly – the one I didnt' have to bake. (ha! ha! JUST PLAYING!)
It's easy-peasy. Throw in a few ingredients, mix, bake, eat and enjoy. I know you can do it. Then once you do it, you will make all different kind of variations that you like. No excluding those shreds of coconut or pieces of chocolate (who can resist chocolate?) Make it according to the things you LOVE so you will fall in LOVE with eating HEALTHY GRANOLA!
Shew, not sure where all of that came from. But you love me and I love you – so hey, it's all good, right?
Not sure what you can do with granola? Keep reading.
Ingredients:
1/3 cup coconut oil
1/4 cup maple syrup (you know, the real kind!)
1/8 cup honey (vegan? Awesome – switch it for Agave syrup, bada bing bada boom!)
2 cups rolled oats (not instant folks…switch up the box!)
1/2 cup organic shredded coconut (I personally love Let's Do…Organic, USDA approved)
1/4 cup organic raisins
3/4 cup almonds: sliced (I like to see big chunks when I'm eating but you can chop them as well)
1/2 cup sunflower seeds
1/4 cup flaxseed
1 teaspoon cinnamon (I used The Pampered Chef pantry line called Cinnamon Plus Spice Blend. It contains nutmeg, allspice, ground orange peel, cloves and ginger. Highly recommend. If you don't have it, no worries. Substitute it for cinnamon!)
Step 1: Preheat oven to 270 degrees
Step 2: Prepare an 11×13 baking sheet with parchment paper. (I always use stoneware so you may need to adjust time accordingly)
Step 3: In a medium sauce pan over low heat, combine the first three ingredients. (Coconut oil, honey and maple syrup). Stir to combine and warm for about five minutes.
Step 4: Meanwhile, in a larger bowl, combine the remaining ingredients.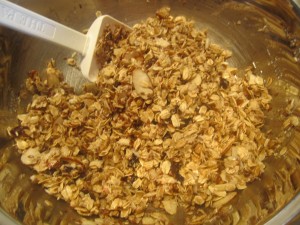 Step 5: Pour stove mixture to the oat bowl and stir well to combine.
Step 6: Spread mixture evenly over prepared baking pan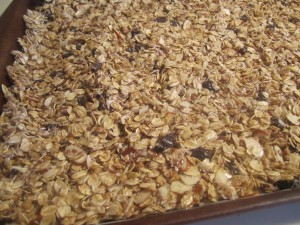 Step 7: Bake for 60-70 minutes. Keep checking on it. The house should start to give a cinnamon aroma but if it turns to a burnt aroma, you know you're baked! (hahahahahaha, get it?!)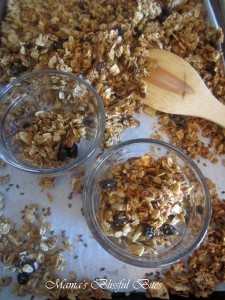 Step 8: Allow to cool. Break up with a wooden spoon into smaller chunks.
Here are some really cool things to do with granola:
Eat it as it is…as a snack
Pour milk (I love vanilla almond milk) and have a bowl of cereal
Place it on top of a baked apple….wowza!
Mix it with yogurt for a great breakfast
Enjoy on top of a salad
I like to keep mine in an air-tight container in my purse. When you have kids and a snack-attack arrises, I rather be prepared then have nothing at all!  Tell me, how do you like your granola?
PS I am linking this recipe up with Foodie Friends Friday. Check out other fantastic bloggers as well at http://www.foodiefriendsfriday.com