This easy and fun snack is delicious and perfect for an early morning treat! When I'm in a rush, I pull together a green smoothie and eat two of these banana treats. They are quite filling so don't be fooled! Make them the night before and place in a container (they will be soft), put in fridge and in the morning, get one and go! Could it be any simpler? Yeah…I think not.
Filling and yummy…what more could you ask for??? Oh that's right…did I mention healthy?
Ingredients:
1 banana
2 cups rolled oats
3/4 cup almond butter
1/4 honey
1 teaspoon vanilla extract
1 teaspoon cinnamon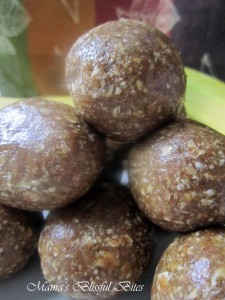 You can also try rolling these in cocoa powder for an extra chocolatey treat or coconut!
Step 1: Mix all ingredients into a food processor and blend until all blended together
Step 2: Take a scooper or two spoons and form 24 small balls or 12-13 bigger balls
Step 3: Place in fridge overnight until firm and enjoy in the morning!